For some, the RX-3 is Mazda's finest machine. And this coupe is one fine example, having received much care and attention to put it all right.
There would be a decent debate around just what the quintessential Mazda might be. The car maker from Hiroshima has a cult following stemming from its dogged persistence with the Wankel engine, and so it's likely 'the Mazda' would at least have an RX prefix in its name.
The rotary was a mechanical marvel, its compact design giving an excellent power to weight ratio and its dearth of moving parts and round about motion lent a certain smoothness and a propensity to rev. It wasn't without its issues however and the engine was the undoing of a few manufacturers. But Mazda persevered, solving most of the reliability gremlins and using it to power its sports offerings, particularly in the seventies. It was this decade that the RX-3 hails from, introduced in 1971.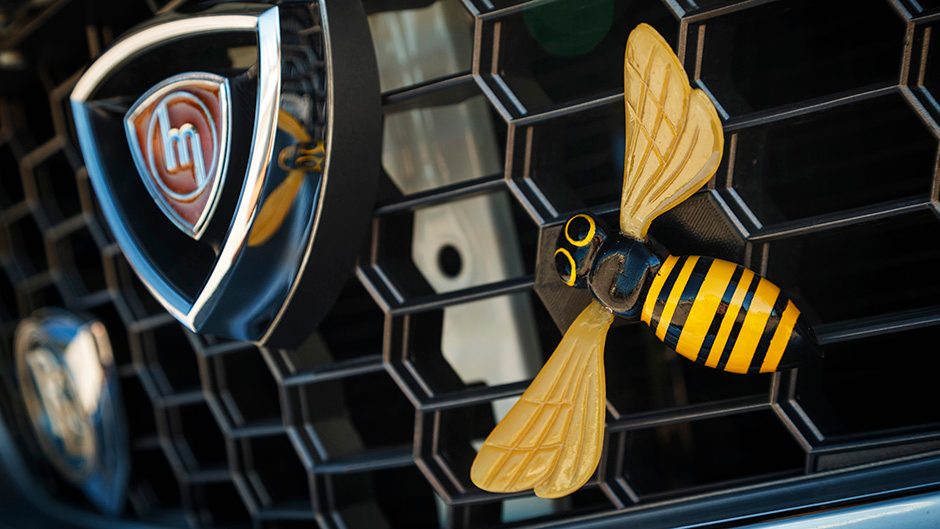 The RX-3 was the sportier, rotary-powered version of Mazda's Grand Familia, or 808 as they were known here. Styling differed from that of the piston-powered models by way of a twin headlight front end and honeycomb grille, while there were round tail lights at the rear. In Japan the RX-3 was sold as the Savanna, and it was available as a sedan and wagon but 50 per cent of the overall production (they made some 286,000 RX-3s by the time it was retired in '78) were of the coupe.
This lovingly restored example is owned by Aucklander Steven Shrubb. It's a '73 Series II model, sold new in New Zealand, though its history is a bit of an unknown having sat de-registered for a long time. "I bought it off Trade Me, sight unseen from Christchurch." Shrubb says while it looked 'okay' in the photos it was far from a pristine example. Bought as a father and son project, it wasn't long before the car's chequered past was discovered. "We stripped it out at home and that's when we realised we had a few issues but it wasn't until we sent it off to be blasted that we found out how bad it was." Like many Japanese cars from the era, the RX-3 was certainly not immune to the brown bug.
Shrubb said it had had a hard life. "Both rear quarters were poor, it had had a new roof at some stage and a frontal as one of the rails needed pulling back into shape. The advice was to get another body, but you just can't find these things. At that stage, we were already in deep, so what do you do? We just had to keep going."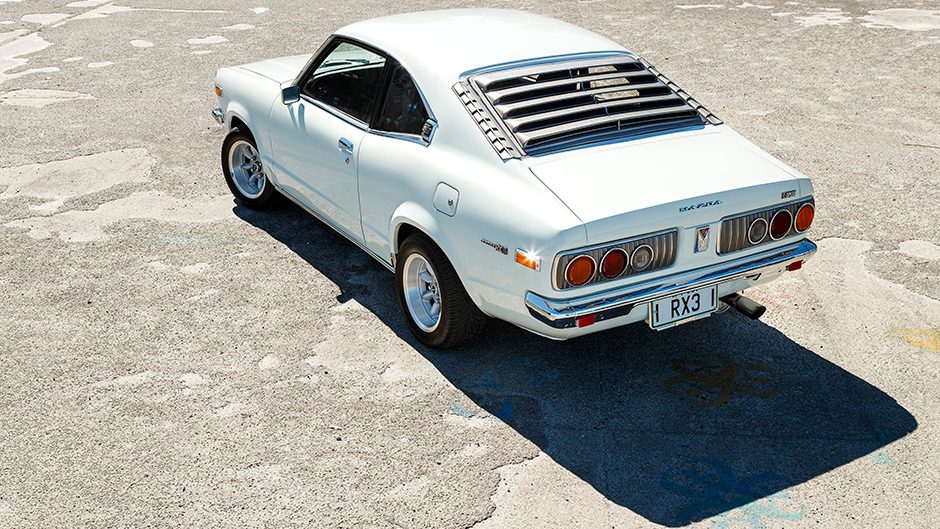 It proved too big of a job for the original panel beater they had lined up but Shrubb found another willing to take on the task in Motive Auto Restorers. It still took some 12 months to get it to a point where it could be painted. All up it took two and a half years to get it back on road, a process that included much treasure hunting for the various bits and pieces that go toward making a car whole again.
"The Trade Me ad said everything was there, but what was there was pretty stuffed as well. So most of it has been replaced." While there's a healthy market for repro bits, most of the parts Shrubb used were of the new old stock sort.
"So many of the parts are hard to find now, but I managed to get the bumpers as new old stock out of Denmark. The bonnet and boot lid were also new, and I got a few things from Australia." The badges are elusive to track down. "That badge on the back was so hard to find, and you can pay over $1000 for some of them."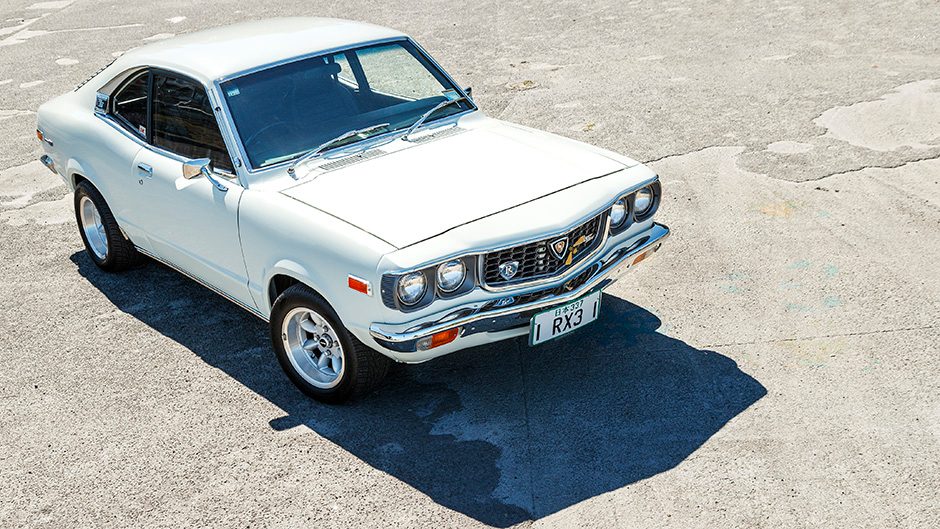 He needed to get a new rear screen made in Australia, as the original was scratched. He waited two months for it to arrive, stretching the build time further. "There are only a few things I would change if I did it again. Mostly I'm happy with it."
Shrubb isn't a fan of RX-3s on big wheels, so it's running superlight 13-inch rims, which are slightly wider than standard but give the coupe a 'back in the day look'.
Similarly, everything inside has been restored, retrimmed and renewed. "We basically replaced every nut and bolt on the car and we had every bit plated. Even the things you can't see like the internal window winders are plated just to prevent any rust." A lot of new old stock was sourced for the interior too, like the radio, while everything is in perfect working order. The attention to detail stretches to the embossed headrests. "To get the embossed decal in the headrest I had a brass block made so the upholsterer could stamp that into the seats."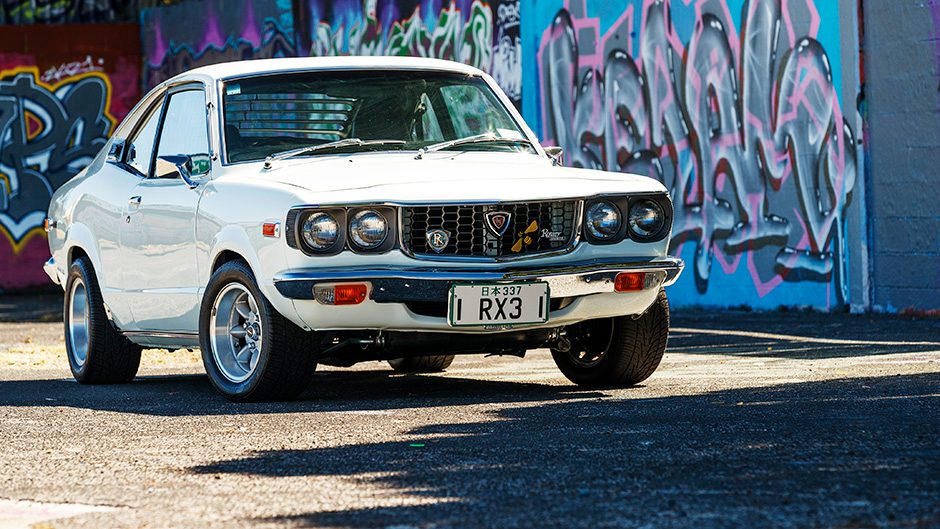 The RX-3 originally came with a 10A rotary and then a 12A was offered concurrently, before the 10A was phased out. This one however is humming a little quicker thanks to the inclusion of a 13B. "I have a 12A and four-speed gearbox sitting on the shelf at home. If I want to put it back to its true original form, I've got the parts to do it. But I decided it was not what I wanted. It's running a 13B FC, with a five-speed Series III gearbox out of an RX-7."
Everything else is standard as it helped with the cert process to get it back on the road. The 13B has a Stage II street port with a Weber 48 IDA and headers. It has been dyno'd at 180hp at the rear wheels. While the 'rotary reliability' is better now with much improved seals and tips, Shrubb says a bit of extra lubrication helps. "We put some oil in with the petrol. Some don't believe in doing it but it does smell nice."
Like most devotees, the passion for Shrubb dates back to his youth. "My love for rotaries goes back to when I first got my license and my best mate's mum bought a '73 RX-3 sedan. We thought it was pretty magic back then. I eventually owned both an RX-2 and RX-3. My son dragged out an old photo album and said 'Wow, Dad, you used to have an RX-3!', so that's how this project came about."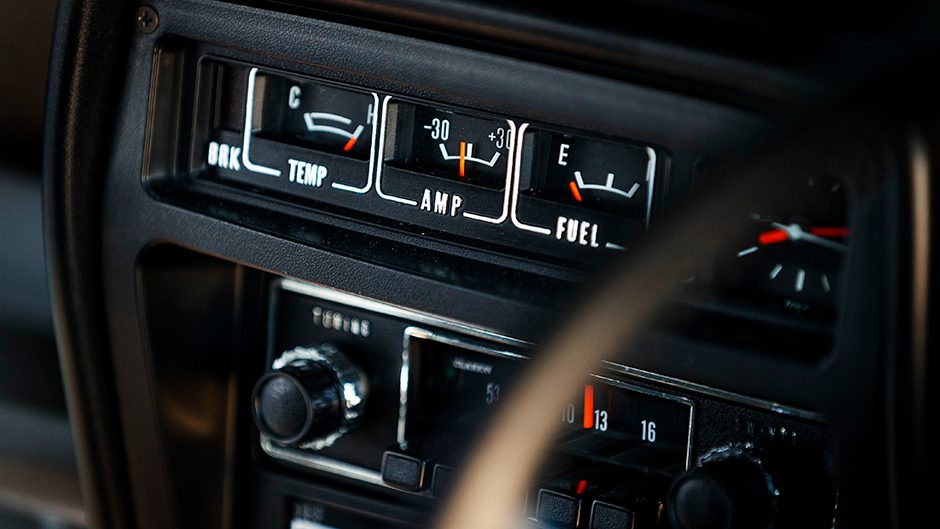 Shrubb has well and truly rekindled the RX fire with a '71 RX-2 sedan, a '70 Repu pick-up (currently under a similar resto process), a '96 RX-7 and a '93 20B Cosmo. "The Repu is off to the painters next week. But after that, no more, I've run out space and money."
He rates the RX-3 as his favourite. "It's the rarity of it; this is the car that really epitomises the RX rotary for me. It was the one they used most successfully for racing and rallying. Rod Millen made it famous in NZ.
Somewhat confusingly the RX-3 was a smaller car than the RX-2, and it is rather diminutive. As Shrubb says; "I forgot just how small the car was. Back in the day, we were five up in them heading to the beach. I don't know how we all squashed inside".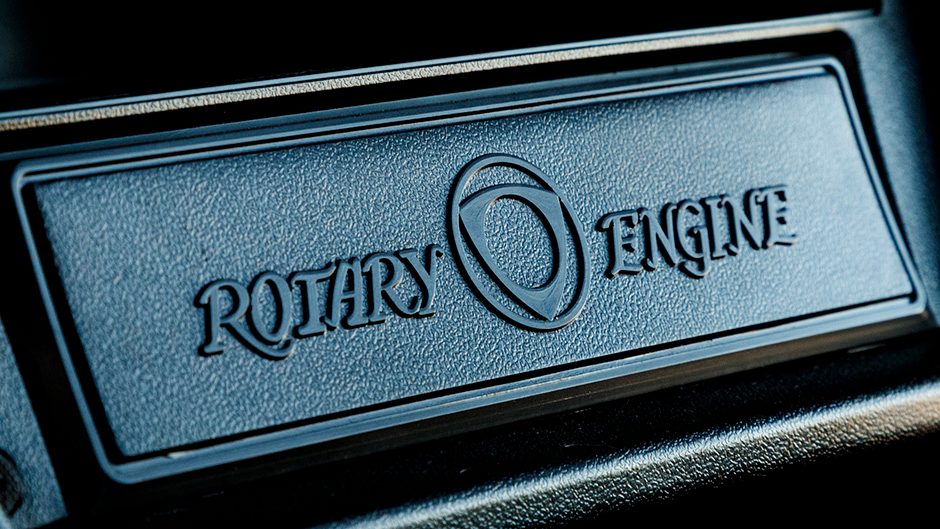 "It might not be everyone's cup of tea but I built it the way I wanted it. Some might poke holes in its authenticity and originality. They might say the bumper's the wrong shape, or the badge is wrong, but I love that badge on the back. I didn't want to build a concours winner – I wanted something I could drive, although admittedly I don't take it out in the rain! But I didn't want to worry too much about it. I wanted to get more enjoyment from it, let my son drive it. It gets so many looks, people just stop and come up to you all the time. It's not something you see every day and yet you go to REunion in Taupo and 400 of them turn up!"
Like most classics, the price of these cars is on the rise. Shrubb has this insured for $120,000, but is thinking of increasing that. "When I was trying to sell my first RX-2, I literally could not give it away, no one wanted it."
He probably wouldn't have too much trouble moving his RX-3 on at present however. It's quite something.
Moodboard template composition with blank photo cards, torn paper, polaroid frame glued with yellow adhesive tape and isolated on white for easy editing.

Moodboard template composition with blank photo cards, torn paper, polaroid frame glued with yellow adhesive tape and isolated on white for easy editing.