The hi-po version of the T-Roc hasn't been available in NZ until now, the facelifted R model topping a rejigged three-model line-up.
T-Roc has proven popular for VW, available since 2018 and it has sold over one million globally in that time. Here, supply was initially somewhat sporadic, with incoming shipments sold out in advance.
Since the early days, it has been a steady seller, as you might expect. Overseas, Golf has long been a fave in EU countries, and the T-Roc is essentially a high-rise Golf. The smaller T-Cross is Polo based.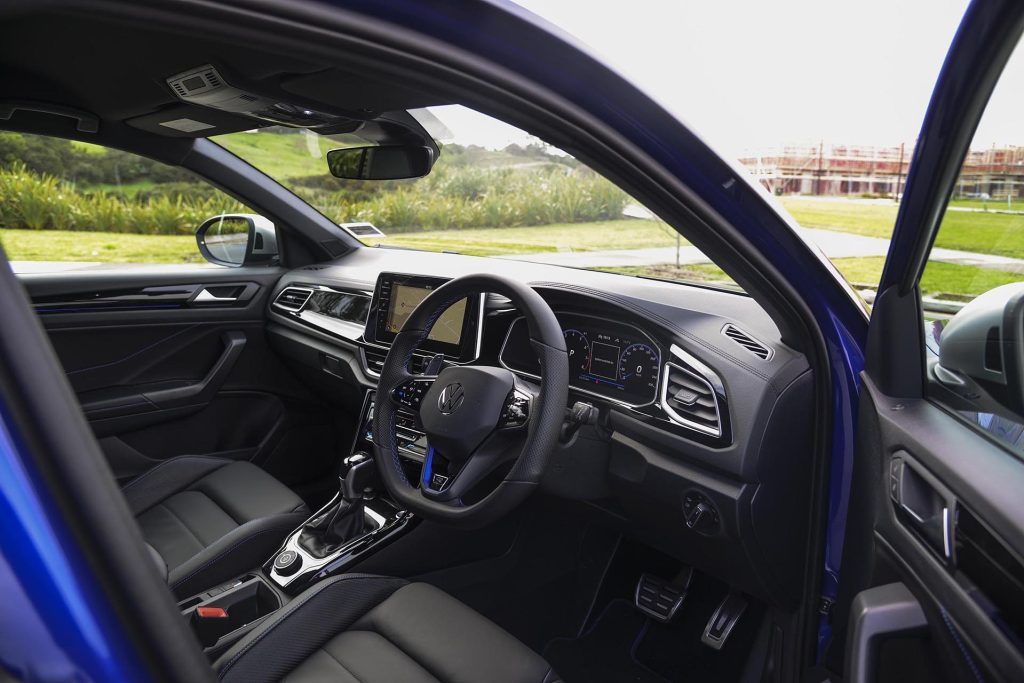 Now it's T-Roc refresh time and there's good news everybody. The range has been rationalised slightly, though it's still a three-variant line-up. Only at the top there's something a bit special, the R variant with serious mumbo and AWD. VW promised more R action and it's delivering on that promise.
To make way for the R, the midrange TSI Style has been dropped, the TSI R-Line has undergone a metamorphosis of sorts, while the base model has seen a slight price rise, up $2k to $42k, accompanied by a spec update. It now comes with LED lights, paddle shifters, a Qi phone charger, an eight-inch multifunction display instrument cluster, and new fabric upholstery and dashboard inserts. There's also Travel Assist (partial autonomy using adaptive cruise and lane keeping) and Emergency Assist (autonomous vehicle responses to a sleeping driver that avoid collisions). These new safety features apply to all three models.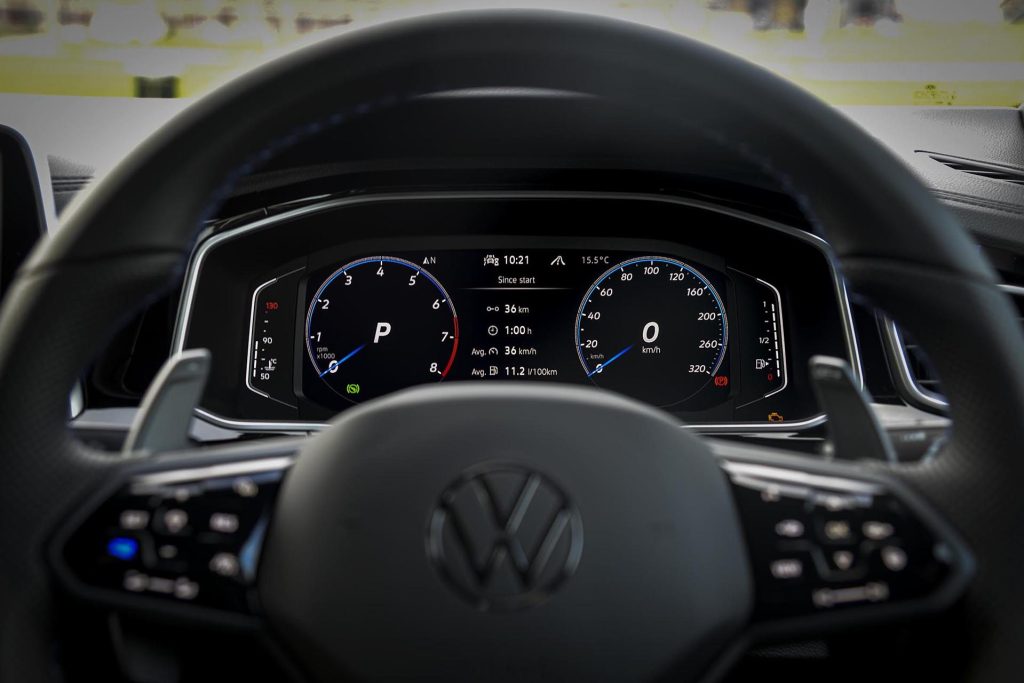 TSI Style features VW's tried and tested 1.4T 110kW/250Nm FWD powertrain, now with an eight-speed twin-clutch transmission and attracts no clean car fee or rebate.
As to the middling TSI R-Line, that loses its AWD status and 2.0L powertrain, instead repeating Style's powertrain. However, it too gets a whole swag of extra gear to compensate for the engine and drivetrain downsizing. Moreover, the price drops by $1000 to $54k, and it too incurs no clean car levy. Spec additions include power adjustable leather-clad front seats with heaters and memory settings, wireless phone charging and smartphone connectivity, a gesture-controlled tailgate, heated wheel and Travel and Emergency Assist.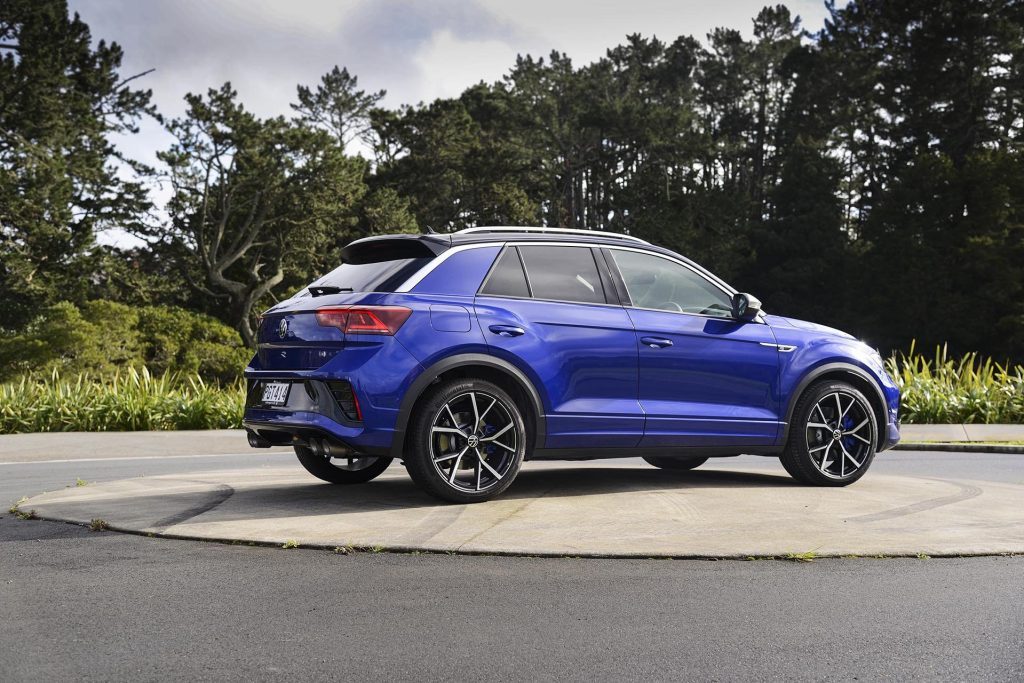 The main event
T-Roc R AWD is similar to the Golf R, in that it has a potent 2.0L turbo, without quite the kW count of the top Golf hatch, nor the trick torque-apportioning rear diff/Drift Mode of the First Edition version. But it slots in nicely between Golf GTI at $63k and the $78k Golf R, being $69k and incurring a $1660 clean car fee. That's just under $71k all up. While it does not have active torque vectoring, it still comes with XDS on both axles, ie, torque vectoring by brake, which has a similar function to the active rear diff, albeit without quite the drift potential.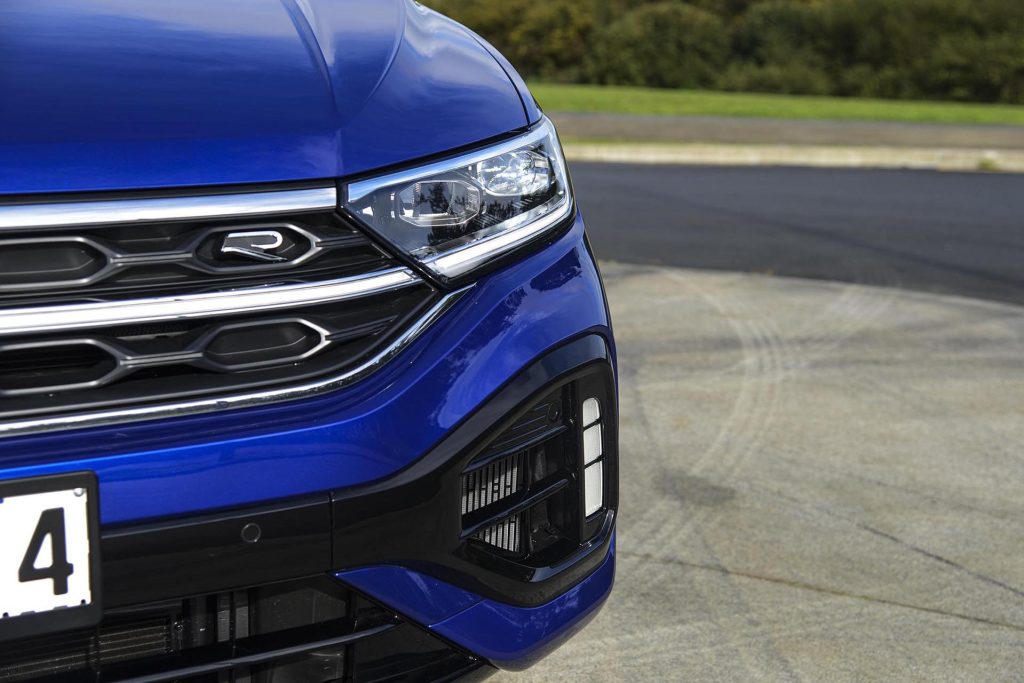 Compared with the previous range-topping AWD TSI R-Line variant which managed 140kW and 320Nm, the R is graced with 221kW and 400Nm, the torque the same as Golf and Tiguan R, and being slightly heavier than the former, by around 50kg, it isn't quite as quick in the sprint but is still meant to run a time in the high four-second bracket. The combined fuel use figure is 9.3L/100km (215g per km for CO2), slightly more than Golf R (8.6L/100km) and slightly less than Tiguan R (9.7L/100km). We saw 9s and 10s most of the time.
Other significant features include a range of drive modes (Eco, Comfort, Normal, Individual and Race Start for launch control) while there are also off-road modes present, not that ground clearance of 158mm will allow it to take on Amarok any time soon. But AWD will certainly be a help with those wanting to tackle slippery conditions. One of the modes is specifically for snow.
Torque titan
We kicked off with Eco mode, being in town and fuel still costing silly money. While this may seem odd on something so amped, it actually works well and we continued to select that or Comfort for urban work. It loafs along in high gears at almost ridiculously low revs, the turbo working from 1200rpm. There's a touch of lag before it hairs off but you get that with bigger blowers. The seven-speed DSG box is awfully slick but then that's twin-clutchers for you. It's linked to oversize paddles but they didn't see much use. That's on account of the D/S lever setting, S proving more than enough for added pace in the calmer driver modes. Even from 2500 to 3500rpm, this is a hare, and using revs in the 3500-4500rpm range, you're quickly way over the odds.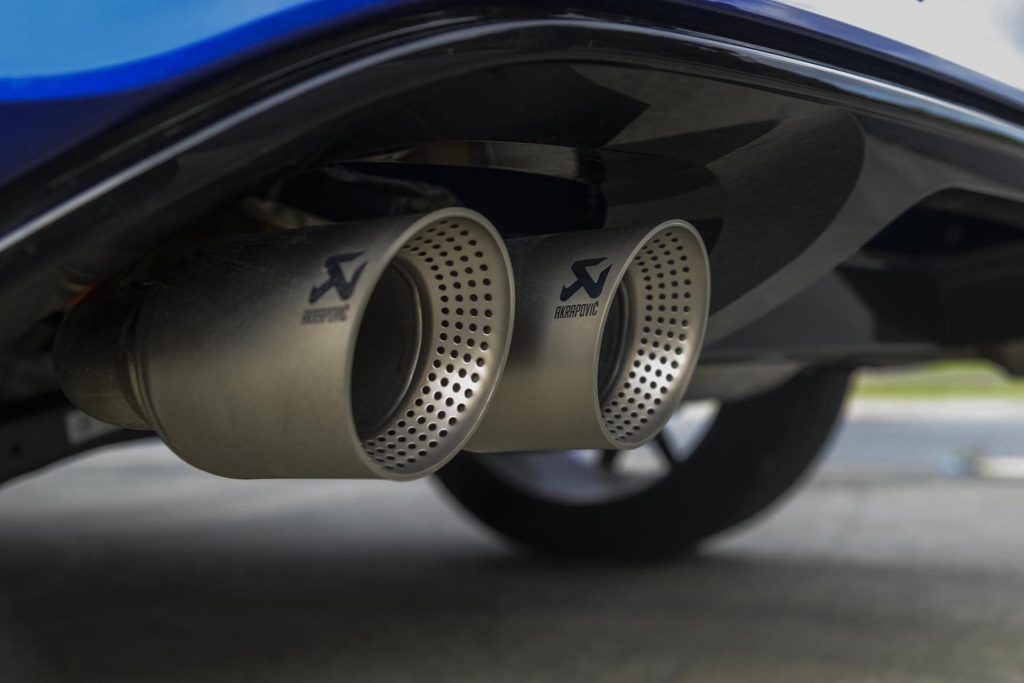 Or you can hike it up to Race if you really want to impress your ride buddies. It's meant to get to 100 in 4.8sec with the $5k Akrapovic exhaust option, as seen here, and this it handily manages.
After turning off ESP entirely and finding launch control didn't engage, ending with a 5.3sec run, we had a gander at the handbook which was no use, so we tried ESP Sport instead.
Instant success, with a 4.83sec run. We managed to improve on that slightly, with a time close to that of Golf R, though the 80-120 was further adrift at 3.25sec vs 2.95sec, as you'd expect given the power deficit and extra weight. Figures were intermediate between Golf R and Tiguan R (5.1 and 3.4sec for the latter). It's more telling in the bends, however.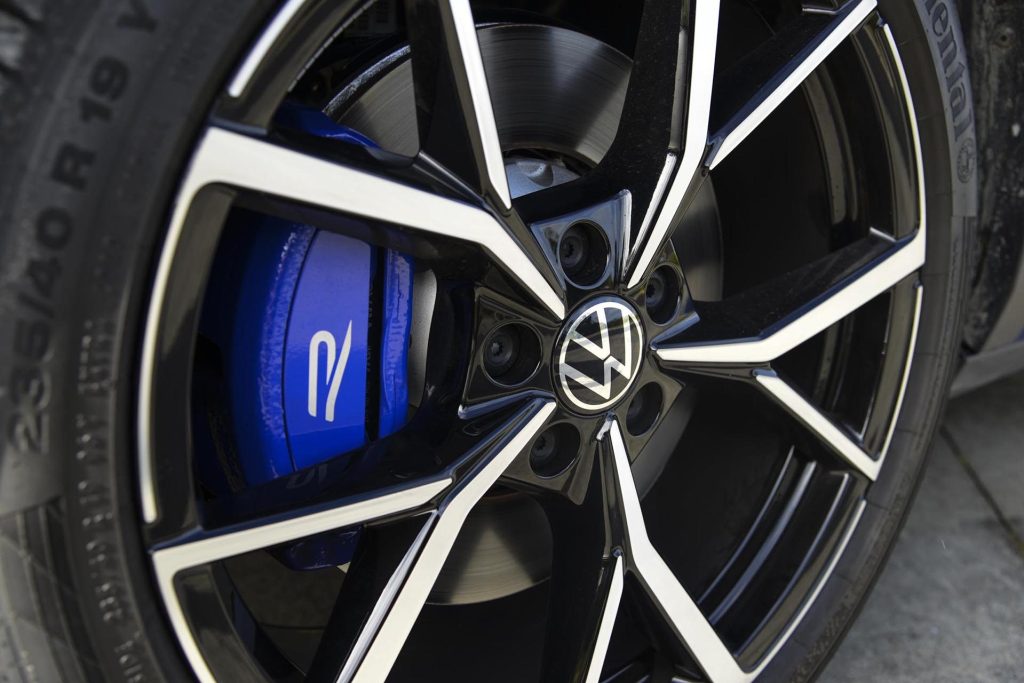 Cornering Ace
And on that, we reckon T-Roc R is closer to Golf R dynamically. It rides 20mm lower than the regular T-Roc, has 20 per cent stiffer spring rates and runs an aluminium subframe up front for lower weight, extra rigidity. There's adaptive damping too.
In Race mode, you really want to be on a smooth surface, like a race track, for damping is firm. Otherwise select Normal if what you're really after is Sport. Here, there's enough travel to mop up lumps and bumps in your path without being thrown off line. So we alternated between this and, er, Comfort mode, which is also rather controlling. Mainly we used the latter for its mix of precision, body control and compliance.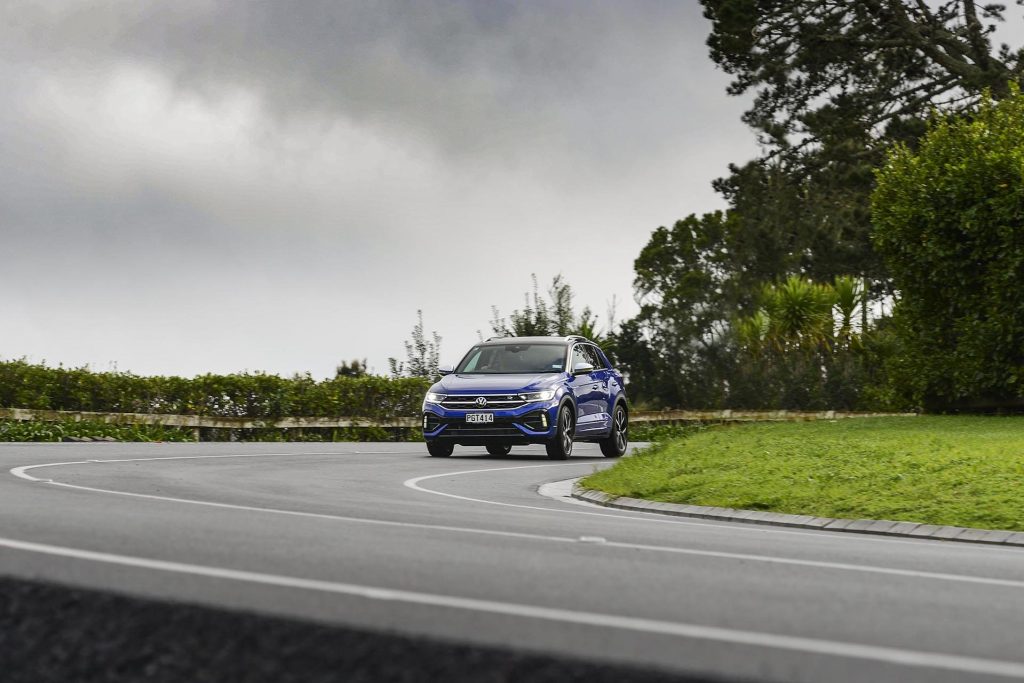 Compared with Tiguan R this is really in another league of sporty, sailing through corners more like a hot hatch. You can gas it up early too, all that grip ably applied. It's not quite up there with Golf R but it runs it close, and consider also it costs $10k less, but offers slightly more gear (392 vs 374L) and occupant space. Because of the high boot floor, split folding results in an almost flat load bay which is handy.
The interior architecture feels a generation back from that of the latest Golf because it is, but we are okay with that, aside from a few too many hard plastics. But we like the dedicated controls for climate air, with a few haptics thrown in for good measure. That means if you want seat heaters on you simply push one button and don't need to mess about in touchscreen submenus. Hooray.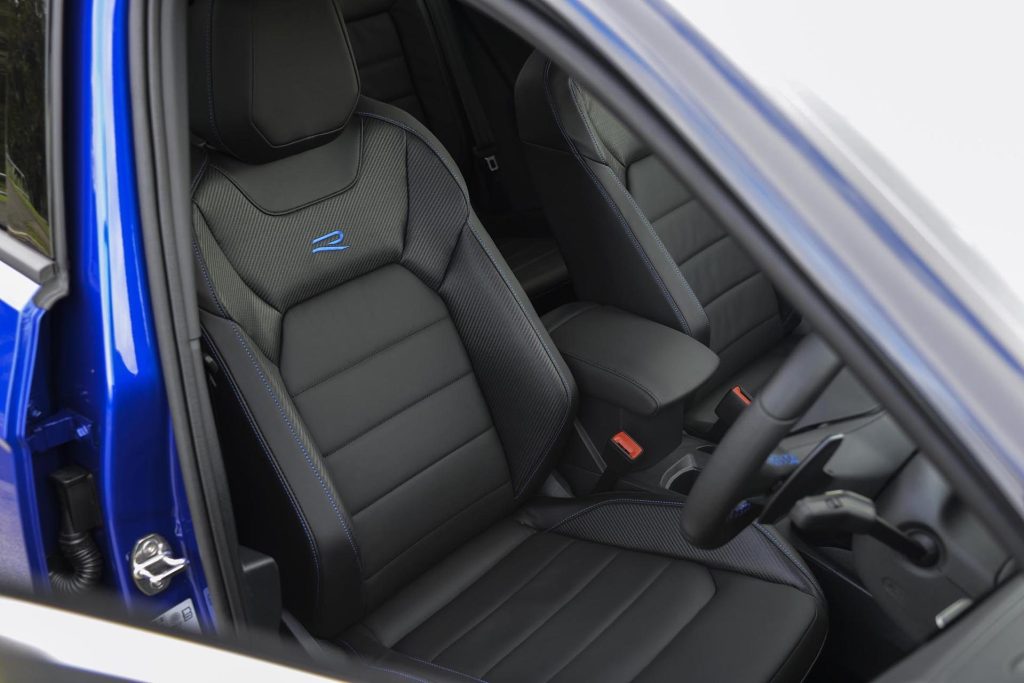 On the downside, each time you start 'er up, steering nuts will need to delve into the driver assistance area and turn off lane keep assist which fights away in the background otherwise.
Once this is done the steering is much improved, and it's progressive so weights up with speed. This darts into corners with its two turns lock to lock, and sticks so well, though isn't quite as immune to understeer as a Golf R First Edition. That said, Tiguan R drivers will have a tough job keeping pace with the more biddable T-Roc R.
This is a busy area with serious German AWD rivals, typically more expensive but the real competition comes from close cousin Cupra Formentor VZ. To our eyes it's better looking, has slightly more power and spec, and rides a bit easier, all for the same money. If you're fixated by the VW badge, however, the T-Roc R compact crossover will not disappoint.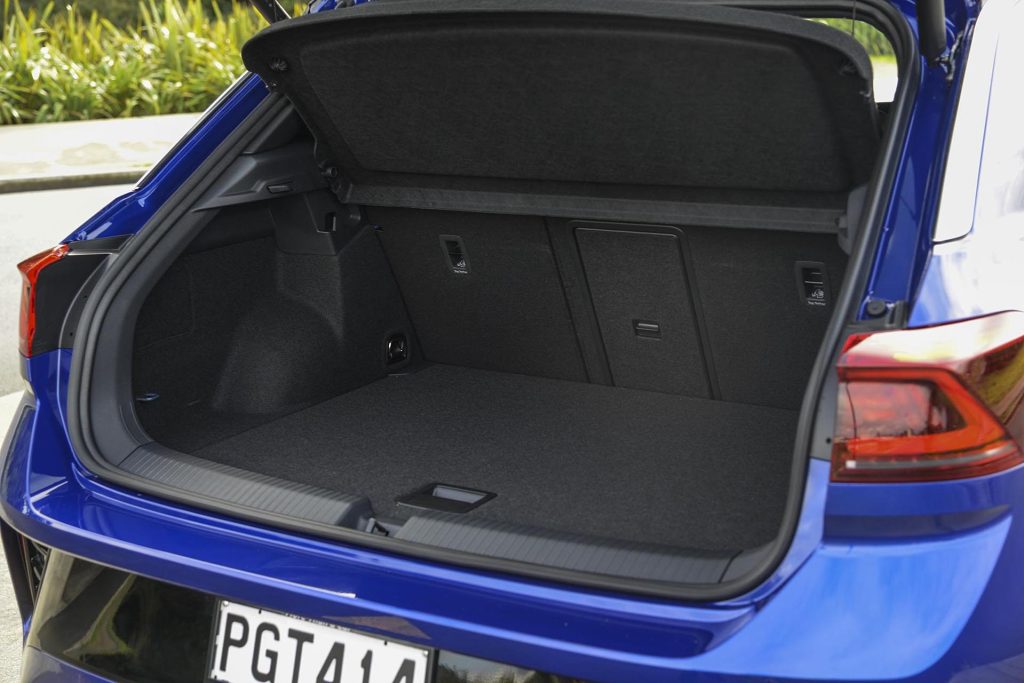 Model
VW T-Roc R
Price
$68,990
Clean Car Discount
Fee + $1660
Engine
1984cc, IL4, T, DI
Power/Torque
220kW/400Nm
Drivetrain
7-speed twin clutch,
on-demand AWD
Fuel Use
9.3L/100km
C02 Output
215g/km
0-100km/h
4.67sec
80-120km/h
3.25sec (92.33m)
100-0km/h
33.69m
Stability systems
ABS, ESP, TV
Safety
AEB, ACC, BSM, LDW,
RCTA, ALK, AHB
Luggage Capacity
392-1237L
Tow rating
750kg (1700kg braked)
Service intervals
12 months/16,000km
Service plan
$1645, 3 years/45,000km
Warranty
5 years/150,000km
ANCAP rating
5 stars (2017)
Weight
1573kg (claimed)