Okay, so it may not be new-new but Renault's Arkana looks and drives pretty well. It's also priced right, but should you really?
We've encountered a few new marques lately, most originating in China, no surprise. Well, this isn't one of those but it is a new model name, the Arkana by Renault. While it might not be a new vehicle, as in released this year – it debuted overseas in 2019 – this is still relevant because it doesn't do too much wrong and is well priced. Arkana will fare better than Captur did (which has dropped by the wayside) because it's bigger, which makes it appropriate for more Kiwi families. It's in the compact crossover sector, a busy one, with rivals like T-Roc, Karoq and 2008 from Europe, HR-V, Qashqai, S-Cross and C-HR from Japan.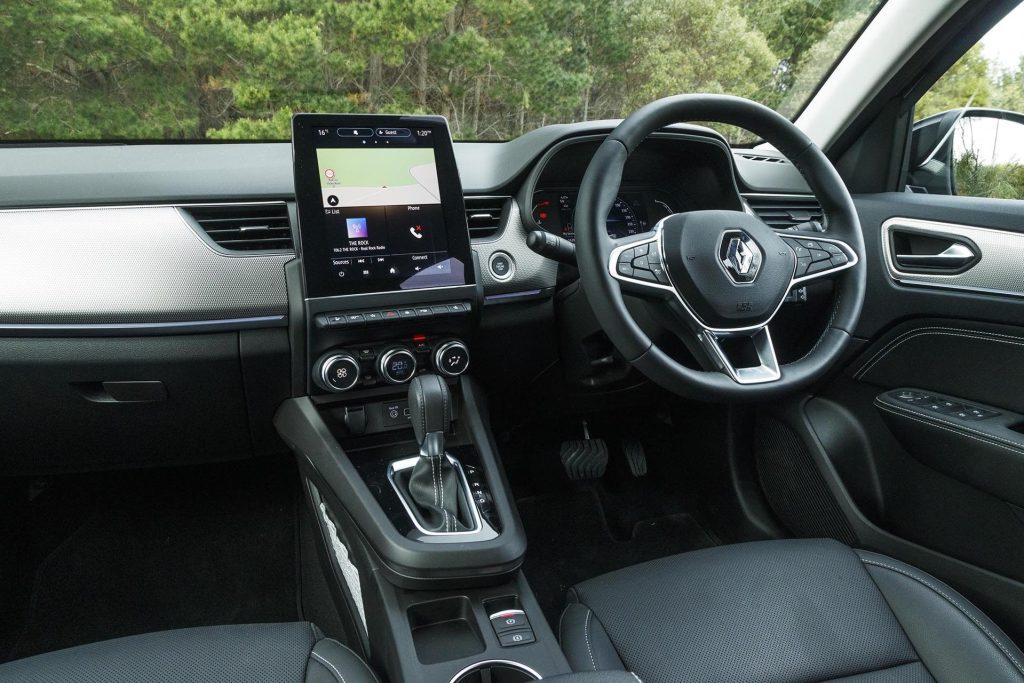 Arkana is an odd name, nothing to do with saving animalia from a great flood. The word is derived from Latin, arcanum, and means 'secret' so no real clues there. Perhaps the idea was to suggest that this is a modern day Ark of the Convenant. As bibliophiles will know, this was the fabled gold chest that supposedly held the ten commandments. It was last seen in an Indiana Jones movie, the Raiders of the Lost Ark. Prior to that it hadn't been spotted since 587BC.
So does Arkana glitter like gold? Here we get a pair of them, the entry-level Zen priced from $39,990 and this one, the slightly better specified $44,990 Intens. That gets real leather (and suede) upholstery instead of the fake stuff, powered seat adjustment and a bigger 9.3-inch infotainment screen instead of the Zen's seven-inch unit. Both come with a three-year, unlimited kay warranty.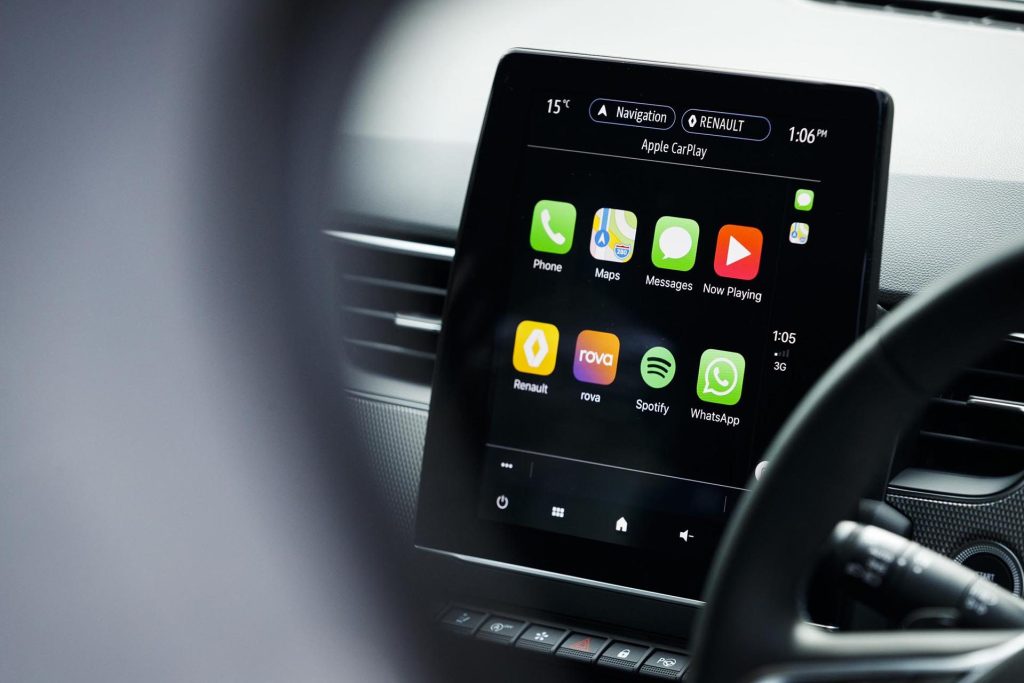 The outline is interesting, in that coupe style, so the roof is a fastback affair, though there are attendant issues with that. Because the driver's seat is elevated there isn't a whole heap of entrance space so you risk clobbering your head clambering in. You only do it once to concussion levels.
The Arkana is a five-door five seater that's built in South Korea. It seems to ride tall, though the impression it will go anywhere is unlikely to translate to actual off-road prowess, being a front driver. The big Renault diamond-shaped logo features up front, along with C shaped DRLs. Slimline LED lights give it a modern look, and these light up the night well.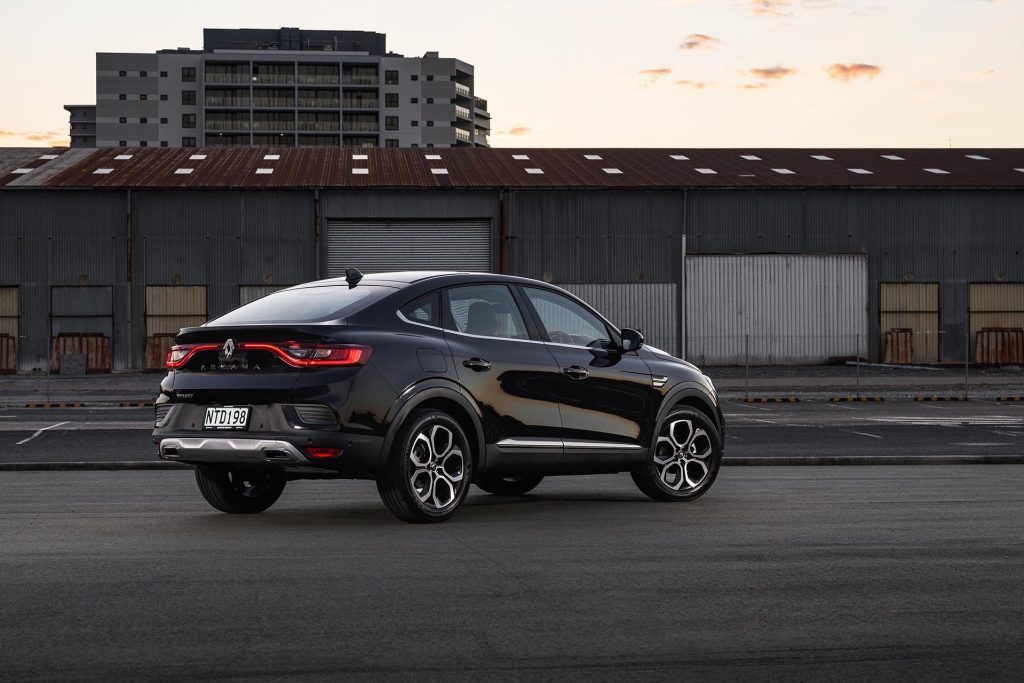 The Intens is well specified, with things like electrically adjustable heated and ventilated front seats, and a leather-bound steering wheel with a toasting function. There's also a Qi charger, four USB sockets, self parking and active cruise control.
Those in the rear evidently have 211mm of legroom which Renault reckons makes it the class leader. Whether or not that's true I can sit in the rear with decent foot, knee and head space, the latter a bit surprising given its coupe form. The floor is quite flat too.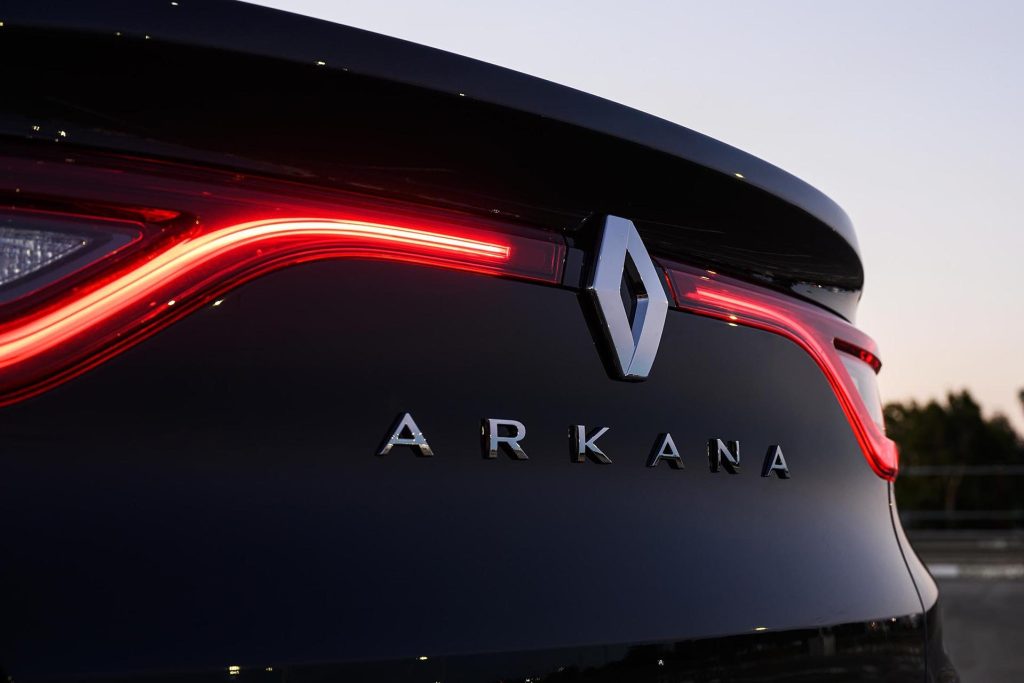 Boot space is a stated 485L, and the removable floor mounts either level with the bottom of the fifth door for ease of loading, or down a level to increase space. In the former position there's a reasonably flat load space (1268L) after folding the rear seat backs over.
As to the latest safety technology, it's largely all there, and there's nothing of great note missing from the checklist. Perhaps that's why it has received a five-star rating from ANCAP…without actually being tested. Somehow, the crash boffins surmised that it will perform in significant impacts much the same as Captur, presumably because they use an identical platform and safety specification is similar.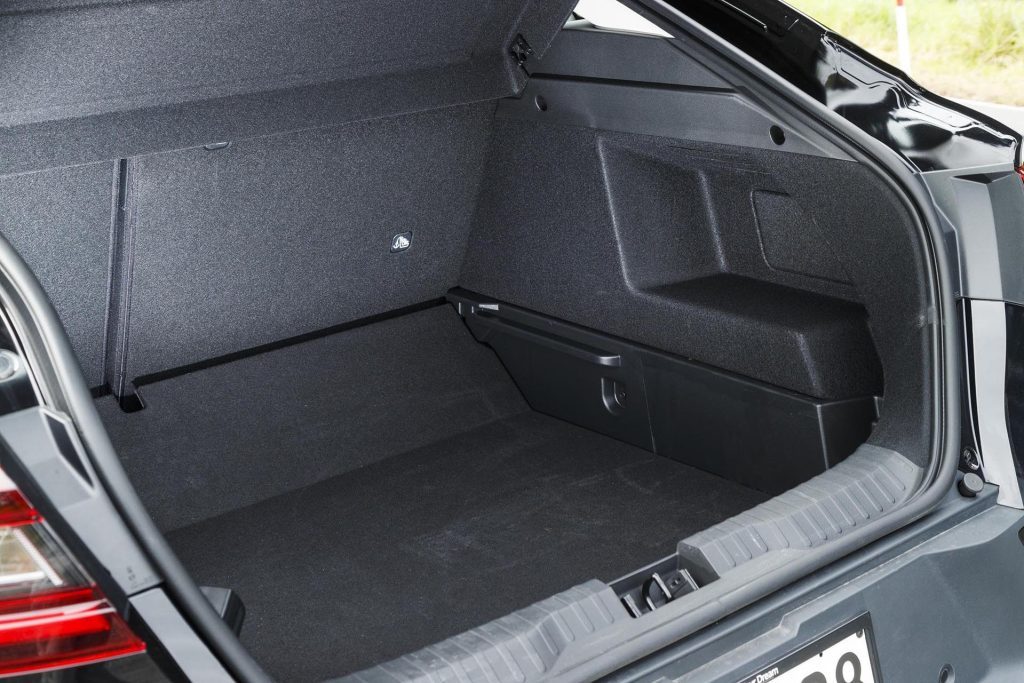 Both smartphone types are catered for, and there are also three drive modes, the default MySense, Eco and Sport, each linked to ambient lighting colours. Suspension is fixed, with a torsion beam rear end, hence the decent luggage space.
Up front there's a 1.3-litre engine, which doesn't seem much, but it's output is enhanced by a turbocharger, so it's good for 115kW while there's 262Nm of torque produced at 2250rpm. Unusually and happily, given the price of fuel, this operates on 91 unleaded. The engine's hooked up to a seven-speed twin clutch transmission and is said to consume fuel at the rate of 6.7L/100km. We got 6.5 to 7.0 overall, though the majority of our time was spent highway running.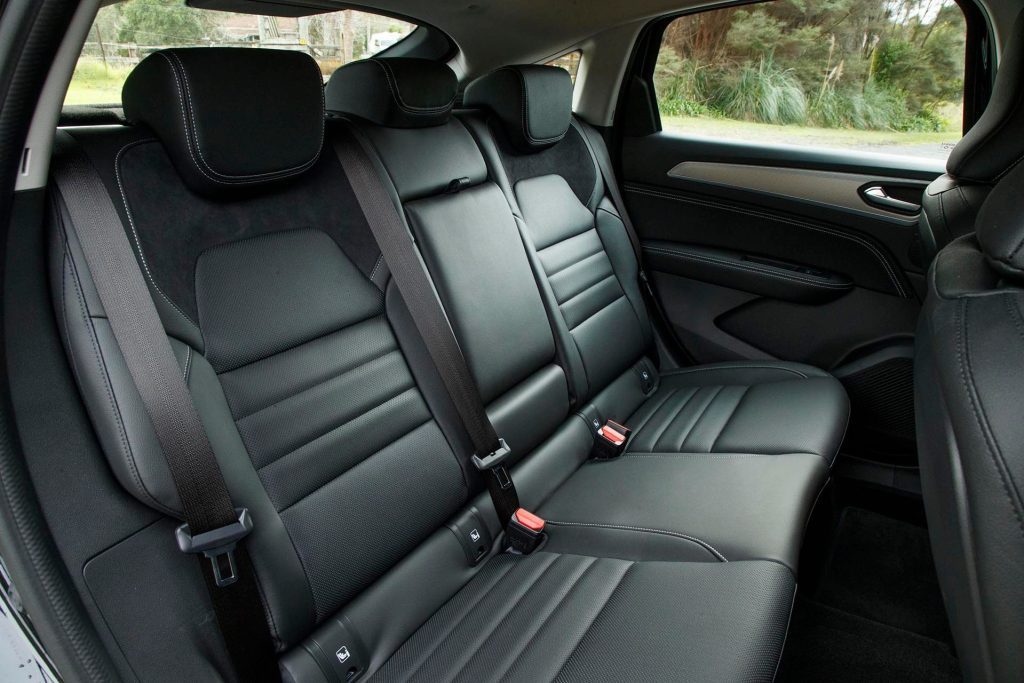 Hop inside and hard plastics abound, while the soft plastics don't have much foam backing. However, the vehicle is said to weigh in at 1358kg, so you can almost forgive it that. The clanging upon shutting the rear doors not so much. We don't mind the lack of a powered fifth door, for this is otherwise pretty well specified.
Some of the defaults are a pain though. Press the heated seat button and it doesn't go; it refers you to the touchscreen where you must first turn on the heated seat function before selecting whether you want simmer or roast. We wish it was more like the heated wheel button – push that and the wheel warms up.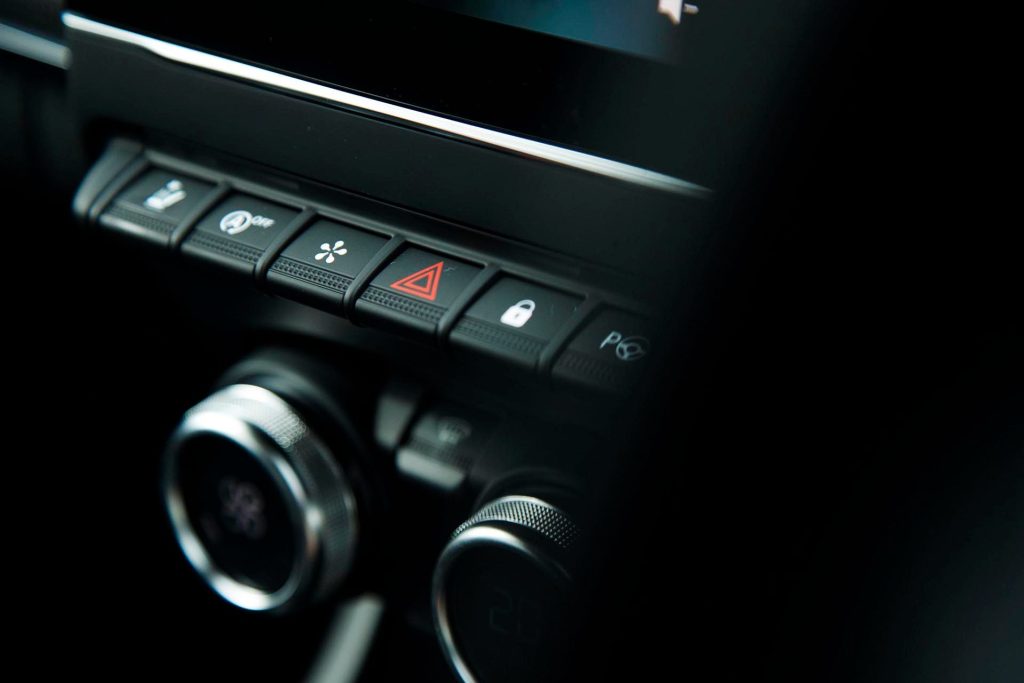 The trip info data button is a pain too, scrolling between different tiny screens, each with a bit of barely useful information. Fortunately, distance to empty is always shown.
The three drive modes are hooked up to different instrument layouts, so initially it seems like there isn't a tacho; it's part of the sport mode, which you seldom use. MySense is the default mode but we were just as happy with Eco most of the time. That's because this engine is a wee terrier at low revs. You don't need to spin it above about 3000rpm most of the time, and we seldom went over 4000rpm.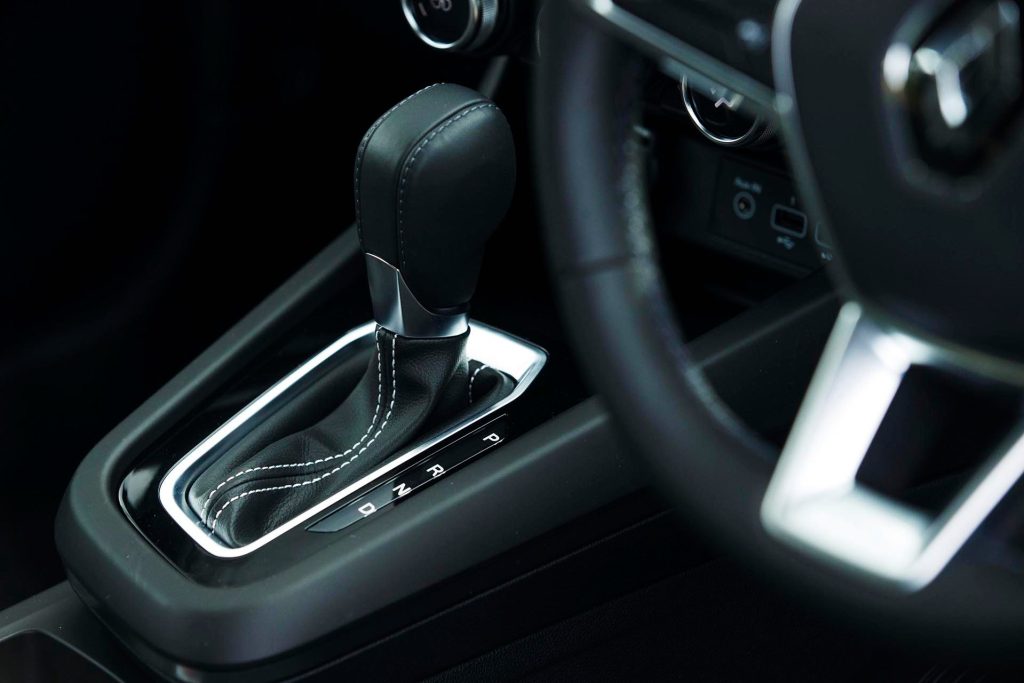 Performance is okay too, easily hitting its 9.1sec sprint claim, thanks largely to its slick twin-clutch. Away from a standstill in Sport or MySense and it sometimes chirps the tyres for there's a delay as the turbo and trans get their act together, and then suddenly it's all go. That's not the case in Eco though and there's also less attention from unwanted quarters.
Ride and handling in rural settings are perfectly adequate, just a sniff of predictable understeer happening when push comes to shove, the ESC system blinking its disapproval. The ride is nicely controlled, not too noisy (except on rough chip seal) and none too firm. It's the same in the town setting, plush enough and, as we said, best operated in Eco mode where it still feels energetic without using too much fuel.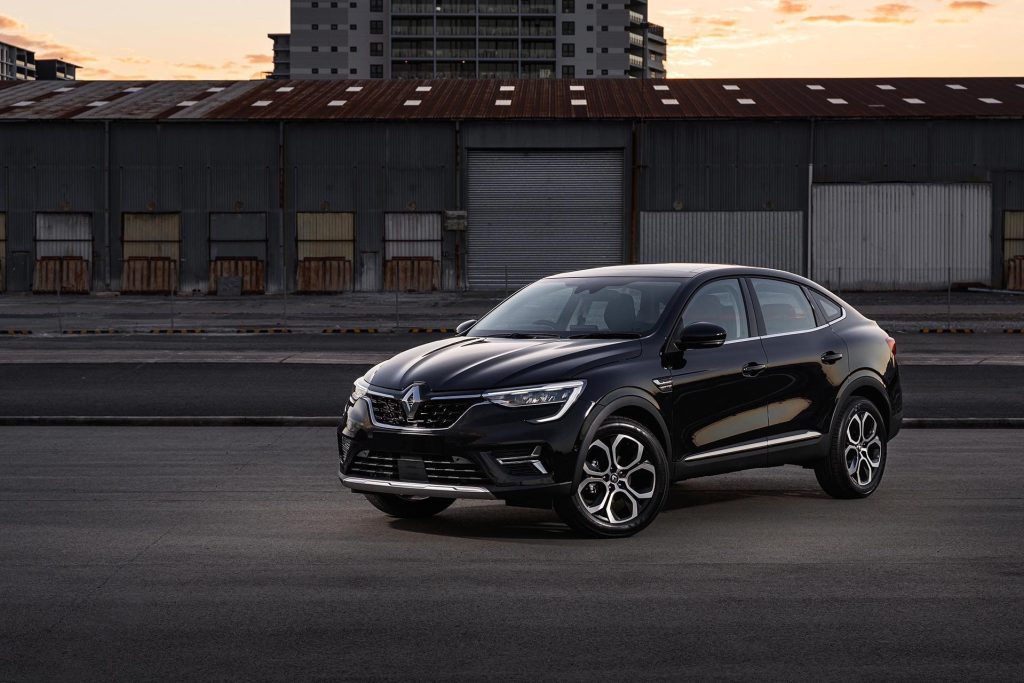 So aside from a few niggles which we'd judge as relatively minor, this fares reasonably well across the board. But then so do many of its rivals. In the end it's a case of whether the looks and price do it for you, and also whether you dare to or desire to be different.
Model
Renault Arkana Intens
Price
$44,990
Clean Car Discount
Neutral – $0
Engine
1333cc, IL4, T, DI
Power/Torque
115kW/262Nm
Drivetrain
7-speed twin clutch,
FWD
Fuel Use
6.7L/100km
C02 Output
152g/km
0-100km/h
8.61sec
80-120km/h
6.09sec (1730m)
100-0km/h
36.51m
Stability systems
ABS, ESP
Safety
AEB, ACC, BSM, LDW,
RCTA, ALK, AHB
Luggage Capacity
485-1268L
Tow rating
715kg (900kg braked)
Service intervals
12 months/30,000km
Warranty
3 years/unlimited km
ANCAP rating
5 stars (2019)
Weight
1375kg (claimed)