There's a new look lion's head emblem, and a fresh face for the 308 but is the GT worthy of its hallowed name?
Car makers in Europe have a slightly different take on the hatch than we do here. It is still a significant seller whereas the compact SUV has usurped the small hatch down under. But that doesn't mean they aren't still worthy or aren't still sought after by those who believe that high riding vehicles have their drawbacks. Most would-be owners of compact SUVs don't care about dynamics, and are willing to compromise given their added practicality. But since most trips in most cars are mostly undertaken by one person, then something more compact and lighter makes more sense in an age of climate change. And the car you see here still has much the same carrying capacity of any comparably priced compact SUV.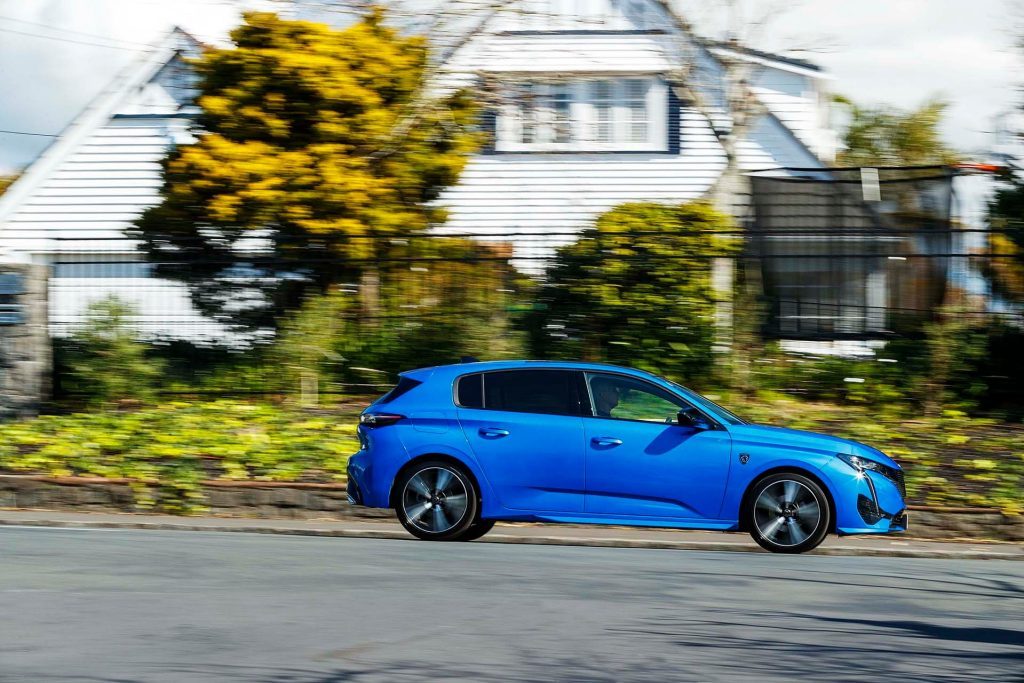 Like its smaller 208 sib, the 308 will be coming here in several guises, starting initially with the petrol-powered pair, an entry-Allure and higher spec GT model. They will be followed by a more potent, more expensive plug-in variant with a 12.4kWh battery pack and an estimated 59km of zero-emissions running for town use. And then, likely in early 2024, the e-308 will become available.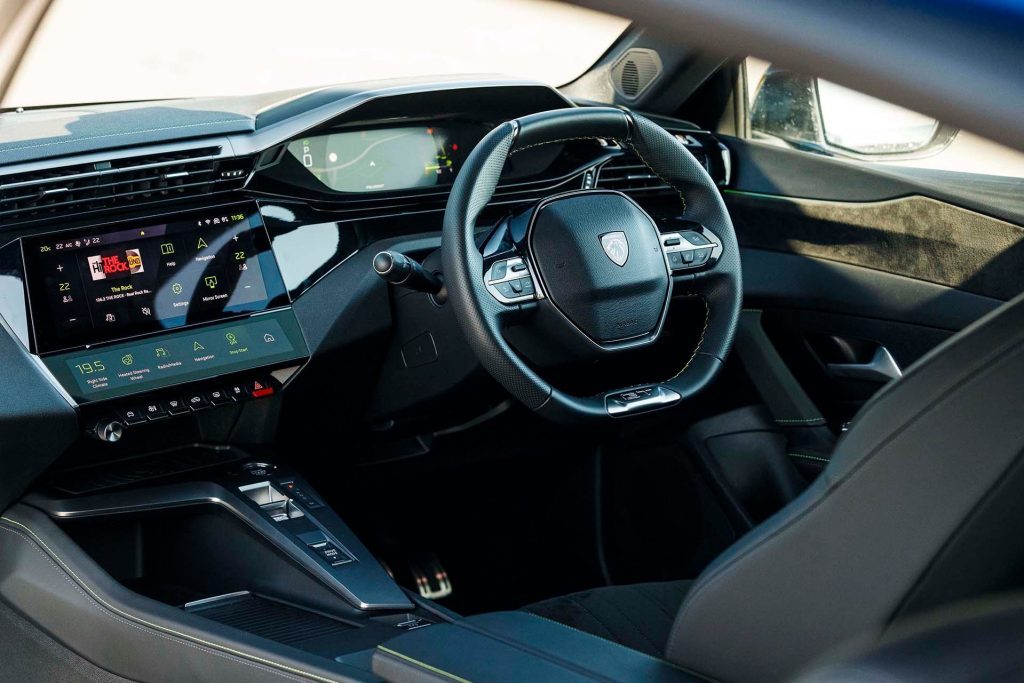 This particular metallic blue model ($550 extra for the paint) is representative of the 308 GT but being a preproduction model the ultimate specification is likely to be different. For example, this one has a Qi charger but the ongoing chip supply issues mean our one may not get that initially. It's the same situation regarding the 3D instruments set atop the oblong steering wheel. Our market will get by with the 2D variant for the time being.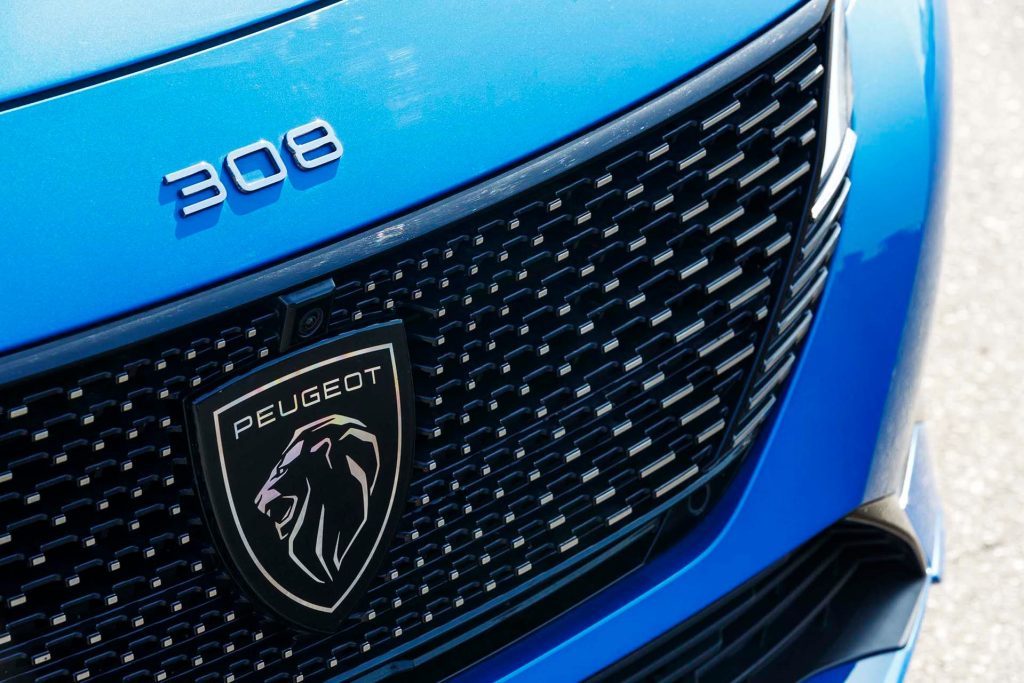 Otherwise, the GT that is due here about now will likely be relatively similar, sporting the cool suede and leather finishings for the sports seats, and all the expected safety features, including adaptive cruise control. On that, Peugeot has ditched the control wand that attaches to the steering column beneath the indicators. So when you want to change active cruise settings it's a matter of manipulating controls on the left side of the wheel instead.
Functionality of most minor controls has been re-routed to the 10-inch touchscreen because that's the way everyone is doing everything these days.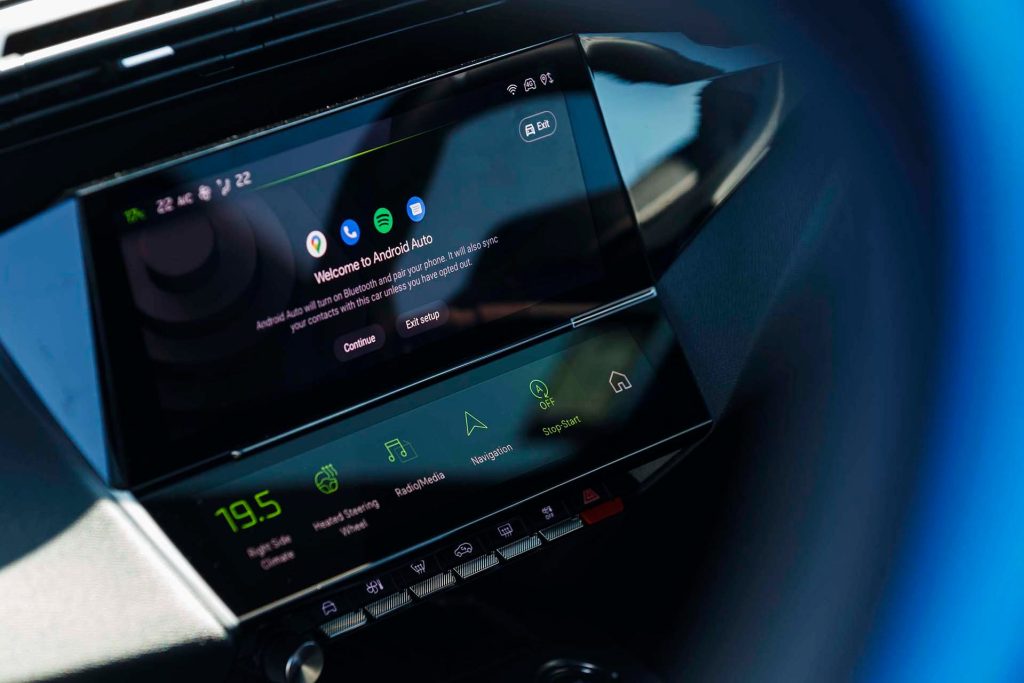 Is it an improvement? Arguably not, because study after study has shown that touchscreens are more distracting. The latest out of Sweden revealed that it took significantly longer to do the regular basic interventions using a touchscreen (20-45 seconds) than with buttons and knobs (10sec).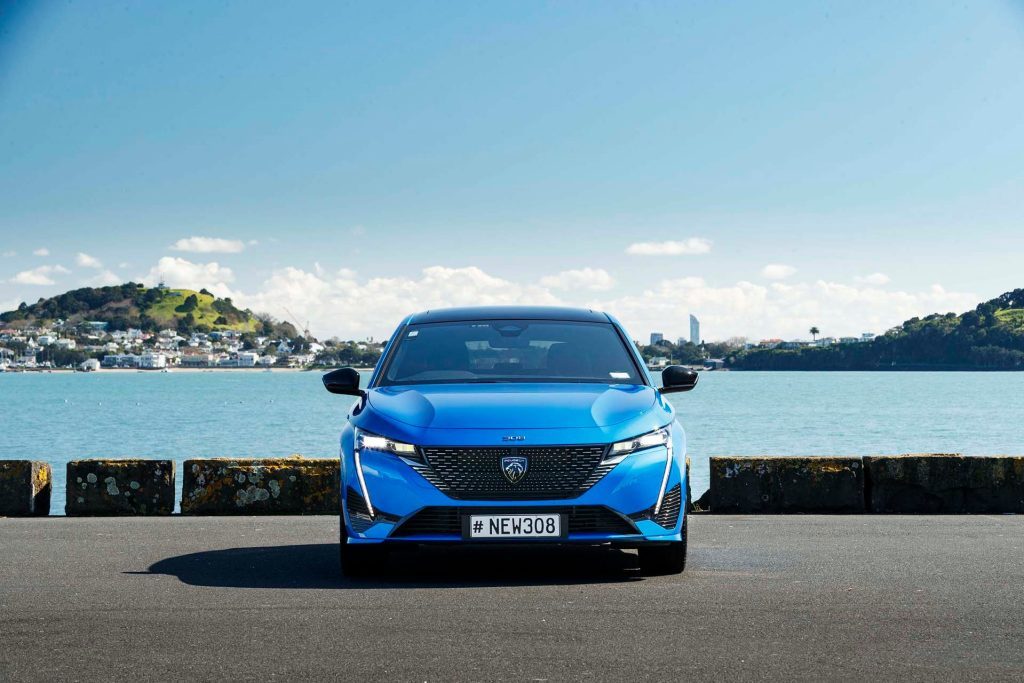 Much the same is true for the new 308. Fortunately you can set shortcuts for regularly used functions but that's an oblique admission that functionality is overly distracting. In the end, I got the Hey Peugeot assistant to do most of the stuff that was simply too distracting, although she often refused, on the grounds of safety. Switching off lane keeping took me about half an hour to achieve initially, because I had overlooked the car icon set amongst the few climate control buttons remaining. Of course that's where it would be! Anyhow, after that it is a reasonably simple three-step move to cancel lane keeping. A 'favourite' button would do it in one.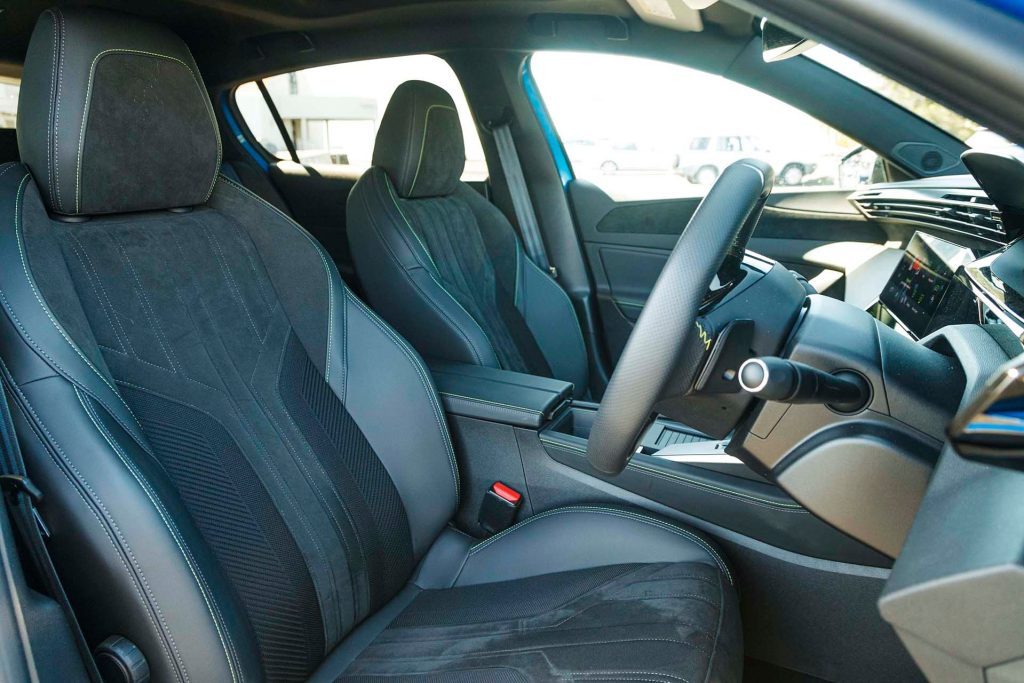 Sorting your preferred instrument layout is more of the same. Instead of different views selectable by a button on the wheel, you must do this in the touchscreen. So we just set it to revs and speed and left it at that. A pox on touchscreens but I guess we're stuck with the damnable things.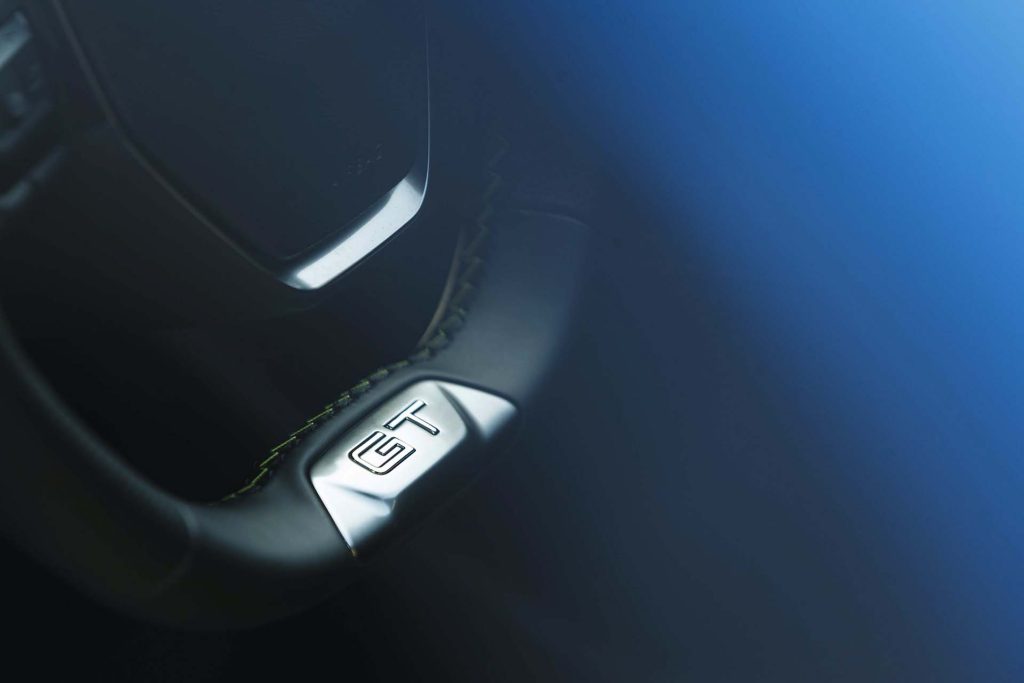 Just what exactly makes this 308 a GT variant? Good question grasshopper because it certainly isn't performance. An overtaking time of just under 7sec doesn't sound like grand touring performance to me, nor its 9.5sec sprint time. Think then of this GT being a gentle tourer, which is closer to the reality, given its silky ride.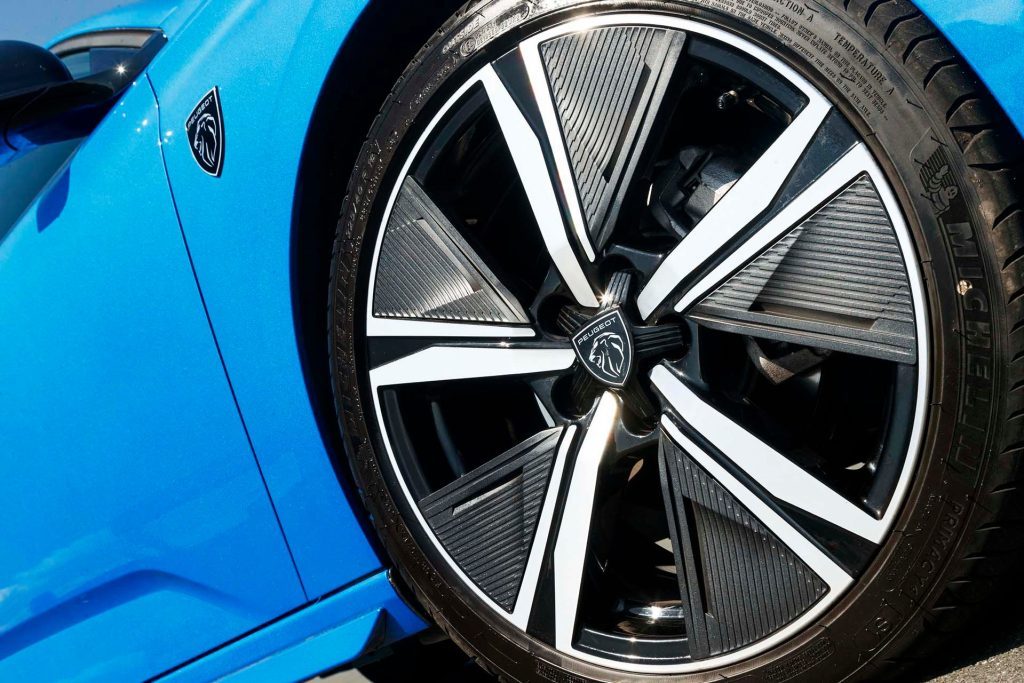 In town its Pure Tech 1.2T triple oozes low end grunt. Even in the Eco mode it gets by just fine, the little triple singing its thrummy song. In Normal mode, the default, it feels really quite nippy in town, and upshifts in the eight-speed auto are all but undetectable. Out on rural roads, highways excepted, we preferred Sport because it is palpably stronger in this mode than in Normal. In neither will you see eighth gear engaged, at least not at legal speeds, unless you select manual mode and do that yourself. Then the tacho sinks down to about 1600rpm at 100km/h, where in seventh it's an even 2000rpm.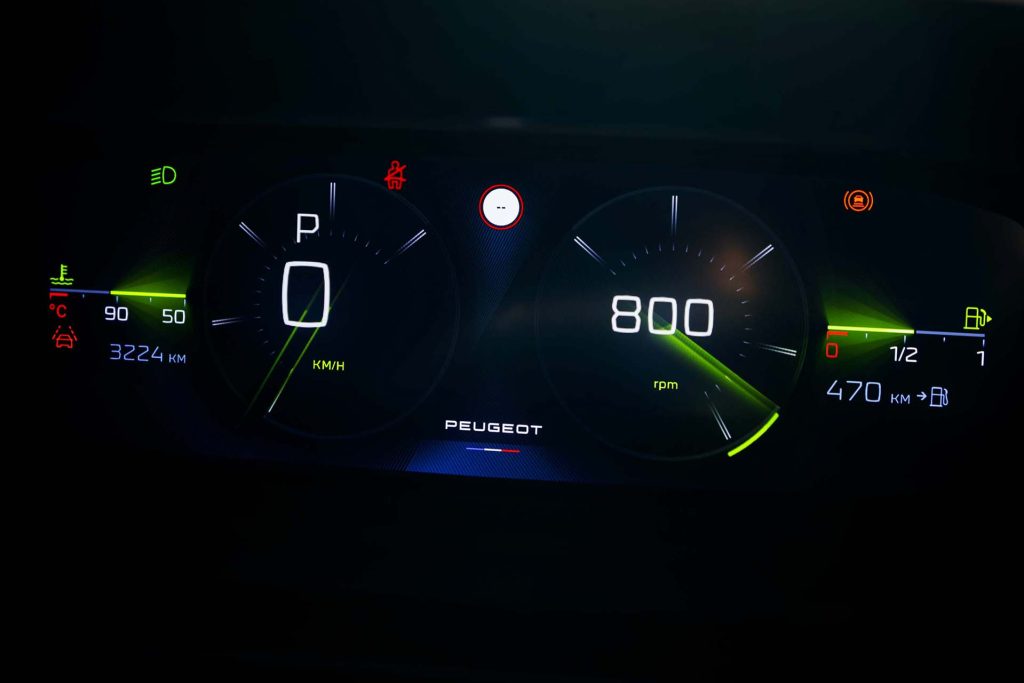 About all that upsets the applecart is freshly laid chip seal which generates a lionine amount of roar (dBs in the 76-77dB region) from the Michelin Primacy 4 S1 rubber, 225/40R18s.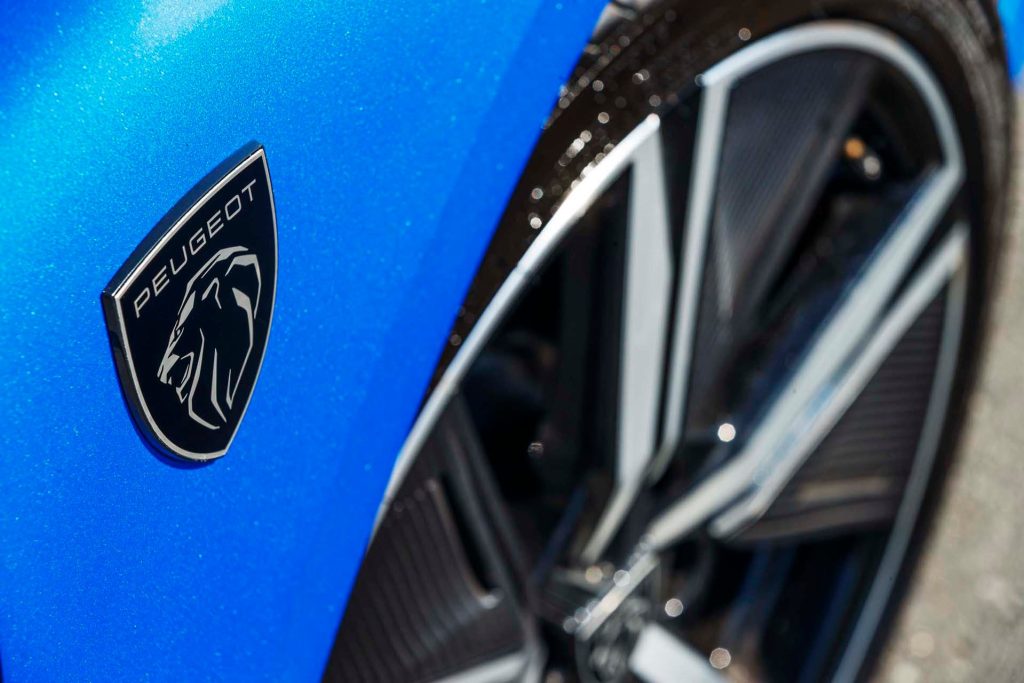 You can almost overlook this because of the effect this rubber has on the handling, but even on partly worn chipseal the noise generated is still evident to all but the cloth eared. It's certainly out of keeping with the Grand Tourer image.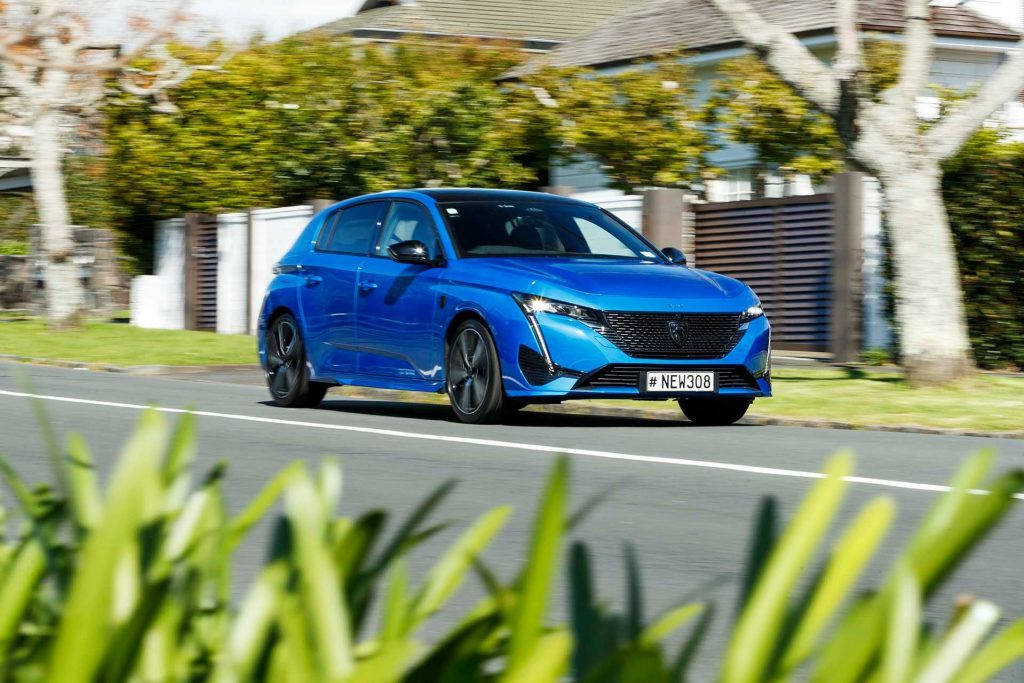 All of which is rather a shame because this handles and rides so sweetly on its fixed suspension. The tiny little ovoid wheel is light enough that you can steer with one hand while you're distractedly trying to change some setting in the car. But not texting, obviously. Fuel use you can monitor by a button on the end of the right wand. It will say six point something most of the time, sevens if you're checking out the natty dynamics this is so capable of. And the engine is Euro 6d compliant, apparently.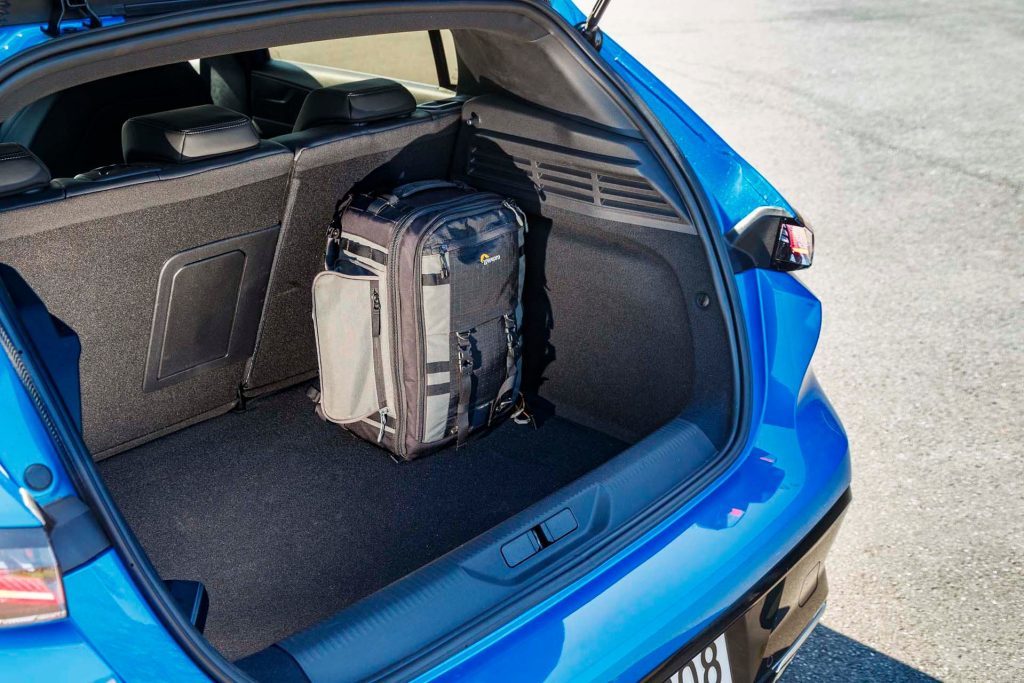 Quality is for sure a step up on former 308's – the cabin is awash in good quality soft plastics – but even so we're not quite sure this will be able to foot it with Euro competition Peugeot aims to rival; they will eclipse this for performance, and will be less vocal on country roads. Even the like-sized Fabia Monte Carlo will easily outrun the 308 GT, yet is just as fuel efficient and it's for sure quieter. It doesn't have quite the presence perhaps of the 308.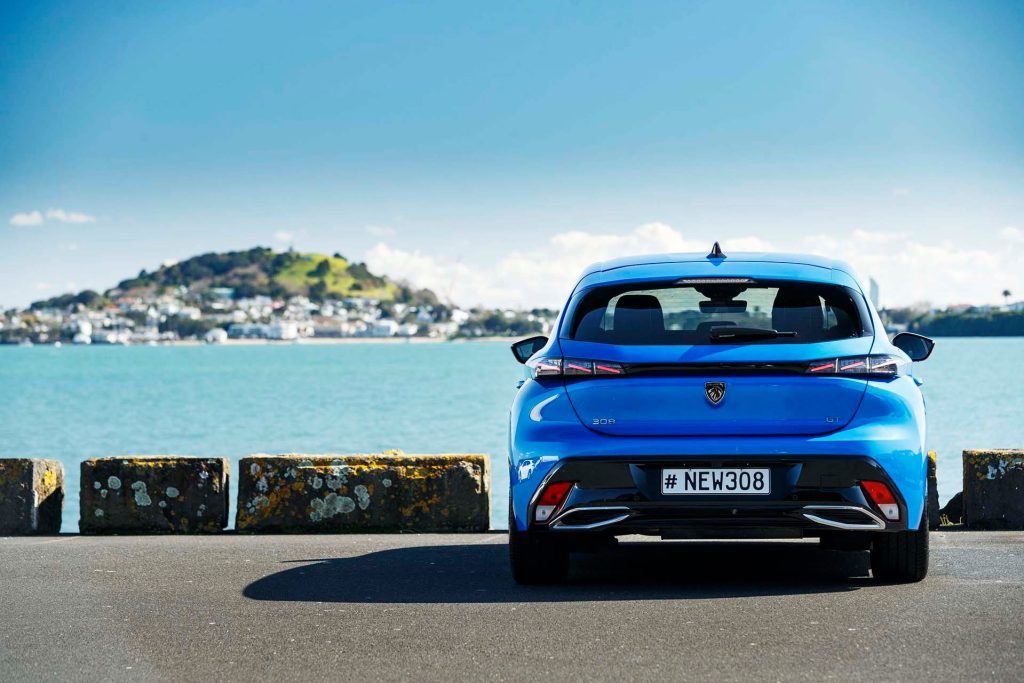 The 308 model range starts with the petrol-powered 1.2-litre Allure priced at $46,990 and it receives a $2490 Clean Car Rebate. Next comes the higher-specified GT which features the same 1.2-litre petrol engine. The GT is priced at $51,990 and also receives a $2490 Clean Car Rebate. Rounding out the range is the GT Hybrid (PHEV), arriving from January 2023 with a 1.6-litre engine and fully electric driving mode. The GT Hybrid is priced from $74,990 and receives a Clean Car Rebate of $5750.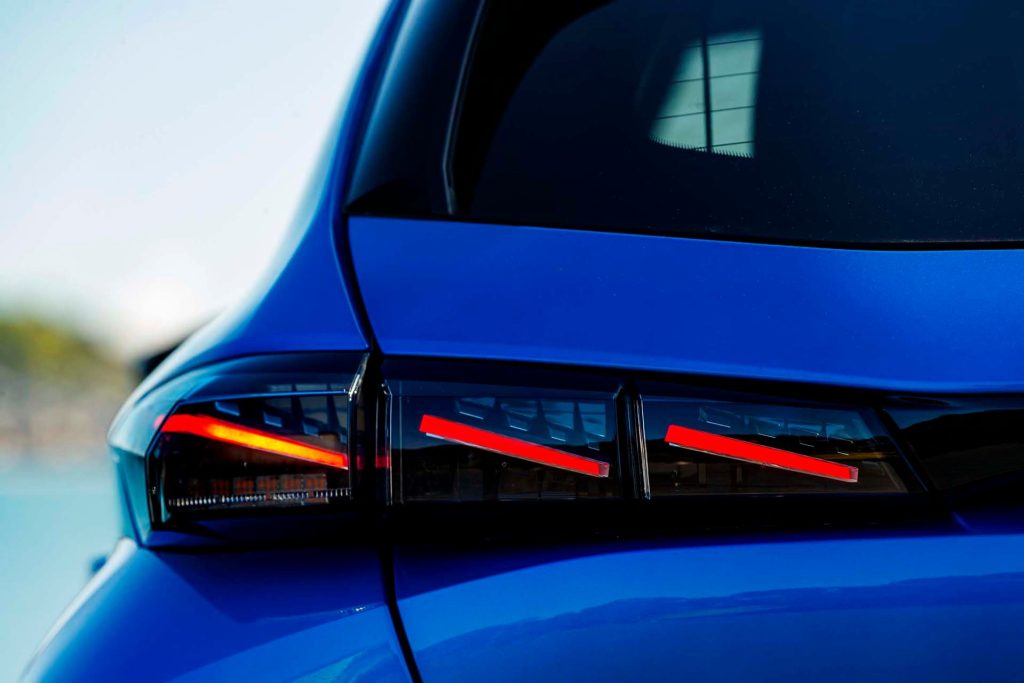 Aside from the gear already mentioned, the GT will come with full matrix LED headlights, autonomous braking for cars, bikes and pedestrians, fatigue alert and collision warning, window tints, a mild body kit, leather bound wheel with paddle shifters, a wheel heater (but not for seats), ambient lighting and puddle lamps, and self-locking and opening. There are also front and rear parking sensors, wireless smartphone connectivity, and USB-C sockets.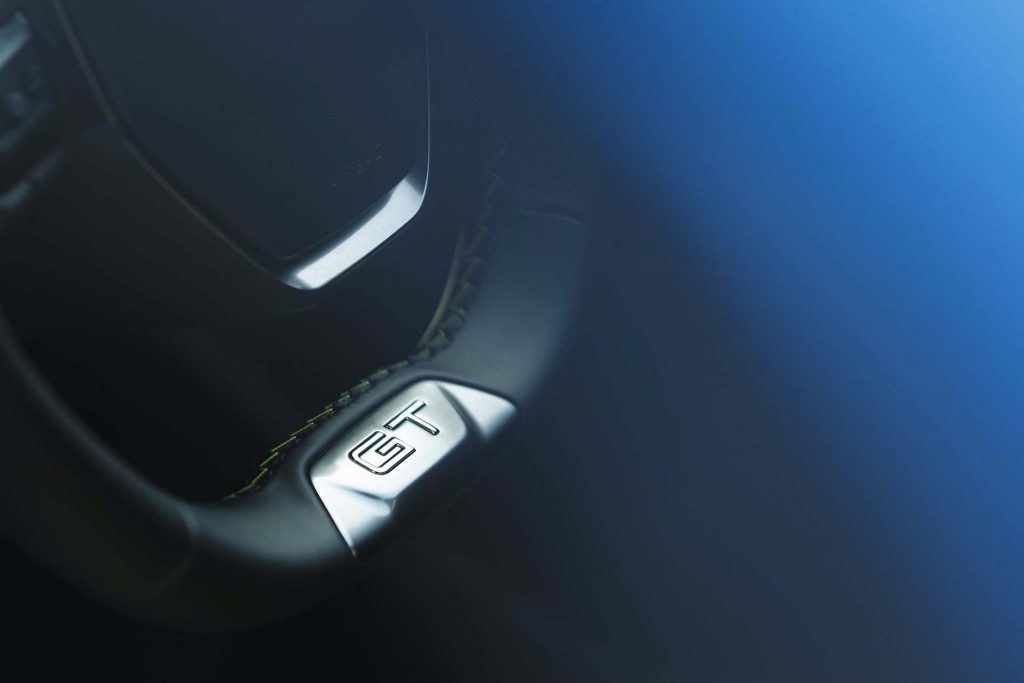 A $5500 GT premium pack adds nappa leather upholstery, power seat adjustment, including massage and lumbar enhancement, and a 10-speaker Focal sound system. Other options include a $2900 opening panoramic roof and three- and five-year service plans. Warranty extends for five years/100,000km.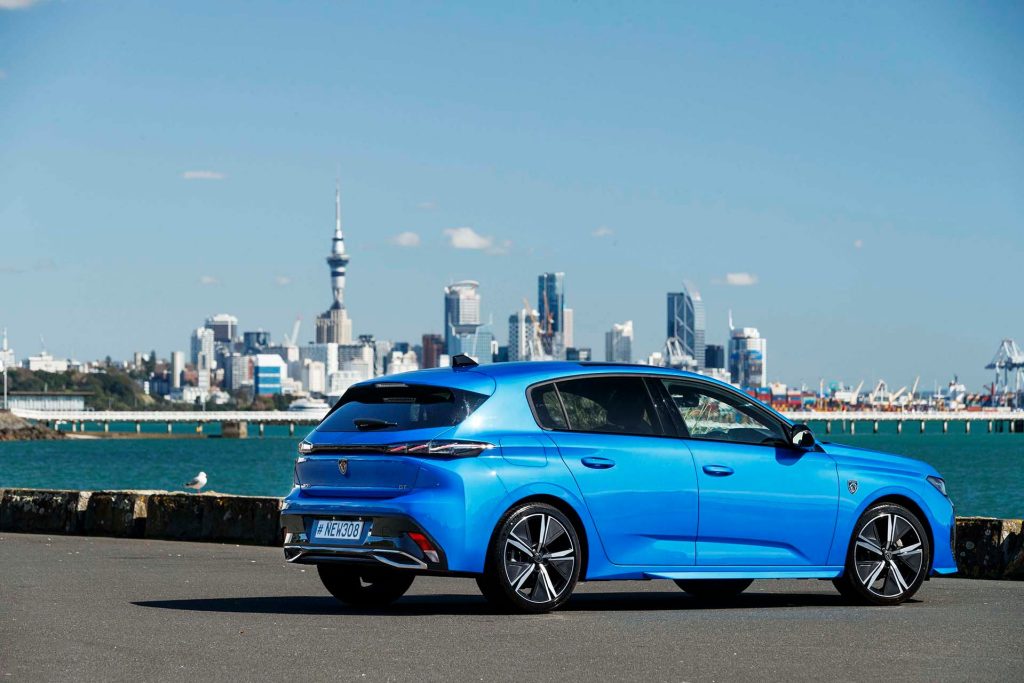 Model
Peugeot 308 GT
Price
$51,990
Clean Car Discount
Rebate – $2490
Engine
1199cc, IL3, T, DI
Power/Torque
96kW/230Nm
Drivetrain
8-speed auto, FWD
Fuel Use
5.2L/100km
C02 Output
119g/km
0-100km/h
9.51sec
80-120km/h
6.77sec (195m)
100-0km/h
35.16m
Stability systems
ABS, ESP
Safety
AEB, ACC, BSM, LDW,
RCTA, ALK, AHB
Luggage Capacity
412-1323L
Tow rating
750kg (1200kg braked)
Service intervals
12 months/15,000km
Service plan
$1590/3 years/45,000km
Warranty
5 years/100,000km
ANCAP rating
not yet rated
Weight
1288kg (claimed)