KTM hasn't given up on its small sport bike, the RC 390, and that's because it is eye candy, especially in the orange, black and blue hues, and it's kind of a sport bike cum commuter. Well, it certainly can be for the right person. It drinks vanishingly small amounts of gas and doesn't cost the earth, this particular 2022 model going for $8749 plus ORCs and there's a $400 discount happening at present.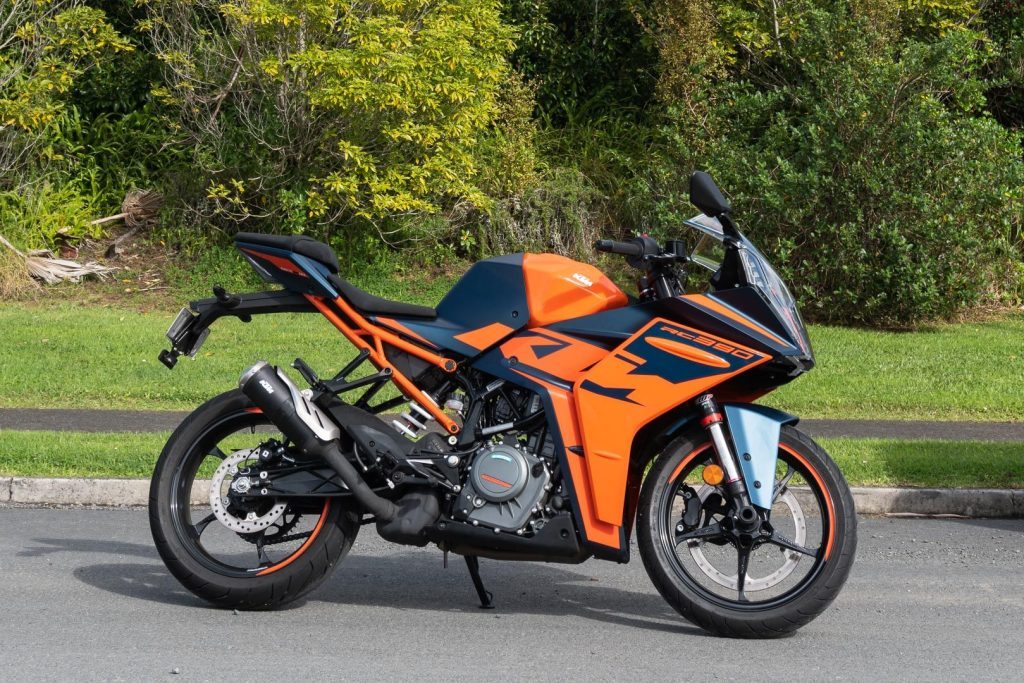 The safety arsenal on this bike beats all. There's ABS braking of course and traction control too but get this, the RC390 comes with a three-axis IMU so you get cornering ABS and cornering TC as well.
Plus nice components, like adjustable WP Apex suspension and ByBre brakes with an adjustable dog leg lever. Plus that Ready to Race look and attitude come gratis.
Most sport bikes these days have multiple cylinders and bulk amounts of power. The LAMS-legal KTM RC 390 goes against the grain with its stroppy little 33kW single-cylinder engine, packed in a 155kg chassis, offering surprising fun for not a whole lot of outlay.
You even get Binder-esque livery (MotoGP colours) for a bit extra. If you're after the very latest, the 2023 model, which is little different from the 2022 variant, costs $9299 for the blue and orange, like this one, and $9499 for the GP replica variant which is primarily orange and black.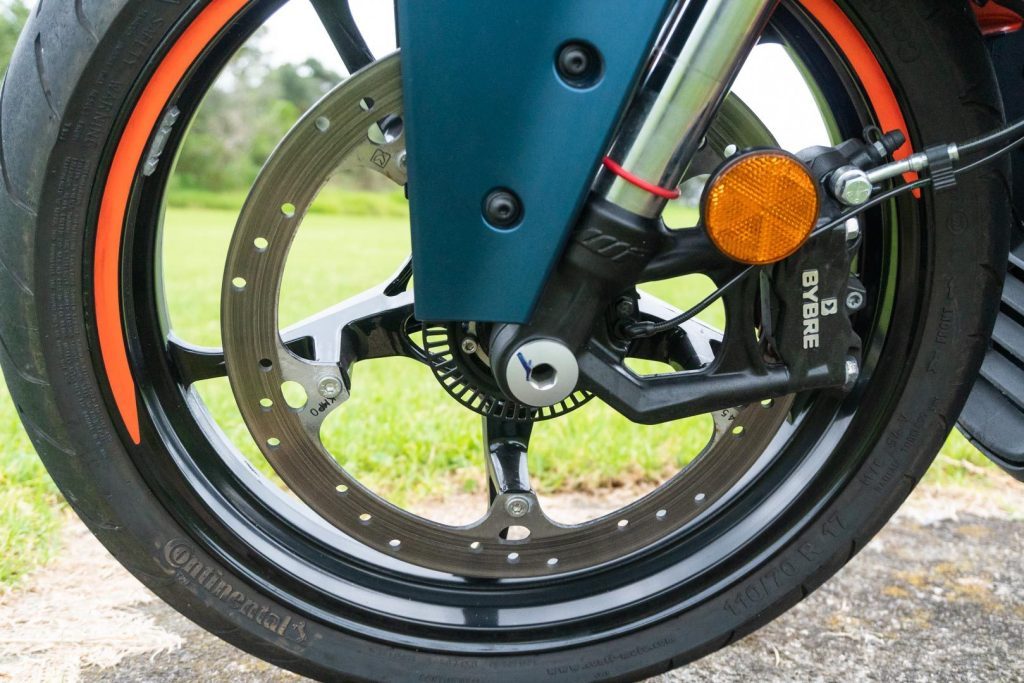 The KTM RC 390 is lighter than air
Changes implemented last year include new body panels, improved aeros for better wind and weather protection, slicker heat management directing hot air away from the rider, a redesigned steel trellis subframe, a larger fuel tank and further weight savings.
How can they lighten something that was already a featherweight? Well, new wheels remove 3.4kg of unsprung mass, the new ByBre braking system sheds almost a kaygee while the frame is 1.5kg lighter.
It also features slightly more flex for enhanced rider feel. Ergos are changed too, with the bars 10mm further forward. But the handlebars, actually clip ons, are height adjustable.
You remove a couple of bolts from the triple clamp, loosen the handlebar fastening bolt either side and force them up by a few centimetres.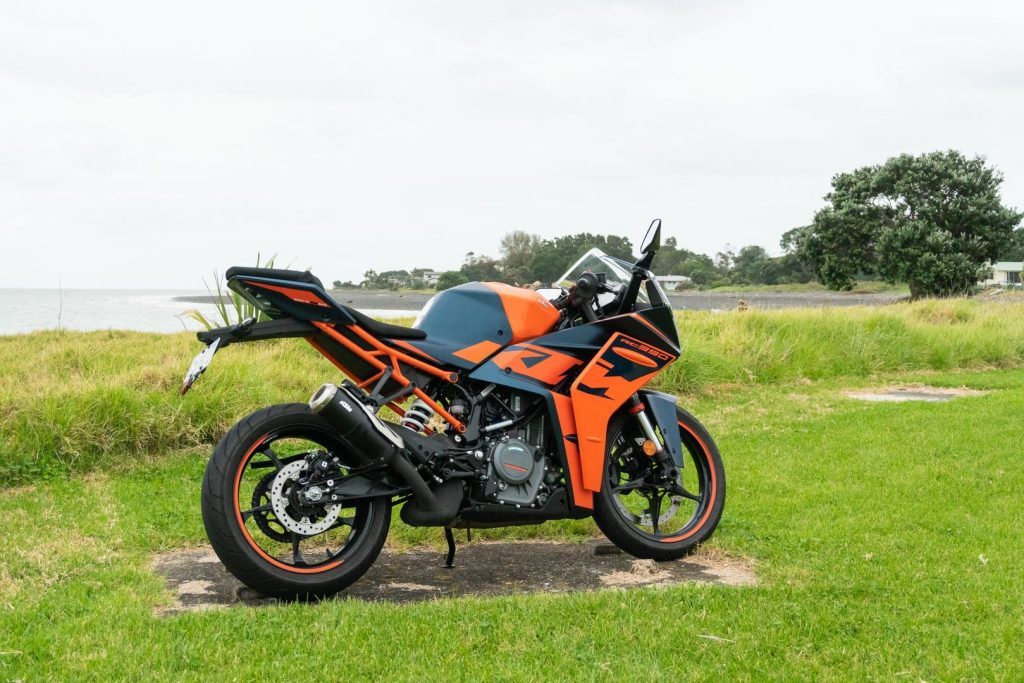 We did this because we could and as standard they were just low enough to aggravate an old neck injury. The minor adjustment made a real difference, especially at town speeds.
Footpegs are slightly higher for increased ground clearance but they're not sufficiently high to cramp your style. The seat is 824mm off the ground but is racer thin so most should be able to stand over the bike easily enough at rest.
Surprisingly, the seat itself is quite comfy, perhaps because some weight is set forward on your wrists, meaning slightly less on your tush.
Up front are new adjustable WP Apex USD forks which feature 30 clicks of compression and rebound adjustment. The rear offers pre-load adjustment and five clicks of rebound.
We wound back the front settings by five clicks and the rear by one, and never touched anything again because it felt just right.
Back in the day when sport bikes were selling well, they were seldom comfortable but frame and suspension development have come a way since then; the WP Apex gear flattens lumps and bumps well and the bike holds its line through rumpty corners. It's all seriously confidence inspiring.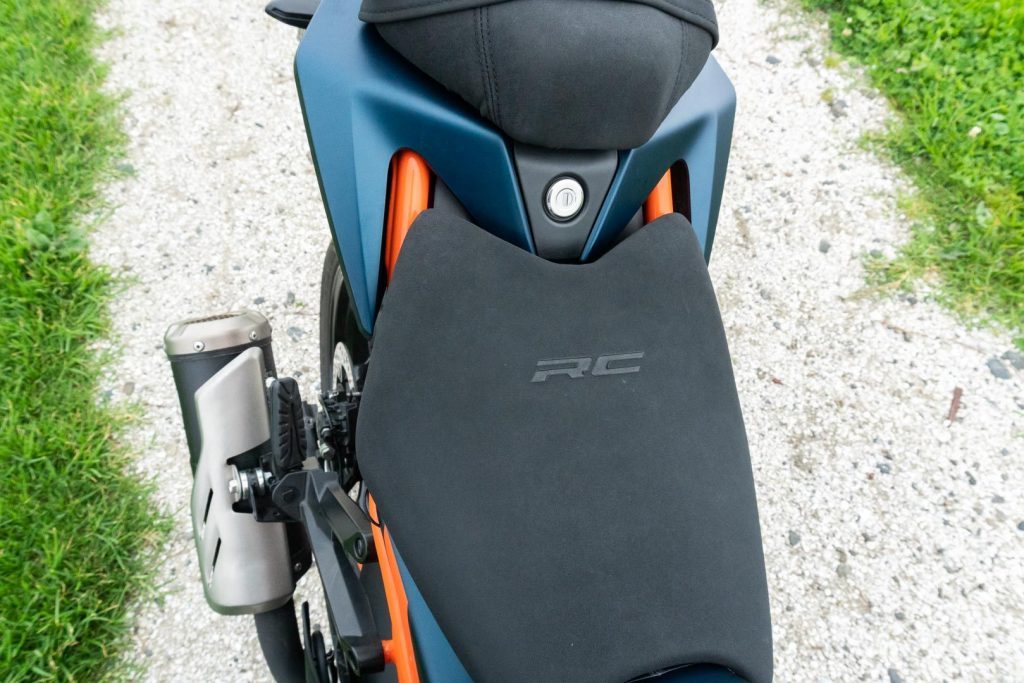 Added go power
For 2022 the liquid-cooled single-cylinder DOHC four-valve injected engine is Euro 5 compliant and comes with a 40 per cent bigger airbox design and new engine mapping for a lick more torque and rideability.
Peak power arrives at 9000rpm and while high revs aren't essential, this is definitely an engine that likes to spin to really deliver. It's a proven unit too, thanks to extensive experience on the racetrack.
Forget about the region below 3000 where it feels distinctly unhappily; from 4000 the action begins and through the gears 4500-7000rpm is where it seems to like playing, without fuel use going out the back door.
At pick up it was showing 3.2L/100km while performance testing saw it rise into the fives but most of the time anything in the low fours/high threes is what you should expect to see. The claimed average is 3.46L/100km.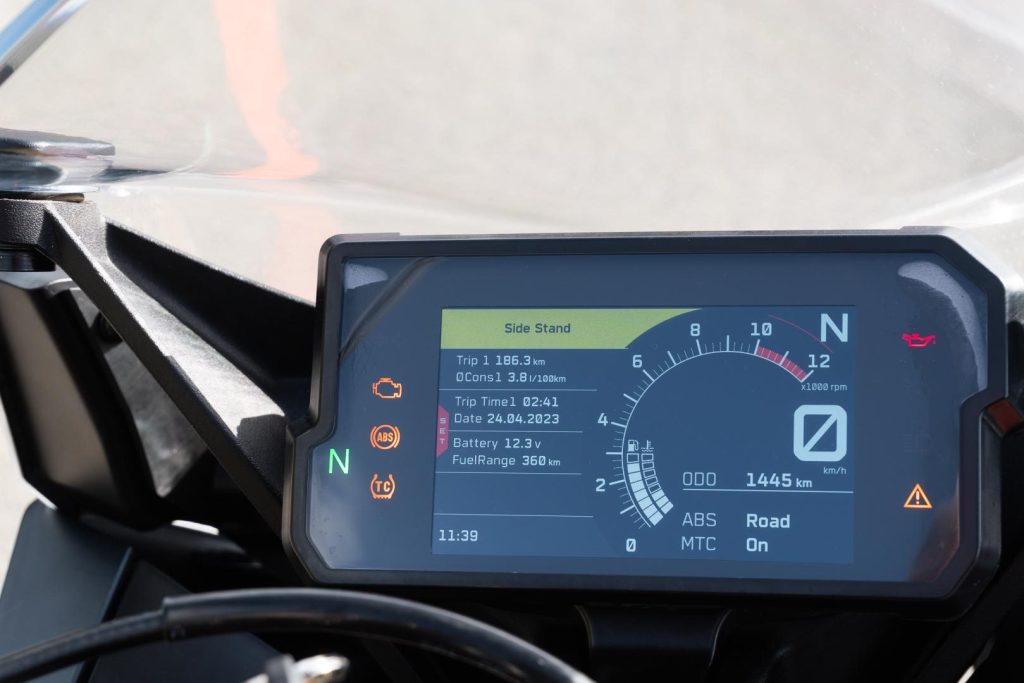 This is a LAMS legal machine so isn't a racehorse – 0-100 takes a bit over 5sec – but the chassis is thoroughbred. Changes of direction this aces, with just a hint of peg and bar pressure too. Switchbacks? No problem, this laps them up.
Our tester featured an optional Quickshifter but we'd probably give that a swerve; regular shifts are lightweight, as is clutch action, the lever for which is adjustable, like on the brake side.
The single disc is decent enough but hardly state of the art; utilising both together is better or the rear alone to set your corner entry which helps maintain your momentum; always key in a machine with limited power and capacity.
KTM's My Ride app can now be added to the RC 390, thanks to a new TFT color display, allowing you to access important information at a glance.
The display automatically adapts its brightness to ambient light. And KTM's user set-up remains the easiest, most logical of the lot. The speedo's also one of the most accurate we've encountered on a bike, an indicated 100 being 99km/h.
So, race replica or what? Apart from sheer speed and all-out stopping power it is. There's a huge fun factor too.
All its rivals barring Honda's not-so-quick single-cylinder CB300R are twins and include Kawasaki's Ninja 400, Yamaha's R3, and Honda's CBR500R models for LAMS riders.
None matches the KTM for equipment levels, especially suspension. Its riding position may not be for everyone but it is adjustable as we found. If it's all too much there's always the KTM Duke 390!
Model
KTM RC 390
Price
$8,749
Engine
373cc, liquid-cooled,
fuel injected, single
Power/Torque
32kW/37Nm
Transmission
6-speed, chain final drive
0-100km/h
5.36sec
80-120km/h
4.32sec (124.9m)
100-0km/h
42.29m
Safety systems
ABS, TC
Seat height
824mm
Measured Weight
165.5kg