Kawasaki has added a naked 400 version of its smallest Ninja. It's roughly as quick as the faired bike, but costs less. Could be this is the ultimate lane splitter?
Is there a stepping stone to a bigger bike after your first LAMS machine that doesn't cost the earth? There never used to be, for anything north of 400cc formerly cost in excess of $10k, but with the arrival of the Ninja 400 and now its closely related Z400 naked bike, it's possible to move up from a beginner machine to a more advanced LAMS motorcycle that can take to the open road with ease, and it needn't cost a fortune.
The Z400 goes for $7995, which is more than what the faired Ninja 400 sports bike went for originally due to currency fluctuations not in our favour. We were rather looking forward to a ride on this variant because the Ninja 400 sportster took out our BOTY title in 2018. It offered what bordered on a middleweight feel and performance but at a LAMS entry price. It was sufficiently quick to be able to get out of harm's way, both in town and for overtaking on the open road, while cruising at 100km/h was a seemingly effortless affair.
Not much has changed then in translation to the naked version.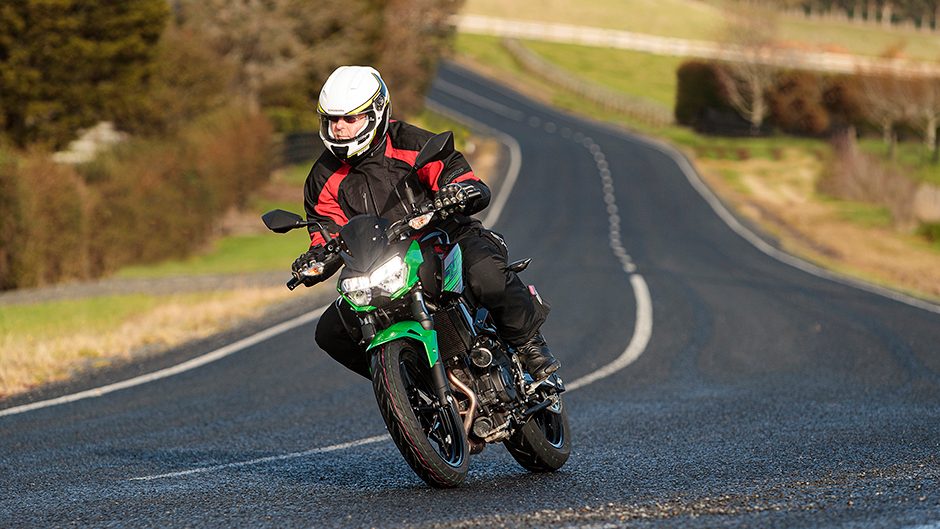 There's the same 34kW (45hp) parallel twin engine that also generates 38Nm of peak torque at 7000rpm. The 399cc engine is turning exactly 6000rpm at 100, as before, and 110km/h indicated (a real world 103km/h) uses up 6500rpm. So an overtake requires one tap of the accurate lightweight 'box. We didn't find a false neutral in the entire time we rode this machine, while the actual neutral is easy to locate.
The peak power, developed at 10,000rpm, genuinely impresses and should keep even experienced motorcyclists relatively content, unless they're addicted to litre power. But at the other end of the spin cycle the engine is happy to lug away from 2500rpm, so will cruise urban streets in top gear, no worries. It's equally happy firing down country roads, best revs above about 7000 where it pulls so well.
On a dry day on the right roads, the gorgeous balance of this machine and its top end power will have its rider making like they're in a Supersport 300 event, except of course they'd be on the Ninja 400 for proper authenticity. On that, the entire upper LAMS class has received a bit of a fillip since the instigation of the World Supersport 300 series.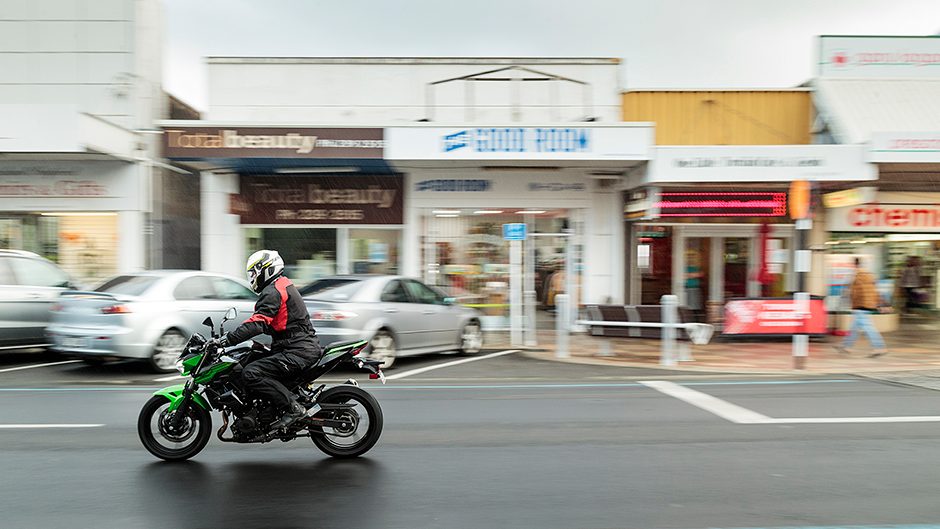 Initially using Kawasaki Ninja 300 and Yamaha YZF-R3s, along with Honda CBR500s and KTM390s, the majority of riders this year are on Ninja 400s, including the two previous title winners, Marc Garcia and last year's first ever female winner of a moto track series, Anna Carrasco. Both are from Spain, the primary incubator of world sports motorcycle riders.
We tried to run with a pair of middleweight and litre bikes of a weekend ride on the Z400, and couldn't quite as they were on a mission, but it's much easier to keep things legal on this. Some living close to the edge of a licence precipice might appreciate the Z400. Anything getting to 100km/h in five seconds isn't exactly hanging around either. It keeps the more expensive MT-07 and CBR500R honest.
At 100km/h there's very little in the way of palpable tingles, though the mirrors might tell another story. They're mounted to the bars and show a fairly good image of elbows unless you tuck them right in. Even then the reflections are blighted by vibes so they're only really any use if someone is tailgating. But that ain't likely on this wee rocket. Away from the lights only a black V8 Holden ute showed me the way, and he looked to be on something of a P-driven mission.
Being a parallel twin it doesn't sound like much, although there's an aftermarket can to make it boom. The obvious difference from the Ninja 400, lack of fairing aside, is that the handlebars are taller by 50mm, and closer and wider than those on the sports bike but the underlying rigid trellis chassis is identical. With higher bars you can hunker down and hang off a bit through sweeping corners. Or any corner really.
The seat height is the same as that of the Ninja and the riding position similar, except it's slightly less of a lean to the bars. It's a surprisingly comfortable riding triangle, despite footpegs that feel a bit raised. The seat could stand a bit more padding up front too. Even so, I had no aches or pains following an afternoon's ride on this. The only quibbles are that your right heel often rests against the exhaust heat shield and the brake lever isn't adjustable.
The weather on our weekend ride was almost perfect for early winter, no wind, sun out, temperature around the mid-teens. Seemingly everyone with a motorcycle was out for a blast, and having one. We certainly did, stopping half way to check the performance figures which were just a few tenths off those of the Ninja 400.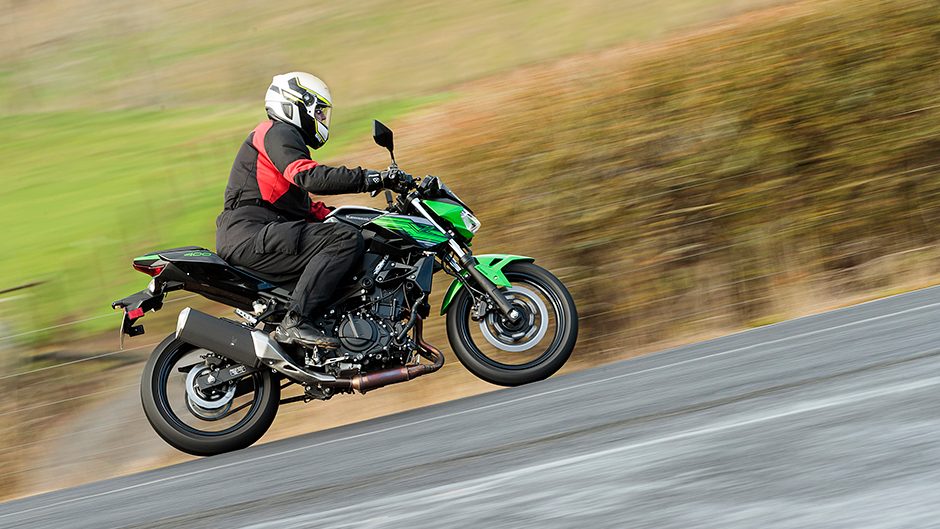 However, we managed a vastly improved stopping figure, around 41m for an emergency stop from 100 compared with 46m for the faired bike. No clue why though. The rear unit is excellent, good for learners needing to wash off speed quickly if they misjudge things. About the main difference from the Z400 is a slightly steeper steering angle, and marginally softer springs front and rear, as this is more commuter oriented than the Ninja 400.
And yes, the ride seems a bit plusher, soaking up the bigger hits a little better. Handling remains inspirational; it takes everything in its stride, gliding through turns, helped by those wide bars. There's no wallowing; it just maintains a line through lumpy corners, inspiring confidence. Helping is good fueling, and sharp steering.
This is genuinely sporty and fun to ride. And it is just as happy tackling out of town work as it is splitting lanes of parked cars on motorway rush hour duty. The dash is relatively simple, borrowed from the Z650, and features an LCD screen and analogue tacho. It's legible, though the rev increments are a bit hard to decipher. Info includes a gear position indicator and instantaneous and average fuel use (only ever less than 5L/100km, and more often than not below 4L/100km on the commute), along with fuel range.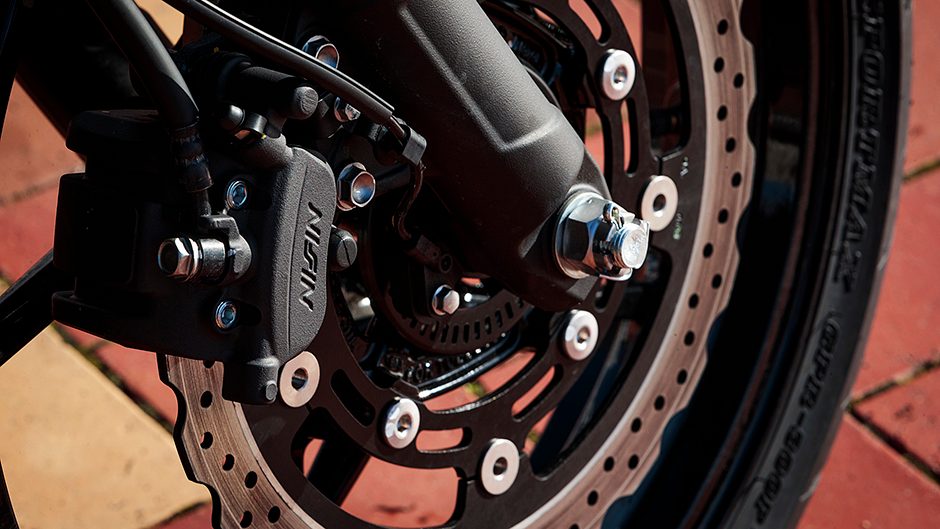 It's such fun this, and all at a great price. ABS is standard, as is an LED headlight. You can also add bits like a mini-fairing from the accessories catalogue if you want. At just on $8k this is about as much bang for buck as you can possibly expect from a midsized LAMS machine
Plus you're getting the proper Kawasaki green and black paintwork thrown in for nicks, whereas the base Ninja 400 was black only. This looks smart, and can also be had in candy cardinal red but really, you wouldn't, right?
So with a more relaxed riding position and costing $1000 less than the equivalent Ninja, we'd say this has taken over the reins of the best value LAMS machine you can buy for under $10k. Once again, Kawasaki delivers great LAMS performance and style at a hard-to-ignore price.
| | | | |
| --- | --- | --- | --- |
| Model | Kawasaki Z400 ABS | Price | $7,995 |
| Engine | 399cc, liquid-cooled, fuel injected, IL2, 33.4kW/38Nm | Drivetrain | 6-speed, chain final drive |
| 0-100km/h | 5.09sec | 100-0km/h | 41.53m |
| 80-120km/h | 3.95sec (112.9m) | Weight | 167kg |