Triumph has morphed its street scrambler 900 into a bigger, taller off-roader, the Scrambler 1200 inheriting a brawny Thruxton engine. Does it scale the heights?
Once upon a time, scrambling was about actual off-road riding rather than posing with beards, fancy boots, and retro clothing outside poncy cafes. Back in the day, you either had a motorcycle or you didn't. And if you wanted to do a spot of green-laning, you needed to modify your road bike for off-road running.
This happened in the 1920s in the UK, the scrambler born from the street bikes of the time. They were stripped back, given taller suspension, elevated exhausts and knobbly tyres. Evidently the term came about when someone described the racing as 'a mad scramble'. The freedom decade, the 1960s, saw peak scrambler years. Californians took to the Baja desert on their modified machines in great numbers. That's about when Japanese factories got in on the act, and once dirt bikes were born the scramblers were history.
Now they're back, a reborn retro bike set, built for off-road and street use. Like back in the day, the instruments and lights are small to reduce the chances of damage during a get-off. Rear shocks are of the twinned variety, seats are one-piece, thicker, and wheels are invariably spoked on aluminum rims, to take up the shock of big hits. Not that they'll see many, parked up outside boutique beer bars.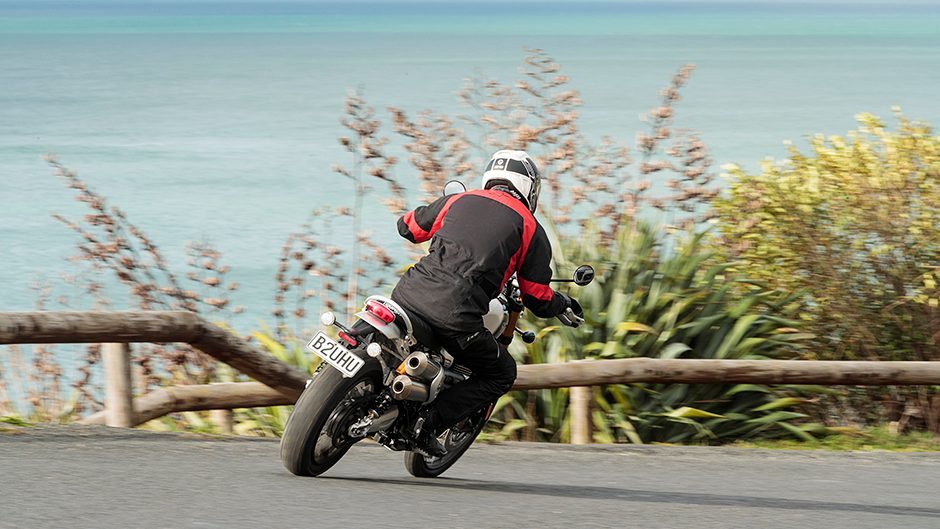 It's back
Triumph kicked off the modern scene with its Bonneville Scrambler in 2006, just as it had in the sixties with the T120 TT. Cue the right look, a rugged, stripped down appearance. Ducati followed some time later in 2014 with its line-up of four Scramblers. Until the arrival of the Desert Sled, these were primarily street oriented but with their good looks and relative affordability they became popular. Last time we rode a Triumph Scrambler it had the "Street" prefix and was powered by a 900cc twin. This one is known simply as the Scrambler 1200, motivation from a modified Thruxton engine.
All the classic cues are present, the small headlight (LED of course), the small instrument (TFT natch), the signature elevated mufflers (which still try to singe your leg hairs) and the twin shocks (Ohlins on the more righteous XE version we rode).
Unlike the Ducati Scrambler, the first four versions of which were oriented for all-roads riding, the XE is actually designed to tackle trails and dirt as well. Just check out the seat height of 870mm. If you're not regarded by most as being on the taller side of the height ledger, you'll not really be fit to ride this bad boy unless you carry a mount box with you. Or unless you're Tom Cruise.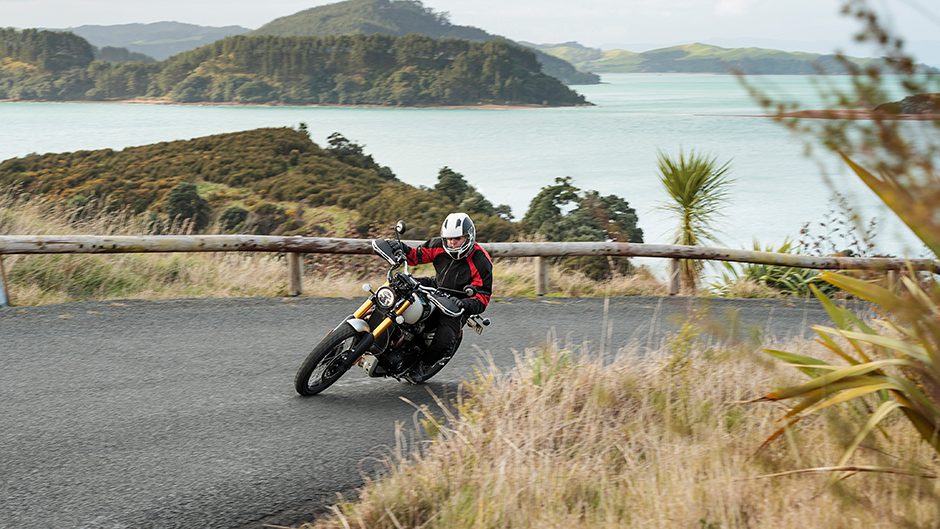 Out there
To behold this is in yer face. Perhaps it won't have universal appeal but it's imposing for sure. The gold Showa USD forks and Ohlins twin shocks with separate reservoirs scream quality, as do the radial four-piston Brembos up front, and even the smaller items like the tank clamp, fuel filler (despite its hidden plastic cap) and mini TFT screen that includes pretty much every bit of info you'll ever require. Or you can block it all out, leaving revs and speed for simplicity.
Being the Alpha dog, the XE is worth the extra if you plan on getting dirty during ownership. Not all will of course. With something this tall weighing 230kg, most probably won't venture onto anything green or sandy. In which case the XC instead might do the trick. With the almost $2k saved over the XE ($22,590 vs $24,490) you could throw one of the Inspiration kits at it, or add some accessories. If you plan on keeping it for weekend road rides, at which it is highly accomplished, the one thing this needs is some weather protection, specifically a screen.
Given how tall it is and how high you sit, how wide the bars are (905mm) and how upright the riding position, any effect of head wind is amplified without some kind of wind jammer. On a related subject, for those of you who are sailing close to the wind on licence points but just cannot bare to do without that litre-plus displacement, then leave the weather protection out of the equation. That sail effect limits proceedings to 100km/h rather naturally.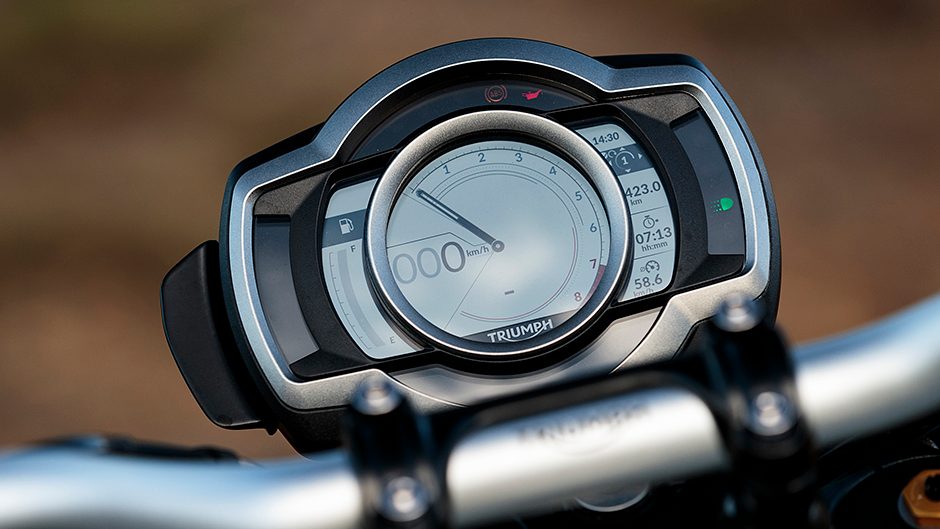 Not that it won't fly significantly higher of course, for at the legal limit the engine is barely ticking over, a trifling 3300rpm. You can almost hear the individual piston strokes. But any faster and you kind of need to duck down or hold on hard.
Big friendly giant
This is a BFG of an engine, quite the charmer. Peak torque arrives before 4000rpm, which equates to 120km/h but it's on song well before that, the big pull starting from below 2000rpm. That makes easing around city streets a piece of proverbial. On the open road, it is just so long legged, and if you're easy on the throttle and keep things legal (at which it's more than happy to comply) expect mean fuel use in the high 3s. Even given a serve it only reached 5.5L/100km.
That sculpted 16L tank should be good for 300km comfortably. And that's just what it does with that long travel fully adjustable suspension, along with its easy-does-it riding position, and plush seat. It would be tiring arms that limit cruising range as much as tank size. The engine might seem like a slugger, but it goes hard above about 4000rpm with plenty of storm until 7000rpm, and manages a sprint time in the high 3s. That's matched by an overtake in the low twos, so this can scarper when the need arises.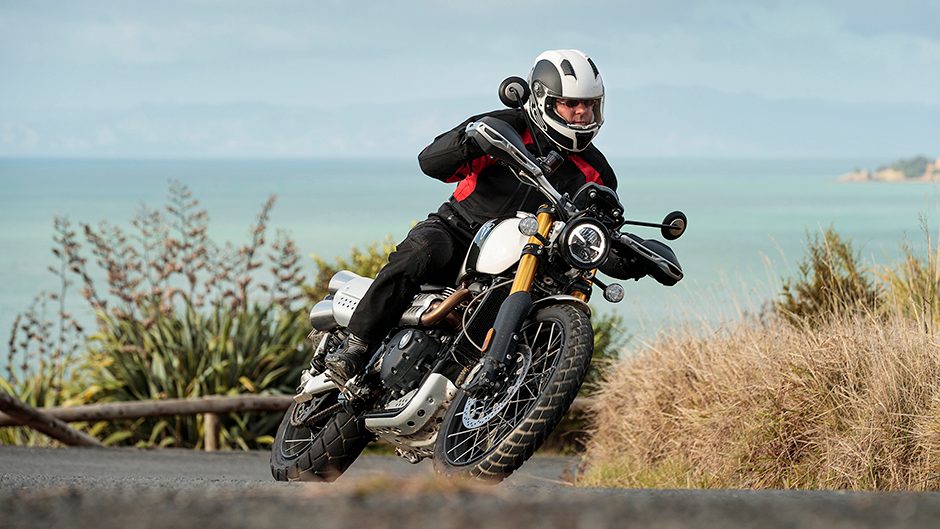 Brakes are almost overkill good, and despite that skinny 21-inch hoop up front this pulled to a halt from 100 in 38m. The transmission shifts in lightweight and slick style, the norm for Triumph nowadays. And the noise emanating from those awkwardly sited pipes is something else, ample and arresting. One can almost forgive the fact that you can't really hug the tank properly with your knees because the high-rise exhaust pipe gets in the way.
Cruisy road riding
You're never going to expect the handling of a sports bike from a tall boy that's wearing the equivalent of gumboots as opposed to an athlete in running shoes. But then the motor isn't the high-revving power house built for the last nth of acceleration and speed anyway. Dynamics are more optimised for all-roads comfort and with loads of suspension travel, 250mm each end, this makes for easy-going progress, no matter the terrain underfoot.
Off road, its weight and height make it for the experienced only. On road, it's like the Thruxton upon which it is based, only with the limitations of less rubber and taller stature. It has engine modes for Africa, six actually, including Off-Road Pro, along with gyro-controlled ABS and TC, all you need really.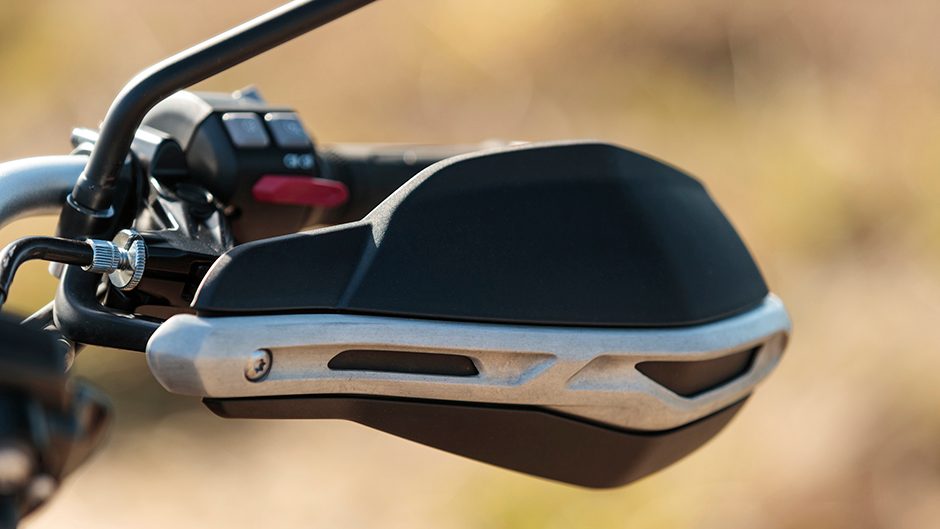 Standard items include a bash plate, cruise control, keyless ignition, handguards and heated grips, and an underseat smartphone compartment with USB charging.
The market is chocka at present with adventure bikes of all descriptions, some Euro middleweights the same price as this bigger Scrambler. If you're of the belief that there's no replacement for displacement this laid back all-roads-ready retro-style giant might just be a bit of you.
| | | | |
| --- | --- | --- | --- |
| Model | Triumph Scrambler 1200 XE | Price | $24,490 |
| Engine | 1200cc, liquid-cooled, fuel injected, IL2, 66.2kW/110Nm | Drivetrain | 6-speed, chain final drive |
| 0-100km/h | 3.83sec | 100-0km/h | 38.18m |
| 80-120km/h | 2.19sec (62.8m) | Weight | 231kg |