The first parallel twin-powered KTM was the Duke 790 and now the dual-purpose tourer based on that is here, the Adventure 790 S. How is it?
Finally, those with an exploratory frame of mind don't have to default to a $30k heavyweight 1200cc ADV for their off-road adventures. Nor do they need to go down the cheap and historic route by ponying up for a big vibrating 650cc single.
It's the middle ground where the ADV action seems to be at now, with BMW launching its 750 and 850cc twins recently, and just prior to that Triumph releasing its new Tiger 800 range. Another fresh arrival is the retro-styled 850 adventure bike from Moto Guzzi, the V85TT. All come up against KTM's first mid-sized ADV offering, the 790 Adventure. The hardcore R offroad variant arrived first, sporting fully adjustable White Power suspension front and rear. Now the S model has landed, the version that's as happy tackling a spot of offroading as it is taking roads less travelled.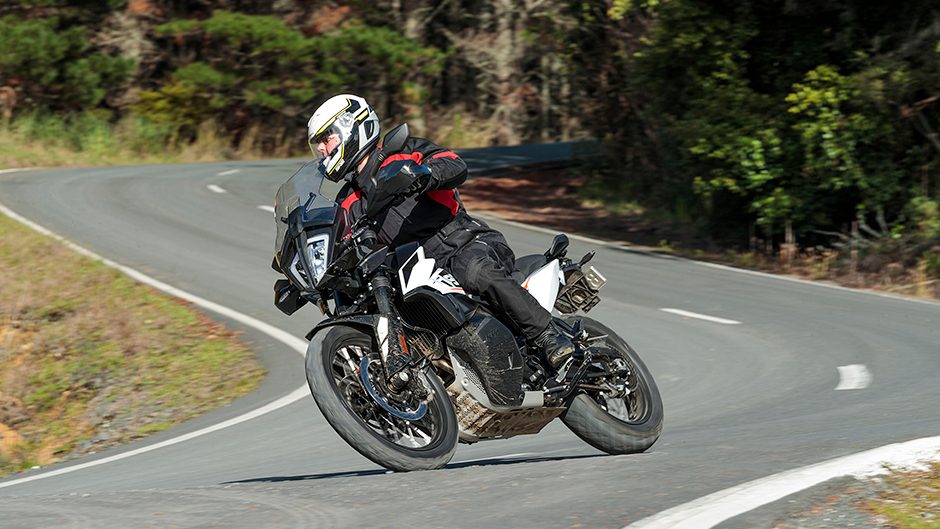 The first not-so-tall ADV
What marks out the new KTM as something a bit different is its clever design that ensures not only adequate ground clearance (233mm) to go dilly-dallying in the bush, but paradoxically a low seat height that doesn't mean the bike is limited to lanky riders. Not being so tall makes it a darn sight easier to mount than most others in the sector. Better yet, the KTM Adventure 790 S seat is height adjustable.
We had it on its lowest setting (830mm) but it can easily be jacked up a bit higher (850mm) for those slightly long of inseam types. The R seat height is a more imposing 880mm. I'm around 183cm, and had no trouble mounting this, even when upright rather than leaned over on the side stand. And with the seat at its lowest, the riding position is excellent, open, easy, and with a natural arm drop to the tapered bars. Even with KTM's more basic WP suspension the 790 is no hard arse. It's on the firm side of plush but works well at open road speeds.
The rider's seat is generously proportioned so you can shuffle around on it easily. We initially felt the seat a bit firm but comfort never seemed to wane. The just-so riding position helps, knees the perfect width apart, and the seat so roomy with a nice step at the back.
The bike itself looks lower than any ADV I can think of and is all the better for it. The 18-inch rear wheel and front 21-inch hoop help with ground clearance. It looks great, without the usual on-high appearance, while the dual headlights and small beak give it an owl-like mein. It's a hoot to behold.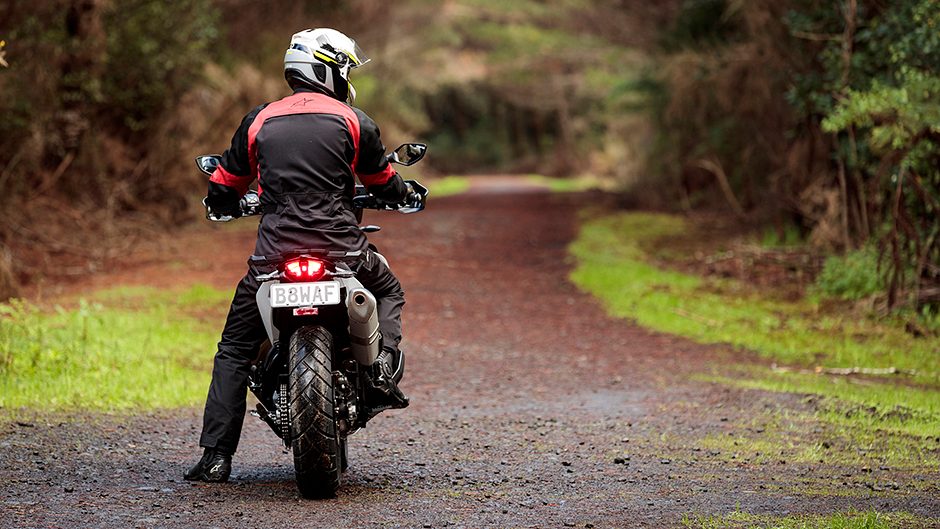 Lots like the Duke 790
The compact LC8c engine is key to the 790's comparative low rider design. But where exactly is the engine? It is shrouded on both sides by what looks like a reservoir made from what looks like recycled plastic. And it literally is; the 20L fuel holder. KTM wanted to ground the weight wherever possible so the fuel tank is held low near the C of G, which means handling is minimally impacted by a full fuel load.
It offers a great range too of around 450km riding legally. The parallel twin is an energetic and relatively vibe-free thing thanks to dual balancer shafts. There's a good slug of midrange muscle, but that doesn't extend way down low; it's happiest above about 3000rpm. The output flows through a six-speed transmission that's activated by a quickshifter in both directions. This one's a beauty, smooth, with a short throw, and even quite willing in the slowing down direction, likely because much of the time you're not hanging onto gears until five figures of revs.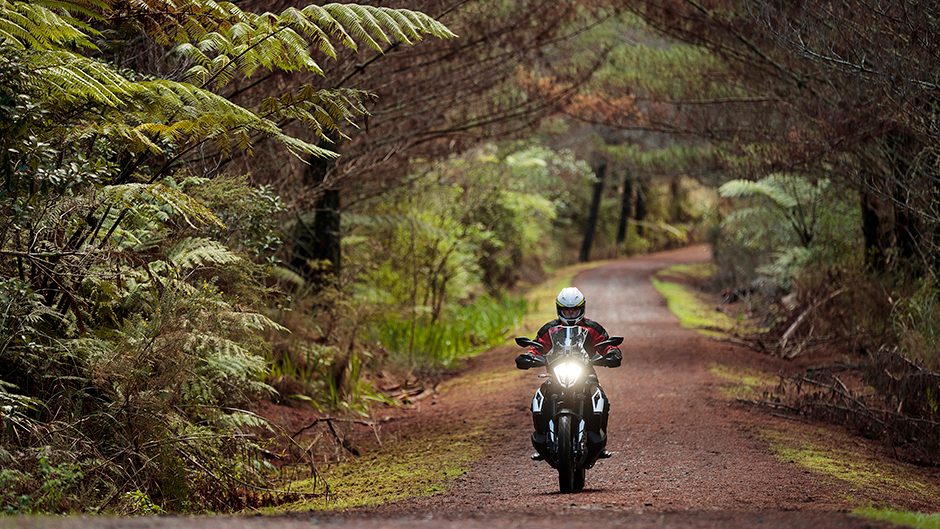 Weight the enemy of everything
Helping with the dynamics is a wet weight of just 210kg, light for an ADV that has decent power. Despite being up by about 20kg on the Duke 790, performance proved almost identical. The weight split is almost even and the power is such that even on brisk acceleration there's little wheel lift in first gear. A sprint time of 3.5sec and an overtake of 1.9sec are a touch quicker and slower, respectively, than the Duke 790. We are convinced the brakes are better on the Adventure bike, radial mounted and with serious bite. They're a step up on the Duke 790's.
The S rides on tyres designed mainly for road work rather than the nobblies of the R version. They're Avon TrailRiders, a 90-90 x 21 up front and a 150/70-R18 to the rear. They seemed great, ideal for that tour of remote places. This bike masters on stability, the firm underpinnings helping keep it on line regardless of what's beneath. It's not a fast turner but handles confidently.
The low C of G and generous lock make feet-up U-turns a snip. Adjustable on the go The TFT dash is generally a good thing, though the trip data numerals could stand to be larger. Tacho figures, however, are sizeable enough for tired eyes, and I could read that 100 in sixth is a mere 4200rpm. That's well into its prime zone of operation. Even from new this was registering comfortably below 5L/100km for mean fuel use, closer to four much of the time. That may be another advantage of its low flying shape, along with a bigger than useful fly screen that actually keeps wind off most of your body. Only its height means taller folk will cop some wind noise off the top of the screen.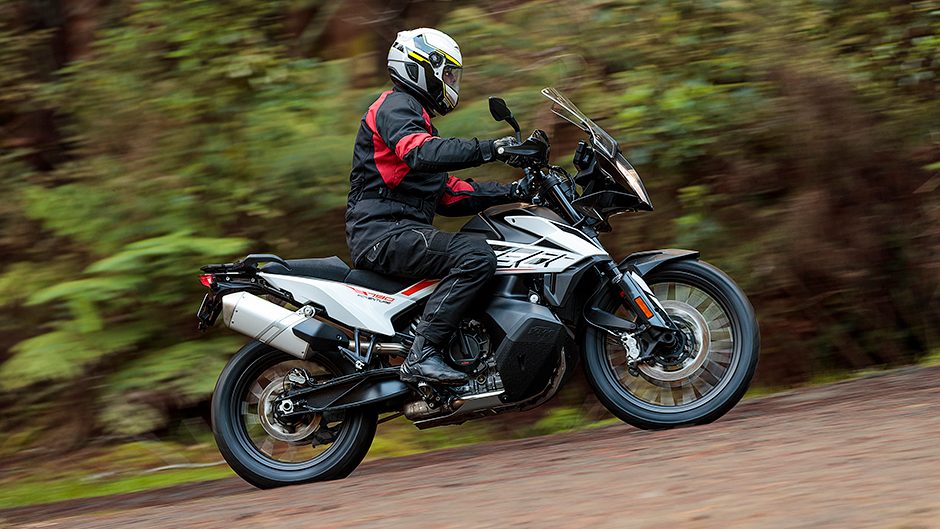 KTM continues to make set-up about as easy as it gets, with simple to understand menus and a totally logical layout that uses five buttons arranged in a circle on the left bar block. This machine has three ride modes, street, rain and off-road, the latter turning off TC and ABS. You can make changes on the fly too. Street mode you'll use most of the time, rain and off-road modes seldom. Those true-blue adventure riders won't go for the S anyway, preferring the $1800 more expensive R model at $23,799. It offers 40mm more suspension travel, and added adjustability. The S is $21,999. Available in white and black as here, but we'd imagine orange and black, traditional colours of the Austrian company, will be more popular. You want to troop the colours, surely?
The Adventure 790 S wants for little. There's no cruise control, but with a light throttle it isn't missed. Nor are there heated grips but hand protectors do a similar job so no big deal. These are both options anyway, as are an Akra muffler, centre stand and additional lighting. Other standard bits include hand rails and a luggage rack.
At $1500 less than an F 750 GS this is a better looking, lighter and quicker machine and a fine addition to the European middleweight adventure bike sector. It vies for best in class, though we've yet to ride the V85TT… next month. Cheaper competition awaits in the form of Yamaha's $17k Tenere 700, due here soon.
| | | | |
| --- | --- | --- | --- |
| Model | KTM Adventure 790 S | Price | $21,999 |
| Engine | 799cc, liquid-cooled, fuel injected, IL2, 71kW/90Nm | Drivetrain | 6-speed, chain final drive |
| 0-100km/h | 3.57sec | 100-0km/h | 41.21m |
| 80-120km/h | 1.90sec (59.22m) | Weight | 210kg |