Bmw and Mercedes have their X6 and GLE coupe. Now Audi has a top-flight SUV to take these on, in the Q8. Sporting innovative technology, will it run rings around them?
It's really quite a clever strategy, creating a coupe-like five-door from a large SUV, so majoring on style, and less so on utility. However not to the point of being impractical or without off-road credibility. Not only does Audi's new range-topping SUV, the Q8, increase sales of its luxury off-roaders without involving too much mechanical spade work, based as it is on Q7, but it also makes for an aspirational vehicle for those in other Q offerings.
And oh yes, Audi cognoscenti certainly did give the Q8 a very good long hard look, with stares of admiration. And we can see why; on the optional and quite gorgeous (if ludicrously expensive; $11,500) 22-inch rims, this is a smart looking truck. Adding to the allure on our particular vehicle were the S-Line exterior ($8000) and black gloss styling ($3000) packages, black roof rails, grille outline and mirror caps ($300) and privacy glass ($1300), pimping things most effectively.
The smart thing about the Q8 is that despite the coupe-style sloping roof you don't lose out too much in the way of occupant or luggage space. Hmm, perhaps in the way of occupant numbers as the donor Q7 vehicle is a seven-seater, while this one holds only five. Still, there's generous room in the second row seats for two adults and a kid in between, while the luggage capacity is still a useful 605L with all seats in place compared with 770L for the seven-seater.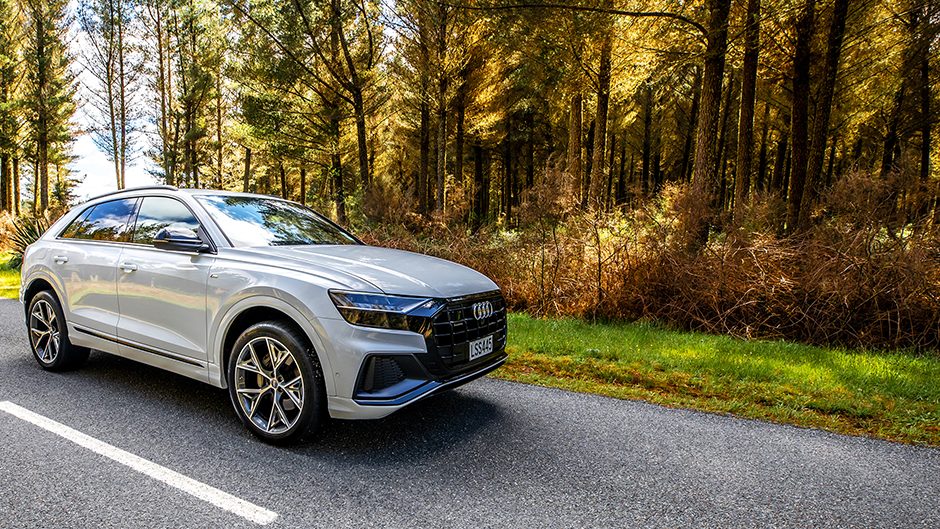 After split folding, the rear seat backs lock into place at an almost horizontal position, enhancing the practicality of this big wagon further, with 1755L of space to tap into. Naturally the access to the hold is by way of a powered fifth door. And the floor is about even with the loading lip. Plus the carpet is plush.
If you're wondering about the size of this, think along the lines of Touareg. This we know because we had one parked up alongside the Q8 at the office, the Audi a few mm longer and wider. But the styling of the Q8 is in another league altogether.
Course you pay for the privilege, the Audi being 50 per cent more expensive at $149,900. They're both powered by 3.0 V6 turbodiesels though, and each is quiet and refined. Tough too, the Q8 rated to haul braked trailers weighing up to 3500kg.
Moving through to the inside and it's clear to see where some of the extra spend goes. And the rest is accounted for by the high tech bits that make the Q8 drive more special. There's the expected comfort entry while the pushbutton starter in the centre console is easy to see and reach. Lock up is trickier though; there's little visual indication of success. And not all controls are ideally sited, the Drive Select buttons closer to the front seat passenger than the driver, clearly lost in RHD translation.
Other expected bits include head-up display, active cruise, 360 degree camera, heated electric hide-covered seats, sports wheel with shift paddles, smartphone integration and a beaut B&O system. It's a really nice place to be, high-tech and modern, sporting twin touchscreens, and the configurable Virtual Cockpit instrument cluster. Just as impressive, in our minds, is the drive itself of the 50 TDI variant, initially the only model available.
This XL-sized high riding vehicle handles cornering duties better than you might expect, given its 2280kg kerb weight and overall height. The main contributors are its height adjustable air suspension, centre diff-based torque vectoring and four-wheel steering. In the case of our particular car, the extra rubber doesn't hurt either.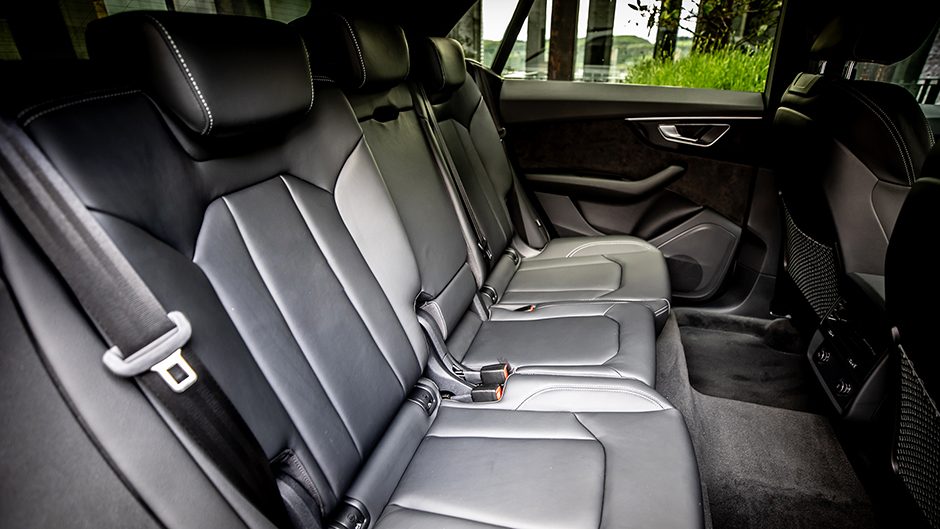 The 285/40R22 ContiSportContact6 tyres offer plenty of bite, but the adaptive damping and sport suspension set-up that's part and parcel of the S-Line package all contribute to tidy turning.
Normally in substantial high riding 4WD machinery like this, cornering is associated with a widening of the line but just as this is about to happen, the effect of all wheels steering comes to the rescue and the Q8 tracks true, rounding up the bend like a sedan might. The adaptive damping and lowered sports suspension mean active sway bars are unnecessary, giving the swathes of rubber the best angle of attack at the tarmac.
It's all done with a great degree of decorum and pampering too, one of the delights of air suspension. Moreover, there's little in the way of road noise or windage, our mean in-cabin SPL figure of 69.1 suggesting as much. The ride is only ever sumptuous, even in the Dynamic go mode.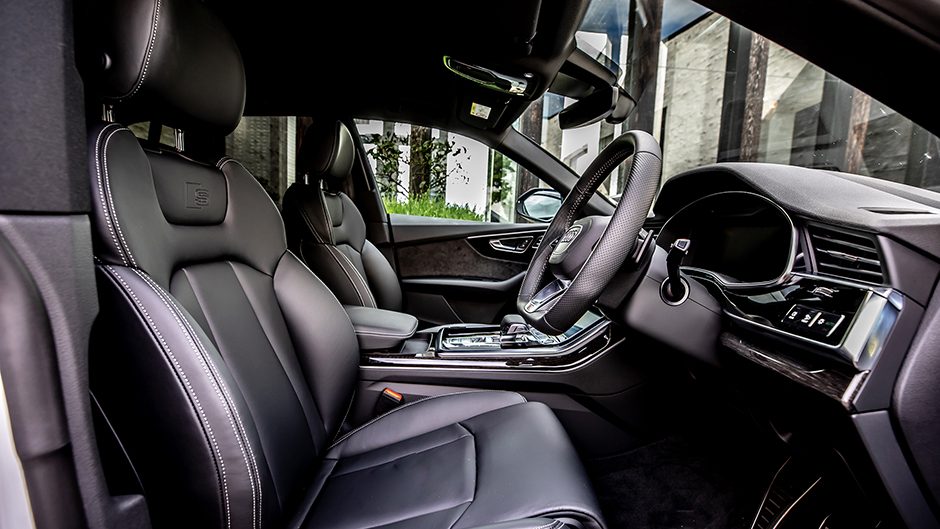 This TDI model runs a 3.0 V6 turbodiesel generating 210kW and 600Nm, the latter from 2250-3250rpm. The 2280kg Q8 TDI supposedly gets to open road speeds within 6.3seconds. And what do you know? It managed just that, with a best of 6.29sec. Modern diesels may be frowned upon now but for this type of vehicle they're incredibly appropriate, with a sensible mix of low down drive and economy.
Audi suggests 6.8L/100km overall, and a mix of town and around running indicated a figure of 7.9. Pushed we saw a high of 16 but most owners are more likely to see somewhere around the junction of single and double figures. Given the performance potential, with an overtaking time of 4.4sec, that seems pretty abstemious considering the substantial size of the Q8. Round town it's effortless from low revs.
Want or need more? Incoming soonish is a 55 TSFI variant, offering 250kW and 500Nm, but it's little quicker, rated to hit ticketable highway speed in 5.8sec, so less than a half second faster than the diesel. And it's combined fuel use figure of 9.2L/100km while good thanks to its 48V mild hybrid status is one-third more than the diesel's. It too features a belt starter generator allowing it to coast engine off at open roads speeds while recuperating energy when braking.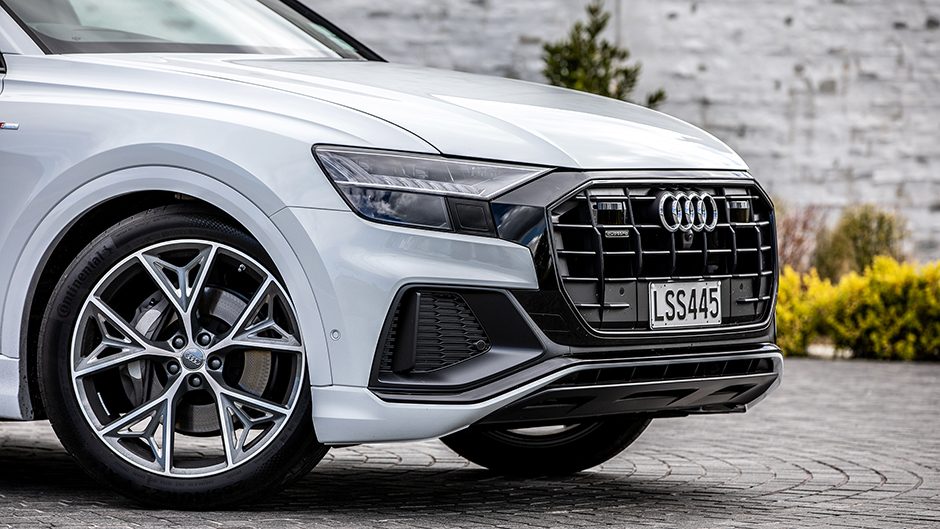 The TDI's fuel use figure is closer to that of a compact sedan's. Those after really stonking performance from their Q8 might care to wait a little longer for the promised S and RS versions. The former, it's thought, will run with a 2.9L twin-turbo V6 à la S4 and RS 4, while the latter will evidently bring 500kW to bear on the tarmac beneath.
This will borrow the powertrain from the Panamera Turbo S E-hybrid, comprising a 4.0 twin-turbo V8 mated with an electric motor, the combo evidently good for 850Nm of twist. It should be monumental, with the emphasis on the final two syllables.
If you favour the emissions-free experience, there's always the E-tron SUV from Audi, due out this year. It uses two asynchronous motors, one driving each axle for AWD capability, with system power of 300kW and 660Nm. Zero to 100 is despatched in under six seconds while a 95kWh battery pack ensures a range of 400km.
One wonders whether this clever expanding family of high-rise vehicles will make four-ringed cars redundant altogether, in which case the company may need to change its name to Qaudi.
| | | | |
| --- | --- | --- | --- |
| Model | Audi Q8 50 TDI quattro S line | Price | $157,900 |
| Engine | 2967cc, V6, T/DI, 210kW/600Nm | Drivetrain | 8-speed auto, all-wheel drive |
| Fuel Use | 6.8L/100km | C02 Output | 175g/km |
| 0-100km/h | 6.29sec | Weight | 2280kg |