Back in the early 80s, Suzuki's top two-wheeled offering was the Katana 1100, a sharp-looking if ill-riding thing. Now it's back, a retro offering that's inestimably better.
Suzuki hasn't got much new on its books for 2019, and truth be told the resurrected Katana isn't exactly a new offering either. Think of this interesting looker as an admission that they got the styling of the GSX-S1000 wrong. So essentially the revitalised Katana is that bike with a vastly better look, which is about all it needed.
For the GSX-S1000 twins do a lot very well. They have awesome low end and mid-rev drive, thanks to the retuned GSX-R1000 mill from back in the day. This comparatively long stroke engine is bulletproof, and with a retune and work to the intake tract and exhaust it has also shown itself to be a star on road. Back when we checked out the F for 'faired' model, we reckoned it was the strongest, most torque-laden machine we'd encountered.
Okay so monsters like the Triumph Rocket 3 might have produced more grunt numerically but they wouldn't have seen which way this relative lightweight went. Pulling with smoothness and ease from about 30km/h in top gear, it was a matter of slotting it into top and forgetting about shifts until you returned home.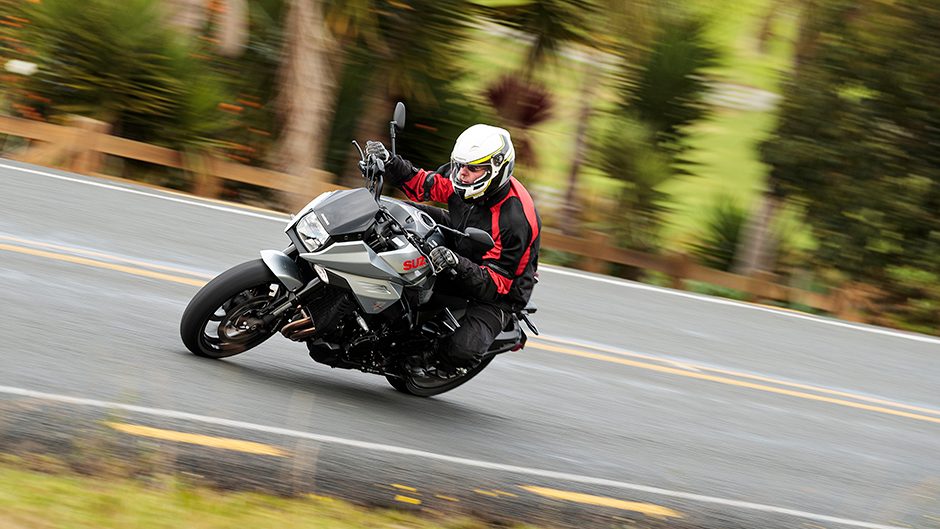 Nothing has changed in its adoption by the new retro-styled Katana, except perhaps that Suzuki has also managed to tame the exuberant throttle response. And that's all that was needed really.
Former Katana owner
I'm the right guy to ride this because I owned one of the original Katanas. I swapped my blue and white GS1000 for the racier looking Katana 1100. Perhaps the worst decision of my young life. The GS Thou was a sweet machine. So it was out with the sensible and in with the flash and dash. But lordy did that bike put me to the sword? It went like a hairy rocket but was about as comfortable as a bed of nails, made worse by a rack-like riding position.
It worked at high speed, kind of, but otherwise wrecked the neck and wrists like only a superbike can. While it handled well enough with fresh rubber, that soon passed. It was gosh-awful quick though which was almost enough. Mind you, the new one is quicker. It feels a whole lot lighter for starters. Like the bulky GSX-S1000 pair, this weighs less than you might think at just 215kg.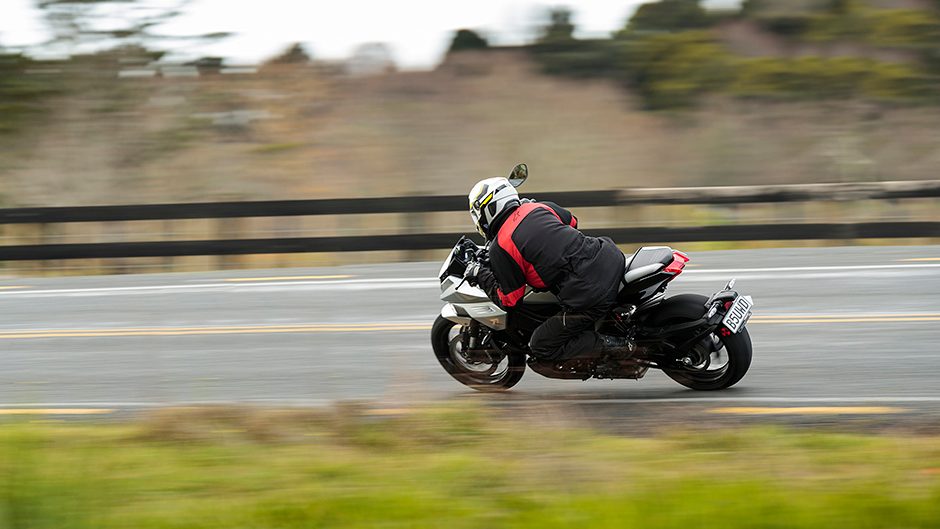 Still the striking look
I bought the original Katana, which came to be known as the Kotanga, in local lingo. Man, it looked mean. Long, lean, with a blue and grey suede-like seat, this seemed to be going like hell even when standing still. The new version is true to the original, though improves on it in some – scratch that – all ways.
It retains the rectangular headlight of the original, and the paint scheme, even the original Suzuki font, while the overall look is recognisable. As to the rest, it's just miles better, except perhaps for legibility of the dials. Oh, and the minuscule tank, giving an indicated range of just 160km. The not great turning circle it inherits from the original. That bike was a horror for comfort.
Apparently the US military developed water boarding after riding a Katana in the rain. Not only were the boingers rubbish but the vibrations were completely undamped and by Sod's law they seemed to peak around 105km/h. So you had to ride it at break-neck speed to avoid having permanent pins and needles. In the end, I was glad to be shot of the Kotanga. Unfortunately what I replaced it with was little better (BMW K100) but that's what you get for believing reviews of the day.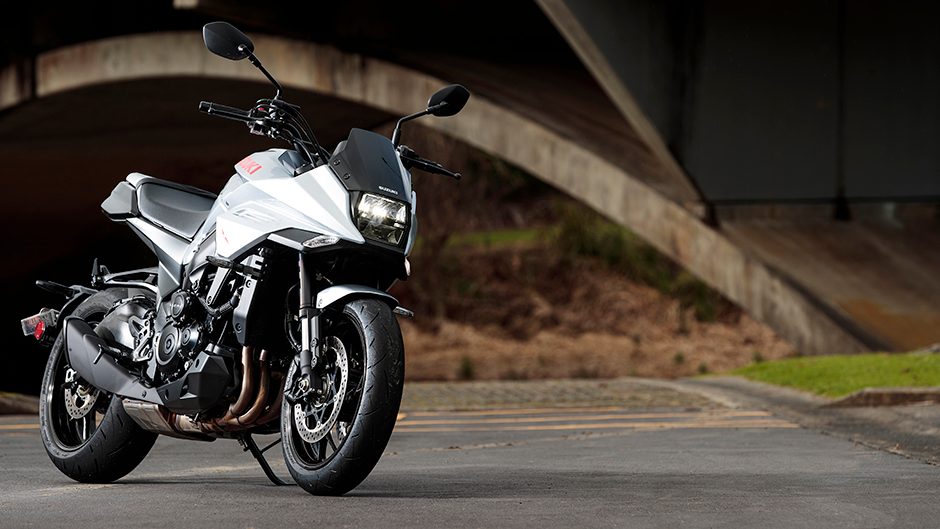 Anyhow, in its new guise Suzuki has created something that's true to the original in a style sense, but inestimably better otherwise. If you have Kawasaki's retro 900 RS on your list, don't overlook the new Katana.
It's still a rocket…
Like the original, this is stupendously quick, only without the propensity for numb bum. Sure, it runs a detuned K5 engine but that was one of the fastest machines we have ever tested. Because the Katana engine is much the same as that from the GSX-S1000, no surprise the best 80-120 was the same, at 1.27sec, still better by 0.3sec than anything we've ever tested with four wheels, the McLaren 570. And did we mention it costs just five per cent of that vehicle ($18,995). A bang for buck winner then. As to 0-100 times they're neck and neck. We stopped trying after a 3.30sec third run, but it would likely beat the 3.25sec recorded for the Macca in 2016. You'd not feel disappointed if you were used to superbike levels of acceleration.
…and a grunt machine
The Katana's towering strength is all that glorious midrange that builds progressively to an 11,000rpm crescendo. Because one gear, sixth, is sufficient for everything beyond 30km/h, you can concentrate on other distractions instead. Only there aren't any on this bike. No engine modes, just full steam ahead. The only thing you can mess with is TC level. Given it was dry we left it on one. Instead of faffing with setting distractions, you can actually concentrate on the more important stuff, like staying alive, setting corner speeds etc.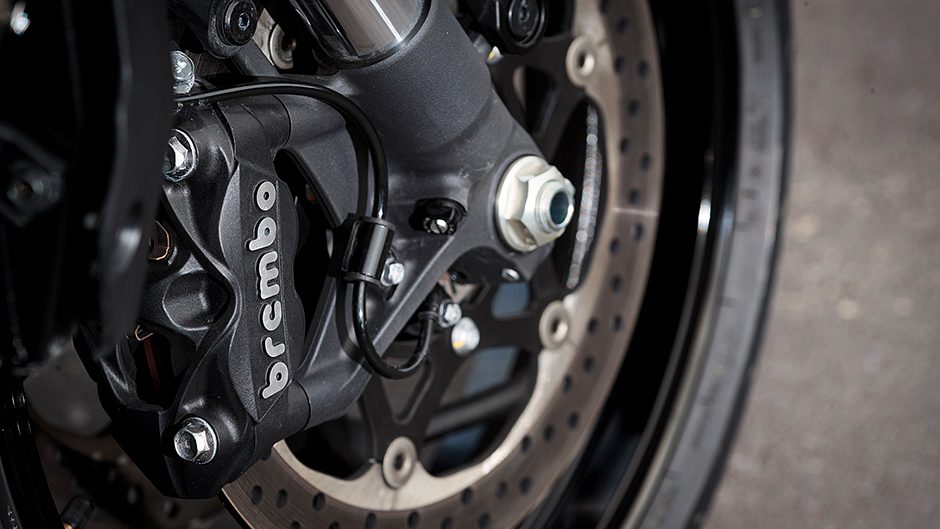 Only you don't need the brakes much for this; you can slow the bike by throttling off instead, such is the effect of engine braking. Not that the brakes aren't up to it; initially the Brembos seemed unenthusiastic, but after a trio of panic stops, with a best of 39m, they warmed to their task. The rear's a beauty too, for those odd pucker moments when you don't quite get speed set correctly for the turn or it tightens unexpectedly.
Plush too
One other aspect worth mentioning is ride quality. Like the GSX-S1000F, it was somewhat firm initially but we backed off the rebound and compression settings up front, and the rebound at the rear. Much better ride comfort thanks, and still that locked in feeling of stability. The riding position is the definition of relaxed. The new LCD dials we sometimes found a bit difficult to read, perhaps the green on black not the best choice for legibility, and the tacho numerals are a touch small.
But all the data you'd ever want are to hand, including distance to empty, important for something with a tank more suited to a LAMS machine. But given you don't need to rev this out that much, we achieved an average of exactly 5L/100km, for a theoretical range of 240km. Annoying if you're touring maybe but not a biggie.
We imagine this will be used more for commuting and weekend rides anyway, given its lack of weather protection.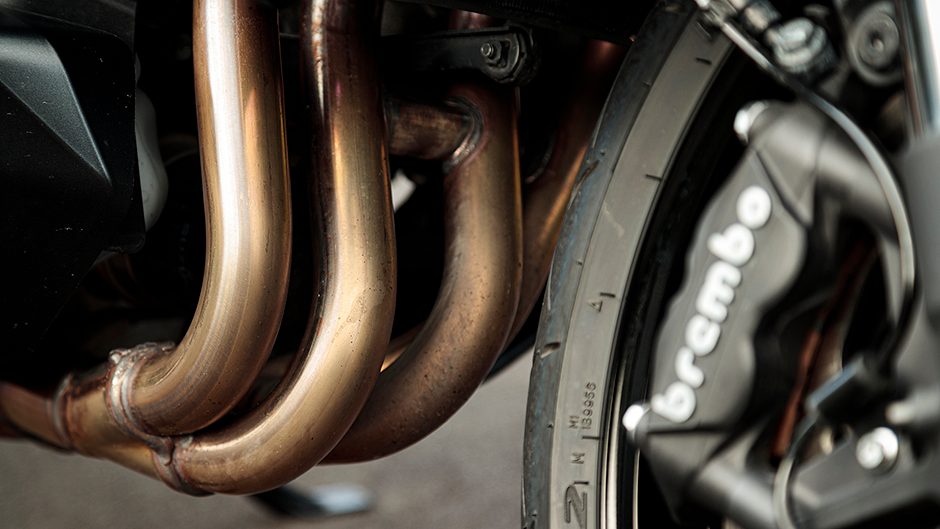 Did we mention the noise this makes? With its four into two into one can, it howls with the best of them, especially from about 4500-7500rpm. Given this we can almost forgive the ugliness of the underslung collector.
Bottom line? It may be one of the only new things from Suzuki's road division this year but they did a bang-up job on Katana take two. Wish it had been available in 1981. I might never have sold it.
| | | | |
| --- | --- | --- | --- |
| Model | Suzuki Katanal | Price | $18,995 |
| Engine | 0000cc, V2, 000kW/000Nm | Drivetrain | 6-speed, chain final drive |
| 0-100km/h | 3.30sec | 100-0km/h | 39.36m |
| 80-120km/h | 1.27 (35.2)msec | Weight | 215kg |