This update to an easy going, road-biased adventure tourer adds tech and even more comfort but at a price. Meet Kawasaki's Versys 1000 SE, with electronic suspension. Can it match the Euros?
Kawasaki is now onto its third generation of Versys 1000, and this time around the adventure-tourer is available as a base model at $23k and this upspec'd SE version costing $28,990. The latter is what we've been riding, and gets pretty much everything you'd want for that grand tour, apart from panniers (add $2k) and an electric screen (it's adjustable manually, but best to stop, at which point you can also select a different engine mode).
This is a bike that does it all easily, comfortably. So smooth, almost vibe-free, it features big well sited mirrors that reflect perfectly. And just about everything about this bike is designed to be user friendly. Like raising it onto its centre stand – we've not experienced a system that requires so little effort.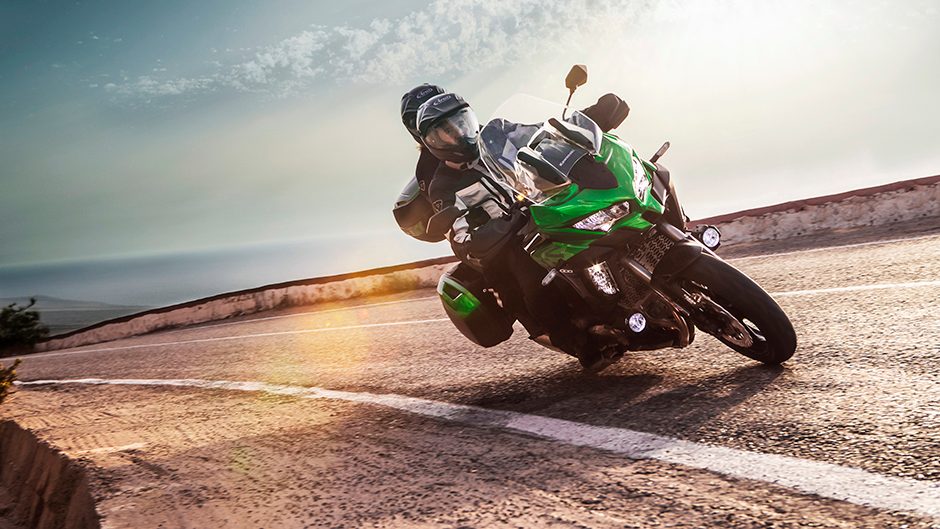 Electronics galore
The SE features electronic suspension. Back in 2015 when we last rode the Versys, this was a big softie, arguably even more comfortable than the bike it was presumably designed to steal sales from, the aging Tiger 1050. Nothing much has changed in that regard; it is still amongst the comfiest of mounts available, only now it goes up against the Tiger 1200, which is another big adventure bike with off-road pretensions.
The Versys remains all-roads bound. Electronic control of suspension, which is easily adjustable for carrying a passenger and/or luggage, is sophisticated. It really does make touring rather easy; firm and controlling in Sport, easing back in Road mode. The SE isn't just about suspension smarts though. You also get hand guards, heated grips, LED cornering lights, a clear colour TFT dash (alongside a big legible analogue tacho), self-healing paint (no, really) and cruise control, along with a quickshifter that acts in both directions. Regarding the paint, small scratches are resorbed over about a week, so long as they're not too deep.
The previous generation wasn't exactly catwalk material, but it was a vast improvement on the awkward original. This new model moves the game on, referencing the supercharged H2 SX, as do most of Kawasaki's new road models these days. The back half however, looks unchanged from before, with the theatre-like stepped seating, and the standard luggage rack in behind. Not sure about the dark green paint though, even if it is scratch-proof.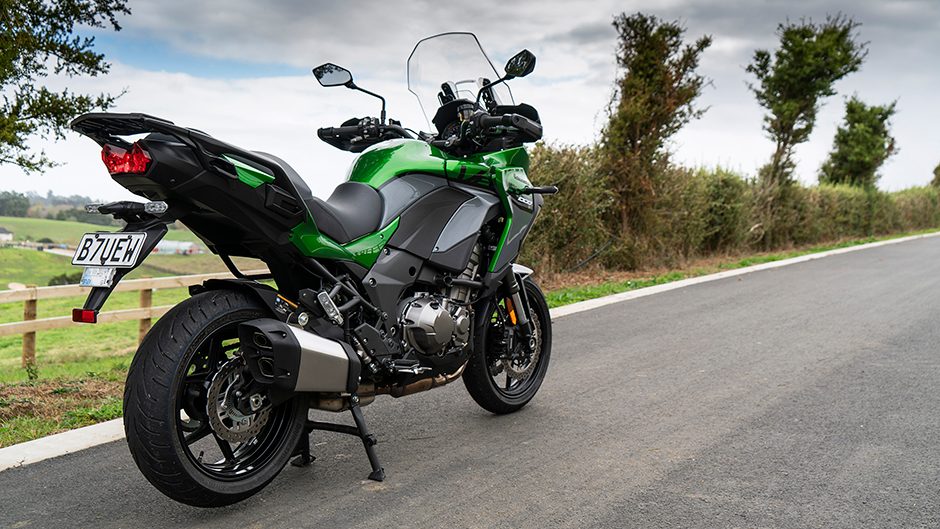 Built for long distance
The rider fares well, with a broad, well padded seat. There's a mild forward lean to the wide-set bars, so the riding position is pretty sweet overall, with the legs none too flexed. That's partly because this is still tall timber, and for less flexible folk it demands a bit of an effort to get the old leg over. Nor is the bike that easy to mount. Best to leave it on the side stand for that. A seat height of 840mm is right up there.
Once astride, it makes for a good view on the go, and that's an overlooked safety feature. On that, one of the other significant upgrades is the move to radial-mount calipers up front. These are four-piston units and offer the kind of bite that you'd expect for a machine with this performance potential. Amidst all this sanity is arguably the kookiest feature we've encountered on a bike and that's the lean angle gizmo (made possible thanks to an inertial measurement unit, required for cornering ABS).
But why you'd fit something like this on a tall adventure-style touring bike is a mystery; perhaps it is there to help while away the hours. And with a 21-litre tank you'll likely get around 400km between stops. Anyhow, I worry that this unexpected feature will encourage Rea-like track feats, and end in disaster. Perhaps if it was on the sport-touring model, the Z 1000 SX, that would be a different story, but on this it just seems to be asking for trouble.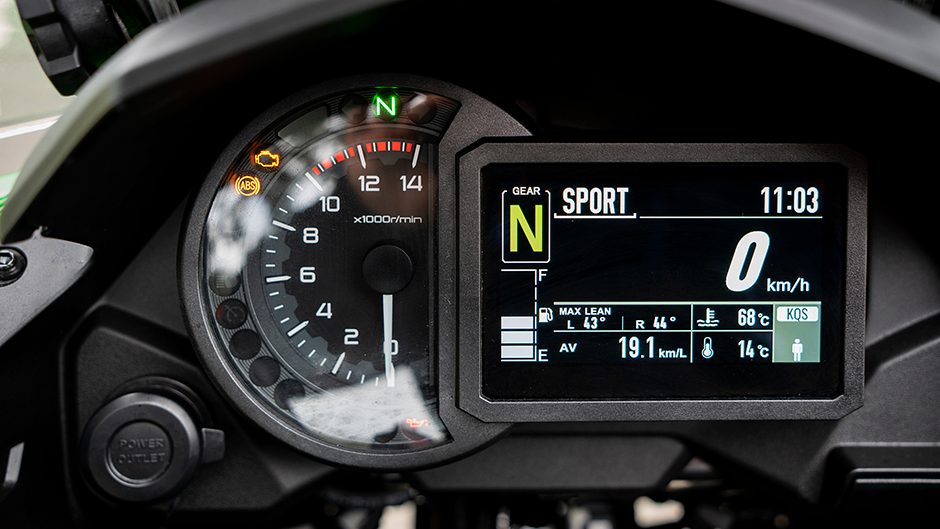 However, Trouble is my middle name so on a cold but clear day we had a shot to see what we could muster and only managed 43 degrees left, 44 right. Still, according to reports from the international launch ride, high 40s were the order of the day, so perhaps not that pitiful. We didn't once touch down either so the ride height obviously has some additional benefits.
Major mechanicals carry over
At the heart of the Versys, things are largely as before, same frame, same engine (but now with ride-by-wire throttle enabling cruise control) and therefore the same performance.
Although this latest model weighs about 10kg more than the base model we last tested, performance is literally identical, down to a hundredth of a second, and despite a brake upgrade it stops no quicker. But those brakes really do feel more reassuringly solid than before. We thought it perhaps didn't have quite the low end grunt of its predecessor but that's just going from memory.
Up at the top end, there's no point in extending things beyond 9000rpm as performance drops off after that. The reason is that this engine is a detuned version of the Z 1000 SX's, with 89kW developed at 9000 and 102Nm arriving at 7500rpm. Is this the smoothest four-cylinder engine available in bikedom at present?
If not, it's up there. And its pull from low revs remains impressive. At town speeds, this loafs comfortably in top gear, hauling around 2000rpm in silken fashion. Up the ante and 100 is an equally easy and even 4000rpm. A pity then that the quickshifter isn't reference level. It feels kind of rubbery when used in town. Functionality is much better at open road speeds.
Only for downshifting, like with most of these devices, using the clutch feels more appropriate. Last time around we noted how quiet the screen was and this is the same; it diverts the airflow just above your head so you can ride the SE with the visor up most of the time, a real joy when touring, and there's therefore little need for ear plugs, adding to the enjoyment of the ride. Taller folk may find their head in the wind but there's no buffeting.
Therefore, the refinement levels are truly something. By moving upmarket with the SE it also comes into another level of competition, taking on the likes of dual purpose adventure tourers like R 1200 GS, Tiger 1200, 1290 Adventure S and Multistrada 1260.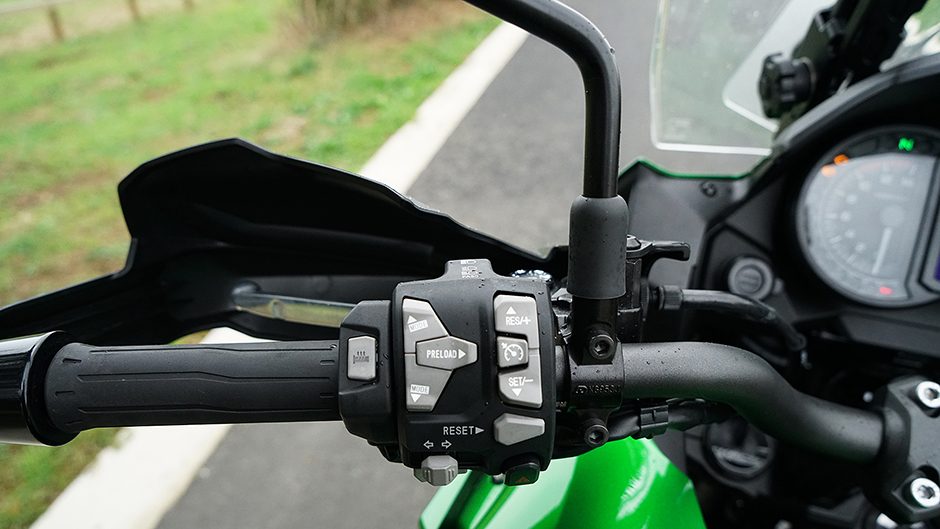 These are bikes that will genuinely have a crack at more than just gravel roads, which is the limit for the Versys, with its 17-inch wheels either end, and road rubber. Course, not everyone wants or needs the ultimate in off-road ability and that's where something like the SE steps up with its ultra-comfortable ride and its secure on-road handling with almost unflappable stability.
Is the SE worth the extra over the base model?
Maybe, but you should know that you can still buy the 2018 base version for $19,995. If you want more sport in your tourer, Kawasaki has that niche covered too in its lighter, more potent and aggressive looking Z 1000 SX, going for $20k.
| | | | |
| --- | --- | --- | --- |
| Model | Kawasaki Versys 1000 SE | Price | $28,990 |
| Engine | 1043cc, liquid-cooled, fuel injected, IL4, 89kW/102Nm | Drivetrain | 6-speed, chain final drive |
| 0-100km/h | 3.69sec | 100-0km/h | 40.14m |
| 80-120km/h | 1.60sec (46.11m) | Weight | 256kg |