The Explorer is no more, and in its place the new Tiger 1200 range. We get acquainted with Triumph's top ADV, the XCA and find it quite the long distance mile muncher.
At the launch of the Triumph Tiger 800 range in September of 2018, we also got a shot on the new Tiger 1200, formerly known as the Explorer. This has had a qualitatively similar makeover to the 800 line-up, with over 100 changes in the update. It's for a different person, more the ultra-distance type, and gets things to make night and treacherous riding a bit simpler, including semi-active suspension by White Power, active cornering lights and IMU-based traction control.
The 1200 shares many of the 800 updates, like the new TFT instruments and controls, an Off-Road Pro mode, and simplified cruise control. It also gets updated brakes, in this case linked, a more comfy seat and keyless start (remote key). At the launch ride we thought the 1200 felt marginally quicker than the 800, but despite having lost 11kg or so in total, it still aint dainty at 272kg, and didn't feel blazing fast like some sports 1200s.
That said, Triumph suggested that it is the most muscular (104kW, 122Nm) of the shaft-driven ADVs available. Its engine felt strong across a broad spread of revs, and the bidirectional electronic shifter was amongst the slickest we'd tried. We didn't think at the time it was quite as much fun in the corners as the 800. But it did feel planted, and the electronic screen we liked too. Same with the strong brakes.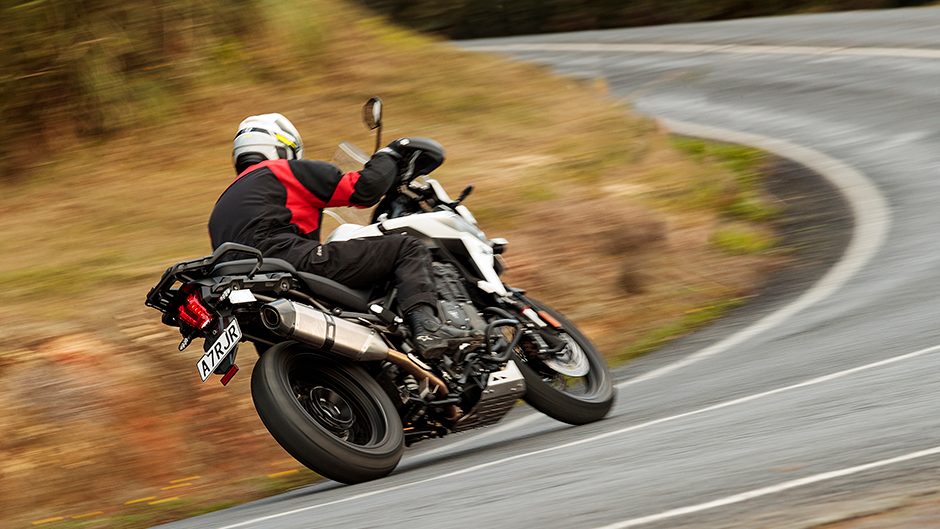 Solid but balanced
What about after a bit more seat time on the top 1200 XCA? Well, we were right about its speed, but we really did get to appreciate it much more on road. After doing the to-ing and fro-ing of the cornering shoot a few things soon became apparent. We were gobsmacked at how easy it is to do feet-up turnarounds on road, in contrast to how easy it isn't to manoeuvre engine off. The more cornering we did the more we began to feel at ease with it, good road-oriented rubber helping.
Light it most certainly isn't; easing it onto the centre stand on any incline is hard work. For the static shot, I had to get Tom to help me manhandle the thing during a 180 about-face on uneven ground. As to off-roading? We didn't go beyond gravel where it's solid, stable with its 19-inch front wheel. Sexy spokes too. This is a big machine and only someone reasonably experienced in adventure riding would take it off formed roads, which of course it is designed to do with an off-road Pro riding mode (turns off TC and ABS), and hill holder functionality. Most owners, we feel, wouldn't subject their $33,590 beast to bushwhacking or firetrails.
We'd imagine at least eight out of ten cats wouldn't even get their XCA off tarseal. And that is where it genuinely feels at home, with road-friendly rubber, and brakes that wouldn't be out of place on a sports bike. With IMA-based cornering ABS and TC, this really suggests touring is the name of the Tiger 1200's game. And it is spectacularly well kitted out for that job, apart perhaps from its 20L tank but that's still a range of around 350km.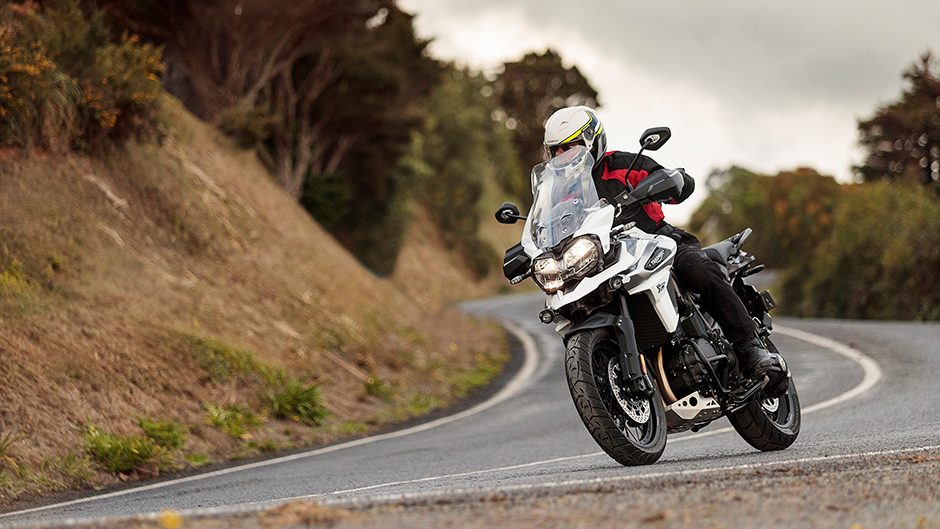 Spec fest
Back in the day, cars were relatively simple, about the height of technology being ABS brakes. Bikes were the same, with no real safety features. Now cars are stupefyingly complex, especially the expensive ones which are fast adopting semi-autonomous technology. That can be handy as you can learn how to 'drive' them on the go while they maintain lane discipline, and speed and distance relative to the vehicle in front.
Well bugger me if bikes aren't becoming the same, especially the fully kitted top models where no tech seems to be left out. Electronic suspension and keyless ignition are right from the car brochures. This also has his and hers heated seats, adjustable rider seat height, and hand protectors along with heated grips. All well and good but does it go hard? With the Q-Starz GPS-based timer attached, we failed in our first few attempts at hitting 100km/h in 4secs.
Not helping was first gear running only to 95km/h. However, with persistence we extracted a best 0-100 time of 3.66sec. The overtake saw a low point of 1.74sec. An F850 GS matched the 0-100 time, and the Tiger 800 XRT was even quicker at 3.60sec even. A Versys 1000 SE manages an overtake in 1.60sec, and an R nineT Scrambler is slightly quicker too. So its wet weight of 272kg holds it back some.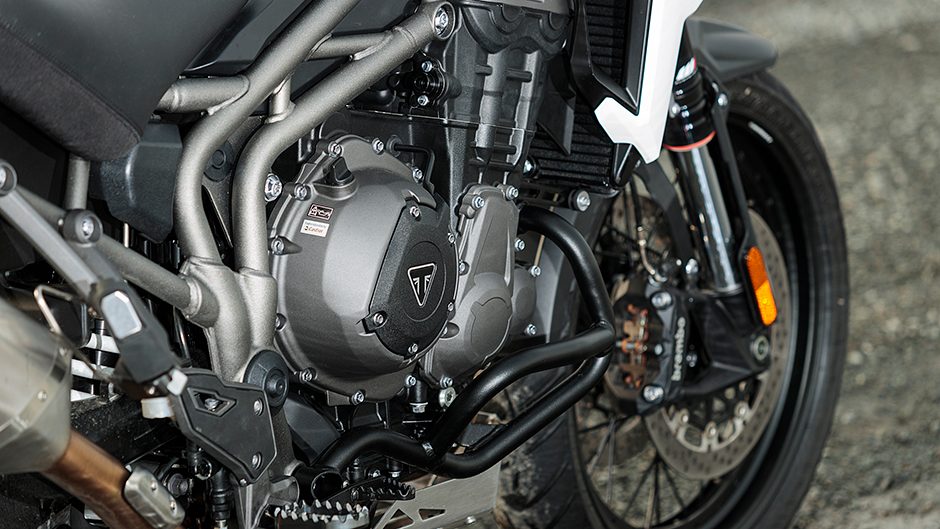 Brakes are interesting because they're linked. Testing them from open road speed caused plenty of bucking and weaving and not such a great stopping distance. Backing off and using a bit less brake up front but full rear brake pressure proved a much better approach, and resulted in a best figure of 41m. Yes, it's a big machine, but the Brembo monoblocs are superb in their action. We seldom used the rear one, given it's activated any time you haul on the front lever.
Composed for confidence
We had a really fine time aboard this, both lane splitting and carving up B roads. It seems to be a calming influence on the rider. Everything about riding it, manhandling aside, seems almost too easy. It's so composed. The steep steering angle makes changes of direction easy, with very little bar effort required. Its electronic suspension works a treat, the White Power system laying waste to any road nasties you might encounter. We tried both Road and Track modes, but left it in the former mainly because it's such a good mix of ride comfort and secure handling. Few bikes are more comfortable over long distances, the screen at half mast permitting visor-up progress at any speed.
The riding position is just so, as is seat comfort, adjustable for height by 20mm. Even vibrations are nicely damped, mirrors giving a generous and near perfect reflection of what's behind. And that three-pot engine? It too is easy going, hauling away smoothly from as low as 1500rpm, and sounding suitably potent through its standard Arrow exhaust.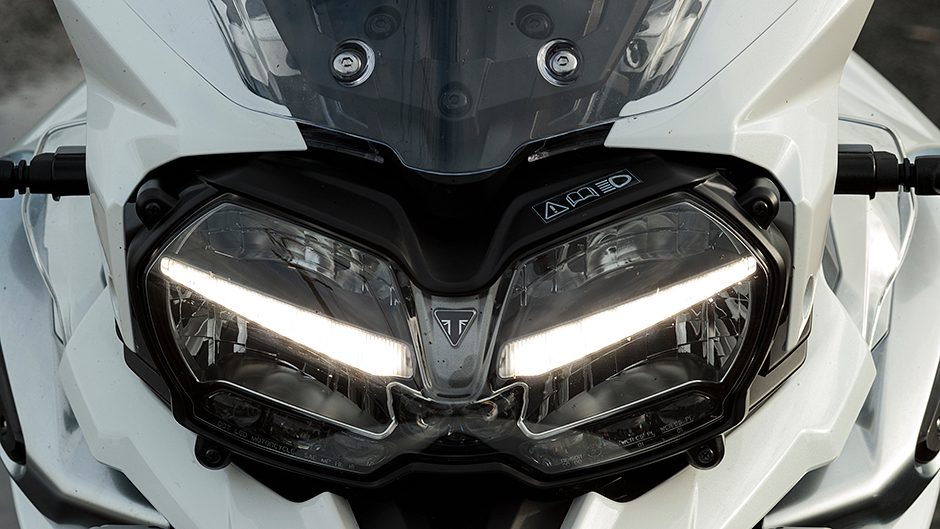 Midrange pull is immense, though tall gearing prevents it from being a torque monster. But from 3000rpm on it gets going with gusto, and from 5500rpm is raring to rage. Just a single downshift is plenty for an overtaking manoeuvre. Expect average fuel use in the mid-fives.
The XCA we rode reminded rather of the bike's ancestor the Tiger 1050, which weighed around 250kg, and was a touch quicker. Last time we rode it in 2018 as the Tiger Sport, after a tech upgrade, gaining engine modes and traction control, it went for $21k.
Has the latest model advanced that far? In some ways, yes, with more smart tech aboard, much of it safety and comfort oriented, but whether or not it warrants a $12k premium is another thing. Fortunately for those considering it, a base XR1200 is available for $24,990, minus most of the electronic finery. You can still buy Tiger Sport 1050 for $22k too.
Both of these touring-ready machines are significantly less expensive than the R1200GS or Multistrada, and similar to upper level Caponords and Africa Twins. Tourers are so spoilt for choice nowadays.
| | | | |
| --- | --- | --- | --- |
| Model | Triumph Tiger 1200 XCA | Price | $33,590 |
| Engine | 1215cc, liquid-cooled, fuel injected, IL3, 104kW/122Nm | Drivetrain | 6-speed, shaft drive |
| 0-100km/h | 3.66sec | 100-0km/h | 41.05m |
| 80-120km/h | 1.74sec (49.52) | Weight | 275kg |