Honda's CB500 line-up is amongst the most popular in the LAMS market because it does pretty much everything well. The R version is even sportier for 2019.
It has been around since 2013, the CBR500R, Honda's sportiest LAMS machine – newly arrived CB650s aside – and for 2020 it gets a rev up, with new looks, minor engine tweaks, a lighter clutch and ergo upgrades. But is it as competitive in the cauldron of the LAMS market as it once was?
Let's check in more detail what's new for the CBR then. And really there's not a whole lot, if you consider the frame's the same, and the engine output is no different. Honda doesn't publish power and torque figures here but they do overseas, and the updated 471cc powerplant still produces peak power of 35kW at 8500rpm and maximum torque of 43Nm at 7000rpm. Output is evidently up by around four per cent from 3000-7000rpm thanks to minor alterations in valve timing and lift, along with a repositioning of the battery rearwards for a more direct intake tract and greater airflow. There are now two exhaust exits instead of one, though the parallel twin sonics are scarcely affected.
Physically, it was always quite the looker and for 2020 it still is, only with a bit more menace. Not that the differences are striking but a few big bike riders clearly thought we were riding the CBR1000RR. There's a definite visual similarity.
Narrower headlights impart that predatory look, and the fully faired nature is even more marked with extended lower fairings. Not so as you'd notice but the rider's seat is a bit narrower to make it easier to move around on.
A new LCD screen faces the rider but it isn't that flash, the tacho numerals being too small to be of much use and the same goes for the digital rev readout. Other changes include a new lightweight slipper clutch mechanism, and a new rear shock.
We were interested to determine whether the added gusto from 3000-7000rpm made any difference to performance. Probably not, given the peak output numbers are the same and for performance testing you're using peak revs anyway. On the way out to our secret test strip we couldn't notice any extra oomph down low. It always pulled rather well from around 2000rpm anyway, which is a bit unusual amongst the moderately sized LAMS bikes. So 50km/h in top gear is no issue whatsoever.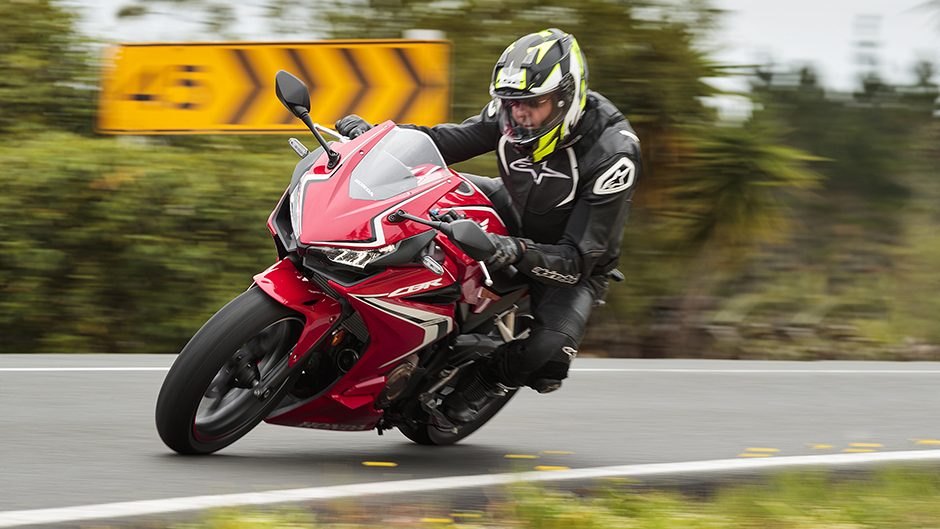 Last time we checked, the wee CB made it to 100 in 5.1sec. Same same this time around, stuck on 5.1sec. Would it be the same for the 80-120 time, requiring 4.02sec last time? Nope, a smidge better at 3.94sec. How does that compare with one of its major rivals, the Ninja 400? Er, you might not believe it but the smaller machine is a tick quicker, at 4.95 and 3.75sec, respectively, probably because it's over 25kg lighter. And we should mention it is at least one-third less expensive.
What about the like-priced Z650 LAMS machine from Kawasaki? In restricted mode it develops much the same amount of power (+2kW at 37kW) but a bunch more torque (59Nm at 6000rpm) than the CBR. It also weighs less so comfortably outpaces the Honda (4.86 and 3.72sec for the two criteria we measure). With twin discs it's a more convincing stopper as well, pulling from 100 to zero in 38.6m where the CBR requires 40.5m. That's an improvement of almost 3m compared with 2016 thanks to rubber that was nicely feathered after a weekend on track.
How does the CBR feel otherwise? It has always been a consistent performer across the board, with no compelling weaknesses but up against the renewed opposition it is beginning to show its age. New for this year, and to enhance the sports nature of the CBR500R, Honda has attached clip on bars below the triple clamp, canting the rider eight degrees further forward. It may look better but the end result is decreased round-town comfort, as it puts more weight on your wrists, more pressure on your neck and flexes the hips further. So unless you're cruising along at open road speeds this isn't as nifty a commute as it once was. After an hour in the saddle I was well ready to climb off for a stretch. Given this is meant to be an all-rounder, albeit a sporty one, it seems like a retrograde step for a bike that will spend much more its life commuting than it will entertaining on weekend thrill rides. That said, there's always the CB500X alternative which has upright bars, a bigger screen and longer travel suspension for the same $12,495 as the CBR500R. For old sooks like us, this would be the go. What remains with the 500R is the unflappable stability, but with the new low bars it seems to be slower in the steering and takes a smidge more effort to change direction than before.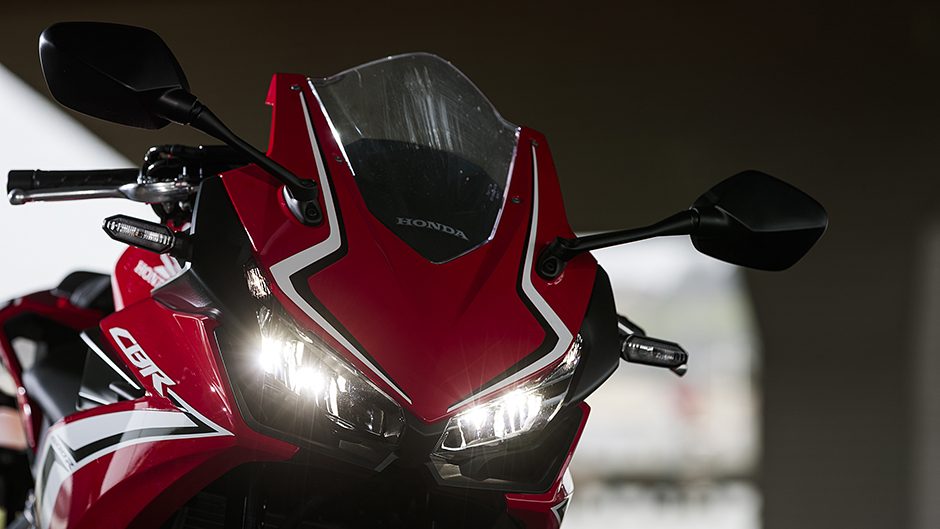 Many of the good aspects of the old bike remain, like the lovely ride quality over even the worst of our rutted roads, and an almost total lack of engine vibration until about 7000rpm. That's near to ideal because best power is produced from about 5500-7000rpm anyway, and at 100km/h, 4800rpm, this is smooth as a sewing machine, the fairing-mounted mirrors crisp and clear. Fuel economy remains almost unbelievable; it's easy to achieve 3.5L/100km and if you ride it like you didn't steal it, 3.0L/100km is also possible. We saw down into the high twos at times. So there's over 500km of range if you take it easy on the 17L tank.
All in all, the CBR500R looks grand but at its price there are faster, better LAMS rides, like the Z650 and for much less of an outlay Kawasaki's Z400 achieves much the same thing, only it's even more comfy to ride.
Finally, as suggested at the beginning, the CBR500R is no longer the top LAMS machine from Honda; check out the new CB650R at $14,495 and the CBR650R for $500 more. We're thinking they'll be worth the extra.
| | | | |
| --- | --- | --- | --- |
| Model | Honda CBR500R | Price | $12,495 |
| Engine | 471cc, liquid-cooled, fuel injected, IL2, 35kW/43Nm | Drivetrain | 6-speed, chain final drive |
| 0-100km/h | 5.10sec | 100-0km/h | 40.52m |
| 80-120km/h | 3.94sec (112m) | Weight | 192kg |