Triumph's Thruxton sports classic cafe racer style, the R version adding racy bits. It might look old-school wild but it's modern beneath and beautifully tamed.
"You will really like this one", says Mike, Triumph NZ's effusive product guru, handing me the key to the last Thruxton R, its Ohlins, Showa and Brembo bits gleaming in the sun. "You say that about every Triumph" I counter. "Yeah, well, they're all pretty good, right?"
We'd been gas bagging away about what's new for 2020, the first two shipments of the 2.5-litre Rocket 3 selling out just like that. Who doesn't want the biggest production engine of any motorcycle, especially when they've finally got the monster looking sharp as well. And knocked off 20kg odd evidently, now under 300kg dry. Hopefully it's not another Triumph I don't get to ride because shipments continue to sell out before even landing here. That's precisely what happened with the Speed Twin, a real contender for BOTY 2019 had I been able to do a formal test on the thing; it felt brilliant on the launch ride.
Then there's the incoming Tiger 900 line-up. The 800 range in run-out was pretty damned handy, so we imagine the new ones, which sport no more power but heaps more torque at lower revs, will push the envelope even further.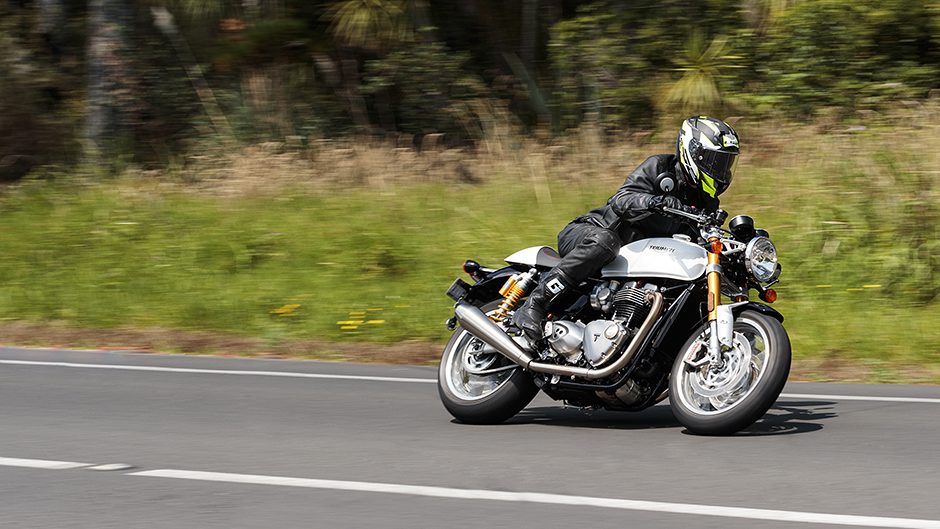 But today, we're here to talk about one of the most capable Bonnevilles, the Thruxton R which is essentially a retro-style cafe racer that doesn't break your neck when you're riding it thanks to a rack-like riding position. The original genuinely was a horrid thing if you weren't supple as a wet spaghetti. But during a rethink they decided to fit bars that resembled clip-ons yet actually attached to the fork tube indirectly, meaning the bars themselves are on risers, set a few inches higher than the top clamp. That's just enough for the effect of the wind generated at open road speeds to relieve wrist pressure from the forward lean, so poor inflexible saps like myself are able to ride this machine for a few hours without abject agony developing in all the usual places. Wish the tank was wider though; you feel knock-kneed gripping it, so you don't bother.
Still, the ride is great overall, with well positioned rearset footpegs that aren't sited too high, and a nicely padded single seat – no hangers-on here – along with fully adjustable Showa USD forks and Ohlins rear monoshock. It's the latter that primarily makes dialing in just-so ride comfort easy. Preload of this box fresh machine – only 250km on the odo at pick-up – was obviously set for the average 80kg Kiwi. It was merely a small matter of fiddling with compression and rebound settings, backing them off a click at a time every 20km or so until things felt about right. Which they eventually did.
The front is generally easier to sort – ride quality is more influenced by where your weight is, largely over the rear wheel – and so it proved. We'd rather have this facility than not, even though it's easy to get flummoxed when you add preload adjustments to the mix.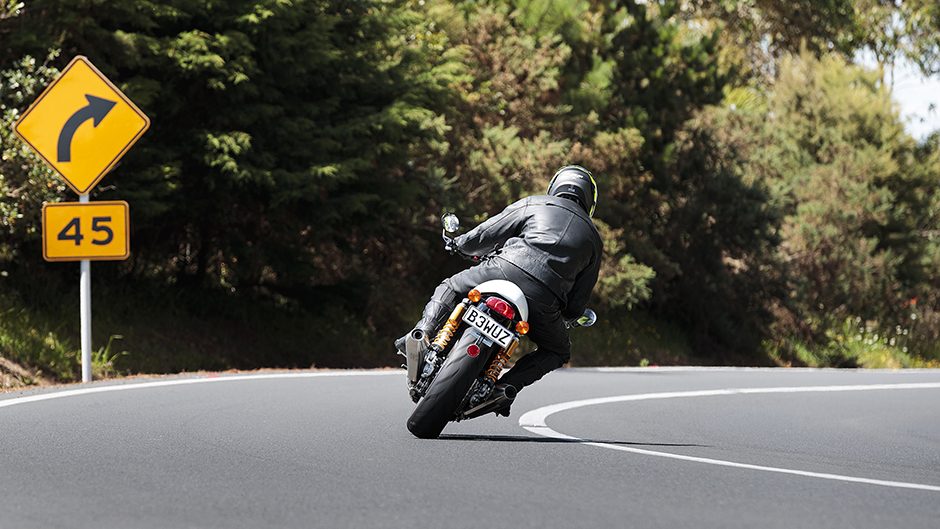 Arguably the one thing the Triumph boffins didn't get quite right is the frame of the Thruxton R. Not that it's defective in any obvious way, far from it, but rather because it is the same as that of the T120 on which the Thruxton R is based. The steel frame is heavy so the sportster scales up at around 225kg. That said, the weight is only really noticeable when manoeuvring the Thruxton off the side stand and about the garage. Here, the not so great steering lock is evident too.
But once underway, the weight seems to magically dissolve. And we had no real problems doing feet up turnarounds on regular secondary highways, so the lack of steering lock angle is more a garage thing.
We rode this on a hot, clear summer's day and were constantly battling with sunstrike from the highly polished top clamp, the reflection even penetrating through sunglasses and a dark pull down internal visor.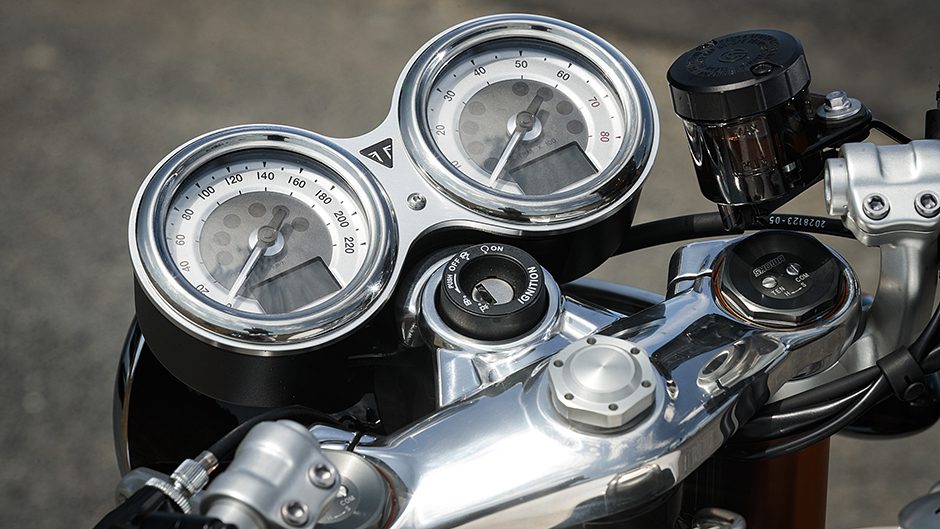 Of course this wouldn't be an issue in the UK where the sun only shines on three days of the year, but over here and in Australia it's certainly an annoyance. And the traditional analogue instruments aren't that easy to read either. Without a digital speed readout, you can't quickly get a handle on speed. Likely as not you'll be doing about 110km/h indicated, still under the 4000rpm mark. Small wonder this seems to use very little in the way of hydrocarbons. Expect economy of around the 4.5L/100km mark.
It's easy on the eye and equally easy to ride is the Thruxton R. The engine pulls willingly from about 2000rpm, and revs heartily too. Last we rode it, it surprised us with its turn of speed. Peak torque arrives at 4950rpm and you seldom need to spin it higher. But it revs willingly to around 7500rpm and when using all of that, you'll hit 100 from zip in 3.7sec, 0.3sec quicker than when we tested it in 2017. But our best 80-120 of 2.20sec was unchanged so overall, it's much the same, and the identical outputs suggest as much.
At $25,490, there's only one real drawback with the R, and that's the fact that it has been superseded recently by the new $26,990 RS. With engine tweaks, like higher compression, lightweight components, better breathing, the RS is now good for 77kW at 7500rpm, almost 1000rpm more than before, while torque of 112Nm is unchanged but it arrives 700rpm earlier.
A few lucky locals secured examples of the Thruxton Triumph Factory Custom (TFC) variant, only 750 of which were made. These get top of the line Ohlins suspension front and rear, Metzler Racetec rubber, uprated four-piston Brembo brakes, and Vance and Hines titanium pipes along with a beautiful period-correct fairing.
| | | | |
| --- | --- | --- | --- |
| Model | Triumph Thruxton R | Price | $25,490 |
| Engine | 1200cc, liquid-cooled, fuel injected, IL2, 72kW/112Nm | Drivetrain | 6-speed, chain final drive |
| 0-100km/h | 3.71sec | 100-0km/h | 36.75m |
| 80-120km/h | 2.20sec (64.19m) | Weight | 225kg |