Can-Am introduced the Spyder three-wheeler in 2008 and a decade on, released Spyder-lite, the 'recreational' Ryker. It's not as quick nor as well specced, but it is more affordable. Is it any good?
Long time readers of NZ Autocar magazine will recognise this new machine from Can-Am because a bit over a decade ago we tested the similar-to-behold three-wheeled Spyder SM5. Now the Canadian, a division of Bombardier, introduces a less expensive lightweight version dubbed Ryker. It doesn't have the storage capacity or 'frunk' of the Spyder nor quite the engine funk, but there's the same wind-in-your-face ride/drive experience as its bigger sib. And for those over or not into motorbikes, it's immune to tipping inadvertently at a standstill. Rollovers are unlikely too, with unswitchable ESP.
We're not sure how the name came about – it's unlikely to have been named after Commander Ryker of Star Trek: Next Generation fame- but the Y in Spyder symbolises the fact that it's a three-wheeler. Whatever, you definitely feel more like you're on a bike than in a convertible. You straddle it like a motorcycle, and the riding position is like that of a cruiser. However, you don't need a bike licence to pilot the Ryker and nor do you countersteer or lane-split with it, so it's more like a mix of bike and car really.
Mention of steering, you force the 'bars and wheels in the same direction as the turn. Just like Spyder then, except that on the more expensive machine it is electrically assisted, while on the Ryker your arms provide power assistance. Another difference is the sensitivity; steering is a bit twitchy in the Ryker, more so as speed rises, whereas that was less apparent with Spyder.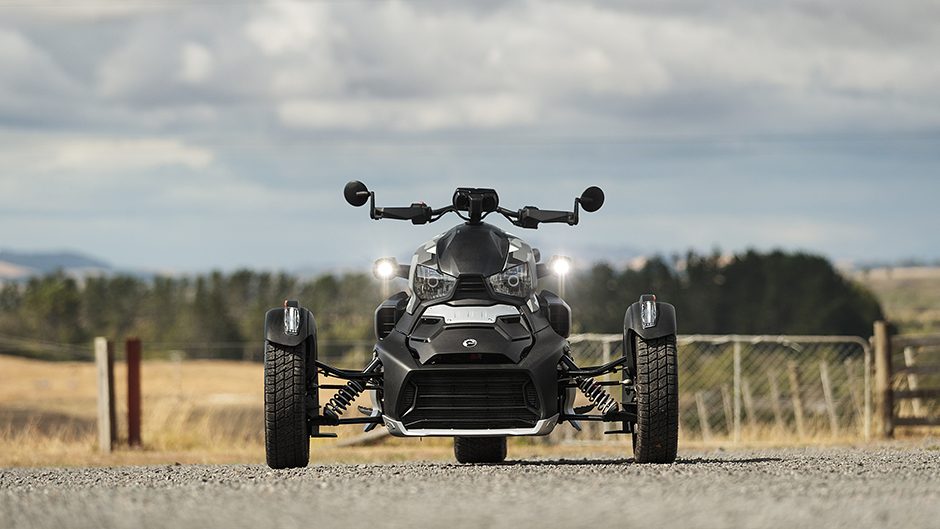 If looks alone could sell, the Ryker should move by the bucketload. The open-wheeler double wishbone suspension with Sachs coilovers looks fabulous. In 2019, almost 60 units were sold here, compared with about half as many of the twice-as-expensive Spyder.
This looks fun to ride but is it? Course it is but you do have to work for your jollies. Where more than half the fun of riding a bike is countersteering and leaning it into the corner, you're counteracting centrifugal forces on Ryker. So you need to lean to the inside of the corner and load up the outer peg to make haste and hold corner speed. Undefeatable stability control ensures you don't lift a wheel and flip the machine if you overcook things, and generally it steers pretty much where you point it. Enter a bit hot and it understeers but with ABS and stability control you can back off and even hit the picks if you want. What's best is setting entry speed correctly; go in slow and exit hot. Because this is driven from the rear wheel, you can force it to tighten its line by getting aggressively on the throttle once you've got the thing steered.
That's part of the fun of the Can-Am design. And this particular model we rode, the Rally, has a mode which disconnects traction control so you can spin up the rear wheel and get a touch of drift action happening in gravel. Eventually stability control will reign things in electronically, killing drive.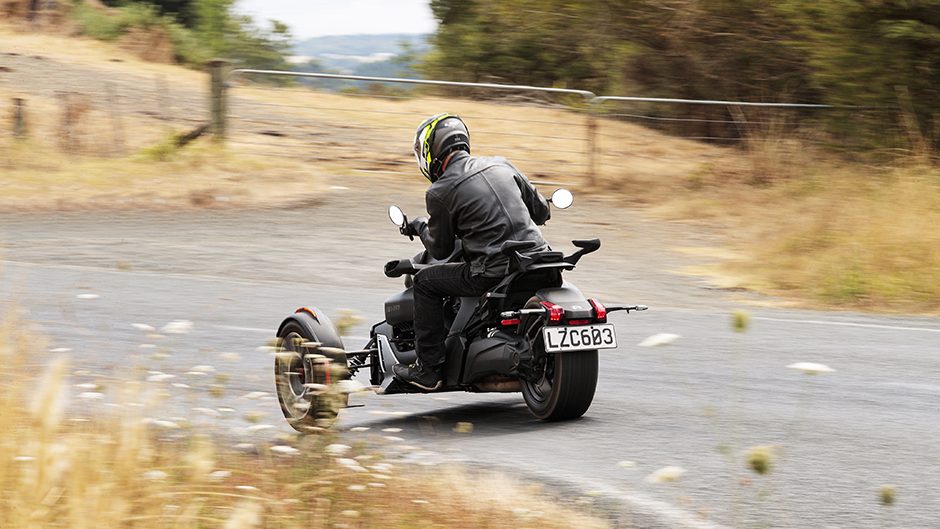 Another nice feature of the Rally is suspension adjustability at both ends. We achieved smooth ride quality by just backing off the knurled knob at the rear.
There are three models on sale here, an entry-level $15,499 twin-cylinder Ryker STD 600 and two 900 triples, the STD 900 at $18,499 and the Rally 900 being the best specified at $19,999. This has different alloys, and three engine modes, Standard, Sport and Rally, each with diminishing amounts of TC. You'd not consider this an off-road version as the name suggests, but it will be the most fun on gravel roads. For sales, the Rally is also the most popular, comprising 31 of the 57 retails last year.
Ryker is a single seat machine, but the Rally has a "max mount structure" which can take another seat or a top box. And there are heaps of personalisation options, many of which simply snap on.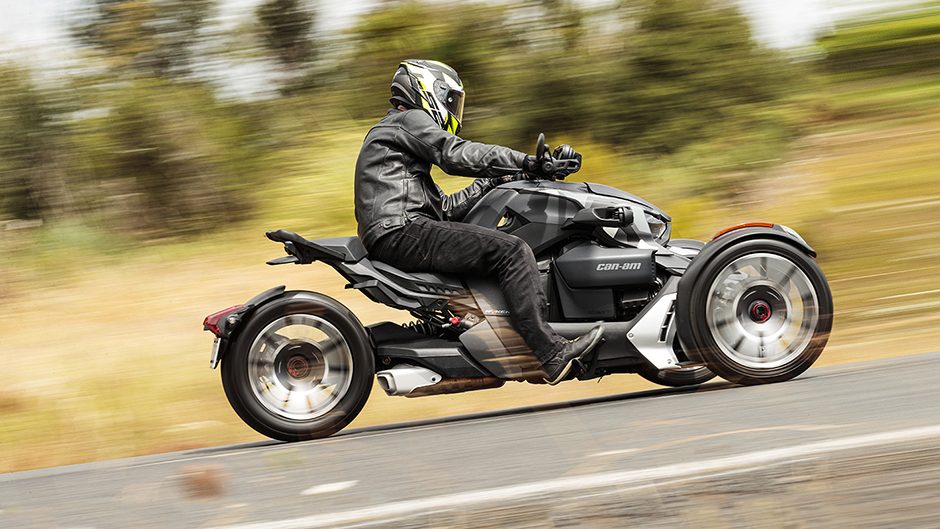 The other main difference between Spyder and Ryker is the transmission; the former uses a six-speed auto with thumb shifter, the latter a CVT. So it's like a twist and go model to ride. There are no levers to activate either; all braking is done by foot pedal. Can-Am reckons it's amongst the best stoppers out there in the bike world and with wet weight a respectable 312kg, all-wheel discs and much more rubber on road than any motorcycle, it performed a best emergency stop from 100 in 36.6m. Our record result for a motorcycle is only marginally better. Not that the brake action is as good as a car's and you need to bear down reasonably hard on the pedal to extract the best retardation.
Compared with Spyder the lack of power steering makes riding the Ryker more of a let's-get-physical affair. That's especially true mid-corner when you're powering on to get the best drive out of the exit and the steering loads up. In a straight line it can feel nervous at times, especially in a side wind or over roughed up roads. On smoother surfaces, like motorway commutes, it's much better.
Performance is pretty reasonable. The 900cc motor generates 58kW and 76Nm, but the latter is at a fairly high 6300rpm so it doesn't really give of its best until about 80km/h, around 4000rpm. In town, it easily gaps four wheelers. From 80 through to 120 it gathers pace with intensity, an overtake requiring just 4sec. Getting off the line, it isn't fireball fast, a best 0-100 of 7.9sec doesn't indicate just how quick this is once it's up to speed. At 100km/h it's doing 6000rpm, and doesn't sound busy but mean fuel use of 8.5L/100km is about twice that of a regular 900cc triple cylinder motorcycle. Range is around 250km.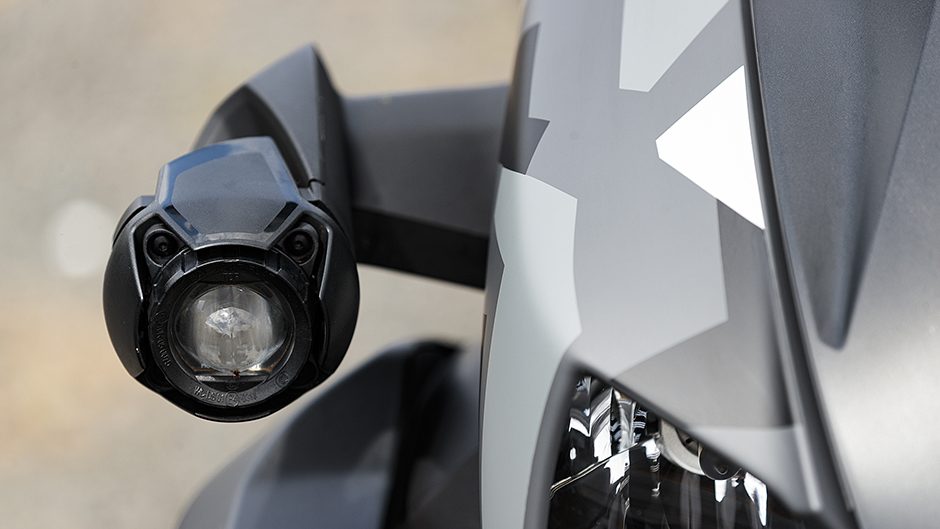 Ryker has some innovative features; we've never encountered easily adjustable handlebars before but these you can unlock, reposition, and simply reclamp in place. Same same with the footpegs which have around 30cm of movement fore and aft. Less rangy types will like them set back, those longer of shank will likely set them forward. Shaft drive greatly reduces maintenance in that area.
For just under $20k, this is the only trike out there for the money. If you've got touring in mind, we'd suggest the Spyder is better suited. But for a blast on road and an ego massage, Ryker is an interesting and inspired addition to the Can Am line-up.
Is it as satisfying as a bike? We'd say not for cornering. Is it safer? More than likely because you can't drop it, and you can't lane split with it either.
| | | | |
| --- | --- | --- | --- |
| Model | Can-Am Ryker Rally | Price | $19,999 |
| Engine | 899cc, liquid-cooled, fuel injected, IL3, 58kW/76Nm | Drivetrain | shaft drive |
| 0-100km/h | 7.96sec | 100-0km/h | 36.58m |
| 80-120km/h | 4.42sec (124m) | Weight | 312kg |