Harley-Davidson is in a state of transition at present, with new products in new segments. Meantime, cruisers like this Low Rider S show that the firm is intent on improving its traditional wares.
For some inexplicable reason, we've been primarily riding middleweight testers this year, weighing in at under 250kg. That all changed recently as we found ourselves sitting astride a truly big bike, Harley-Davidson's Low Rider S which features the 114 Milwaukee-8 engine (as in 114 cubes or 1868cc) and weighs in at a claimed 308kg. Not sure if that's wet or dry but, like, whatever. Either way, she's a big bird.
Big enough that if you try to turn it 180 degrees while standing to one side of the bike, it might not end well. There's a better way to do that we discovered. Anyhow, given it was a beautiful blue-sky day when we picked this up, and that it had just a pair of figures on the odo, both twos, we decided to take 'er on a long run to put a few kays on the driveline and the rubber. By the time we arrived back home after the better part of three hours in the saddle I was shagged. Big bikes, especially long ones, are definitely more demanding to ride than lightweight machines. [Depends on how much of a man you are we suppose. A bit of meat in the diet might help. -Ed] However, as we said recently, there's no doubt that big bikes do feel planted.
This bike in particular feels all of that on the go. It has the stability of a pyramid but inducing it to change direction takes a bit of the body English. Or perhaps body American is more appropriate. With a 19-inch front, a 180mm 16-inch rear and a wheelbase that makes U-turns in one go all but impossible, you really do need to be assertive to get this, in puppy terms, to lie down and roll over. But that's all part of the fun of riding a bike like this because it's virtually unflappable.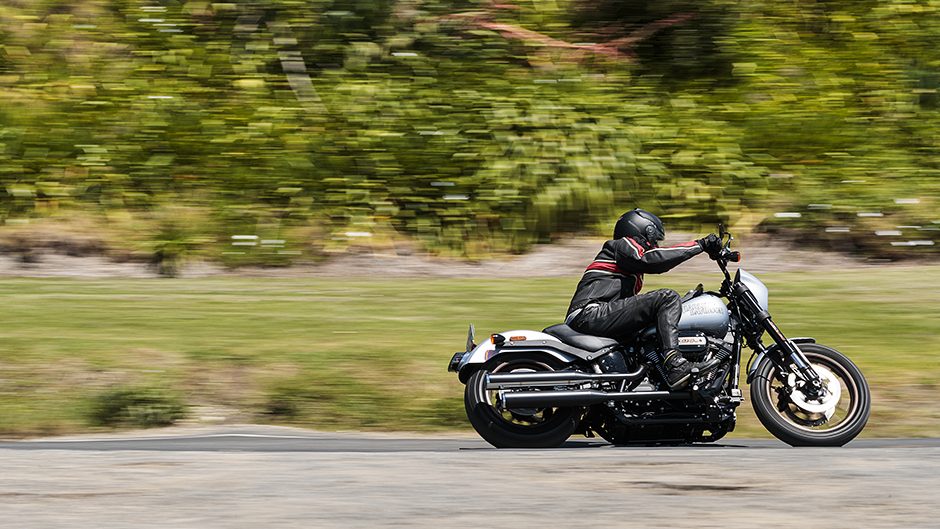 A decade ago, Harleys really were much more agricultural. At idle they'd vibrate your fillings out and give you double vision, and brakes were only there because the law mandated it. Lean angles you didn't need to talk about because as soon as it was away from the vertical something was touching down and putting grooves in the tarmac. However, things changed when a bit more competition arrived. Victory wasn't much of a threat but resurrecting Indian certainly was and suddenly the folk in Milwaukee had to sit up and take notice.
Here was the old enemy back to taunt them with new engineering, new styling and advertising that appealed to the heritage of the brand. Dammit there was even a lifestyle division to make owners feel part of the new tribe. Owners Polaris opted to shut down Victory and concentrate solely on Indian. And they've produced a couple of rippers in the much lauded Scout and the new FTR 1200, even if it was rushed to market with dodgy fuelling.
Anyhow, the arrival of Indian put H-D into a bit of a spin. They responded with the Milwaukee-eight engine, a damn fine start. It made the bikes it powered competitive with the opposition and it also set in motion an improvement of the rest of the components, like frame, brakes, and suspension. So to the bike you see here before you, the Low Rider S.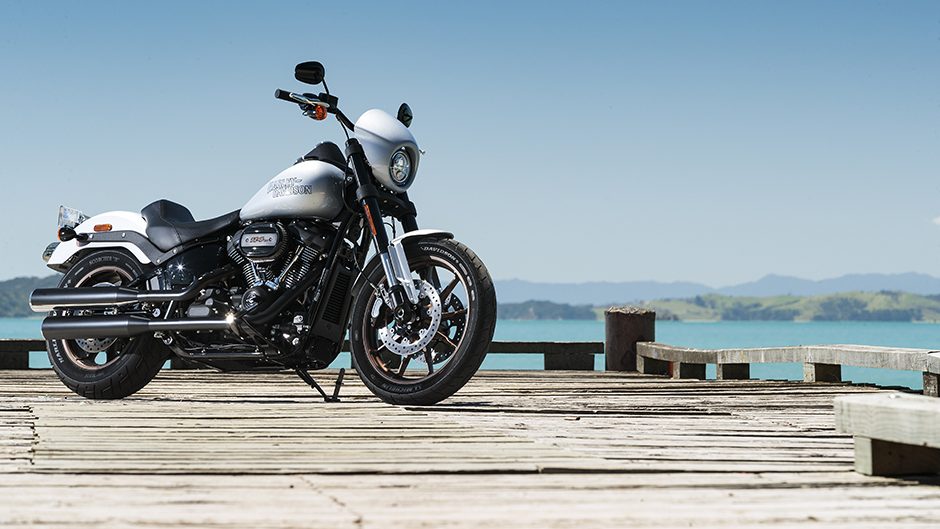 The S stands for special, but that's just Harley speak for black. Most of the chromed bits and pieces are replaced with matte or gloss black paint. That includes the fuel caps (yes, there are two, one's fake), the pipes, forks, handlebars and risers, bodywork, and frame. Even the tank and fender colour are black if you want, although ours had the alternative grey colour. One other thing; the S gets the bigger engine instead of the Low Rider's 107 cubic inch unit, and it also gets a fly screen surrounding the headlight to keep out a bit of the weather.
The S designation adds $4k to the price of the Low Rider. That also buys you a lighter, stiffer frame, and new suspension with inverted 43mm forks. It's a bit of a beast this, with the second largest engine Harley offers. Twice while it was in our care we came close to dropping it while manoeuvring it around, but then it is 310kg and I'm 80 on a bad day.
We soon discovered that it's best not to stand one side or t'other of the S. If you can ease it backwards or forwards while straddling it, the bike is much easier to catch if it inadvertently becomes unbalanced. And it's easy enough to push forwards or reverse into position because of the low seat height. There's just the single seat too, so no taking friends for rides on this, unless they're of the canine variety, and you pop them on the tank. Not especially legal but hell, they do love it. Like all modern Harleys this has a smart key so no messing with ignition slots, only there's a key for the steering lock. Anyhow, fire it up and this doesn't make a whole lot of noise with the stock pipes but it's tuneful, being a sizeable V-twin.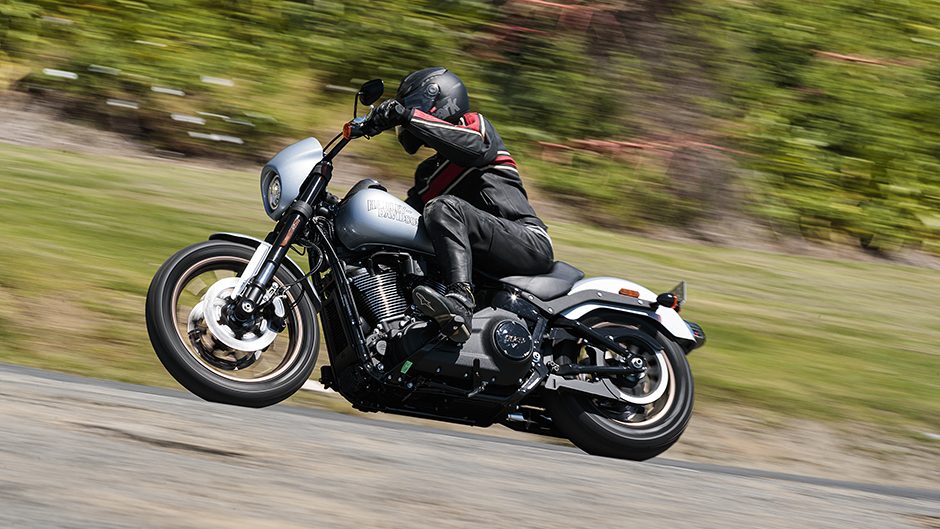 The stacked exhausts look pretty staunch too. A Stage 1 upgrade involves bolt-on performance enhancements, air cleaners and exhaust, along with an ECU reflash. Most machines don't leave the dealership without having at least this done. Not that the 114 doesn't actually deliver on the performance front without paying out anything over and above the $29,995 list price.
Despite its weight it ran zero to 100 in four seconds flat, with an overtake dusted in 2.6sec. Only you don't ever really ride it like that, revving it to the limiter. No, this you tend to ride in the 2000s, ie, at half revs, given the limiter hits at 5500rpm.
There's so much torque down low that revving it to 3000 (where peak torque of 155Nm hangs out) is sufficient for just about any situation. That also keeps the vibes at bay. Gearing is small car-like in that at 100 in top gear this is doing 2300rpm. Talk about laid back. Despite a few vibes going on, the stubby bar-mounted mirrors show what's going on behind particularly well.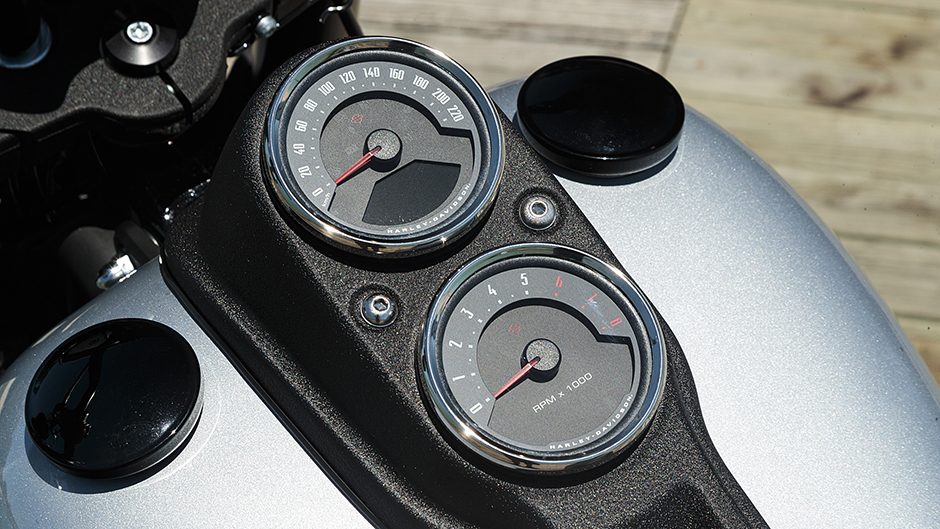 This bike may be a bit of a handful at (slow) times but it's decent fun to ride. I'm not entirely convinced the riding position will suit everyone; to my mind the 'motocross' style bars on four-inch risers are set a bit far forward, and the legs are a touch high. That makes for an aggressive cruiser pose, especially with its centrally mounted (rather than forward set) pegs. But this scarcely touches down on most roads, only the slow-speed switchback types. Otherwise there's 31 degrees of lean angle available either side, and even if there's contact it's merely the underside of the rubber footpegs touching down.
We had genuine fun on this over our longer ride loop. Yes it's a bit slow to turn but you soon adjust to that, and it runs nice wide lines, with nothing upsetting it.
The best part? It is a member of the Softail family and the rear end literally glides over anything so the ride is luscious. Not often you can say that of a cruiser. There's less rake than on the Low Rider too, 28 degrees, which is probably why it takes to corners more convincingly than you might expect of such a stretched machine.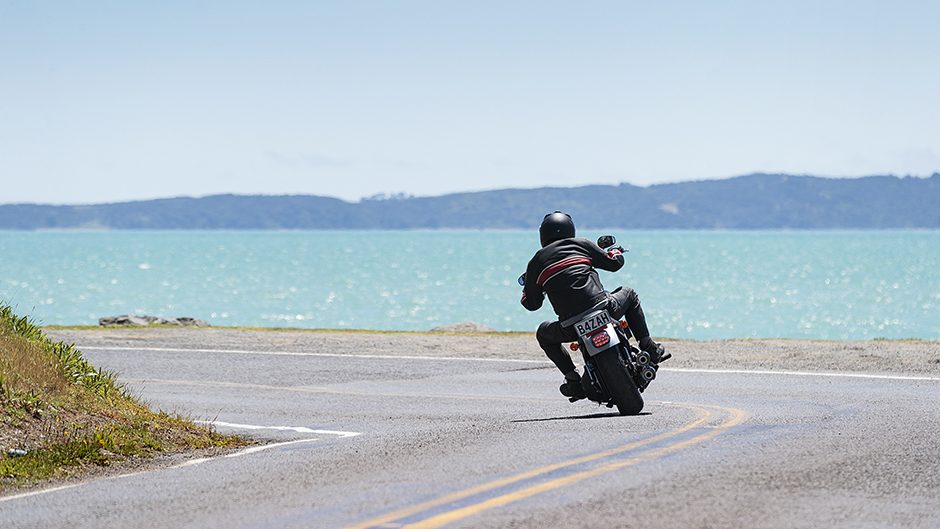 A couple of other things. Despite its weight and not having radial style brakes (nor a rear stopper that seems to add much in the way of retardation) it still slows convincingly, the Brembo calipers producing a best emergency stop from 100km/h of 38.69m. You need to yank the lever but.
About the least great aspect of this bike is where the dials are positioned, one above the other on the tank. So you must take stock of what's ahead before peering down, especially to check revs.
There's not much need to do that however, and your speed will generally be around the 100-110 mark. There's no fuel use data but expect a full 19L tank to take you around 300km.
The Low Rider S will likely appeal to those wanting a traditional cruiser style but with a bit more sport, performance and blackness underpinning it.
| | | | |
| --- | --- | --- | --- |
| Model | Harley-Davidson Low Rider Special | Price | $29,995 |
| Engine | 1868cc, liquid-cooled, fuel injected, V2, n.a.kW155Nm | Drivetrain | 6-speed, belt final drive |
| 0-100km/h | 4.03sec | 100-0km/h | 38.69m |
| 80-120km/h | 2.60sec (74.78m) | Weight | 306kg |