In the past couple of years, Yamaha's Mighty Torque (MT) range has thrown up two Autocar BOTY winners in the MT-07 LAMS machine and the MT-09 Tracer sport-tourer. Does the MT-03 have the same winning genes?
Yamaha's Mighty Torque (MT) range kicked off with the humongous MT-01 which has now become collectible, though it wasn't a huge seller originally. But the third and fourth in the family, the MT-09 and MT-07, were massive hits globally. In between came the MT-03, essentially a naked commuter bike using the engine from the XT660. That wasn't such a great mover here despite being learner approved. Perhaps that's because it was much the same as the bike that had been available in Europe for almost a decade before it arrived here.
Anyway, it has has since been replaced by the new 323cc twin-cylinder MT-03. This bike is essentially a YZF-R3 (think mini-R1) without the fairing, and with slightly different handlebars that are set 40mm wider and higher and 20mm closer to the rider. There's also modern mass-forward styling as this is meant to be a commuter bike for up and comers on a learner licence. With a low seat height pretty much anyone of any stature can apply.
It's rather different in character from its namesake predecessor. The funkier styling is certain to make it more popular and the engine is hard case, but it's the price that will appeal to motorcycling newbies. This sells for a quite astonishing $6699 new, less than Honda's 286cc single cylinder CBR300R ($6995) and Kawasaki's 296cc parallel twin-powered Ninja 300 with ABS ($8495). It's also up against the Duke 390 from KTM, though that single-cylinder machine has greater displacement (373cc) and costs $9499. The only other machine that's close is Hyosung's GT250 which has a 249cc V-twin and costs $6995. Moreover, the MT-03 comes with ABS standard so bang for buck there's little in the LAMS area that can hold a candle to the new Yamaha. The reason it's so relatively inexpensive is that it's sourced from Thailand, but then so is lots of stuff from the motorcycle world.
Unfortunately, the ride period coincided with a week of truly abominable weather. I had in part prepared for this; a trip to an outdoors clothing store produced a bottle of Gecko Guard water repellent which once again made the waterproof gear function as intended rather than acting like a sponge.
At pick-up, the bike sat ready to roll with just 325km to its name, but looking rather resplendent in matt grey livery, offset by racing blue frame and lightweight aluminium wheels. The angular tank scallops (which facilitate the best turning circle in the business) and tiny fly screen impart a jaunty appearance, as does the two-part dual-level seat. The '03 is also available in red and black and black on black, for the goths. I wouldn't though, for visibility reasons, and the grey and red colours contrast so well with the blue and black wheels, respectively.
Anyhow, the folks at Yamaha said this is a town bike so naturally we headed straight out into the countryside figuring there must be some issue with running the MT-03 on rural roads. Despite being tight from lack of run-in it easily galloped to 100km/h, at which point it was doing near enough to 6000rpm, and vibration was conspicuous by its absence, meaning a clear and quite decent mirror view of things behind. There's no weather protection but you can push back in the seat and lean forward over the stubby little bars to cut the impact of headwinds. It pulls well from 100 in sixth, and will also accelerate passably up inclines in top, neither of which any comparably priced 250 manages.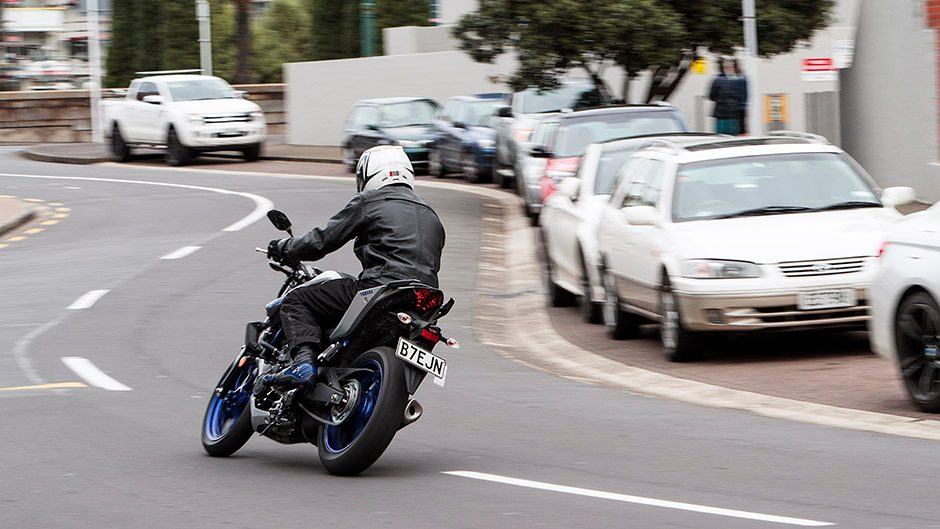 You wouldn't rate this as mighty torque exactly but nor is it micronised; there's genuinely moderate torque on offer and most in this class have not a lot. That's fairly clear when you hit the suburbs again, as it pootles along city streets at 50km/h in fifth, and will even pull cleanly from that point in top (3000rpm). The trip mini-computer suggests instantaneous fuel use of under 3.0L per 100km in town, while at 100km/h figure on around four per. Half a tank is roughly a $10 layout.
So economical it is, and a zippy wee thing. At this point we'd not taken it anything much above 7000rpm but with a redline up around 12k clearly there's added zest awaiting. The gearbox shifts quickly, with light clutch and lever action though it didn't seem quite worn in at pick up. It was oily slick a week later.
Two other things were apparent from our first ride; the brakes, a single disc up front, are reasonably effective, as the bike only weighs 168kg with its 14L tank brimmed. And the riding position is great, perhaps with just a hint too much hip flexion for me but I'm a bit taller than average. The rear shock is a touch firm but is preload adjustable and so too the seat (except for the adjustable bit). We liked how easy it was to take in both speed and revs at a casual glance.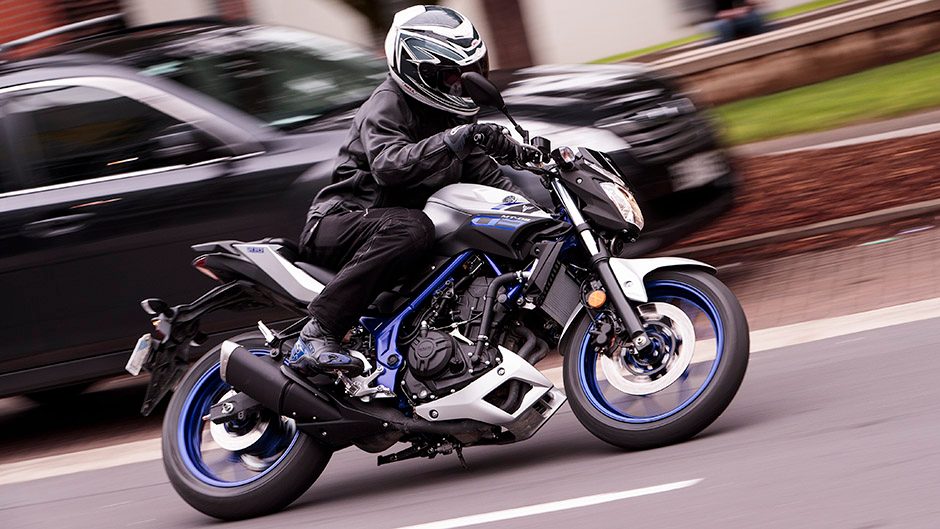 Eventually the weather brightened up, not that we trusted conditions to stay good so on with the wet weather gear and naturally it didn't rain. Not to worry as the ride was, well, epic. Yamaha's MT range has a focus on torque and lightness, two of my fave things in bikes. That equates to an easy yet exciting ride, and true to form the MT-03 is right at the top of the performance tree for its class, and yet still undercuts the opposition on cost. With 321cc, more than rivals, and a weight advantage the Yamaha eclipses others in the class for speed. And unlike 250cc machinery of old, you don't have to thrash the living daylights out of it to achieve an overtake. A downshift to fifth is plenty, and often even that's not needed.
This bike has a little engine that not only could but does. It has two drive modes, revs below 7000 and those above. Make use of the upper revs and this is one quick commuter. It easily manages a salute to the sky in first gear, and is frugal too; at 6000rpm instantaneous consumption is 3.5L/100km and even given a licking it only rose to 4.7L/100km. There's not much exhaust noise to get the blood boiling, though it sounds quite mean on a dead throttle.
Above 7000rpm and output starts to get more energetic. Because there's so little mass to move it's quick off the line, nailing a 0-100 in just 5.7sec. It kills any of the 250s we've previously performance tested, outruns a KTM 390 on both criteria, and gives Honda's CB500 a run for its money. It's even quicker than Yamaha's own Bolt cruiser. Because it revs in such carefree fashion you find yourself having just a bit too much fun at times, but that's what makes this such a cool tool. And all for $6699, lest we forget.
For some final perspective, what else can you buy for this kind of money? Er, pretty much nothing. A DR-Z250 single costs more. A GW 250 ZL, Suzuki's Inazuma, is the closest but is no longer listed on Suzuki's website. Perhaps just as well for it wouldn't have seen which way the Yamaha went. As we said, nothing comes close.
| | | | |
| --- | --- | --- | --- |
| Model | Yamaha MT-03 | Price | $6699 |
| Engine | 321cc, liquid-cooled, fuel injected, IL2, 31kW/30Nm | Drivetrain | 6-speed, chain final drive |
| 0-100km/h | 5.72sec | 100-0km/h | 40.99m |
| 80-120km/h | 4.73sec (133.0m) | Weight | 167kg |