Can Ford's new 4WD Focus RS be compared with quicker, more expensive hot hatches such as the AMG A 45 or the RS 3? Short answer, hell yes.
The new Ford Focus RS is one of the most anticipated vehicles of 2016, in part because it was recently voted COTY by an influential UK motoring rag. The former versions of RS were also popular but not perhaps quite in the way this newcomer is. The first shipment of 55 cars sold out almost instantly, and another 19 were secured, all of which are gone, so if you order now expect an arrival time in 2017.
How come it's suddenly a must-have item? Hot RS Focus models have always been primarily about performance and handling, with creature comforts taking something of a back seat. But they've also been front-wheel-drive, with tricky diffs and 'Revo knuckles' helping to tame torque tug and get the power grounded. The second-generation model had a five-pot 2.5-litre engine, and with 224kW and 441Nm to hand, it struggled to get off the line cleanly, and was a touch unruly on the go.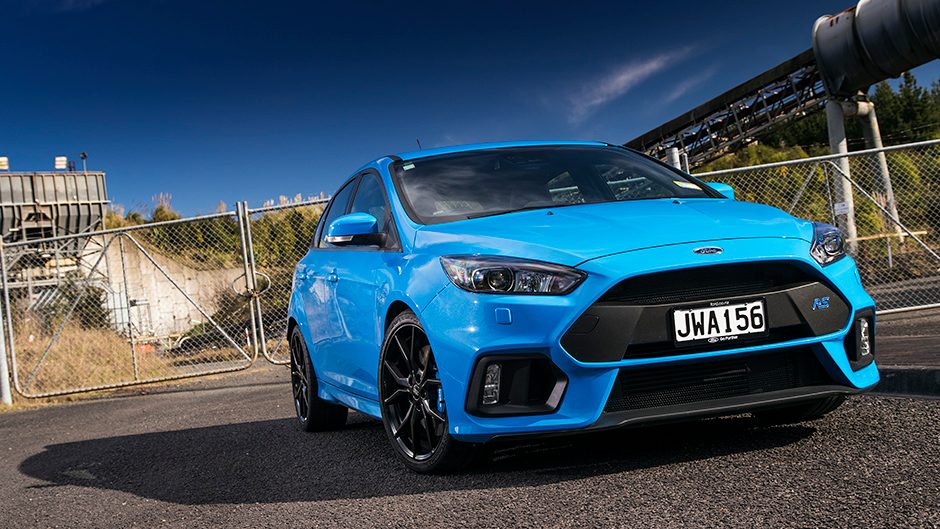 Power struggles
As the 4WD opposition continued to ramp up power and torque figures, Ford was forced to go down the all-paw path as well. They should probably have done that for Gen II Focus. Going 4WD has its pros (grip, acceleration, stability) while the main downside is added weight, and sure enough it's up 80kg to 1560kg in its latest guise. But the weight split improves, crucial in any car that's derived from a front driver, from 64:36 previously to just under 60/40 now. So the advantages outweigh the cons, particularly as there's more power to overcome the added mass. And performance creds improve with the move to 4WD. Back in 2010 something with a theoretical sprint time of 5.9sec was reasonable for a hot hatch, but modern four-pot 4WD turbocharged hyper-hatches are now reaching 100 in a shade over 4sec. There were therefore marketing reasons to go four-wheel-drive.
Trials and tribulations
Ford engineers didn't simply add a prop shaft and head off for a pint. Their initial experiments with Haldex systems didn't produce the results demanded by project chief, Tyrone Johnson, so the Twinster system, originally used in the RR Evoque was evaluated, and it was this German system that was eventually adopted. That's because it was able to shuffle more torque front to rear (to a maximum of 70 per cent) and with a clutch pack either side of the rear diff, 100 per cent of that drive could be apportioned to either rear wheel. Ford wanted to quell the usual understeer inherent in traditional 4WD systems by utilising active torque vectoring, the outside rear wheel power oversteering the car out of a corner. Only Ford engineers didn't stop there, adding torque vectoring by brake up front. By slowing an inside front wheel, and powering up the opposite rear, any potential understeer could be nullified.
But you probably knew all that. And the fact that the latest hot Focus uses a stiffened version of the existing ST chassis, rigidity up 23 per cent overall and stiffness improved even more at the rear for a sharper steering response. Suspension is revised too with new geometry and beefier links and steering knuckles. Two-stage adaptive dampers are employed, the Sport setting 40 per cent stiffer than 'Normal' which you'd hardly rate as a 'Comfort' setting. As mentioned, this is serious, not soft. Treat the Sport mode strictly as a track-only setting.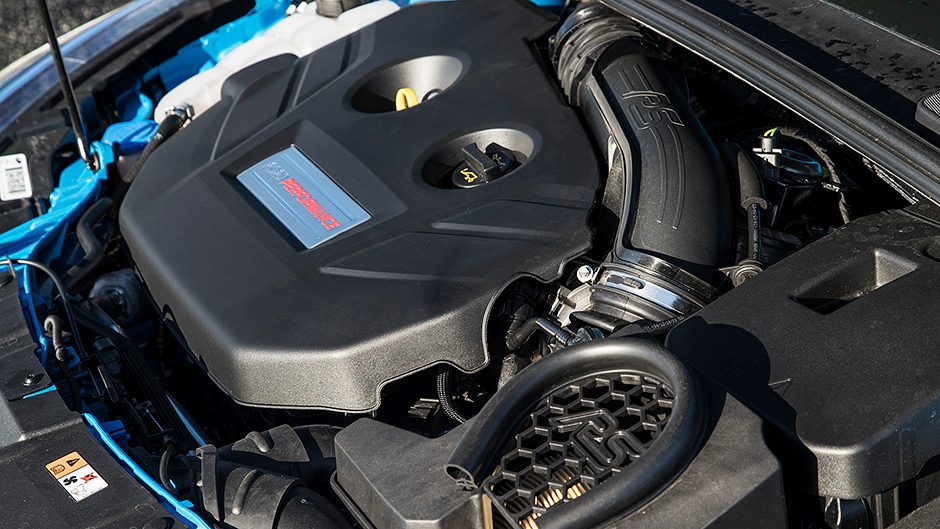 Added grunt
The engine is new, though not entirely. It's actually a reworked version of the 2.3 four-cylinder EcoBoost unit that virtually no-one orders in new Mustang. The RS version is tweaked with a larger twin-scroll turbo and bigger compressor, a different head and intake manifold, and a free-flowing exhaust. Peak power of 257kW is up 33kW, while the torque max of 440Nm is the same as before, but is on hand from 1600-5000rpm. Or is it the same? On overboost there's evidently 470Nm available. It outgrunts a Golf R and STI. Once again, the output is handled by a six-speed manual transmission alone, so the hatch is aimed at proper drivers.
This time around the RS gets four operating modes, one of which features launch control. In this setting, the engine settles at 6000rpm, you simply step away from the clutch and the electronics do the rest. Ford rates it as a 4.7sec car. We could only manage 5.3sec initially, until we discovered it will squeak 100 in second gear. Flat shifting into second (no throttle lift) we near as dammit matched Ford's claim, with a best of 4.72sec on chipseal.
Contrast that with two of its 4WD archrivals, the AMG A 45 and the RS 3, both of which complete the drag race in around 4.2sec, but both have double-clutch transmissions. If the Focus had a similar gearbox it would be almost as quick. However, its manual trans is a belter, the lever well placed, the throws just right and the clutch action about as good as it gets with an easily discernible bite point. These Ford Performance guys work hard to get the basics right. And that's the thing about the RS; it may not have quite the glitz of the A 45 or RS 3 inside (though we prefer the RS seats) but the mechanicals are well considered.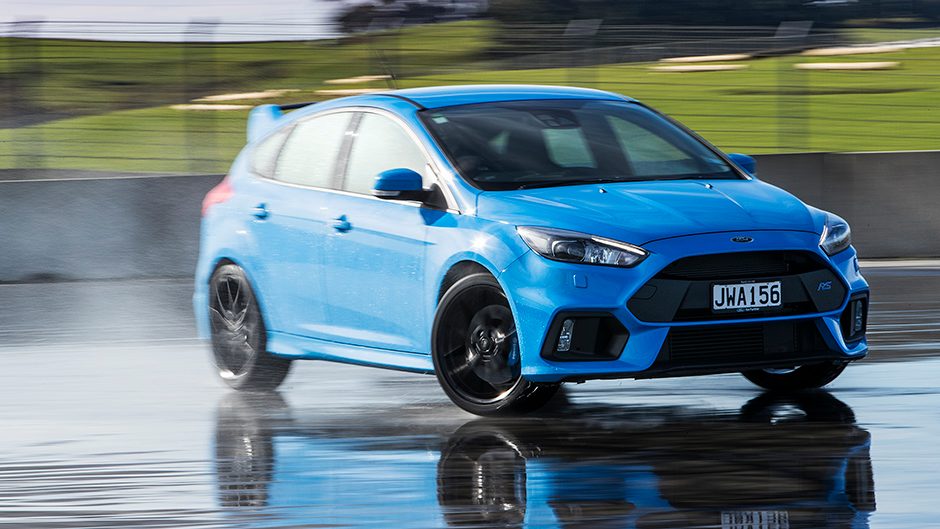 Getting the Drift
And on those, we should touch upon Drift mode. Not many, if any, have that, at least not around the $69,880 asking price of the Focus RS. The closest is the STI which has an adjustable centre diff. In the RS it's a bit more sophisticated; the drive is shoved rearwards and more so to the outside rear wheel to help induce the yaw moment, the ESP is set to allow a wide slip angle and the dampers are left in the softer position to help unload the rear. Steering is also at its lowest weighting, to help catch the slide.
With the second-generation Focus RS the company was into rallying and we made a thing of how sideways the RS went on gravel roads back in 2010, but since then drifting has taken off, and who wouldn't want to try out Drift mode if it's on offer? So we headed for the nearest skidpan at Hampton Downs, where they kindly allowed us to make use of their facility for photography purposes. Drift mode is dead easy to use; just slick down the skidpan, select Drift mode, stick the RS in gear and you're off and running sideways. Second gear proved best, holding the slide using middling revs. Only in Drift mode it's not quite possible to get full opposite lock drifts so we hit the ESP-off switch and that did the trick, though you have to expect a few full spins as well. We guess Drift mode is optimised for preventing carnage on a dry surface. Whatever, if there was any doubt about how much shove goes rearward, a few laps on the skidpan soon sorts that.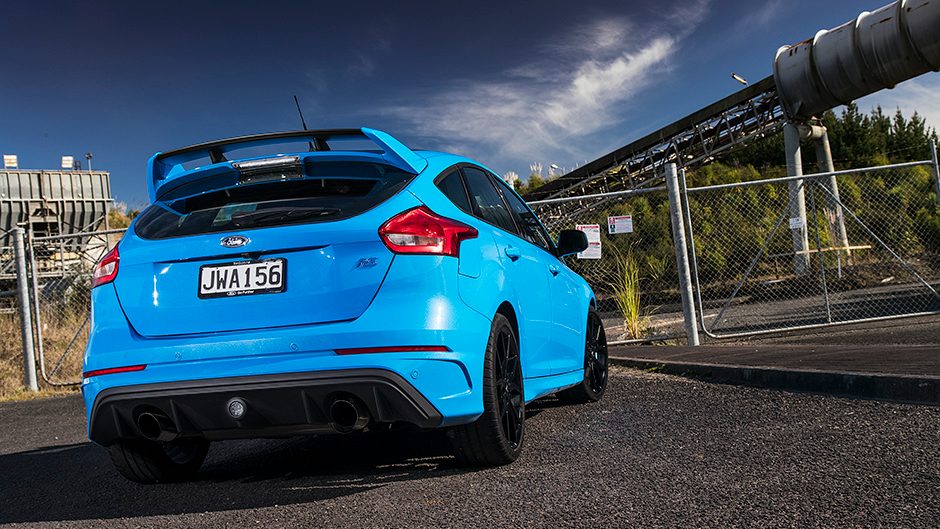 Taming the turns
Not that we had any doubt anyway. For in Sport mode, which we used for the on-road cornering shots the ESP is backed off, and the Focus just wants to steer from the rear when exiting the turn, in either second or third gear. Even in the dry it can break traction if you're determined enough. That's not really the point of it though, even if it is a fun. But it's something neither of its more expensive competitors can offer. What the Focus system aims to do is dial out understeer on the way in and the way out. Turn in carrying too much speed and no amount of torque vectoring can defy the laws of physics but set the entry speed right and the smart 4WD system and torque vectoring of the RS does the rest. It also has some of the most direct steering of anything we've driven for a while, with just two wheel rotations between the lock stops, though a 12m turning circle is a minor downside, as is a hint of tramlining on uneven surfaces. But the tug of the previous Focus has entirely gone, and the wheel weighting is utterly devoid of the artificiality that used to plague most electric steering systems. Our car had the $3000 lightweight forged alloys and Pilot Sport Cup rubber option which probably helped enliven the steering some too.
There's simply no waiting to get on the gas out of the turn, and as the torque surges on the exit the line tightens perceptibly, and you're out of there. This and the sweet, nicely weighted helm makes the Focus a hoot to pilot down technical Kiwi back roads. As before, RS has brakes befitting its purpose, the Brembo front calipers reigning in speed down the straights. And the exhaust noise in the Sport setting is also invigorating, a few boisterous pops accompanying the overrun and with a pleasingly deep almost flat-four note under the pump.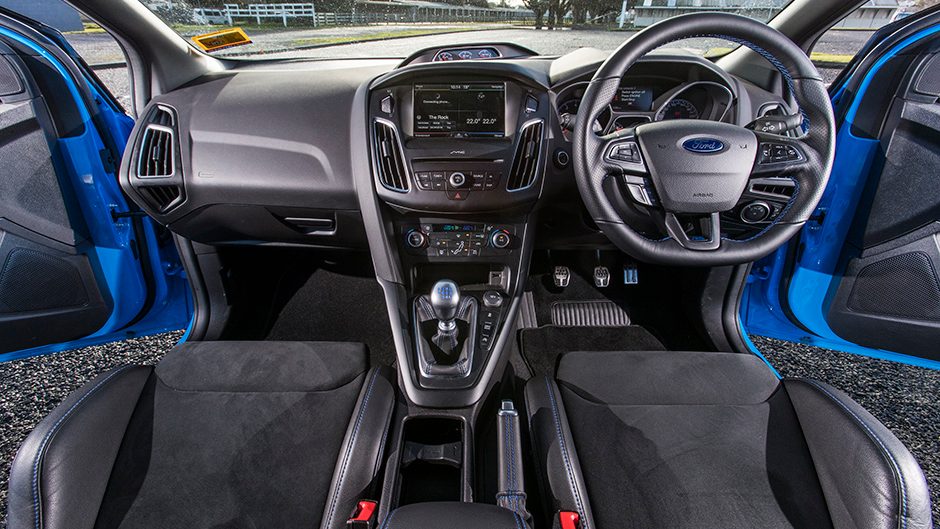 Any foibles?
Like other super hatches, keeping a lid on speed isn't that easy, particularly with such a broad spread of torque. Oddly this car features autonomous city braking but no active cruise control.
Anyhow, this isn't quite as mentally quick as the A 45 or RS 3 when given free reign, with an overtaking time 0.5sec adrift, but on road you'd never notice the difference because the Ford gets out of bends better. With the special Cup tyres it holds unreal corner speeds, the heavily bolstered part-leather Recaro sports seats helping the driver stay locked tight. Set high, the bolsters make ingress a bit tricky. Other standard items include a touch screen with sat nav, comfort entry with pushbutton start, a reversing camera with rear sonar, bixenons with cornering lights, and dual zone air. There's also idle stop, and on paper the new Focus is supposedly easier on fuel than its forebear at 8.1L/100km overall. The worst we saw was 18L/100km, while much of the time it was down around the 14 mark, and it registered half that at motorway cruising speeds.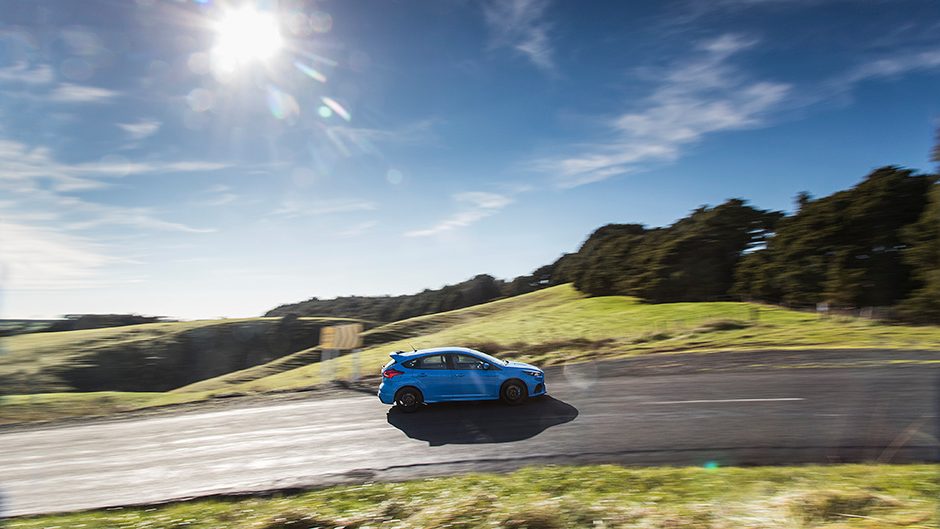 About the one rider we'd be remiss in not mentioning is ride quality. Even with the dampers on Normal the fidgety ride may be a bit much for some at town speeds. In country running it makes vastly more sense. Noise levels from the special Cup tyres were surprisingly muted, despite a few harmonics at speed, the average cabin SPL being 74.8dB.
So, the best hot hatch ever then?
Despite minor detractions, all is forgiven when you compare Focus RS with its more expensive opposition. If you're not agin a manual, we'd recommend you drive this before settling on spending almost $30k more for an AMG A 45 or an RS 3. It's really that good.
| | | | |
| --- | --- | --- | --- |
| Model | Ford Focus RS | Price | $69,880 |
| Engine | 2261cc, IL4, T/DI, 257kW/440Nm | Drivetrain | 6-speed manual, all-wheel drive |
| Fuel Use | 8.1L/100km | C02 Output | 190g/km |
| 0-100km/h | 4.72sec | Weight | 1565kg |