There's something wonderfully unhinged about Porsche's new turbocharged 718 Boxster S, it's a riot.
Recently I watched Chris Harris of Top Gear rave about BMW's M2. He's not alone in that, most saying it is one of the more memorable drives of 2016. Anyhow, he said that it felt like an early M3, both being coupes with similar tight dimensions. There's something special about a truly quick compact sportster.
That got me thinking about how the new Boxster S fits in the line-up. Now with turbo power its performance is on a par with that of a Carrera of a generation back. Make that a Carrera S. Nope, cancel that. It's faster even than the former Carrera GTS. In fact it's so quick it nearly enters the top ten fastest accelerating cars we've ever tested. And it costs $155k. The closest in performance and price to this is Audi's RS 6, at $200k. The Carrera GTS went for $100k more. And everything else quicker costs over $300k.
So for all those scoffers and purists who reckoned that the turbocharged engine would be the death of the Boxster, we'd say hardly. The company has been making outstanding turbo engines for years – the Porsche Turbo S is still the only car two-second weapon we've driven – and the engine in the 718 Boxster S uses the same variable vane turbo technology as the hero car. Its 2.5L flat-four may well be shy on displacement and cylinders compared with its 3.4L flat-six forebear, but with a single VTG turbo, direct fuel injection and variable valve timing and lift technology, power is up by 26kW, while torque rises by 60Nm to 420Nm, available from 1900-4500rpm. It's claimed to be 0.6sec quicker on the sprint to highway speeds than the previous Boxster S, hitting 100km/h in 4.2sec when the Sport Chrono package is fitted.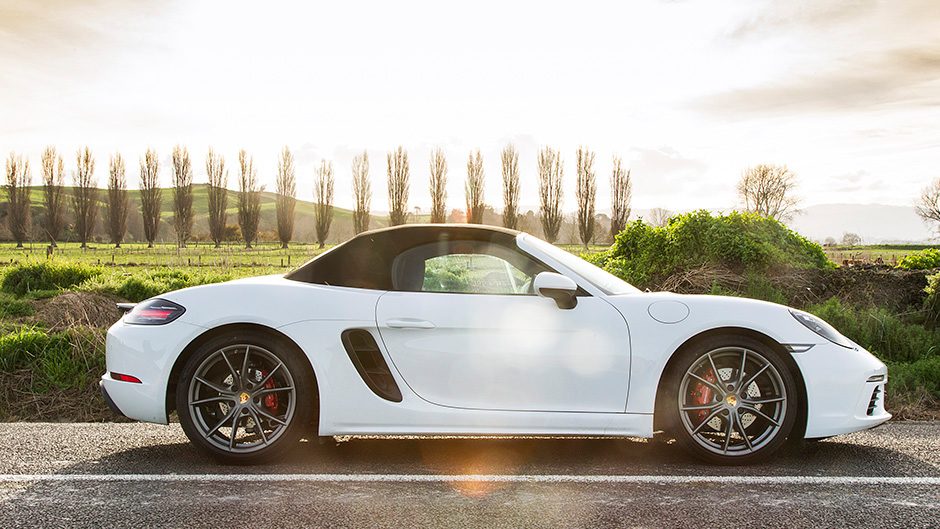 Fuel use trimmed
Another advantage of the 900cc displacement downsizing exercise is the boost to fuel efficiency because there's not the need to rev the engine so hard. The company claims a fall of 0.9L/100km to 7.3L/100km overall, and while in our hands single figures were comparatively easy to achieve, with a low of around 6.4L/100km when cruising at 100 (1650rpm in seventh), the most we saw was 12.3L/100km.
Far from being something that should be burned at the stake then, this is a new stake in the ground for the Boxster brand. Why it even sounds the part. This produces a nicely rounded low bass exhaust note with a pleasing trill on the upshift. Our unit didn't even have the sports exhaust system but still sounded magnificent, especially in the Sport setting when there's even more noise.
It did, however, have the $4790 Sport Chrono package, available only on the PDK examples. This gets an Individual driving mode to complement the Normal, Sport and Sport+ settings, along with the Sport Response ('Push to Pass') button. There's also an intermediate ESC setting, dubbed PSM Sport, reducing stability control intervention. This is probably best reserved for track situations, which is something the Boxster has always relished.
Our particular drive car had a host of other extras like the seven-speed PDK dual-clutch transmission ($5300, but you do get nice alloy paddle shifters), Power Steering Plus ($600; variable ratio, speed sensitive), roll bars painted in white ($1160), smart 20-inch Carrera wheels finished in Platinum Silk ($5260) and Park Assist with Camera ($1500). The grand total is $173,190. Oops, forgot the PASM adaptive suspension ($3280). Of all those options, we'd go for the latter, as it lowers ride height by 20mm (we touched down only once in 500km) and has clearly differentiated Comfort and Sport modes. Feeling rich? Go for the Sport Chrono Package for the extra pace but we'd probably be happy with the Sport Exhaust option instead, and perhaps save a bunch by selecting a six-speed manual transmission.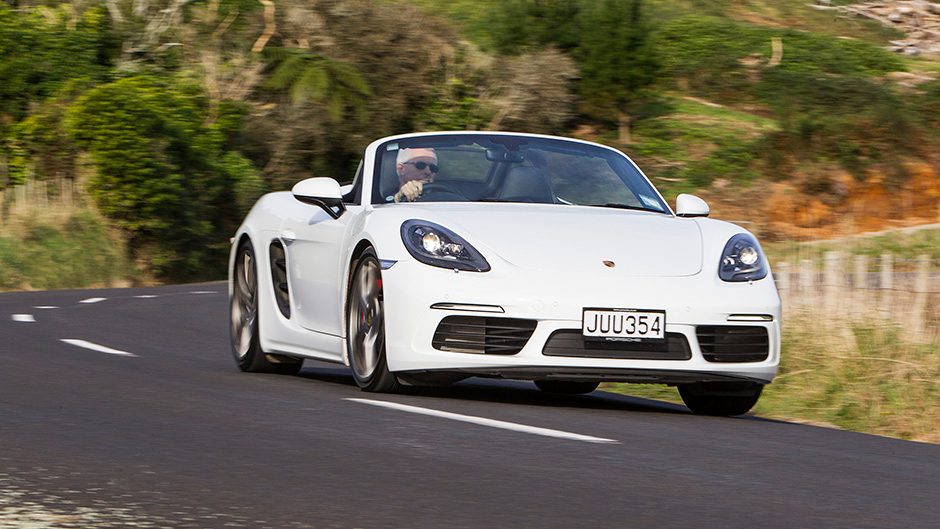 Speedy McSpeed Face
The PDK version would be quicker though. Helping is a 7400rpm limit, allowing the S to hit 100km/h in second gear. We were expected a low four-second sprint time, knowing Porsche's slightly conservative claims. Wrong, by a country kilometre. Dialing up launch control, the engine settles at the 6000rpm mark and the car seems to catapult away, passing through the 100km/h mark in a scant 3.67sec. It did this on chipseal on the first run, making it almost one second quicker than its predecessor. We guess the company opted for an ultra-conservative claim because it didn't want potential 911 Cabrio customers buying the Boxster instead. While the new 911s also get fresh bi-turbo engines, 3.0L flat sixes, even they're not as fleet footed as this, the base Carrera 4 needing 4.2sec to complete the 0-100 run. The extra weight is telling.
Three almost identical 80-120 times of 2.44sec rounded out the crucifixion of the outgoing 911 models, the Turbo excluded, obviously. Former Boxsters needed 3.0sec for an overtake. So there's vastly improved brawn, without any apparent expense to economy. The extra torque is instantly noticeable, not that it was exactly wanting in the normally aspirated S variants. But in this there's muscular pull from below 2000rpm, and from 2000-3000rpm it will operate easily, efficiently and almost legally on the open road.
This we mention because keeping things real is by far the hardest aspect of driving the new Boxster S. Seventh gear is overdriven and a relaxed 2000rpm already has you into one of the more expensive speeding offence brackets. It evidently doesn't call quits until 285km/h. Most of the time we drove it, we didn't bother exceeding 5000rpm. There's not much need and perhaps that's why fuel usage was so often in single figures. Without question the best performance resides from 4500rpm onwards, which you'll experience if you hit the "Sport Response" button. Pushed some during cornering action and performance testing, fuel use rises into the low teens. Even so, we managed to squeak 500km to a tank, and most of that was at pace. Much of it was also with the roof down, and it's surprisingly quiet at civilised speeds, the coif unruffled.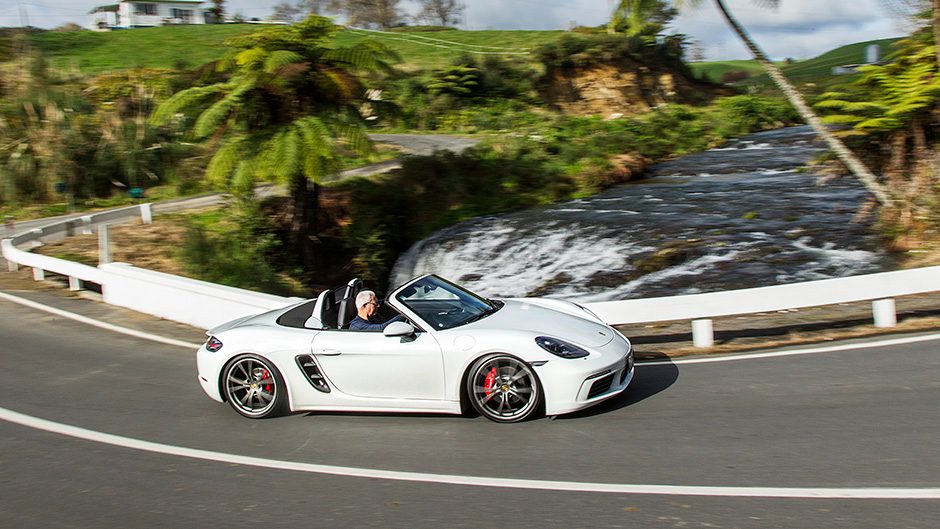 No slowing for bends
We happened upon a nice enough weather day during our 48-hour stint with new 718 Boxster (named after the open-top mid-engined Porsche racer of the late 50s) and fanged it through some familiar roads. What bliss this is to drive, hard or otherwise. With the weight balance as close as it gets to an F1 machine (46/54, 718 Boxster S is 45/55) its mid-corner speed with suspension in Sport mode is about as good as it gets, and constantly surprises. The added weight of the engine over the rear axle means you can get on the gas earlier than with a traditional front engine/rear drive vehicle without the tail trying to swap ends. The extra drive from the rear also helps tighten the line, just like lifting off, only faster and more fun. Stability is also first rate, again not always a given with a convertible. As is often the case with performance machinery, tyre-generated noise on chipseal can be the limiting factor for open-road enjoyment, and while there are some harmonics off of the P Zeros and it can be a bit rowdy over some of the worst surfaces, the average in-cabin SPL reading of 75.1dB can be considered a good result, particularly for a soft top. Mention of that, it's one of the slickest, taking about 10sec to deploy in either direction and it operates at speeds up to 60km/h.
Stops quickly too
That extra weight over the rear axle has another net benefit, better braking. Boxster S inherits the picks from the 911 Carrera, with four-piston calipers up front and 330mm discs. Our incumbent stoppie champion, the 911 Turbo, has been knocked from its top podium perch. The 718 Boxster posted a best 100-0 panic stop of 28.65m. Less than a dozen vehicles we've tested over the years have beaten 30m and seven were Porsches. Our example had only travelled 1000km at pick up, and the brakes felt rather lacklustre initially, as though no-one had ever stood on them. Thought I'd found something to moan about too, but by the end of the day they were transformed. Perhaps the pads just weren't heated through properly on our initial slick coast road drive. So we'll just have to complain instead about more minor things, like a general lack of places to slot oddments, and not having comfort entry or pushbutton start. I just couldn't seem to get entirely comfortable in the driver's seat either. Nor is access easy, but that's typical of a sporty convertible. It's much easier with the top down.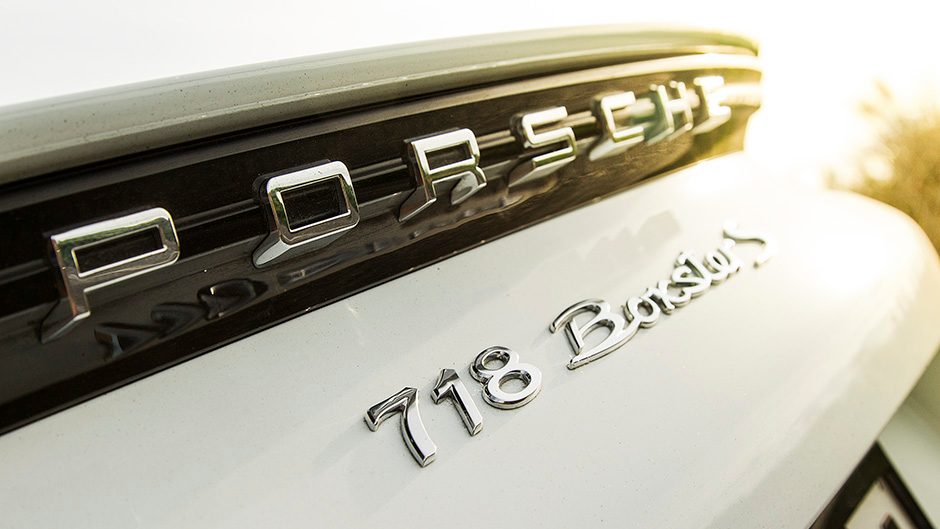 World's best convert?
We've long been fond of Boxsters and Caymans and just when you think they can't get any better they change something like the engine and it blows you away yet another time. To achieve this sort of performance for this sort of money is amazing. And yet it still offers practical boot space (one at the front, one at the rear, both handily shaped), drives like the wind, and stops better than anything we've previously tested. A price realignment sees the PDK version of the 718 Boxster S break the $155k mark but it was $146k in 2010 so hasn't risen much, while performance has gone through the roof. Sure, you can buy four MX-5s for the price of one 718 Boxster S, but in new 2.5-litre turbo guise, it sets the bar high, and stakes a claim for best performing and handling production convertible on the planet.
| | | | |
| --- | --- | --- | --- |
| Model | Porsche Boxster S | Price | $155,500 |
| Engine | 2497cc, flat 4, T/DI, 257kW/420Nm | Drivetrain | 7-speed twin-clutch, rear-wheel drive |
| Fuel Use | 7.3L/100km | C02 Output | 167g/km |
| 0-100km/h | 3.68sec | Weight | 1440kg |