Limited edition Golf GTIs are always fun and sell out fast. This, the 40th Edition, celebrating four decades of the GTI, is no exception.
This, the Golf GTI 40th edition, is similar to the S version that holds the Nürburgring record (7min49sec) for a front-wheel-drive car. And it has sold out already; only 40 were allocated to New Zealand and they're already all spoken for, snapped up by Volkswagen performance car nuts.
So why on earth are we reviewing it? Why not? And we were keen to see how much quicker this was than the Performance GTI and indeed whether this would be the first front driver ever to break into the five-second bracket for the 0-100km/h discipline.
We've had a few in the past couple of years that promised as much but failed to deliver, though they did come close. Two claimed 5.9sec sprint times, including Peugeot's RCZ-R which managed 6.12sec and Ford's Focus RS, which did a 6.10. Itchingly close both, but it has become reminiscent of the protracted battle to break the five-second mark for a rear-drive Aussie-built car. If you recall, the honour went eventually not to a V8 but to a turbo six in the form of Ford's Typhoon; on the hot mix of the Mercer Dragstip it managed a 4.88sec, but it also broke out on chipseal. So much for Aussie V8 supremacy. Interestingly, all these years later it's the V8 that is in decline while turbocharged fours and sixes are now virtually ubiquitous.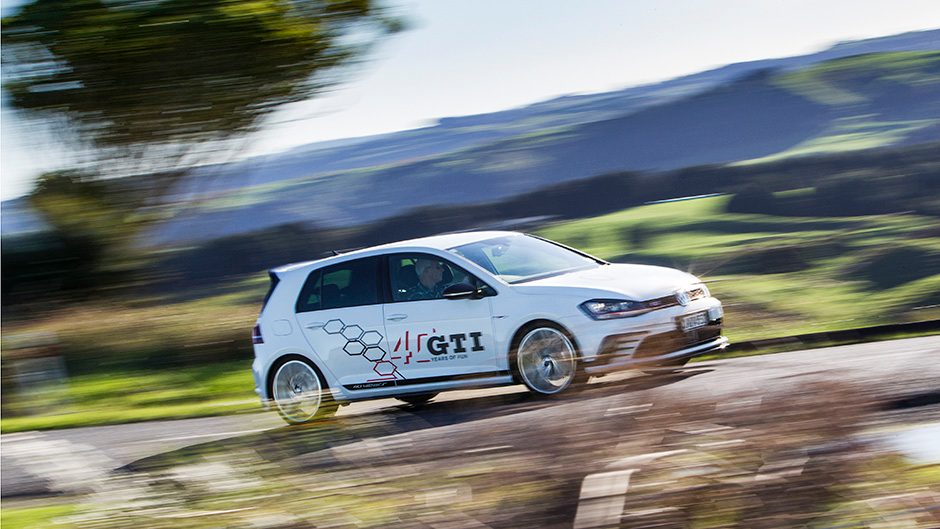 The other contender, Renault's Megane RS in its various guises, has also come close but with only a manual transmission it makes a truly quick time almost impossible. And in fact this has been the main issue with fast front-wheel-drive hot hatches, the transmission slowing things down. Unless you get a perfect launch with an ideal first to second and second to third shift, you'll not break into the fives with a front-wheel drive vehicle. Getting the first of these nailed isn't that easy, but getting all three perfect in the same run is almost impossible because of high-rev shift baulking. And then you've got the issue of chipseal surfaces, which makes getting off the line rather tricky, the fronts scrabbling around trying to get to grip on a surface that looks like the Alps under a microscope.
However, we live in hope and the GTI 40th edition we felt might be the latest in a line of contenders….except that the local spec sheet lumbers it with a 6.3sec quoted sprint time zero to one hundred. Frankly, we doubted that though, since we got 6.4sec out of the GTI Performance version in May 2014, and that came with a mere 169kW. The 40 has a whole heap more snot than that. Moreover, we've seen other data that suggests a 0-100 time of down around 5.9sec. And this hot hatch has a quick-shifting dual-clutch transmission, a limited slip differential up front, XDS+ torque vectoring and also launch control. If anything had a shot, perhaps this was it. Or were we in for further disappointment?
And while we're on about performance records, we can't think of anything front-wheel drive that has managed an 80-120 overtake in the two-second range. Some have come close, like Focus RS with a 3.1sec time but even Golf R hasn't beaten that. And that car has 221kW whereas the Edition 40 has only 195kW. Ah, but does it, indeed? In the small print VW reckons that on overboost for 10sec it develops more like 213kW and exactly the same 380Nm of torque as the Golf R. Plus, it has a definite weight advantage over the four-paw machine of 83kg. Again, if anything had a shot….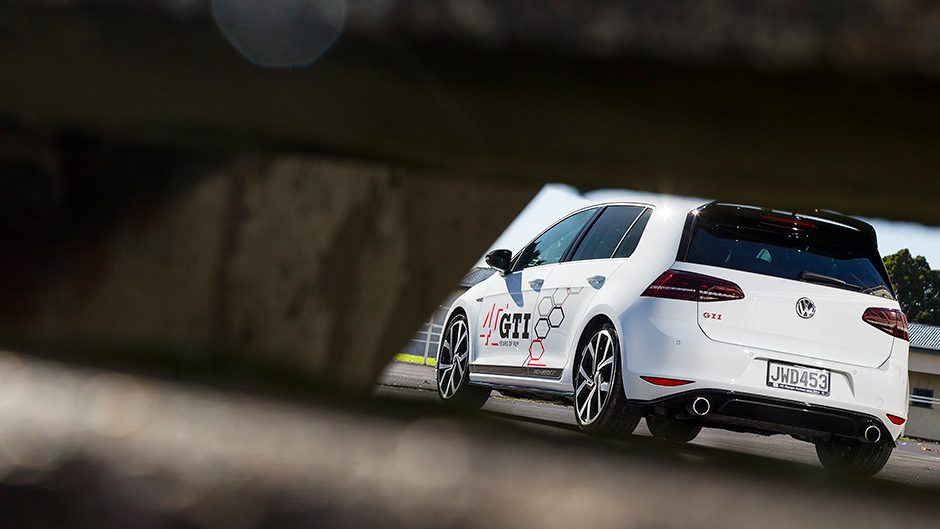 But first for a bit about the car, how it's specified, what it costs and how it goes on road. The Edition 40 is the most powerful GTI to date, its 195kW being 33kW more than normal GTIs get (162kW), and there's an extra 18kW and 30 Newts on overboost. A casual perusal suggests not much difference on the exterior from a regular GTI but a closer look reveals huge GTI lettering down the sides (oh wait, those were decals for Fieldays), subtly different bumpers fore and aft, special side skirts, black mirror caps and stripes along the lower flanks and, last but not least, a two-piece spoiler and rear diffuser, adding downforce at speeds above 120km/h. Doh. On a closed road you might see 250 clicks if you've a long enough straight.
Special 19-inch Brescia alloys clothed in Pirelli's best (225/35R19) suggest something a bit out of the ordinary, as does sports suspension and active damping. There are also five driving modes, one of which is Race. Active bixenon headlights make that extra performance a bit more useable when the sun goes down. As is the norm nowadays, a six-speed dual-clutch gearbox (DSG) is the lone transmission.
Interior features include motorsport bucket seats part finished in Alcantara (like the multifunction steering wheel), seven airbags, dual zone air, a lap timer, adaptive cruise control, autonomous braking at city speeds, and rear traffic alert. What it doesn't have is comfort entry (fob for unlock, key into ignition to start 'er up) while the options are limited to a panoramic tilt and slide sunroof ($2500), and a three-year scheduled service plan ($1200).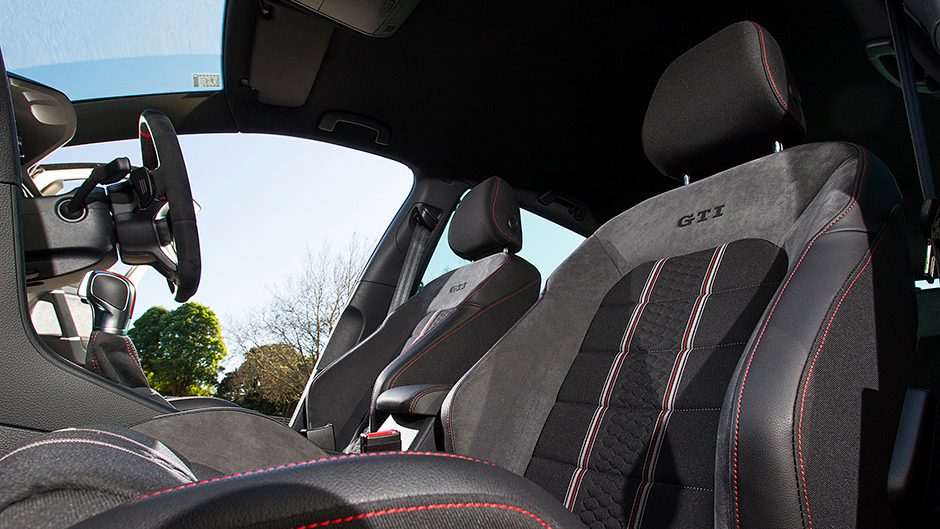 You can tell as soon as you set off that this has more grunt than a regular GTI, for it feels positively muscular at low engine speeds in Comfort or Normal modes. Anything more than 1500rpm on the dial and it's away laughing, with peak torque of 350Nm available from 1700rpm to 5300rpm, and power topping out from 5350rpm to 6600rpm. What's also obvious is that this is set up a bit firmer than the regular GTI, and that's clearer at town speeds. Out where this likes to run with the wolves, the Comfort setting is a nice contrast to the much firmer Sport mode.
So you can drive it hard with excellent body control over your favourite stretches of road, or kick back to Comfort when just cruising from A to B. There's quite a marked difference between the two; you can go reasonably hard, up to a point, in the Comfort setting, but where's the fun in that?
So set to go in Sport mode, this is a delight to punt, its meaty 225/35 P Zeros ensuring healthy grip and the torque vectoring and active front diff helping to maintain line and get out of the corner more quickly. It's zippy into corners too, with just a hair over two turns lock to lock, and meaty wheel weighting. If it's a really sinuous piece of road you can also back the ESP off, and there's less blinky light intervention, though under full power out of the bends you're more likely to run wide as there's a bit more slip. Its lack of torque steer is incredible.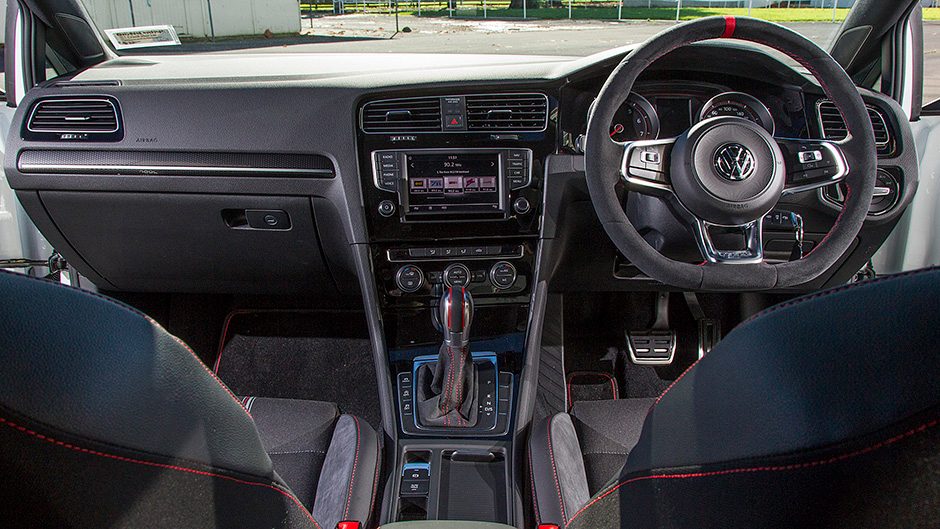 Some I've spoken with who've driven both this and the Golf R prefer the playfulness of the front driver, an overwhelming sense of grip dominating the R's personality. In the wet, it's likely a very different story. About the only notable detracting feature is road roar, something we've noticed in the past with GTIs, and at 77.5db it's not dissimilar to the figure we achieved with the GTI Performance we last tested.
Anyhow, eventually we got around to hooking up the new QBOX performance equipment to the 40th Edition, and the reason we'd delayed doing so was a lack of mileage. After a day of driving and shooting the car it was time to activate the Q-Starz data acquisition system and see what she'd do. In the Sport mode there's a launch control setting, which we tried while out and about on road, and tyre smoke was the main result; the engine settles at 3000rpm and for the first second or so, the 40th just seems to sit and spin.
Even so, it ripped through to 100km/h, with a couple of gear shifts en route, posting the best time we'd ever had from any front-wheel drive car in the history of the magazine, with a 5.93sec run. Goal achieved, but I reckoned it was worth a shot without launch control, getting the engine on boost but with just 1700rpm at kickoff. Sure enough, the next run, accompanied by far less wheelspin but a liberal sprinkling of axle tramp instead, resulted in a 5.64sec time, and we couldn't better a couple of 5.57s. That, by the by, is over half a second better than any front-wheel-drive car we've ever performance tested.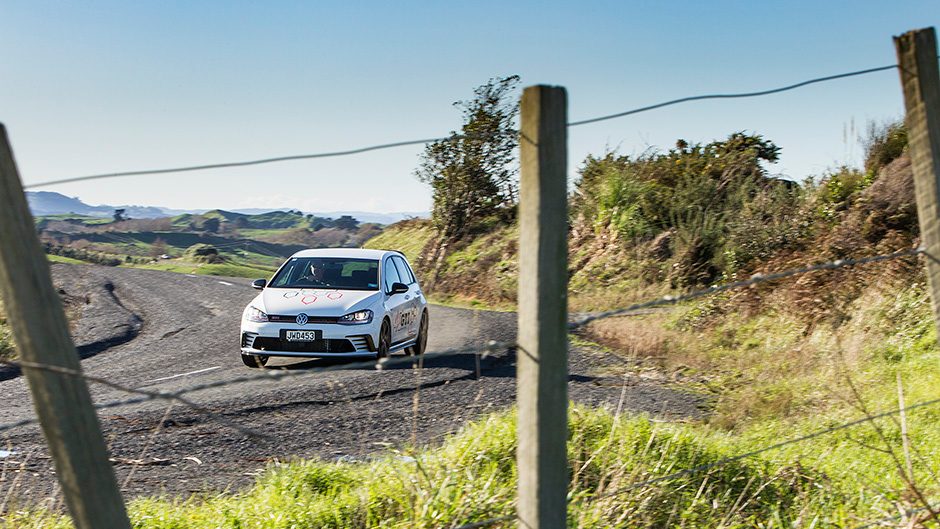 And it wasn't done yet. It's also the only front-drive car to post an 80-120 overtaking time of under 3.0sec, though at 2.99sec we'd say only just. Get this though; it's quicker in that regard than both the Golf R sedan (3.10sec) and wagon (3.23sec), which is probably as you'd expect, given traction at that speed isn't such an issue compared with the launch, power and torque figures are nearly the same, and the 40th weighs 83kg less.
So for the forty lucky sods who got in quick, you've got something that's not only special in that it's a limited edition, but also something that's blitzed all the NZ Autocar front-wheel drive records. We doubt if anything will topple that from its perch any time soon but rest assured if it does it will have a direct shift twin-clutch transmission.
This offers roughly the performance and dynamics of a Golf R for $8k less.
| | | | |
| --- | --- | --- | --- |
| Model | Volkswagen Golf GTi 40th Edition | Price | $63,990 |
| Engine | 1984cc, IL4, T/DI, 195kW/350Nm | Drivetrain | 6-speed twin-clutch, front-wheel drive |
| Fuel Use | 6.9L/100km | C02 Output | 162g/km |
| 0-100km/h | 5.57sec | Weight | 1432kg |