The featured car has both many letters to its name and plenty of horsepower under its bonnet. It's the HSV Clubsport R8 LSA Tourer, one bad-ass hauler.
There was talk aplenty around peak oil a few years back that the end was nigh and we would all be back walking again. But the dino juice hasn't dried up, and won't anytime soon. However, we realise, or should do by now, that we can't go on burning the stuff frivolously forever.
The end is also in sight for HSV as we know it. Its current crop of big bangers represents possibly the best bang for buck ever with 400 factory kilowatts for a hundred large. It's probably a case of peak power as these loveable brutes reach the end of their shelf life and HSV looks to a new future.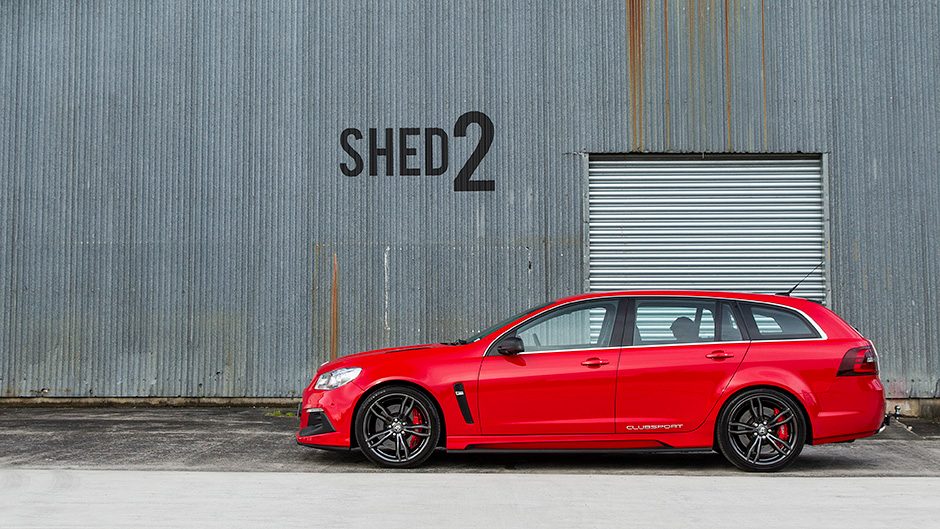 Internet rumours suggest handling upgrades, as previewed by the recent Clubsport Track Edition, might be a new avenue for HSV in a post rear-drive, V8-powered Commodore world. It seems they are open to anything for which they can make a business case. We reckon they should give the Colorado a nudge! Surely there's a market for an LSA-powered double-cab. GMH has confirmed it will import a car and sell it as a Commodore, and HSV has been reported as saying it's investigating a business case around that car. The front runner for the new 'Commodore' is the next-gen Opel Insignia, due for reveal in October.
A high performance model would feature AWD and a twin-turbo V6 with around 300kW/540Nm, as such a powertrain already exists in the Cadillac CT6. Fans of the V8 shouldn't despair; GM has said that Holden will have a rear-drive, V8-powered sportscar to sell at some point too. But before all this goes down, HSV is expected to deliver the mother of all four-door muscle cars to see the old Commodore out. It will use one of GM's supercharged small blocks, either the 475kW/815Nm LS9 from the last generation Corvette ZR1 or the current 485kW/880Nm LT4 from the Z06, and hopefully GM's eight-speed auto too. Other bits include carbon fibre wheels and possibly an outrageous wing like the 1996 GTS-R had. Whatever they brew up, you can bet it will be expensive, and built in limited numbers.
But in the meantime, you can get your power-hungry hands on the LSA-engined range of models before they are legislated out of existence. From Maloo to ClubSport, Senator and the Tourer, all come with 400kW and 671Nm of torque. The Tourer featured is $103,990, just $1500 more than the ClubSport sedan whereas most Euro brands charge at least a $5000 premium for a wagon. And there are fewer express Euro estates, the RS 6 wagon ($214,900) and C 63 S Estate ($167,900) the last ones standing.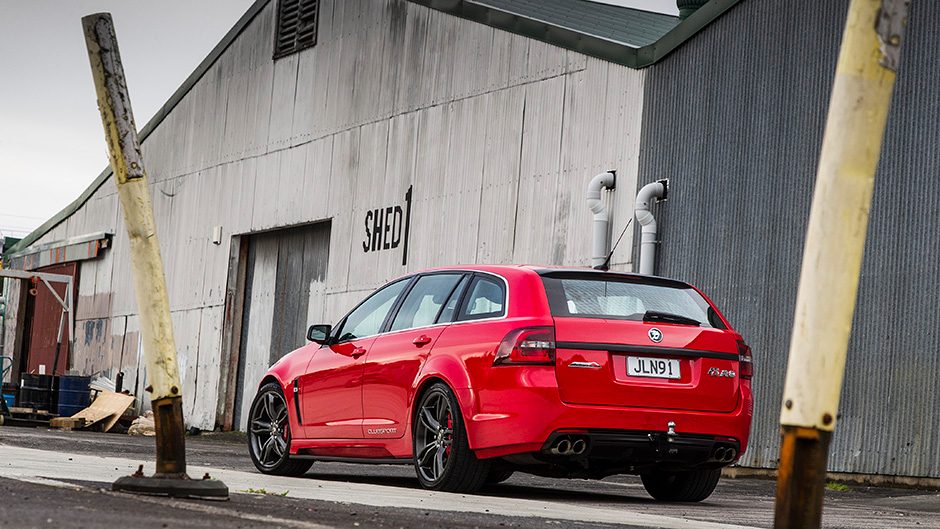 This makes the Tourer a unique package, and a quick one at that; you'll have no problems getting the kids to school on time. Getting the best 0-100km/h time requires a less-is-more approach. Stall it up to around 1200rpm, feed the gas in smoothly and the tyres should hook up sweetly, though it doesn't take much to vaporise the traction. All of the big Tourer's runs were under 4.5sec, with a best of 4.2sec, cool ambient temperatures and a reasonably warm surface helping on the day. And it seems that a few kilometres under the LSA's drive belts help too. The ClubSport LSA we tested last year was fresh out of the box and managed only 4.6sec, whereas this Tourer had travelled some 14,000 clicks.
Being big and supercharged, the LSA always has plenty of mumbo at the ready but goes bananas any time the tacho needle swings past 3000rpm. Third gear is about right for a back road jaunt, happily keeping the eight between three and six thousand. Second gear is 'tread lightly territory'; even rolling into the throttle gently out of bends. You can feel the rear squirm under the strain, the tyres protesting and the traction light blinking. It's about this time you start wondering whether the six-speed auto has had its day in performance machinery. With all that torque, you might think six cogs is surely enough but knowing just how good GM's new eight-speed is, it makes you hanker for more gears. The Tourer is only one of two HSV models that can't be had with a manual (the other being the Grange) simply because Holden doesn't make a Sportwagon donor car with three pedals. So you have no choice anyhow.
The Tourer rides on linear rate passive dampers, Magnetic Ride reserved for the Senator and GTS, and so progress is occasionally lumpy at town speeds, but it is a suspension tune that starts to come right as speed increases. Yeah the Tourer is almost two tonnes, but it still performs. Being big, it's not exactly nimble but it's stable and well balanced. Countering all the grunt are strong stoppers which come complete with a good pedal feel. The steering pokes the Tourer into the bends smartly and begins to load up as the limit nears. The front end will eventually stray but by then you're going a bit hard for the road in any case. But we blame the bi-modal exhaust for having to push on. The exhaust flap remains closed until 4000rpm, and so the V8 sounds corked. There's a hissing noise as the revs build before it pops open with a whoosh. Given the chances to run at full noise are few, it's rare that you'll hear this dinosaur roar. And given the number of pages on the web dedicated to remedying the bi-modal, ranging from strangling it with wire to removing fuses, it seems everyone else thinks the LSA is too muffled too.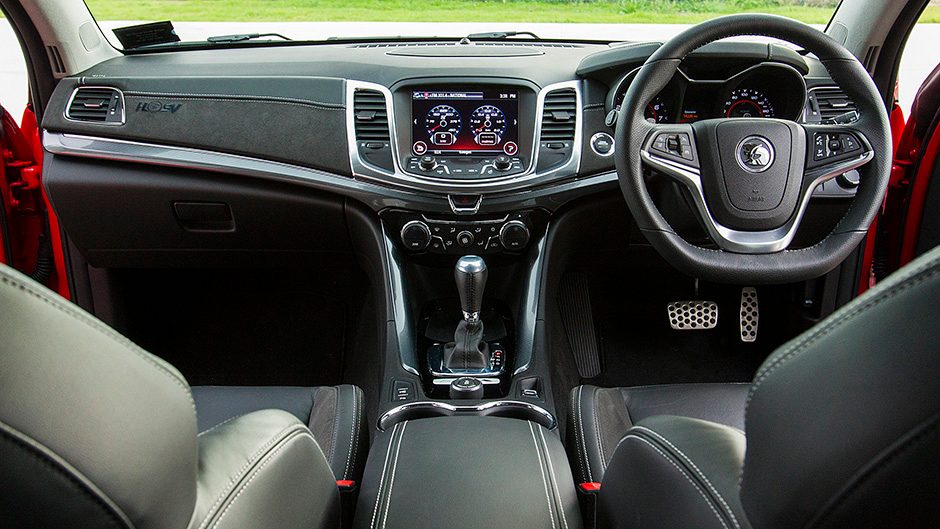 These LSA models might be better suited to rural dwellers who will be able to use the power more often. It's an exercise in restraint running around town in this thing, often a case of lots of potential not doing much. And it's hellishly thirsty; 20L/100km is the commuting average with motorway miles only reducing it into the high teens. Given there's not much difference between pootling along and giving it brief squirts in Sport mode, best to do the latter and try to enjoy 671Nm on your way to work.
Being a wagon, it's huge on room with a big load area and space for three kids' seats in the rear if you're keen. And it's well specified with smart key, head-up display, lane departure and collision warning, sat nav, reversing camera and sensors too. The quality isn't up to Euro standards but then you're not paying as much either. The LSA Tourer is still a good drive, bloody fast, and a car that gets the heart rate racing, which is what the HSV brand is all about. Let's hope the future product can keep up the tradition.
| | | | |
| --- | --- | --- | --- |
| Model | HSV Clubsport R8 LSA Tourer | Price | $103,990 |
| Engine | 6162cc, V8, SC/EFI, 400kW/671Nm | Drivetrain | 6-speed auto, rear-wheel drive |
| Fuel Use | 15.0L/100km | C02 Output | 348g/km |
| 0-100km/h | 4.22sec | Weight | 1980kg |