You don't have to spend the earth to bag a really quick AMG. The A 45, recently updated, regains the hot hatch crown, and still retails for less than six figures.
The car companies must adore early adopters, buying into the latest technology because it's new. But seasoned tech-heads generally hold off until the second generation before buying for by then the irritating bugs will have been ironed out.
There was nothing too much awry with the original Mercedes A 45 AMG which debuted here in 2013. We thought it a bit loud, and a touch firm riding over marginal surfaces but performance and dynamics were hard to fault. Subsequently the A-Class has undergone a facelift, and that applies to the A 45 as well. As part of the upgrade it even gets a new name, adopting the Mercedes-AMG nomenclature. Changes aren't insignificant, including improved aero and straight-line performance, more cornering creds, and an upgrade to the infotainment system. There are more mechanical improvements than exterior upgrades, which is appropriate for something aiming to be alpha dog.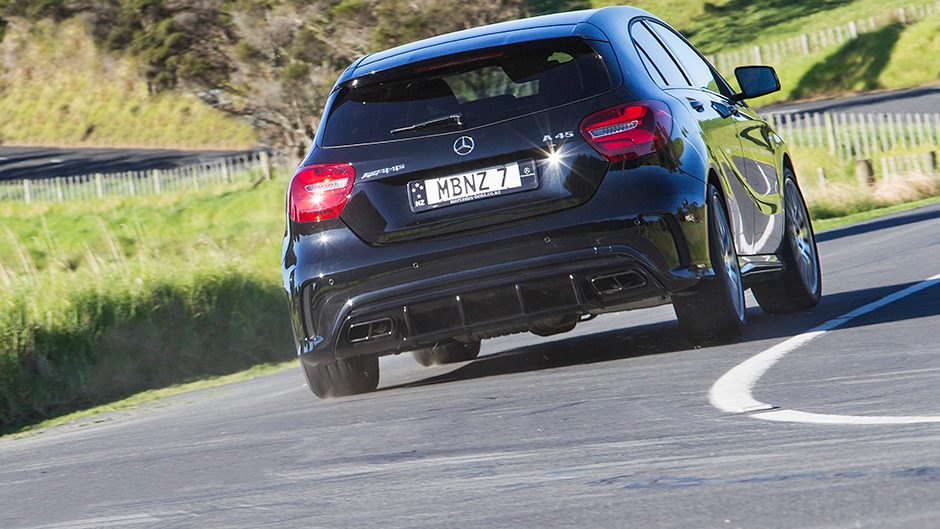 At the superhatch level there's a power struggle happening, with Audi and Mercedes duking it out for bragging rights. When it debuted in 2013 the A 45 was the undisputed king of the compacts, its 2.0-litre unit poking out 265kW and 450Nm, but the RS 3, toting a 2.5-litre five-pot engine, knocked the A 45 off its perch, bringing 270kW and 465Nm to the table.
So for the facelift of A 45, AMG predictably upped output of its wild 2.0 via "a newly configured valve assembly" while the "combustion processes have been optimised by reconfigured timing and turbocharging". So the facelifted AMG A 45 again leads the rest, offering 280kW at 6000rpm, and 475Nm of tow from 2250-5000rpm. That's 140kW per litre which is evidently a new benchmark for four-potters.
While the company reckons fuel efficiency is unchanged, locally Mercedes quotes 7.3L/100km (up from 6.9), likely the result of fitting 19-inch wheels. Stop-start technology and a new "sailing" function help restrain fuel use. During our drive the trip computer suggested a low of 6.0L/100km on the motorway using cruise control and a bit over double that (13.5) when letting loose.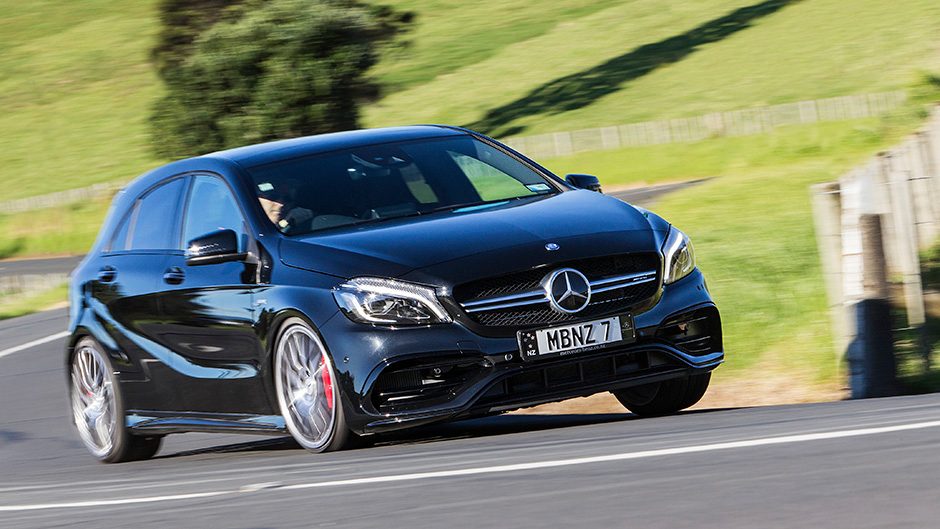 Other upgrades include extra modes in the Dynamic Select system, a fifth "Race" setting only showing up on those vehicles that have the $1990 AMG Dynamic Plus package (which includes the AMG Ride Control sport suspension with two-stage adaptive damping). The driver can preselect Comfort or Sport damping characteristics via a button on the dash, which means performance and ride/handling can be adjusted separately. The speed-sensitive sports power steering is also variable, firming up or relaxing depending on the damping mode selected.
The Race mode obviously makes the Mercedes-AMG A 45 suitable for track day running where you want to distance yourself from the pack as quickly as possible. Or in the case of Autocar testing, to blur off the line and match or better performance claims. Mercedes-AMG rates the A 45 at 4.2sec accelerating to highway speed. Until recently, it took something vastly more expensive to produce this sort of haste. Even the original A 45 AMG was only rated at 4.6sec. Helping to carve off 0.4sec is a rejigged seven-speed dual-clutch transmission, with "optimised response and shift times, a closer ratio spread ensuring better transitions when upshifting".
With 4WD and Race Start launching the car from 3500rpm, the rejigged AMG sure enough managed 4.18sec, and a best 80-120 time of 2.67sec, which almost matches the RS 3 figures, performed on a different runway. They're both as fast as an HSV GTS, and each is quicker to 100km/h than any M car we've ever tested or a C 63 for that matter. But then it's not quite fair comparing rear drive with all-wheel drive is it?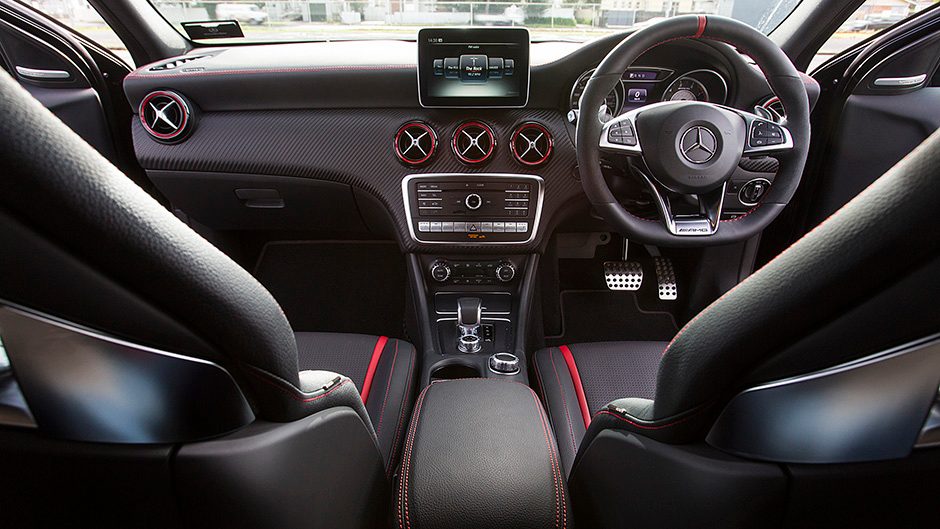 With some of the Dynamic Select systems, like in the C 200, we never quite found the ideal setting for open road work, but that's not the case here. While Comfort and Sport settings are both appropriate for town running, in each there's a moment's hesitation off the mark as the stop-start system fires, and the turbo spools up. But it's underway and hauling from as low as 1500rpm, and outside of city limits it's a firecracker between 3000 and 5000rpm. There's no point going much higher than that, and nor do you really need to take control of the transmission using the paddles; just select the appropriate drive mode and hang on.
Because it's so quick, sensibly the A 45 comes standard with active cruise control for it takes proper commitment otherwise to keep it below 130km/h on the open road. Geared tall, it's doing 110km/h at 2000rpm, the exhaust burbling away nicely in the background. There's a button for that too, but it's one you simply set to 'on' and tape in place. 
It sounds damned fine, especially the dramatic pops it makes on the overrun, and there's a bandsaw rasp on acceleration. AMG works hard on this aspect of performance and that's evident. There are a few harmonics from the tyres but compared with the original, unwanted road noise is much better suppressed (75 vs 78dB). Ride comfort has improved just as dramatically with adaptive damping.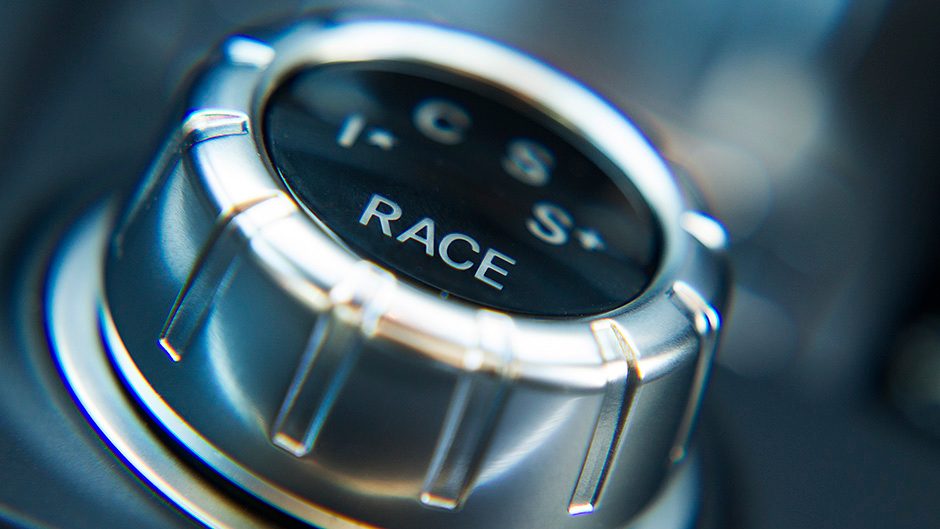 We've kind of left the best until last, and that's what the AMG Dynamic Plus package does to this machine. Admittedly this $1990 package takes the list price of the A 45 to just over $100k for the base price has risen by $3300 to $98,200. However, we'd strongly advise you tick this option box for it really does make what was once an interesting proposition into something rather more tantalising, quite aside from what it does to ride quality. For both the RS 3 and the A 45 started out life as front drivers, and even with a prop shaft to the rear they both carry more weight over the nose, with 60/40 weight splits.
So by fitting a locking front differential (and retaining active torque splitting front to rear) the latest A 45 can track through and scamper out of corners more quickly and efficiently than before. Getting it to understeer is possible but with independent brake nipping you have to be punting in silly quick, and the active damping keeps the body level, the contact patches doing what they're meant to. Through some of our familiar reference corners, this was about as quick as anything I can recall. And if the unexpected happens it's light enough and the performance brakes sufficiently strong and tactile that an optimised 100-0 stop takes just 30.7m.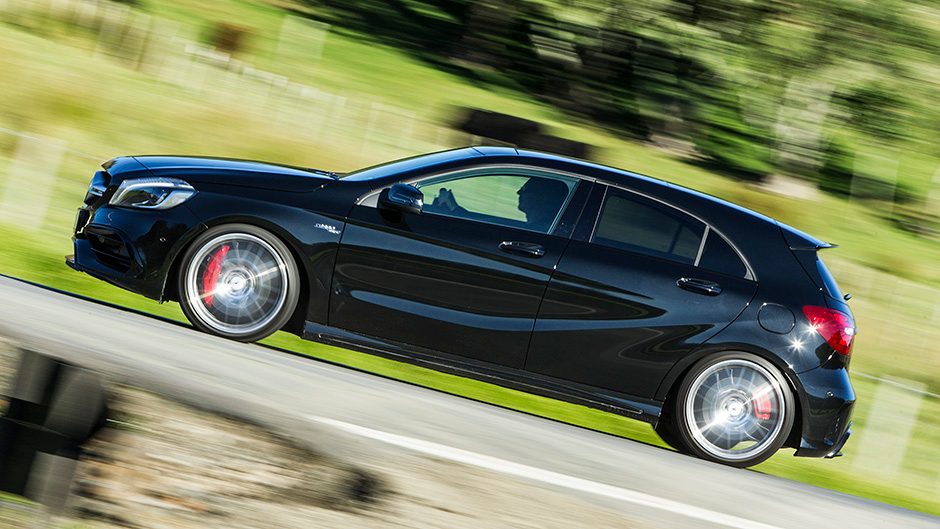 Mercedes didn't just add speed, arrive at a better ride and handling mix and then call it a day, it improved safety aspects as well. The A 45 now comes with LED headlamps as standard fare, and picks up autonomous partial braking to reduce the chances of rear end collisions when distracted, or tired, as Attention Assist has also been upgraded. So have sports seats, the cushion depth now adjustable. And in the infotainment area, there's now Apple CarPlay and MirrorLink.
Finally, while exterior changes seem minor, they're there mainly for improved aerodynamic performance, the new spoiler lip under the front splitter, and rear apron with a diffuser insert helping generate more downforce for increased stability.
Early adopters of the original A 45 AMG probably shouldn't check out its replacement. They'll feel sick. For the sensible who held off, get 'em while they're hot.
| | | | |
| --- | --- | --- | --- |
| Model | Mercedes-AMG A 45 4Matic | Price | $98,200 |
| Engine | 1991cc, IL4, DI, 280kW/475Nm | Drivetrain | 7-speed twin-clutch, on-demand AWD |
| Fuel Use | 7.3L/100km | C02 Output | 171g/km |
| 0-100km/h | 4.18sec | Weight | 1605kg |