Under KTM's guidance, Husqvarna is developing a range of road bikes, the first of which is the mad-as FS 701 Supermoto. What a blast.
Unlike with humans, in the car world strippers are shunned. Everyone wants the top spec model. But with bikes, where weight is more important, examples consisting of just an engine, frame, brakes, seat and a few interconnecting bits are considered desirable. In Europe they do these well. Start with a lightweight bike, and then start stripping away excess guff. That's essentially what Husqvarna has done with KTM's 690 SMC, turning it into their FS701 Supermoto. It scales up at just 157kg wet so comes across as a featherweight. It feels almost like a mountain bike with an engine such is the effort required to manhandle it around the garage, aided by a generous steering lock.
The Husqi came to us by happenstance; the new-generation KTM 690 Duke R had an electrical glitch, so we settled for the 701 SM from Husqi instead. Here they're distributed by the same company and that's because KTM's chief, Stefan Pierer, now owns the Swedish brand. The 701 may be like KTM's motard but is originally based on a 690 Enduro, only with road wheels and tyres, and more brakes. The 701 doesn't use the latest dual-balancer shaft 690 mill but gets the engine with a single balancer and dual spark plugs per cylinder.
From the outset this bike is going to have limited appeal, for a number of reasons, not the least of which is cost; the 690cc singles goes for $16,999 so it's an expensive toy. For the same money a Triumph Street Triple or Suzuki GSX-S1000 will run rings around it. Not that the 701 is slow, an overtake done in 2.5sec, and a zero to 100 time is around the AMG C 63/M3 level. So it's a quick little monkey, for sure but for straight line thrills there are plenty quicker for similar money. And smoother.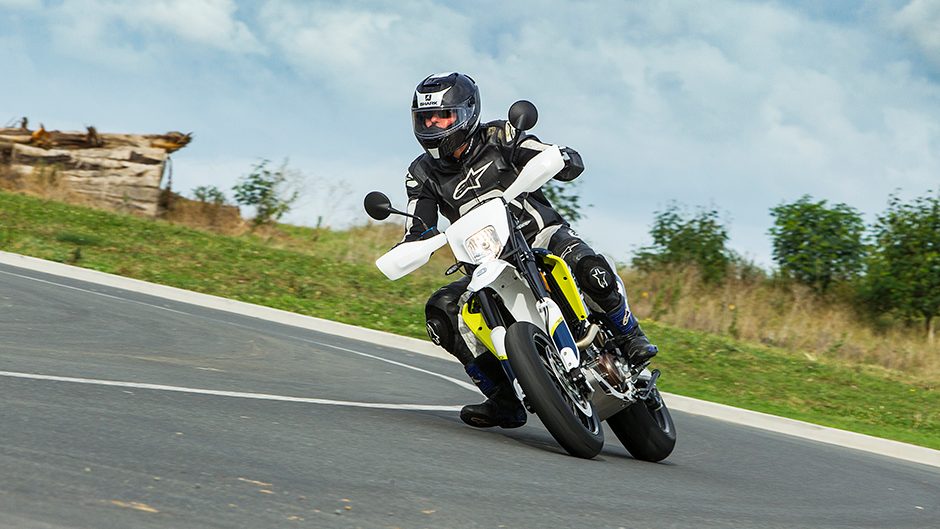 Being based on an off-road bike it is tall, real tall. With a seat height of a 890mm I never quite got the swing of how to mount this machine. I'm a little over average height, just not of the requisite flexibility. A small step ladder would have been useful. Sitting astride the 701, I could hold it upright with both feet on the ground, but on the balls of my feet. That's a reflection of the loads of suspension travel on offer. So under heavy braking there's a fair amount of dive and that's initially offputting. However, we ramped up the compression damping which is adjustable on the fly, and that helped. Despite the dive, you can absolutely nail the brakes with full pressure and there's unwavering stability.
The powerplant won't be to everyone's liking. It's a single and being a thumper there are some vibes, despite the balancer shaft. After a brief stint of riding where we were cruising at a bit above what's permitted, it took about 10min for my fingers to stop tingling. There's a fair amount of buzzing at the footpegs too, though your feet don't seem to mind as they're not exactly gripping anything.
So there's that. And the fact that there's no tacho, which is not really essential; plenty of cruisers do without, only they can generally lug from way down low. That's not something the 701 likes. Anything below about 80km/h in top and it snatches unhappily. In town, fourth gear is almost too high, third about right. The tank is small too at 13L odd, though is sited low down and rearward – the filler is at the back of the bike – so doesn't upset chassis balance. With fuel use averaging around 5L/100km, we found a 200km touring range acceptable. You're not going to want to ride for more than that without a break anyway. Not because of discomfort or anything. More likely from running your adrenal glands dry.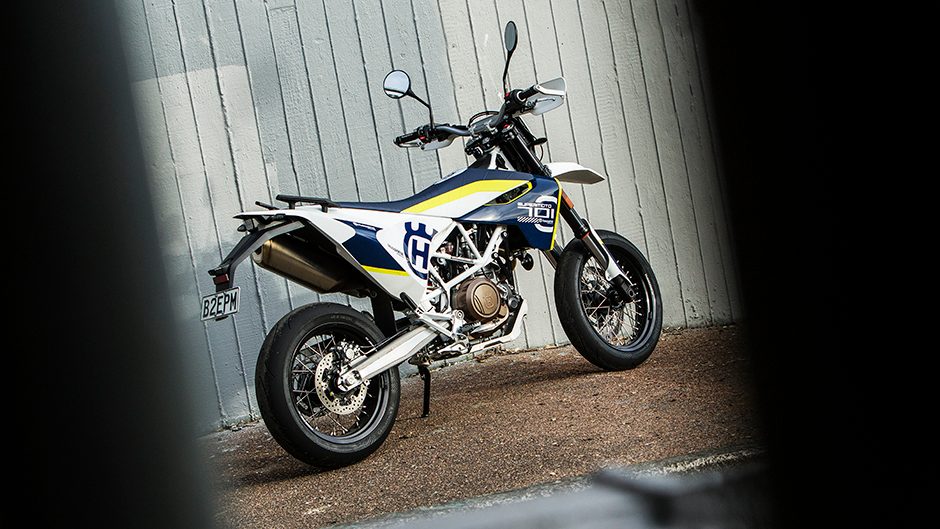 To behold we like its strictly functional no-nonsense look but it does resemble a half-as-expensive DR650, with the splash of yellow and the similar headlight assembly. The seat is typically supermoto, firm and narrow and we'd imagine a pillion would feel hard done by, though at least gets dinky hand holds.
So there's a lot not quite right about this bike, but sometimes attributes, like the fun factor, can more than compensate, and allow minor foibles to seem just that. In this way, the Husqvarna FS 701 is like the Duke 690; it's the sort of bike that you just cannot wait to be swinging a leg over again (probably in vain, and requiring a couple of attempts).
After riding a host of heavy cruisers recently, riding something less than half the weight is like breathing freely again after an asthma attack. Where every corner has to be taken in considered fashion on the heavyweight cruisers, the Husky, if it could talk, would be constantly in fits of laughter, wondering when you were actually going to get down and ride the thing properly.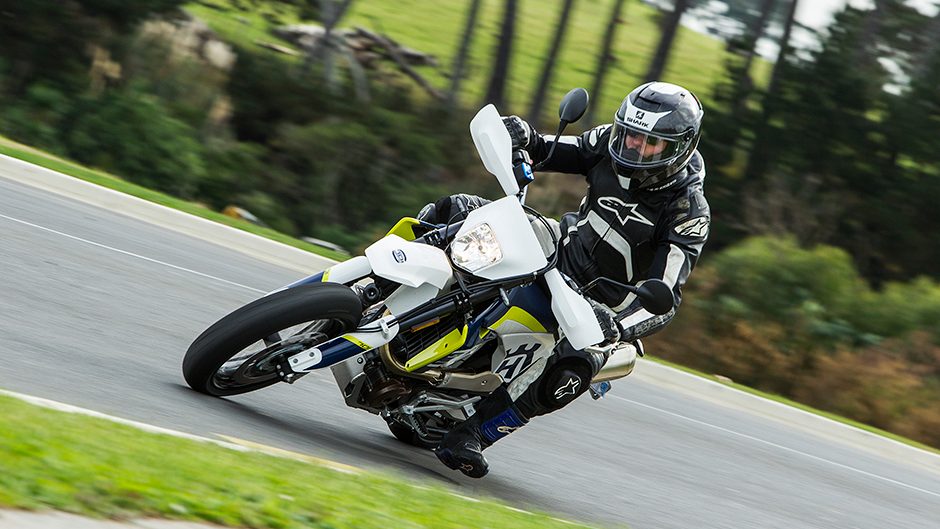 And that's half the problem with climbing aboard a motard when you've little to no experience of the genre. You won't see any images of me backing it in, because I can only do that on a mountain bike where failure doesn't result in so much expensive damage or pain. That said, you ride a supermotard for a while and you do get a general idea of what riding the breed is all about. Firstly, it gets through corners as quickly as almost anything out there with two wheels, and you need to readjust to just how much speed you can carry through turns.
Being a lightweight with quick geometry and wide bars, you simply look a ways ahead and the bike will literally follow your visual lines. It tracks them obediently too, the long swingarm seeing to that. Whereas there's a tendency to want to hang off sports bikes in corners, it feels more natural to let this bike move around underneath you, and the foot-forward motard cornering technique does seem to make it turn quicker and easier. Cornering fun doesn't come much better than this. The long travel fully adjustable White Power suspension also ensures a smooth absorbent ride.
The seat may look rather ordinary but it actually lasts the distance better than you'd expect, and maybe that's because of the open, natural riding position and the quality of the White Power suspension which is fully adjustable up front too. Visibility from on high and the narrow stance of the bike makes it a natural for commuting and lane splitting, only the mirrors are there for completion rather than practical reasons.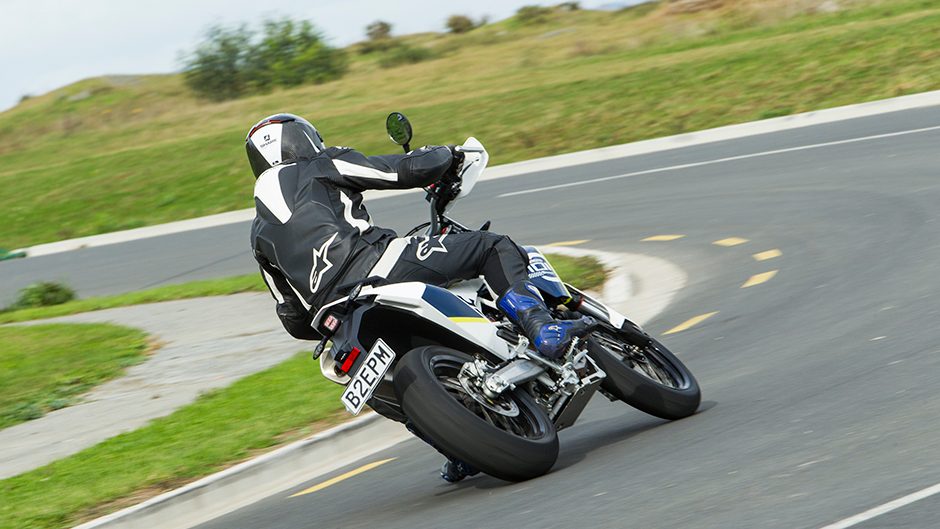 The brakes are brilliant, the four-piston Brembo radial-mount caliper up front is sensitive and potent, especially on something weighing this much. And the levers are quality Magura components, top-shelf like the suspension. So too the gearshift action which, like the rest of the bike, is lightweight as ever, except for the odd false neutral.
This will never be a big seller, especially at its price but it's terrific fun, for all its minor quirks. As the saying goes, about as much fun as you can have with your clothes on.
Also on the (distant) horizon from Husky, due in 2018, are the range of Vitpilen retro-styled bikes, serious roadsters with engines supposedly ranging all the way from 125 up to 1290cc. Husqvarna, under the KTM umbrella, looks to have an exciting future on road.
| | | | |
| --- | --- | --- | --- |
| Model | Husqvarna FS 701 Supermoto | Price | $16,999 |
| Engine | 690cc, liquid-cooled, fuel injected, single, 49kW/67Nm | Drivetrain | 6-speed, chain final drive |
| 0-100km/h | 4.43sec | 100-0km/h | 40.44m |
| 80-120km/h | 2.49sec (70m) | Weight | 157kg |