Isuzu has delivered a renewed d-max that's more accomplished across the board and ready to take on the big four.
The all-new Isuzu D-Max has arrived in New Zealand, with the initial 500-odd units snapped up by a dealer network that has expanded across the nation, up from 15 in 2009 to almost 50 NZ wide. Twelve of those are former Holden dealers, who now have a Colorado replacement to sell. Oddly enough, from some angles, D-Max looks a bit like that truck.
The new line-up is most welcome for the brand which has been leaking market share for the past 24 months, the second generation D-Max over eight years old. Things are set to change though, the revitalised model a breath of fresh air.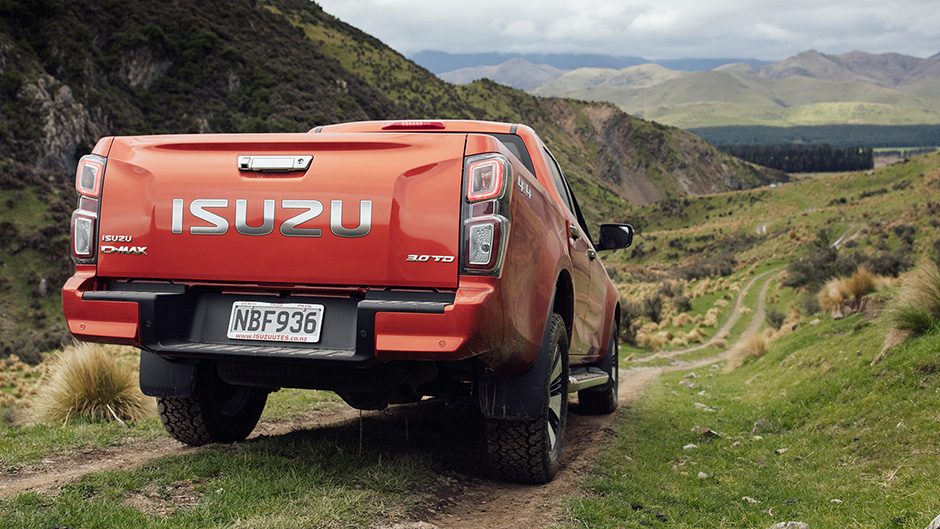 Utes still going strong
With new models like Hilux coming along, the third gen D-Max not only had to be a significant step up in terms of functionality but also safety And the ultimate arbiter of that is how the ute fares in ANCAP testing, in 2020 a much more difficult mountain to climb. However, D-Max comes well prepared with a safety arsenal second to none in the class.
And that class is large; utes now comprise one-quarter of new vehicle sales here. The model mix people are buying has changed as well. Four by four comprises two-thirds of the market, and the automatic transmission mix is even higher, out from 70 per cent in 2017 to over 85 per cent nowadays.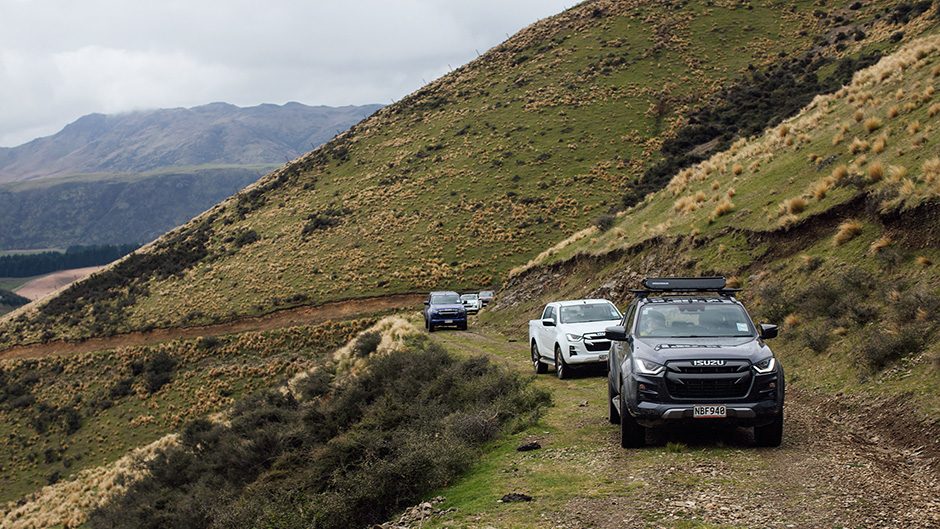 D-Max set to step up in Gen3
D-Max has a modest history compared with some utes here; the first-gen model arrived here in 2010 but only 100 were sold. It was the second generation that put Isuzu on the map, with almost 3000 retailed. The new model faces tough competition in Ranger, Hilux, Triton and Navara so D-Max needed to step up and it has, the ute renewed from the ground up.
According to Isuzu execs, this is not only a 'game changer' for them but also one for the sector, packing the most safety tech of any of its rivals, while there's also an uptick in performance with an evolved 3.0-litre turbodiesel and revitalised chassis.
Engine and chassis tweaks
As to figures, the 4JJ3 engine has bulked up some, adding 10kW for a total of 140, and 20Nm, now out to 450, flat from 1600-2600rpm. Evidently 400Nm is available from 1400-3250rpm. The 16-valver is now also Euro5 compliant. Six-speed transmissions are essentially carryover with a few updates. The auto picks up an oil cooler and is said to be faster shifting. It slurs nicely on the upshifts, and offers manual sequential shifting at the lever. You can switch on the fly up to 100km/h from 2H to 4H and back again, while engaging low range occurs more quickly now as well, taking just a few seconds. This requires pulling to a stop and first engaging neutral.
Underpinnings get a makeover too. There's new double wishbone suspension up front, while a fresh three-leaf design at the rear offers 30mm of extra travel. Approach and departure angles improve, and so too does ground clearance (up to 240mm) and wading depth (out to 800mm) thanks to a rerouted intake.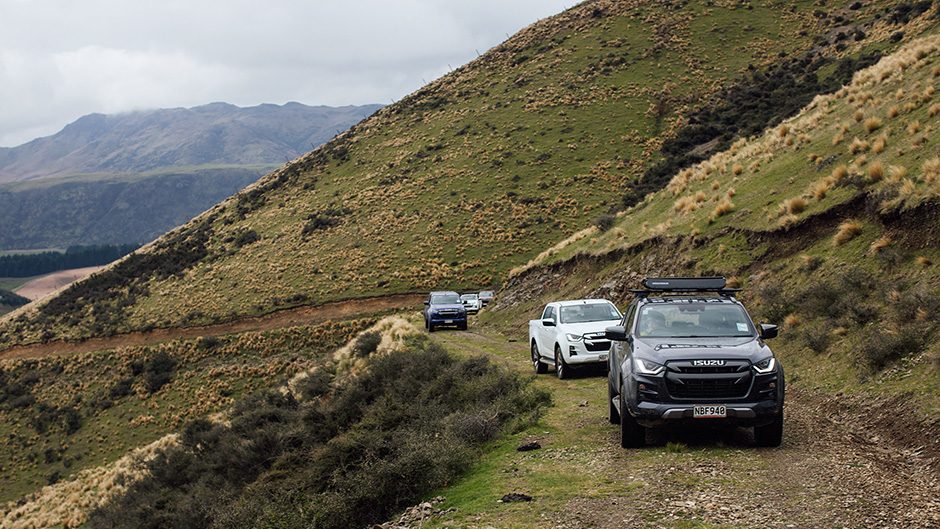 Styling and safety advance
Dimensions are little changed, the main one being a wheelbase stretch but the new D-Max looks more staunch, if not quite in the league of Ranger. Up front it's appropriately tough and aggressive, the new LED headlights well shaped, and so too the grille with its double inverted bull horn ornamentation. Inside is not quite so dramatic, the instruments and infotainment clear enough but not quite so sophisticated or stylish as those of some rivals. Seats though are comfy, the upper models with powered operation, and access is good, front and back. The top model, a new variant dubbed X-Terrain, has comfort entry with pushbutton start, the rest regular key slots. There are various seat materials, X-T with leather coverings. This also comes with remote engine start, roof rails, tonneau cover, 18-inch gunmetal alloys, and front and rear parking sensors. X-Terrain sells for $75,490.
Safety kit is where the D-Max takes the high ground, though it does come at a cost; where the second gen was a good seller because it undercut the competition, the new generation has risen in price substantially.
However, the range does now compete on an even footing with the like-priced competition, and on the safety front is a leader. All models feature eight airbags – the extra expands between the front seats to prevent head clashes in serious side impacts – active cruise and lane keeping (in the auto models), blind spot and lane departure monitoring, AEB and forward collision warning, automatic high beams and auto-on wipers and lights. That's sufficient for a five-star ANCAP rating, the only other ute to do that this year being BT-50, which is based on D-Max mechanicals!
All but the base LX model get LED headlights and daytime running lights, along with alloy wheels. Braked towing capacity is 3500kg across the range, and all come with trailer sway mitigation. The infotainment system is compatible with Apple CarPlay and Android Auto. Sat nav and a nine-inch touchscreen are found in the upper LS and X-Terrain models.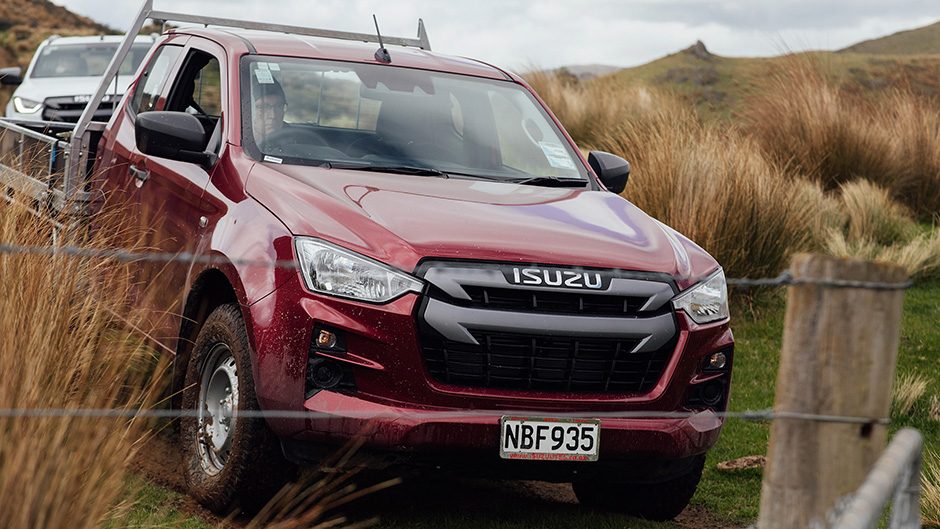 Added refinement on road and track
The launch involved driving both on- and off road, kicking off from Christchurch heading southwest to High Peak station. We were also able to drive the range off-road on much of the 3500 hectare spread, putting its myriad abilities to the test.
Out across the plains the D-Max is quieter, stronger, comfier than before.
Despite all testers running all-terrain rubber there was very little in the way of tyre hum on tarmac, the motor also quietly beavering away in the background. It's turning an easy 1750rpm in top at 100km/h and pulls with vigour in the 2000s.
This generous low end torque was also clearly evident during the low speed activities we undertook later on the picturesque High Peak station, significant riverbed lumps and bumps more readily dispensed with as a result of improved approach and departure angles. This helps make D-Max more capable in tough going, as does the provision of standard diff lock across the range. They're more unstoppable when traction is iffy; one exercise with the suspension fully articulated and wheels off the ground, it was going nowhere, but flick in diff lock and it's instantly unstuck, idling out of trouble. In low low, this eases along happily at walking pace, and the engine pulls cleanly from as low as 800rpm. Low second is perfect for more extreme ascents, none of which seemed to bother the D-Max in the slightest, the All-Terrain rubber and dry conditions helping in no small way.
| | |
| --- | --- |
| Model | Isuzu D-Max LS 4×4 |
| Price | $67,990 |
| Engine | 2999cc, IL4, TDI, 140kW/450Nm |
| Drivetrain | 6-speed auto, switchable 4×4 |
| Fuel Use | 8.0L/100km |
| C02 Output | 207g/km |
| 0-100km/h | 9.71sec |
| Weight | 2056kg |