The ZS compact SUV has been MG's go-to seller, with few rivals able to compete on cost. Now there's a range topper with safety updates. What's it like?
MG's compact SUV, the ZS has been around for a few years, since 2017, and now the company has introduced an updated, higher spec version called the ZST, offering enhanced style, safety and performance. It is available as an Excite version for $30,990 and a higher spec Essence model for $33,990. Here, we check out the latter.
The four existing versions of ZS, ranging from $22,990 to $27,990 will continue to sell alongside the new ZST for a time. The newcomer is essentially the facelifted version of the ZS, as found in Europe, with chassis strengthening and a new motor.
A chassis update was required because ZST gets a substantial hike in power, up by 40 per cent on the 1.0-litre turbopetrol powering most other ZS models. That's thanks to the installation of a new 1.3 turbocharged triple, delivering 115kW and 230Nm. That compares with 82kW/160Nm, and 84kW/150Nm, respectively, for the 1.0 and the 1.5 mills.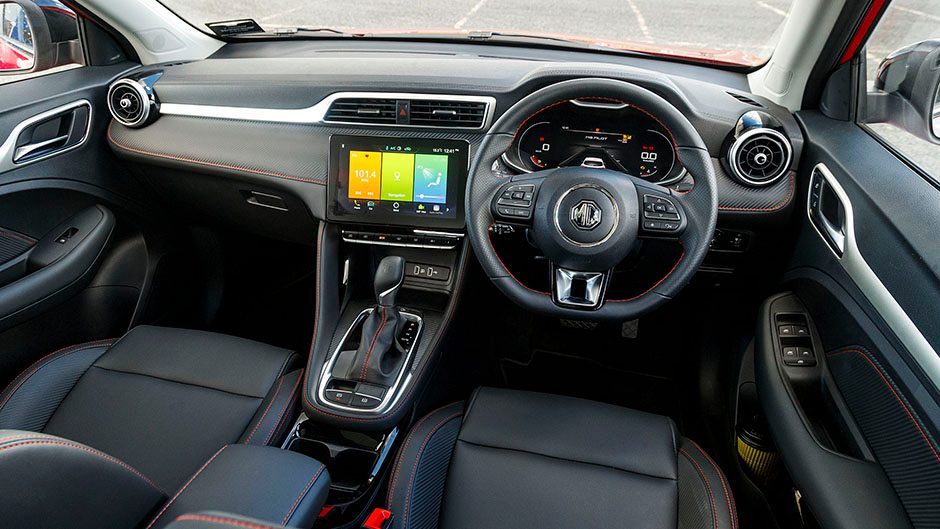 Power is fed to the front wheels via an updated six-speed Aisin automatic transmission. Mean fuel efficiency of the newcomer is rated at 7.1L/100km. Our figures ranged from 5.9 to 12.4, with a mean of 7.3.
The ZST can be distinguished from lesser ZS models by its new styling front and rear and also by the fact that it benefits from the MG Pilot suite of safety features. Thus, it gains active cruise control, forward collision warning and AEB, lane departure warning, traffic jam assist, blind spot monitoring and rear cross traffic alert. There's also a speed limiter and automatic lights, of the LED variety at both ends, for both models.
The ZST variant we drove was the upper-tier Essence model, and over the Excite model that gains a panoramic sunroof, digital instrument cluster, embossed MG logos on the front seat headrests, seat heaters for the two foremost occupants, a powered driver's seat and two-tone 17-inch machined alloys. Given none of these is exactly essential, we'd say opt for the $31k Excite instead.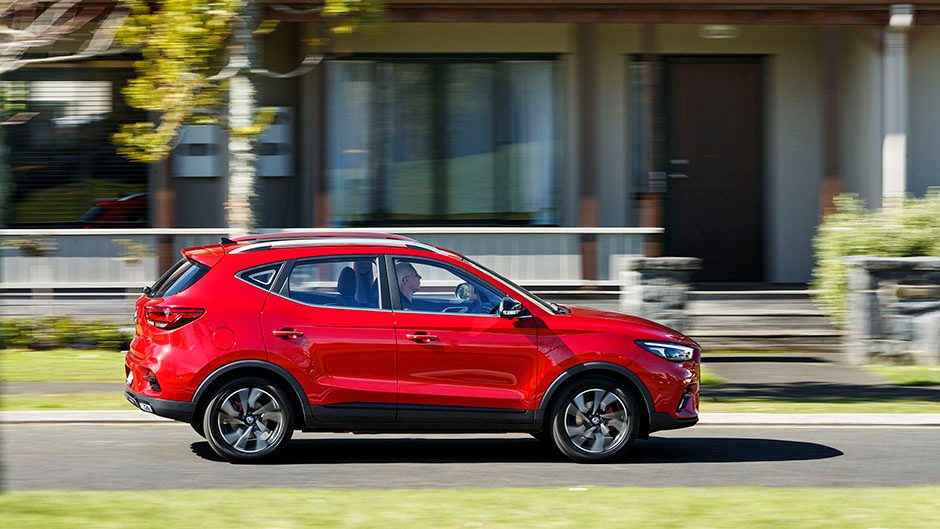 You can pick out the ZST by its gloss black grille and mirror caps, the new lights, and restyled front and rear bumpers. But wait, there's more, only it's hidden. Changes to the vehicle architecture are said to enhance structural rigidity by 50 per cent, so it can handle the power up. As to what said changes involve, the company doesn't say, and nor are any performance figures offered.
The interior differs by having more soft touch materials, a new flat-bottomed steering wheel design, leatherette upholstery with double stitching and extra USB charge points. One in the ceiling is designed for dash cam connectivity.
ZST also gets a proximity key, a 10.1-inch touchscreen that's compatible with Apple and Android smartphones, and the Essence model features a seven-inch digital instrument cluster with inbuilt navigation.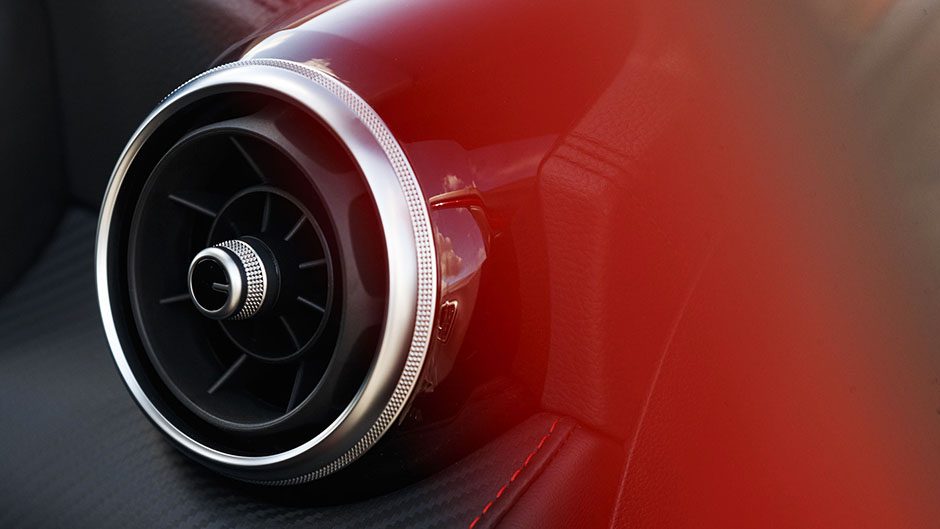 Being spring we had a mix of weather, all within an hour and then all repeated thereafter. The three-pot engine with its weenie turbo on the whole is pretty good, although we've not driven the other models so it's hard to compare.
In town it goes well enough, pulling from about 2000rpm handily, with a quiet characteristic three-pot lilt in the background. There's no stop-start and it's not missed. No paddles either, and ditto there. If you need a tickle along there's a Sport lever position that holds revs for a bit longer.
Out of the burbs, this works best with about 3000rpm on board, lifting some at 4500rpm and it's all done by 5800rpm. So revs in the 3500-4500 band give the best performance. It gets to 100 in single figures but only barely, while an overtake requires a bit under seven sec. So that makes it pretty much the equal of the bigger HS we drove not so long ago. However, some rivals, like Seltos, are a bit quicker. Call its performance adequate, particularly in view of the fact it can sip petrol in rather abstemious fashion.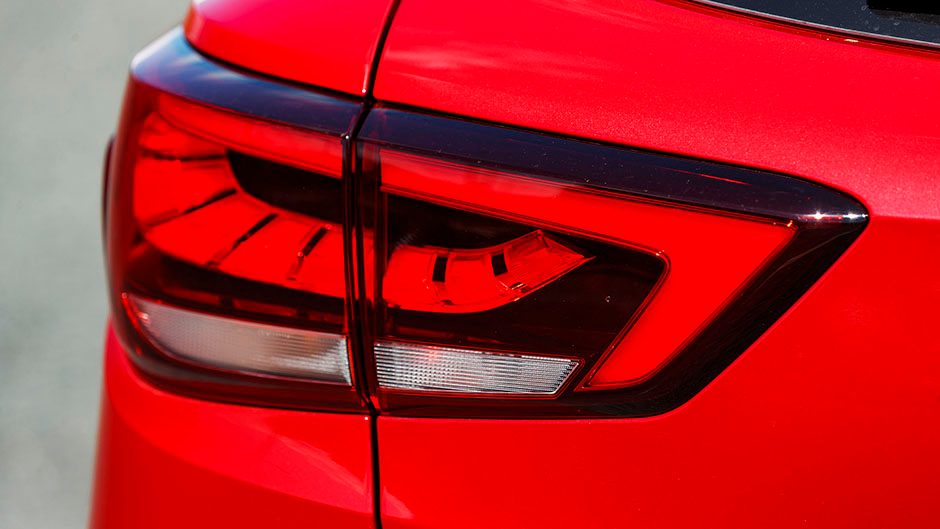 We'd say its rivals are more sorted on road. Despite its nice rubber, the suspension isn't optimised for Kiwi conditions; it's clearly set up for smoother surfaces. At first it feels almost plush, like the seats which you sink into but they don't quite last the distance either. It's a bit the same with the suspension which is underdamped. One up in town it rides well enough but up the ante or add cargo, especially over our typical topsy turvy country roads, and the soft damping means body control isn't quite up to snuff. With inadequate rebound it tends to loll, especially with a load on board. It can be upsetting on the constitution too. Moreover, the suspension seems to pick up all the little irregularities that might ordinarily be mopped up. The Michelins help to keep things stuck but they're also pretty rowdy over chipseal, with in-car noise levels averaging 77.5dB. And in the wet a bit more care needs to be taken; braking into corners can unload the rear. As Peter Brock used to say, brake on the straight, before it's too late.
We're not a fan of the new digital instruments; even the revs are relegated to mere numerals (hence in part the advice to opt for Excite).
But this top-end model does have a decent amount of specification; here it's certainly competitive, especially with the MG Pilot safety gear. Missing is steering column adjustment in the horizontal plane and a powered fifth door, but things like seat warmers, dual level boot floor, dual zone air, nav and full smartphone compatibility are appreciated. So is a five-year unlimited kilometre warranty with road side assistance.
| | | | |
| --- | --- | --- | --- |
| Model | MG ZST Essence | Price | $33,990 |
| Engine | 1349cc, IL3, T/DI, 115kW/230Nm | Drivetrain | 6-speed auto, front-wheel drive |
| Fuel Use | 7.1L/100km | C02 Output | 163g/km |
| 0-100km/h | 9.98sec | Weight | 1351kg |