The small car area is one that still shows signs of life. And it has a new entrant from Toyota, the Yaris, measured up here against an old stalwart, the Honda Jazz. Is new better or does the Jazz still have it?
What does the future hold for the small car? If you were to look at what's happening to those larger models, the signs are grim. Big four-doors are definitely on the outer, Subaru announcing the Legacy is gone-burger for our market, while even Corolla-sized entrants are dwindling in popularity.
Yet small cars are holding out, sales in this segment holding steady, as they are relatively affordable for buyers both young and old. They are also increasingly competent, feature laden and safer.
Take the new Yaris, it's a small car with big features, and now available with a hybrid powertrain. Here however we look at the conventional model. When contemplating what to compare the new Yaris with, we found the offerings are being slowly chipped away here too; no new Fiesta for instance and Barina gone (no great loss, to be fair) while some of the European models have quietly dropped away too. We've already compared the Yaris with the best selling Swift in hybrid guise and Mazda didn't have a 2 for us to test, a pity as they line up on price, safety fitout and are both good drives. So we turned to the good old Honda Jazz, again.
We've used it as a benchmark more than a few times since it was a finalist in (and almost won) our annual COTY for 2014. It's a small that still sells well too. Followers of Honda will know it has a new Jazz model out in some markets and might be wondering when that will arrive here? Honda NZ says it's too early to talk about such things just yet. Honda Australia is dropping Jazz from its line-up, but we're told the situation for NZ is quite different. Our Jazz has always been sourced from Japan, whereas Australia moved to a price-point focused model from Thailand, which is no longer available. Reading between the lines, we'll get the new Jazz, but it's a question of when. Even in its twilight years, the current Jazz still has its merits.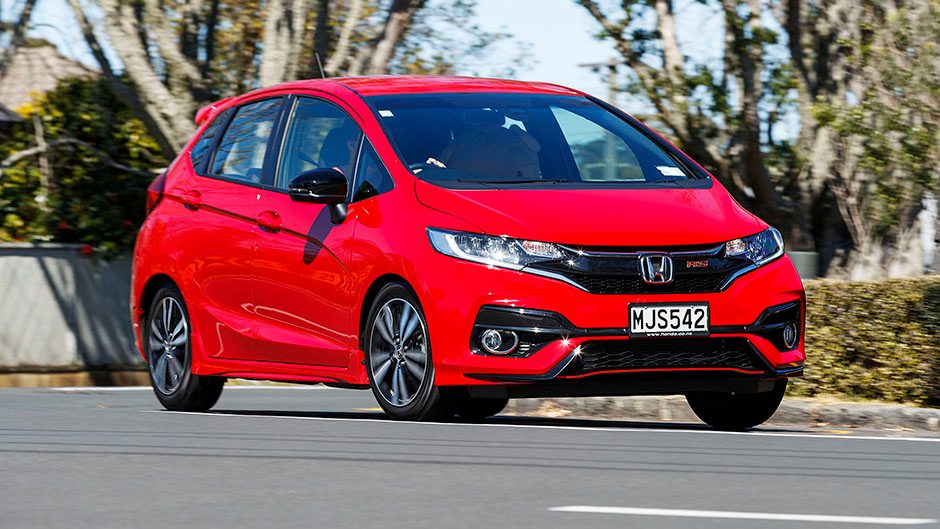 The players
Yaris in its conventional guise starts at $25,990 for the fleet-spec GX, while the ZR is $29,990. The old model was quite a bit cheaper, but had been around for almost a decade. Yaris is all new, built on Toyota's latest modular platform, powered by a new engine, using its latest CVT and is chock full of safety features you'll not find on a few cars costing twice the price. And so a price rise was inevitable.
The Jazz RS goes for $25,990, both Honda and Toyota operating a no haggle pricing regime. Toyota's deal includes all on road costs and W.O.Fs for three years, Jazz coming with Honda's five-year, unlimited-kay, transferable warranty. Yaris is covered by a standard three-year/100,000km deal, but if the scheduled servicing regime is met (capped at $250 a pop) Toyota extends this to five years and 150,000km, along with the free W.O.Fs.
The price rise of the Yaris can be justified by checking the specs, especially where safety items are concerned. It lacks for nothing here, even featuring a centre aisle airbag to prevent the heads of front passengers colliding in a side impact accident. Jazz is lacking in the area of active safety, only benefiting from AEB.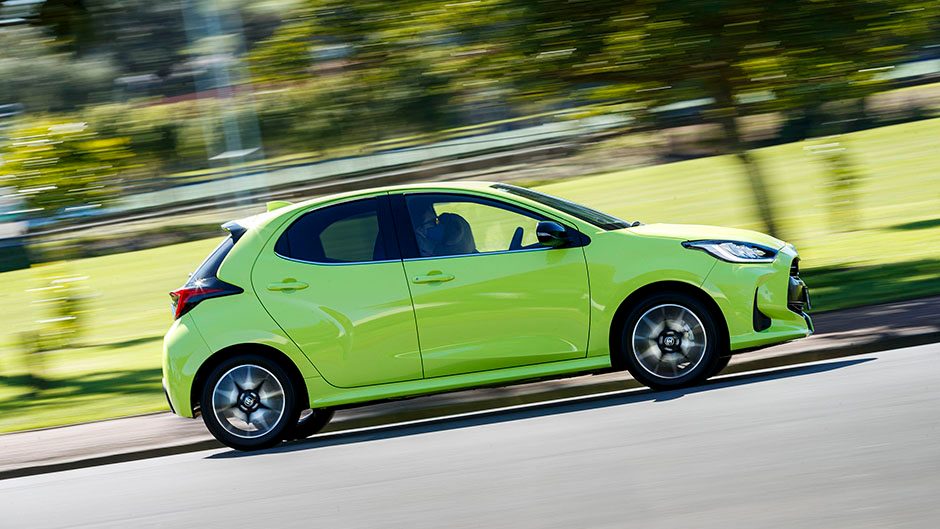 No sweat
These two are a snip to pilot. Each has a handy turning circle, the steering requiring little effort. Jazz has the better all round vision via its bigger glass house, more upright driving position and bigger wing mirrors. The screen in Yaris gives a clearer view of what's behind and the ZR goes one further by having an auto brake function if it thinks you're about to reverse into something you shouldn't. This does tend to pick up overhanging foliage and the like, and it's quite abrupt at bringing things to a halt when it springs into action. Yaris also offers lane keeping (not too annoying in operation thankfully) and active cruise (but renders itself inoperable below 30km/h unfortunately).
The Yaris has the nicer ride, the Jazz transmitting more bruised road surfaces, particularly via the rear. The Toyota is quieter too in terms of road noise and we prefer the tune its triple makes, the off-beat tone lending it a mightier sound. Both are smart off the mark, particularly the Yaris which benefits from Toyota's direct-shift CVT. From a stop, it uses a mechanical, toothed gear to get things moving, giving a more 'direct' launch feel. Once up to speed, a selector fork disengages this mechanical gear and a clutch pack closes, the torque then flowing through to be processed by the belt drive of the CVT. Each transmission responds in a quick fashion to added pressure on the gas pedal, shortening the ratio to help acceleration and so you're not left waiting for the magic to happen.
Toyota calls its new engine 'Dynamic Force', surely an oxymoron for a little triple, yet it is blessed with a decent dollop of dynamism, giving the Jazz's inspired 1.5 a run for the cash. But the Honda has more power up top, and when spinning, it's still a step quicker than Yaris, living up in some respects to its RS badge. Each is turning over at just 1200rpm by 50km/h, and 2000rpm at 100km/h, which is good for economy, both registering in the low 6L/100km region for a typical mix of urban and motorway journeying. They happily imbibe 91 octane.
Toyota has set out to make its new generation of cars somewhat engaging behind the wheel, and the Yaris scores well on that front. Driven at a regular clip, both are predictable and stable, the RS with a few bumps to its progress and it's a tad noisier over coarse chip too. It has more in the tank come time to overtake however. Up the ante on a winding road and the Jazz's RS suspension tune doesn't quite translate to superior cornering, the understeer beastie rearing its head sooner. The Yaris steers into the corner more convincingly, the assistance better sorted, and the chassis more confidently dealing to the bumps.
Practical or what?
Jazz is easier to get into, the door bigger, the seat set higher. The Yaris has the jazzier interior decor, better seats (both more comfortable and supportive) and superior infotainment system with in-built nav, a swisher interface and better response. The 'buttons' are quite small however, and it's a bit of a stretch from the driver's seat. The Honda's Pioneer head deck gains BT and smartphone connectivity via a cord hiding in the glovebox.
The dials of the Yaris ZR are pretty cool with two circular readouts for the old fashioned info, though speed is registered digitally, leaving more space in the central screen for what the active safety minders are doing, your fuel use average, distance to empty, outside temp, speed limit info and the like.
Practically speaking, Jazz is still the yardstick in the class. Barry the bear enjoyed the superior rear seat space, and wasn't so squashed in the boot either. And then there's Honda's magic seat, the base flipping up to get those plants home from the nursery without snapping any branches. And when folded flat, the seat sinks into the floor to present a big flat load space.
Yaris is tight for rear seat legroom, and while the boot is smaller than that of the Jazz, it's on a par with others in this class, once you lower the load floor to its lower setting.
Where would our money go?
It depends on what drives you. We prefer the Yaris to steer, being more refined on the go, and better in bends. Its powertrain is a character too while its higher price can be justified by the extra on-board tech and safety bits. Jazz is the more practical small car having much more space inside and if you're tech averse, you'll find its simplicity refreshing. It has aged gracefully.
| | | | |
| --- | --- | --- | --- |
| Model | Toyota Yaris GX hybrid | Price | $27,990 |
| Engine | 1490cc, IL3, EFI, 67kW/120Nm | Drivetrain | e-CVT, front-wheel drive |
| Fuel Use | 3.3L/100km | C02 Output | 76g/km |
| 0-100km/h | 9.65sec | Weight | 1086kg |
| | | | |
| --- | --- | --- | --- |
| Model | Honda Jazz RS | Price | $27,490 |
| Engine | 1498cc, IL4, EFI, 97kW/155Nm | Drivetrain | CVT, front-wheel drive |
| Fuel Use | 5.6L/100km | C02 Output | 130g/km |
| 0-100km/h | 8.99sec | Weight | 1085kg |