It has only just landed but already buyers are scrambling to get into the new Tiguan. Is the new model worth queueing for?
It maybe surprising to hear that Tiguan is the best product VW NZ has ever launched in terms of forward orders with people signing up for the new SUV sight unseen. On one hand, it is an SUV, and everyone just has to have one, but on the other, it's still surprising in the wake of the VW emissions scandal. Seems the soot hasn't stuck to the shiny VW badge down this way. Volkswagen NZ has been busy over the past 12 months nurturing its customer base, and the hard work has been recognised with a win in the automotive section of the annual Roy Morgan Customer Satisfaction survey. According to VW NZ boss, Tom Ruddenklau, no other region in the world has achieved such success in the last 12 months, and this customer driven focus has helped secure VW NZ a healthy supply of Tiguans to ensure demand is met.
Tiguan lands here as a five-model range with an entry level point at $42k to help mix it with the general market. The rest of the range aims higher, with price points at $48k, $58k, $60k and $67k. The Highline models are semi-premium offerings but this apparently is what Kiwis expect of the brand here, more premium than not, nice but not flashy. And VW NZ is happy to comply, or 'focus on what we're good at' as Ruddenklau puts it. And that's what the Tiguan embodies; it's a medium SUV, but it has a look about it, and a substance that helps set it apart from most in the mass market, with enough panache to punch up into the premium realm too.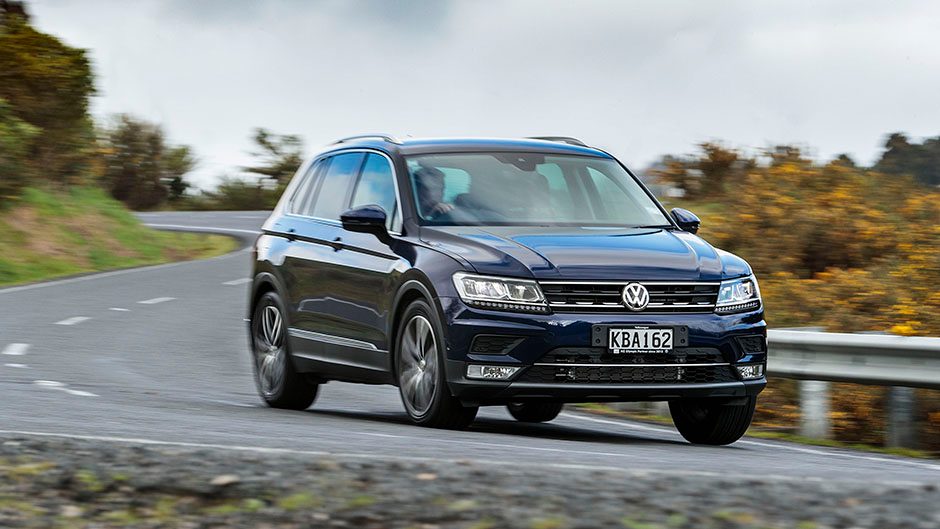 This second-generation Tiguan is the first SUV in the VW family to use the MQB platform that underpins Golf and Passat. It's longer, wider and lower than the old model while the wheelbase has grown by 77mm. The dimensional changes bring better proportions, while the styling is beefier too, like a Touareg-lite, and the lines are crafted to emphasise its width. The new model is said to be around 50kg lighter than the old model, yet it's no lightweight; the TSI Highline 4Motion model we tested scaled up at just over 1700kg. Bigger means more and there's extra boot space (up to 615L), added leg and head room in the rear and lots of tow too. Tiguan 4Motion models are rated to haul 2500kg braked (750kg unbraked) while 2WD models are rated at 740kg/1800kg. Practical measures include larger rear door openings, a wider tailgate and a lower load height.
The price is up there, but so too are the specification levels. Active safety levels are increased with auto emergency braking, blind spot monitoring and active lane keeping standard on all models. The system has both camera and radar detectives on duty while the city braking function now includes pedestrian recognition. Should you inadvertently collect a stray jaywalker, there's a new active pop-up bonnet to help them better survive the impact, and the air cushion tally now includes a driver's knee bag. Adaptive cruise is standard only on the R-Line but is just $1000 extra on all other models, and it's a box worth ticking as it includes the traffic jam stop and go function.
All but the entry model feature LED lights, a 360-degree surround view camera, electric tailgate and smart key. A rear view camera and front and rear parking are standard on all models, as is three-zone air con and an eight-inch touchscreen infotainment system with smartphone connectivity. The 4Motion models gain sat nav, leather trim with heated seats, privacy glass, VW's Active View instruments and bigger wheels. Tiguan gets a three-year unlimited kay warranty, and a three-year/45,000km fixed-cost service plan is a worthwhile $1200.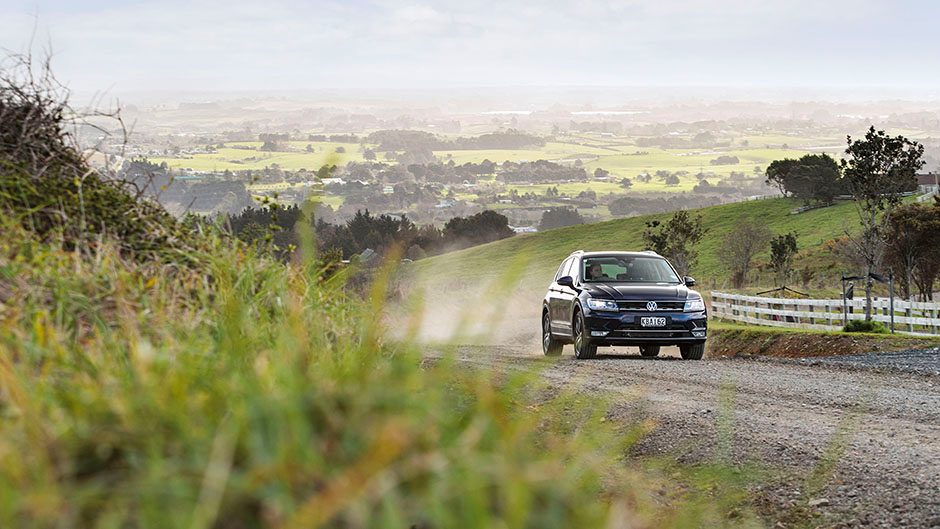 So, how does it go then? We had the TSI Highline 4Motion on test, which everyone kept asking 'is that the one with the GTI engine?' But no, that's the R Line. The HL has a 132kW/320Nm version of the EU6 2.0-litre turbopetrol. It has more sedate performance creds than the R Line, and is said to hit 100 in 7.7sec while the 'Tiguan GTI' should be a bit of a rocket at a quoted 6.5sec. The HL still gets along well, but its weight was higher than claimed at 1705kg, and so its performance wasn't quite as sparkling, though 8.0sec to 100km/h ain't bad either.
The weight tells on the midrange, as bursts of speed for quick overtakes and the like require engine revs beyond 4000rpm. Any time the tacho needle points much further around the dial, fuel use starts to soar. It's rated at 7.4L/100km on average, though a figure closer to the quoted urban number is more likely, somewhere in the nines, which was where the trip computer's long term average for over 1000km was sitting.
There's little lag time in regular type running, the engine delivers its full twist at 1500rpm and, when given the beans, the on-demand AWD (fifth-gen Haldex) ensures it's not wasted, with just a hint of slip from the fronts from a standstill. The seven-speed twin-clutch does its job, the occasional laboured take-up excepted, but general refinement at low speeds is sound, while it selects the right gear for the task set. In Sport mode it's not too racy, but it keeps revs perky for quicker throttle responses.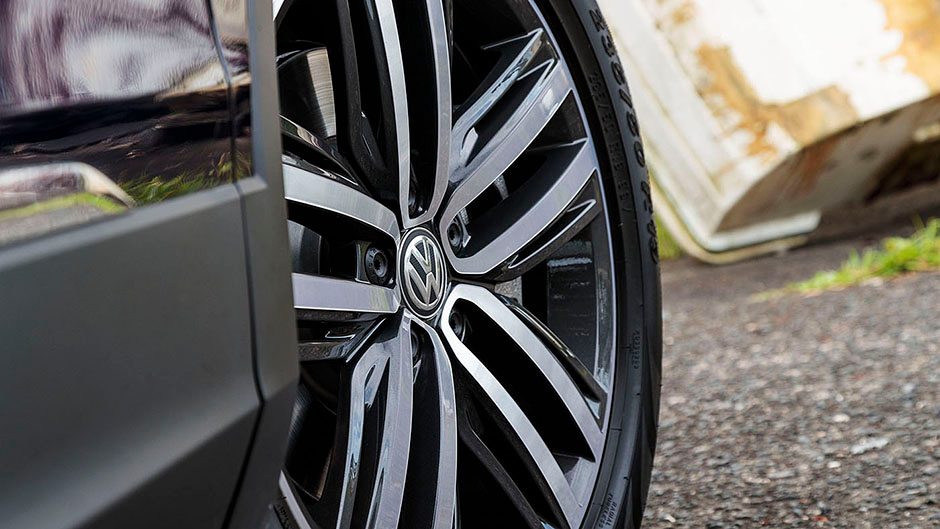 Like other products based on the MQB, the Tiguan is competent and capable when pressed, being well behaved with predictable traits. The suspension dealt to the tougher tests on our usual loop, the ride settled with no unruly body movements evident. And it's quiet on the go too, engine noise muffled along with untoward road roar. There's just some wind rustle if you listen hard enough. The Sport driving mode is good for the odd dice in the boonies, giving the steering more sentiment in the bends. All 4Motion models come with quicker 'progressive steering', making it easy to get it turned in, and it starts to load up nicely as those front tyres begin to sweat. This is a good time to cool your jets but if you remain determined, targeted brake intervention from the ESP will help keep you on your side of the road.
The Tiguan's cabin is typical of the VW breed with nothing too surprising in a design sense, while the build quality should meet with your approval. The centre console plastics are hard but free of sharp edges, and there are useful cup holders, not always a given in Euro cars, while the door pockets are big, and nicely lined. The leather trim may have a mass market feel to it, but the new seats are well shaped with a good range of adjustment. They are set quite high but that's what people want in an SUV. The 4Motion models have VW's Active View instrument cluster, which is similar to Audi's set-up with a large configurable display and varying view options available. The infotainment is easily navigable but, if you prefer, just plug in your phone to enjoy the benefits of CarPlay or Android Auto. You can set up a profile system that allows different drivers to set things just to their liking. Anything that can be changed electronically can be configured; radio station list, temperature, seating position, drive modes and the like. But if you prefer, all these bits and pieces can be turned off or dumbed down if techy gizmos aren't your thing.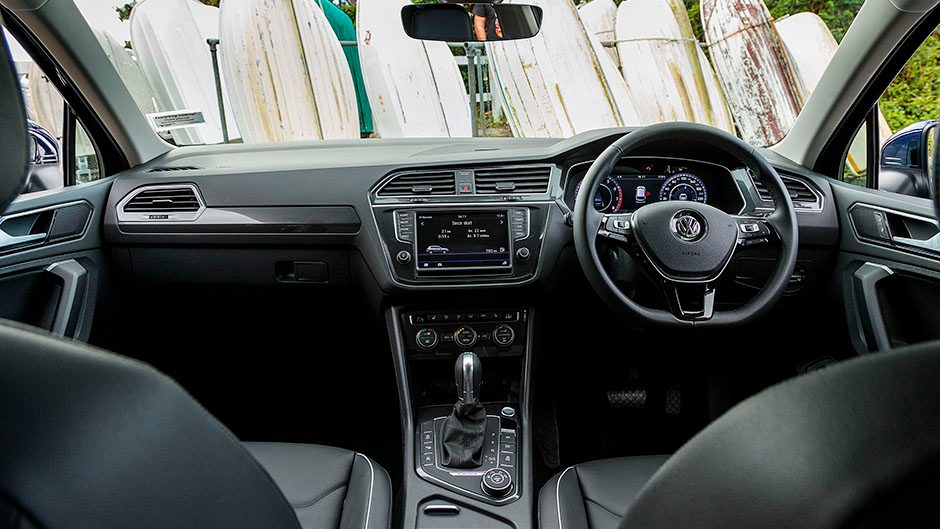 Those in behind fare better now with added space, sufficient not to feel the squeeze. There are little tray tables for meals on the go, and a controller for the rear air con system but no fast USB chargers. The seats fold not quite flat but easily, and you can flip over the front passenger seatback for longer loads. The boot floor is variable in height, and the second row can slide forwards if you have something a little bigger than normal to fit in the boot while also ferrying passengers.
Though it is pricey, new Tiguan does not cost that much more than most top models from the mainstream competitive set. With its specification, refined drive and practicality, it's hard to poke holes in VW's argument for a bigger slice of the SUV pie.
| | | | |
| --- | --- | --- | --- |
| Model | VW Tiguan TSI Highline 4Motion | Price | $57,990 |
| Engine | 1984cc, IL4, T/DI, 132kW/320Nm | Drivetrain | 7-speed twin-clutch, on-demand AWD |
| Fuel Use | 7.4L/100km | C02 Output | 170g/km |
| 0-100km/h | 7.98sec | Weight | 1702kg |