Ram has arrived in New Zealand with a range of trucks that makes your average double cab look like a Tonka toy. We keep on trucking in the 2500 Laramie.
Guess the first thing to clear up with Big Red is the name. People down here still refer to it as a Dodge Ram, but a while back there was a raft of rebranding around the Chrysler world which saw them ditch the Dodge bit to make Ram a stand-alone brand. So this is a Ram truck, and a full-blooded 2500 Laramie version to boot.
Previous Rams have arrived here as private imports or sold by specialist dealers after having undergone local RHD conversions. These new Rams however are different. They're products of American Special Vehicles (part of the Walkinshaw Group) in Australia. It's a joint venture partnering with local FCA importer, Ateco. They have a 100,000km, three-year manufacturer's warranty, and the conversion process is on a much grander scale than those done here individually. The Rams arrive from the US, then are taken apart and 'remanufactured' on a mini-production line in Melbourne.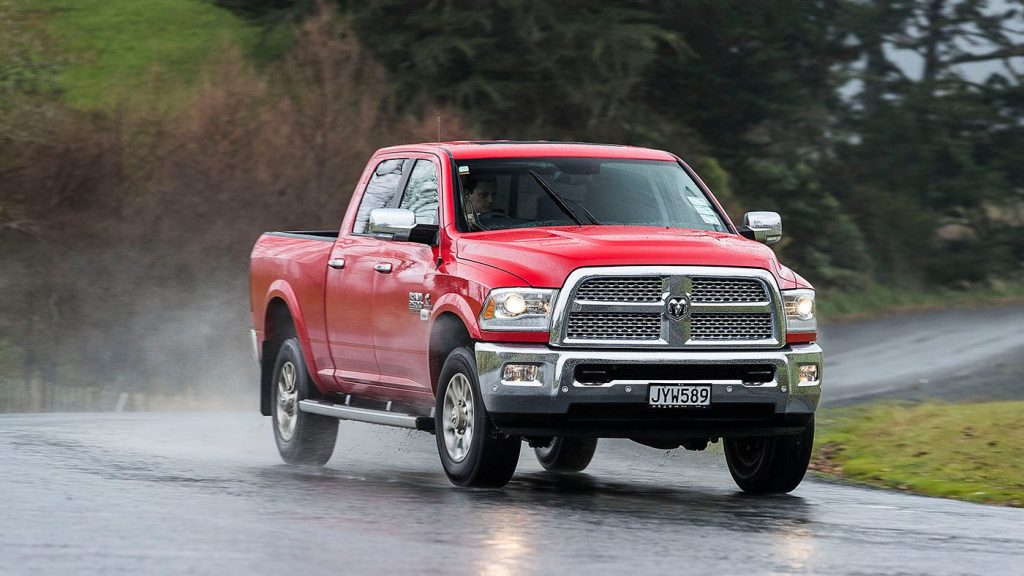 The rejig includes a new firewall and they reshape the floor to increase space in the footwell. The whole dash has been redesigned and is remanufactured using OEM materials. RHD Rams receive a new steering box which is made by the original supplier and it links to the column via a new pitman arm. Along with being subjected to Walkinshaw testing regimes (they even crash tested a converted example to Australian Design Rule standard), the trucks have parts and service support through the local Ateco dealer network, as well as roadside assist. So it's fairly comprehensive, as you'd hope for the $163,000 ask.
The finished result is sound however. Nothing in the cabin is glaringly awry but then these trucks aren't made to exacting tolerances to begin with. The plastics are soft on the dash and door tops and while there is the usual hard, shiny stuff below you also get the same steering wheel, infotainment systems and heating controls as you'd find in a Grand Cherokee. They've made enough of a compensation with the wing mirrors and changed the power inverter to local current and plug size too. The column shifter is still on the right side of the wheel and you occasionally collect it when going for the window switches on the door, while a foot-operated park brake is sited above the accelerator rather than atop the left foot rest where it should be. About the only other gripe we had was the wipers kept flapping up against the A pillar on the driver's side.
The Laramie variant is a mid-spec model so there's a touch of faux wood trim, a smart key, heated and cooled seats, electric seat and pedal box adjustment, leather trim, upgraded sounds and a full infotainment system. Everything is XXL, the seats made for beef-fed Texans with masses of head and leg-room. There's a sixth seat in the middle up front but with only a lap belt, it's best left stowed. Figure on lots of storage, cubbies and hidey holes all over the place and no one will ever go thirsty if you manage to fill all the cupholders. In the rear there is space enough for the All Black front row and while there are no Isofix points you can flip up the seat bases and unfold the load floor which happens to be big enough to facilitate a road-side snooze if you pack your sleeping bag.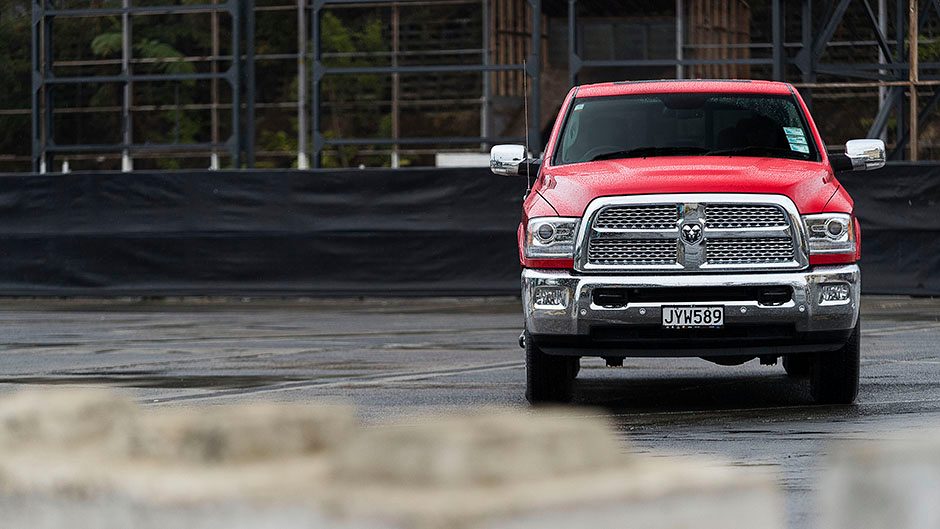 The tray is ginorm, with space for two pallets, although the payload of the 2500 is not quite a tonne at 913kg. It's solid rear axle is coil sprung so if you want to haul big loads you need the 3500 with its leaf sprung rear and a 1713kg payload. The tailgate is remarkably light yet sturdy and the running boards continue past the rear of the cab so you have some hope of accessing stuff in the front of tray. Along with a reversing camera, there's a cargo cam to check that your load hasn't fallen off, and front and rear sensors too.
You may look at the grille and think that's an offensive amount of chrome, but there's a reason for the shiny madness. While at the launch of the Jeep Cherokee, the lead designer, Greg Howell, said he had been transferred to the Ram division after finishing up on the Cherokee (no, not as punishment) and was domiciled in Texas, the heart of truck buying 'merica. He was there to gauge customer wants, and you may have guessed that chrome was high on their list. 'They basically want the whole front of the truck dipped in chrome' I think were his words and so that's why these trucks go heavy on the shiny stuff.
The Ram's 6.7-litre Cummins inline six is a serious truck engine. A cast iron, pushrod design, its numbers are huge; 276kW and 1084Nm at 1600rpm. It's an unstressed donk that doesn't go much past 3000rpm, but with such torque there's little need. These are made with heavy duty work in mind so feel utterly unstressed when simply commuting, never the need to rev much above 2000rpm and sitting happily at 1100rpm at a steady cruise whether it be 50km/h in fourth or 100km/h in sixth.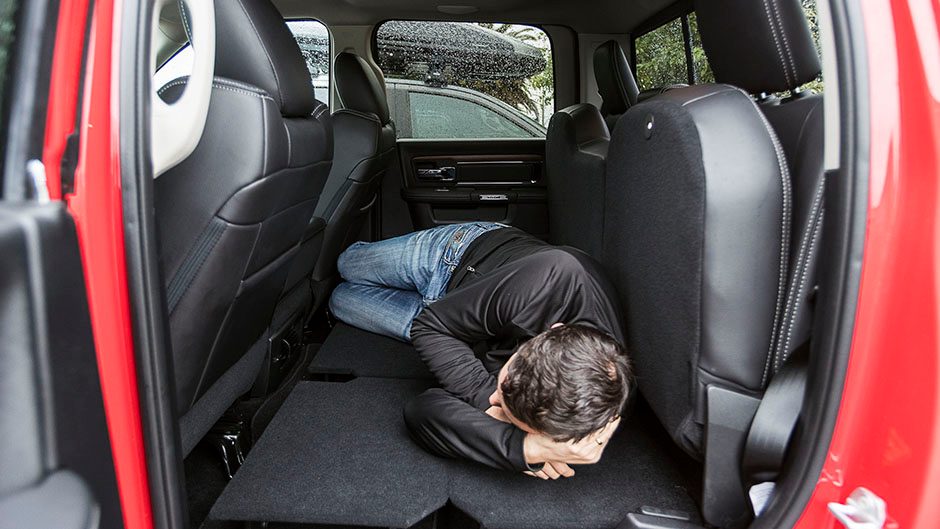 The big diesel takes around ten seconds to fire into action in the morning with a preheating phase, which is longer than it takes to scamper to 100km/h; Big Red hits the mark in 8.8sec but it starts to push serious wind above 100. The big guy has a reasonable thirst too, our average being in the 16s. Wonder what it gets up to when towing seven tonnes? A 117L fuel tank gives it a decent range though and it's EU5 rated with its urea exhaust clean-up system.
Any six metre long vehicle with a kerb weight north of 3500kg and solid axles front and rear is never going to be particularly agile. Throw in an easy 1000Nm of torque running through the rears on a wet road and it's going to be interesting. Like the other heavy duty rigs we've piloted, the front end is virtually devoid of any feel and although there's a degree or two of vagueness just off centre, the 2500 actually turns quite easily. The traction control does its job of calming the torque but still the rear will slide wide on wet roads, the ESP taking its time to chime in. It gets along ok at 100, though the ride is truck like. It needs a few hundred kilos in the tray to help settle it down. And like all the big American trucks we've driven, the brakes only ever feel adequate.
The unbraked tow rating is 750kg, while the braked max depends on your tow hitch; 3500kg with a 50mm tow ball, 4500kg with a 70mm ball, while a pintle type hitch is said to be good for 6989kg. And then you can use the trailer brake adjuster and have an actual use for the exhaust brake function other than for comedic value. Something else to consider, if she's all loaded up and hauling a few tonnes, you'll need to check you're properly licensed to drive it. Helping on the tow front is switchable four-wheel drive and a lo range with a 2.64:1 reduction ratio. The heavy duty six-speed auto is smooth enough if you remember it's built with huge payloads and hauling in mind.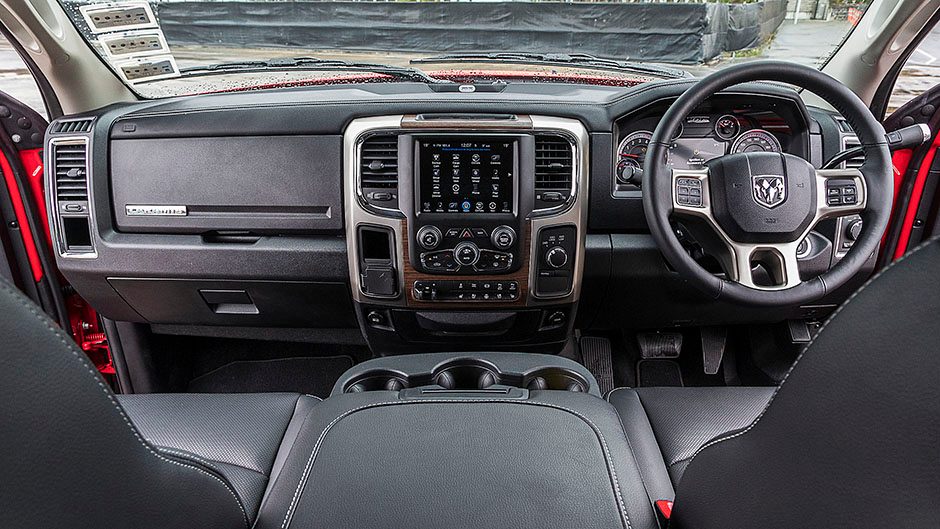 Being as large as a small town it's not ideal for the big city though we did ok in rush hour, managing to squeeze down narrow side streets on our usual cross town rat routes. It's a nightmare in confined spaces but; even getting it down the driveway was an adventure. You get used to its size but it needs room to roam. And a proper job to do. The market is small for these big rigs but it does exist with contractors, truck fleet owners and forestry operation bosses the usual candidates for whom turning up on the job in a Range Rover doesn't quite gel with the workers. The 2500 is a serious truck for which those aforementioned types need only apply.
| | | | |
| --- | --- | --- | --- |
| Model | Ram 2500 Laramie | Price | $163,000 |
| Engine | 6690cc, IL6, TDI, 276kW/1084Nm | Drivetrain | 6-speed auto, switchable 4×4 |
| Fuel Use | n.aL/100km | C02 Output | n.ag/km |
| 0-100km/h | 8.75sec | Weight | 3577 (claim)kg |