So they might not look identical but these two archrivals sure do drive in similar fashion. As to which is better, it really comes down to price and personal preferences
We shouldn't be surprised in the least that competitor vehicles end up being relatively similar in this day and age of computer-aided design and cut-throat competition. The two you see before you are from a pair of the most competitive car companies in the world so they know each others' products back to front. While they may not resemble one another from the outside – they share only their five-door five-seat midsize SUV status – to drive they're harder to separate, and even their interiors are somewhat similar, both sporting mouse-driven controllers for minor functions, leather trim, powered fifth doors and other parallels. Pricing appears similar initially but there are significant specification differences.
The BMW X3 has been around longer than the GLC which is a newcomer for Mercedes, debuting at the beginning of this year, and based on C-Class mechanicals. Now that it's here and selling well – along with C-Class it's Mercedes' biggest mover – the product planners are probably kicking themselves it wasn't available in right-hand drive five years earlier. Because there are both diesel and petrol variants in the GLC line-up, whereas BMW formerly had diesels only, now that's no longer the case and they're offering a 2.0-litre turbopetrol X3 with AWD known as the xDrive28i. We'd driven the GLC 250 before, and figured it was about time the two met in a battle to the death, erm, a formal two-way comparison.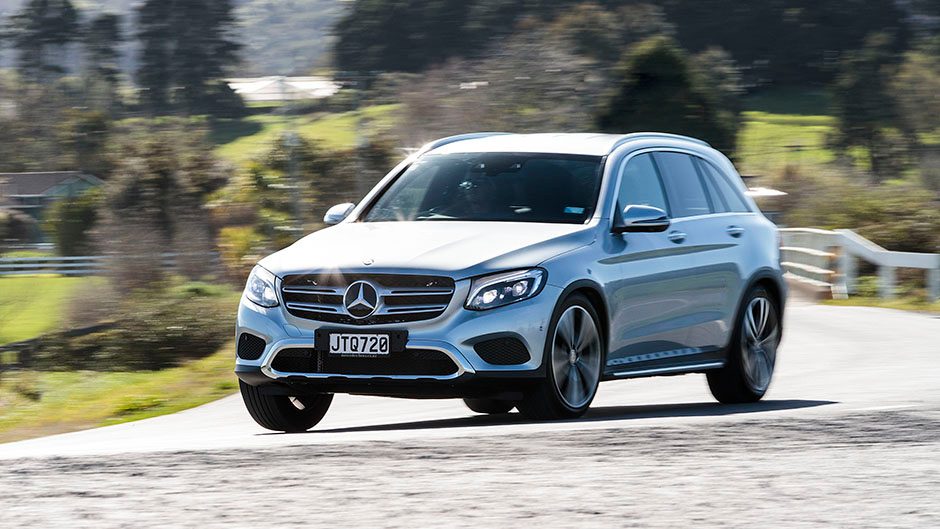 Safety goes the tristar way
Both kick off under six figures, just, the BMW costing $97,500 and the M-B $94,900. The latter seems to one-up the BMW by having an extra cog in its gearbox (nine in total) but to be fair, you don't see ninth register much so it may as well be an eight-cog auto. And it isn't as though with eight gears you're exactly missing out. Both vehicles roll on 20-inch rims, BMW opting for differently sized sticky low profile PZero tarmac huggers, while the GLC gets Bridgestone's Duelers, with the same rolling stock (255/45R20s) at each corner.
In search of improved dynamics, even in high riding vehicles, BMW initially fitted the xDrive28i with sports suspension as part of the standard M Sport package but that's no longer the case. However, it still gets torque vectoring by brakes at the rear axle, and variable sport steering, along with a sports body kit. Adaptive dampers are a $1500 upgrade on the 28i. The Mercedes also has fixed suspension, though air suspension with adaptive damping is a $2490 option. We'd probably not bother, given how well it rides.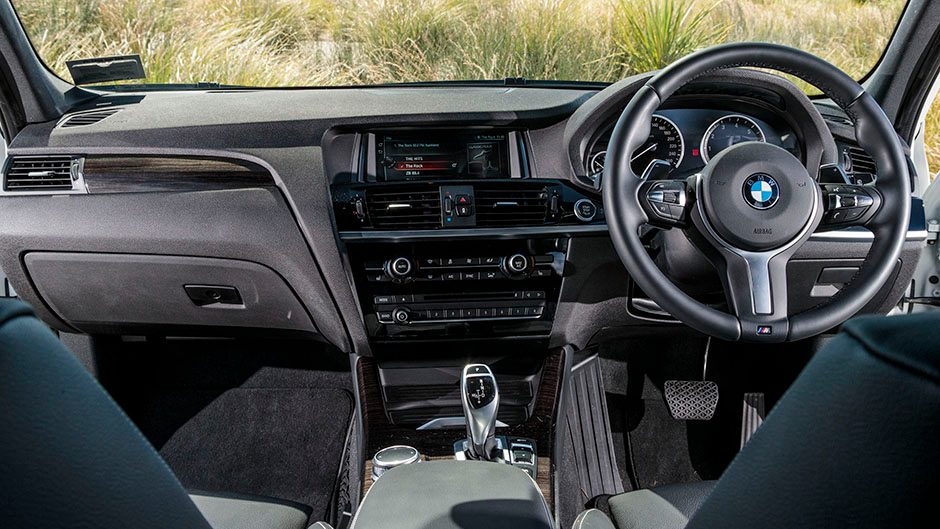 Both get heaps of kit, including an electronic parking brake and push button start, full leather trim, shift paddles, privacy glass, powered fifth doors, stop/start, and permanent AWD. Key differences are mainly in the area of active safety. Blind spot monitoring, lane keeping, and the like come gratis in the Mercedes ($2900 for these in the BMW) and GLC also gets active cruise control, a definite plus over regular cruise in the BMW. However, the latter does have a braking function when slowing using cruise, which is handy. The 250 comes with LED lights and autodipping; they cost $3400 in X3.
Other spec common to both includes dual zone air, trip computer, reversing camera with parking sonar each end, multiple driving modes, and then it's down to minor differences, like airbag counts (X3 6 v 9). There's a 360-degree camera in the Mercedes (the BMW has a more basic system), and comfort entry is standard, but is a $1200 option in the X3. Metallic paint, seat heating, adjustable side bolsters, and hill descent control are standard in the BMW, while they cost in GLC. Lumbar adjustability by pump is an option in both vehicles.
The GLC had this as part of an upgraded seat comfort package, along with a $2990 Comand package including a bigger colour display, upgraded Nav, a 10GB music register (20GB in the BMW) and a slammin' Burmester sound system. The total then exceeded six figures, and it was a similar story for the BMW, thanks to options like a head-up display ($2000) and comfort entry ($1200), quite aside from the active safety gear fitted. Comparing like with like, the BMW spend is at least $5000 more to equal the spec of the GLC, and it's already $2600 more expensive.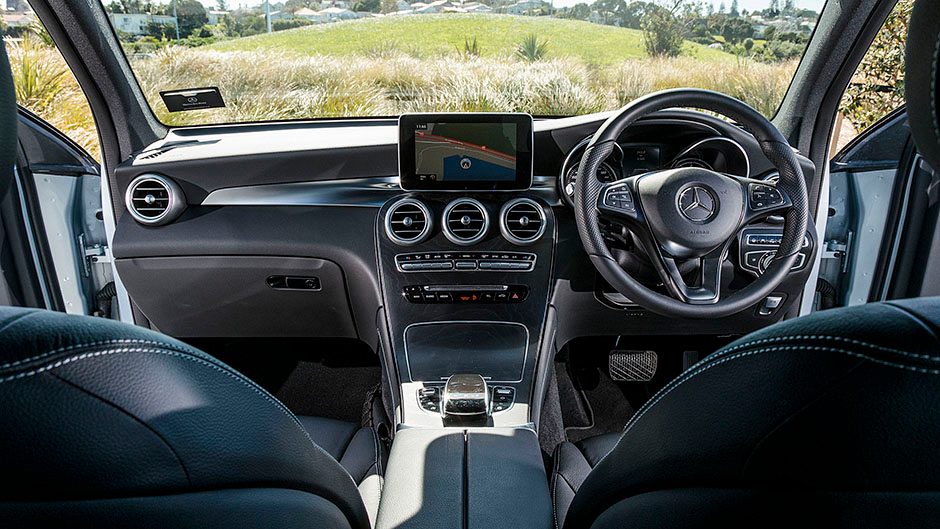 One's quicker, the other easier
As to the nuts and bolts of these two, it's quite remarkable how similar they are. Weighed down with gear and AWD gubbins, they both scale up at around 1870kg, the BMW having slightly less weight over the front wheels than the Mercedes, as per the former's 50:50 design philosophy.
Under the hood, they're both packing 2.0-litre turbopetrols, the BMW with its twin-scroll unit good for 180kW and 350Nm, and the GLC offering the same torque figure and 150kW. With extra power, BMW quotes a slightly faster 0-100 time of 6.5sec to that of the Mercedes' 7.3sec. Fuel use is almost identical, a tenth better for the GLC at 7.2L/100km.
Hooking straight into it, the thing that's initially noteworthy about this pair is just how quietly they get on with the job. In each instance, the engines are scarcely audible at town speeds – I accidentally left the BMW idling while parked once – while road roar is muted in both cases, each registering less than 70dB at 100km/h over the worst chipseal. It's but one of the reasons why SUVs are the biggest sellers in the luxury market here, for similar priced lower riding wagons generate more noise on the go.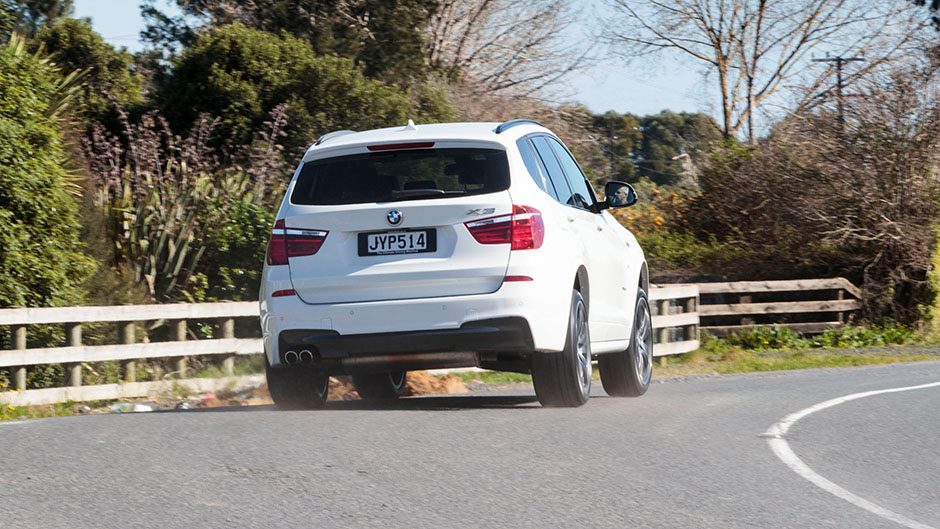 They both have numerous driving modes to choose from, so let's set them both in their raciest (Sport+) to see how they fare. Not that it makes any material difference but in Sport+ mode the BMW instigates launch control which I guess just makes the transmission shift as quickly as it can; being permanent AWD there's no loss of traction off the mark, even with Dynamic Traction Control engaged (it does this automatically in Sport+). So a sprint time of 6.33sec is a touch under the claim but the GLC was not far adrift, and ended up after retesting with a best of 6.8sec. The disparity between the two on the overtake is similar, at 4.8 vs 5.1sec. The Mercedes feels a bit stronger in the lower registers; out on secondary highways it seems to get into the swing of things around 2500rpm where the BMW likes to work higher up the rev scale, performing best above 3500rpm. It's a bit easier to access the go power in the BMW though for it has a sport transmission mode; push the lever left and that adds to haste.
The different modes in each vehicle were largely comparable otherwise, Sport+ holding the revs to near the redline in each, and Sport giving arguably the best mix of performance and economy on the go. In each case when tickled the fuel figures sink but then neither of these is a lightweight and being high riding they both push some air, the GLC with the better Cd figure. Expect around 15-16L/100km when driven briskly, and about half that when easing up.
Essentially think of these two as being relatively similar from a performance standpoint; the BMW is a bit quicker, but the performance of the GLC is a little more forthcoming at lower revs. Differences are minor, it should be said. We thought initially that the GLC brakes paled against those of the BMW which bite right from the word go. Seems the Mercedes brakes warm to the occasion, and were then almost as effective, but we'd rate the BMW's as a bit better; you have to push a mite harder for similar bite with the GLC, and it's the same with steering, which feels a bit more sensitive in the BMW, perhaps because of its lower profile rubber.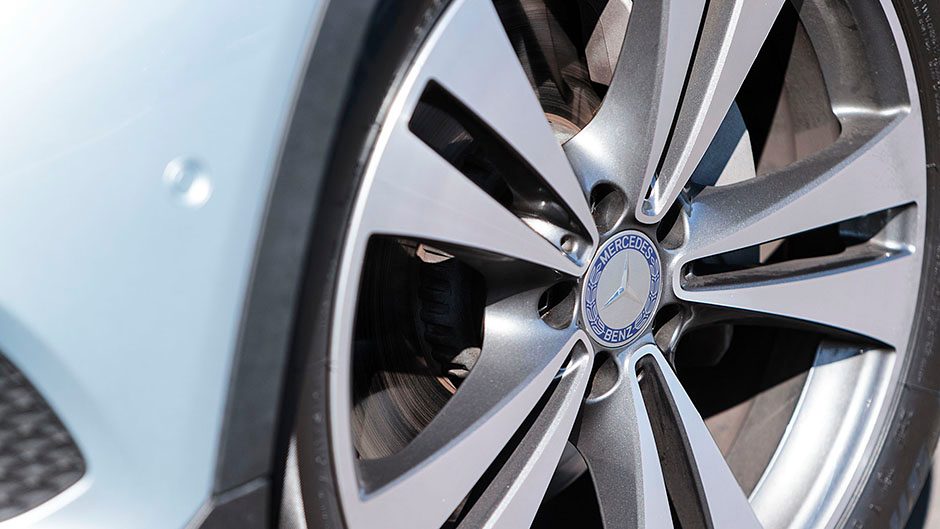 Down to cost in the end
Arguably the biggest difference, cost aside, between this pair is how they look, and in the office some preferred one, some the other. I'm in the Mercedes camp on that one; I like its smooth curves where the older X3 can look awkward from some angles. Interiors? Hmm. I'm not a fan of any of the mouse-type infotainment drivers; they're too distracting. Touch screens may need more cleaning but they seem easier to navigate.
We were on about differences though, and it's in the ride and handling areas that the two seem to separate themselves slightly. In tighter going the BMW is just a bit more interesting and that's mainly because it is set up slightly firmer (suspension and rubber) while its ESP isn't as intrusive. You can seemingly turn off the Mercedes system but in the very next run through our photo corner, there it is, intervening again. On more open flowing roads there's little to pick between them dynamically, except for slightly more roll in the GLC which also has a smoother, more accommodating ride, though can sometimes get thrown off line in bumpy corners. The X3 feels slightly more compact to drive too, but there are no significant differences in size, right down to rear seat accommodations and luggage capacity (both 550L before folding down the rear seatbacks).
So, price differences aside, what this comes down to in the end is personal preferences as much as anything. For apart from minor aspects they drive in similar fashion, the BMW leaning slightly more to the sports side of the ledger, the Mercedes with more of a comfort bent. In the end, given the similarities, the GLC gets the nod because of its superior specification level at a lesser price point.
| | | | |
| --- | --- | --- | --- |
| Model | BMW X3 xDrive28i | Price | $97,500 |
| Engine | 1997cc, IL4, T/DI, 180kW/350Nm | Drivetrain | 8-speed auto, all-wheel drive |
| Fuel Use | 7.3L/100km | C02 Output | 169g/km |
| 0-100km/h | 6.33sec | Weight | 1876kg |
| | | | |
| --- | --- | --- | --- |
| Model | Mercedes-Benz GLC 250 | Price | $94,900 |
| Engine | 1991cc, IL4, T/DI, 155kW/350Nm | Drivetrain | 9-speed auto, all-wheel drive |
| Fuel Use | 7.2L/100km | C02 Output | 152g/km |
| 0-100km/h | 6.79sec | Weight | 1865kg |