Contrary to initial expectations, the small SUV sector is booming, every car maker clamouring to get aboard. Into this crowded space comes Renault's Captur. Does it dust Trax or Vitara?
The Raptur?
It has been a while coming Captur, since first showing as a concept in 2013, and meantime the small SUV sector has gone bananas. All of the models you'd most reasonably covet, the top spec variants, are around the $35k mark, though most also have a model priced in the sub-$30k area.
Captur, built on Clio's platform, arrives here in Dynamique specification sporting a 1.2L four-pot turbo engine mated to a six-speed twin-clutch transmission. At $35,990 Captur is more expensive than Vitara Turbo 2wd ($33,990) while the Trax LTZ Turbo costs the most at $36,990.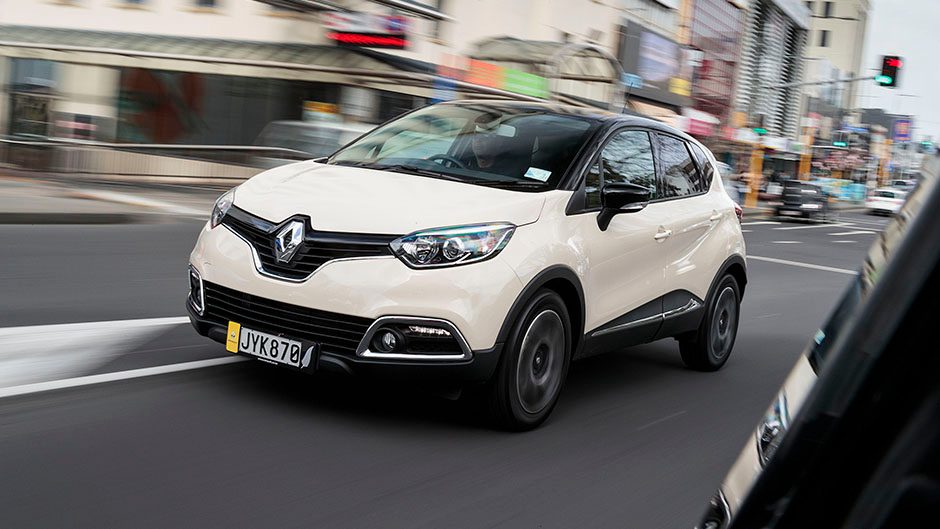 For size they look different but are all around 4.2m long and 1.78m wide, only their heights differing much. Captur is marginally the smallest, and that's apparent when you check out the rear seat which has seemingly less knee room. However, looks can be deceiving as Captur has a bit of a party trick in that the rear seat slides fore and aft, by 160mm. That, along with a luggage floor that can be lowered by around 150mm, means variable hatch capacity of 377-455L, expanding further with split folding. It actually comes out on top for load space, offering more than Trax can muster (356-785L) and also Vitara (375L-710L). However, squabs in Trax also roll over, so it's the only one offering a fully flat load space.
Captur goes big on style, and is probably the best looking of this trio, or the flashest. We rather like the appearance of Vitara Turbo too, with its black roof and wheels, and red exterior and interior trim highlights (two-tone paint adds $800 though). Moreover, it has slimline headlights and lines that accentuate its width. It too is a good look, in a conservative way. By contrast Trax is blobby, its style seemingly playing second fiddle to practicality. It looks like it was designed around five years ago and such is the case, with oversized headlights. It also has the dowdiest interior, whereas the Vitara features body-coloured cabin highlights, and both the newer vehicles have contrasting mirror cap colours. Those on Trax are body coloured, and it has more than its fair share of chrome too, something the others do more tastefully. Chromed door handles look naff; we'd much rather see comfort-entry pads like on the others.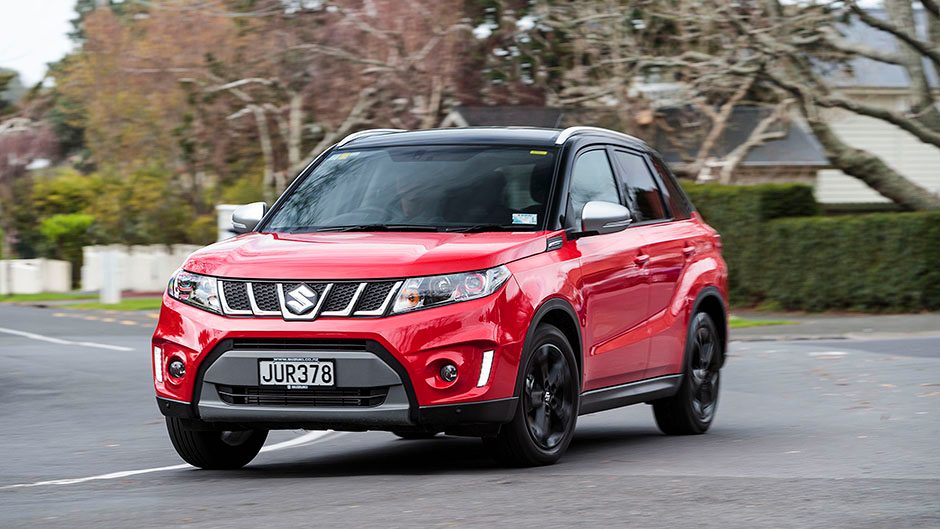 The Captur has the smallest engine of the three, though it isn't the lightest; in 2wd guise, the Vitara weighs 130kg less. Captur's four-cylinder turbopetrol is good for 88kW at 4900rpm, and 190Nm at 2000rpm. In town, it can feel undercooked at times, the combination of turbo lag and twin-clutch transmission hesitation proving a double bogie in terms of progress off the line. At busy intersections this can prove hazardous so best not try to shoot small gaps. Once underway, it suffices in town but it's hardly feisty, not like the 1.2 triple powering most small Peugeots.
In rural running the added grunt of the blower is palpable from about 1700rpm, and Captur gets along in breezy fashion using revs from 3000-4000rpm. Best response is above 4500rpm, though the engine becomes a bit noisy from 5000-6000rpm. It's not the quickest thing around, but its double-clutch tranny helps it to a sprint time of just over 11sec and that's about line-ball for the class. However, you do need to push and prod it for best performance and we found instantaneous fuel use wasn't great, sometimes three-fold higher than its quoted combined figure of 5.4L/100km. The trip computer suggested a long term average of 8.9L/100km.
With Clio underpinnings it gets by quite reasonably in the hills, and okay rubber means it fares almost as well in damp conditions. There's slightly more than a little road feel at the wheel, and the brakes are also quite sensitive, with drums at the rear, though in town action can seem abrupt. The ride is also better out of town than in; this is a vehicle that really feels more at home in the wilds than the burbs, providing you don't mind nudging the gas pedal some.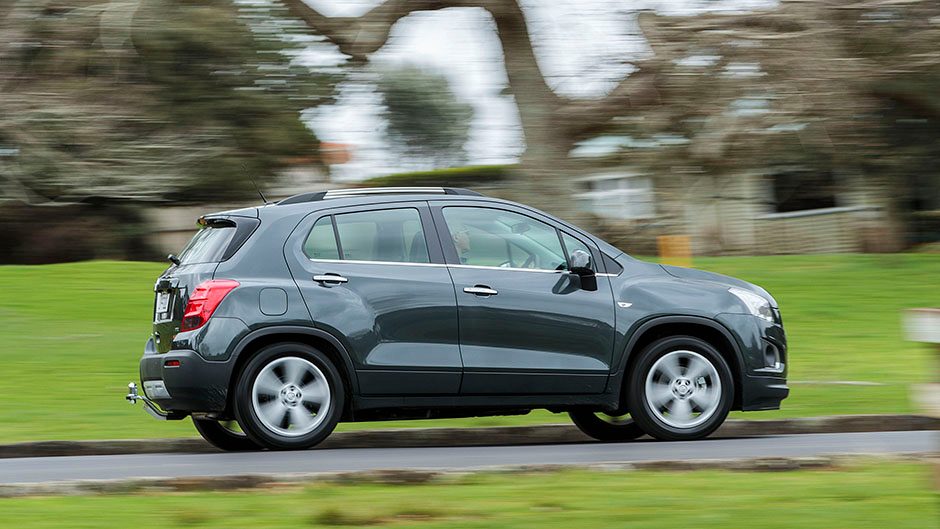 In terms of build and finish, there are not a whole lot of soft furnishings, as with all three. But Vitara feels to use better quality components. Remote control of volume should be on the wheel, not on a wand that's hidden from sight. We liked that Captur had seat heating, matching Trax.
So enchanting though it may appear on the surface, we're not quite enraptured by the wee Reno. It has some excellent design features but is let down by laggy performance off the line and lack of sheer guts. Economy can be good but sometimes not. Out of the burbs it's more interesting, but given most will end up in town, it misses out on our top vote here.
Turbo Makes Trax
Our first experience of LTZ Trax, the one with the 1.8 atmo four engine, was dismal; it struggled to haul the proverbial chook from its roost. Fortunately, for an extra $1500 you can now buy a Trax LTZ Turbo, the 1.4L forced induction mill putting out the same 103kW of power (at a low 4900rpm) but adding another 25Nm of torque at half the revs (1850rpm). This might not seem much but trust us it makes a startling difference. Where the old LTZ needed to be caned, this goes well using the meat of the midrange and from 4000-5500rpm it gets a wriggle on. Only not quite as much as the Vitara Turbo which weighs 242kg less. Still, if you're dead set on Trax it's the best additional $1500 you will ever spend. The 1.8 has been put down anyway, thankfully.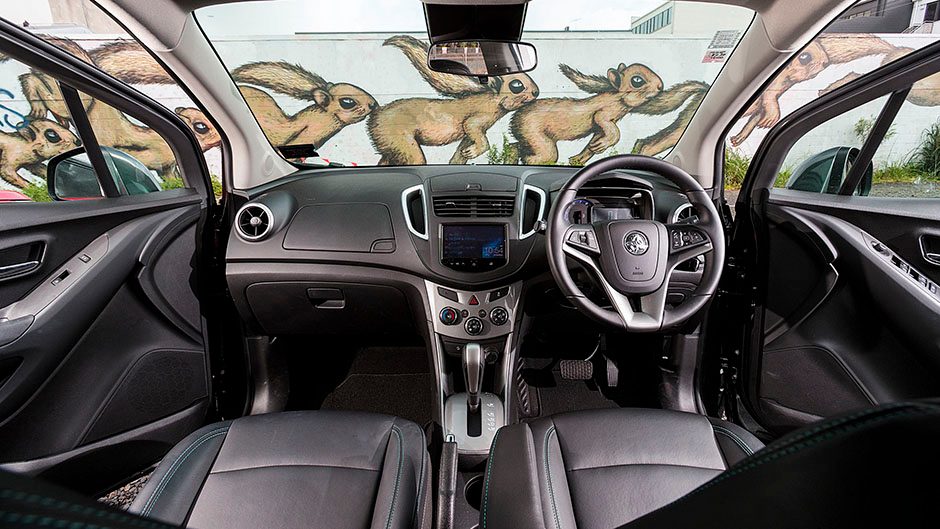 Holden reckons it is even more economical than the 1800, with a quoted average of 6.9L/100km to the atmo engine's 7.6. Give it a good rogering and you can add almost 10L/100km to that but at an even 100 on the flat it will deliver down around the 5s. An average of 10 isn't pretty but Trax is the beefiest of the trio. Vitara looks bigger but isn't and is way lighter which results in a massive performance difference; it's a hare. Having said that, the 1.4 turbo does really transform the Trax from something plodding to a decent jigger. The new engine gives it added zip, lowering performance figures by almost a second. That might not seem a lot but it's the ease of extracting said performance that's key. In day-to-day driving you no longer need to milk the revs, and in the suburbs it's all on from 1500rpm or so, 2500-3000rpm plenty in town. In country running it is really quite crisp across the midband. Overtakes are best handled in fourth gear where at 100 the engine is fully on song. Moreover, you don't need to resort to shifting manually, which is just as well because the cheap little mini-shifter on the side of the gear lever is a joke compared with what the others get.
The interior of the Trax, like the exterior, is largely uninspiring. Awash in grey and hard plastics, its 'motorcycle-inspired dash' is the real highlight. Data are presented in concise and clear manner, available at a glance. Fortunately, the drive distracts from the bland interior. Brakes and steering are actually a bit interesting, and its rubber is acceptable and Trax makes a decent fist of things out of town. It's neither noisy nor rock and rolly, and the ride is good both in and out of the suburbs. Even the seats aren't bad, though their coverings aren't exactly classy. The central screen could do with an update too.
Compared with the others there's no comfort entry or push button start with Trax, and why these front drivers feature hill descent control is beyond me. Trax LTZ comes with cruise control, a rear camera and parking sensors, heated seats (but two-way, roast or not, like the Renault's), a multifunction steering wheel, touch screen with MyLink services and the usual safety electronics. In the end Trax, despite its dated design which is due for an update early in 2017, gets second place over Captur because of its more rounded performance.
Small size, big go
Vitara Turbo 2wd comes to this comparison as the one to beat, following a drive report last month. Moreover, it is the least expensive here and we wanted to know if there was a reason for that. We could only source a 4WD variant at the time, and it didn't feel quite as energetic because of its added weight, but even so it felt vastly quicker than the others, particularly at the upper end of proceedings. If you feel as if you won't be going off-road ever or will seldom leave the confines of town, the $4k less expensive 2wd version is way to go.
Vitara Turbo is not only the lightest of this trio, but it turned out easily the quickest, racing to 100 in 8sec. Trax just managed inside of 10sec and Captur never left the 11sec bracket. At a scarcely believable 1163kg brimmed, it doesn't feel insubstantial as a result, though doors are certainly lighter to open and close than those of the competition.
Under the shapely bonnet nestles a direct-injection 1.4-litre turbo four, a wee ripper, with little lag evident. Like the others here it is firing on all four just after 1500rpm has registered, while peak torque of 220Nm hangs in until 4000rpm. Max power is the same as that of Trax at 103kW. Best performance is high up the dial but that's seldom necessary as it hauls like a Trojan from 3000-4500rpm. The six-speed auto works well, meaning little need to get paddling. At least this has paddles, easily the best manual shifting device of the trio. VitTurb's rated at 5.9L/100km overall, and we got 7.6, with no long term figure over 10L/100km. Like Captur, it gets into the fours on flat motorway running.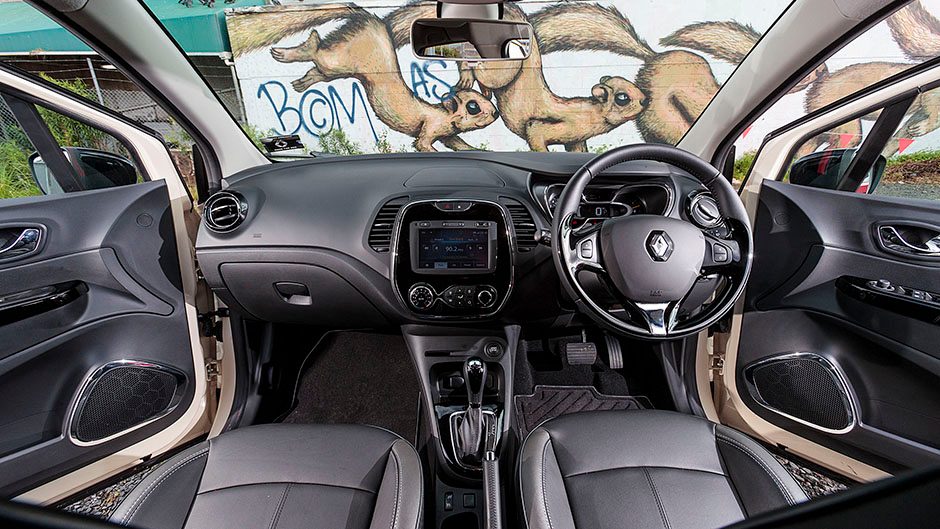 This is the only one of the three with even a hint of torque steer, but it never gets to be any more than that. It fired up our reference hill climb road quicker than the other pair, and even when wet it gripped hard on its 215 rubber, and was fun to punt, thanks in part to a firmer spring and damper settings than on standard Vitara. Despite its slightly high-riding status, with 185mm of ground clearance which makes for ease of exit and entry, it delivers fine dynamics, resisting understeer longer than you'd reasonably expect, and with electric steering that's nicely weighted and without the usual artificiality of such devices. Being a lightweight its all-disc braking complement fares well too.
Unlike some of the other subcompact offerings, and we're thinking CX-3 mainly, passengers aren't too hard done by if they're seated in the rear, with reasonable head and knee clearance. And as mentioned, with 375L of luggage space, there's enough room for a decent supermarket outing.
Pick out the Vitara Turbo by its special silver mirror caps, different grille and gloss black alloys, while red highlights inside (about the instruments and air vents) along with leather and suede (look-alike) upholstery mark out the interior. It misses out on the seat heaters that the other pair get, but figure on seven airbags, sports pedals in alloy, a reversing camera with sonar each end, LED headlights and DRLs, sat nav operated via touch screen, comfort entry, climate air and cruise control. There's also Apple CarPlay and a five-star ANCAP crash test. The wand for trip data is a bit fiddly, like one of the old odo reset devices poking out of the instrument cluster, but I guess Suzuki had to make a few shortcuts somewhere to sell it at this price. Vitara Turbo 2wd is a great package, and a clear pick amongst this line-up, beating the others for dynamics, performance and value. We'd go a step further and rate it the best value in the small SUV class at present.
| | | | |
| --- | --- | --- | --- |
| Model | Holden Trax LTZ | Price | $36,990 |
| Engine | 1364cc, IL4, T/DI, 103kW/200Nm | Drivetrain | 6-speed auto, front-wheel drive |
| Fuel Use | 6.9L/100km | C02 Output | 163g/km |
| 0-100km/h | 9.63sec | Weight | 1398kg |
| | | | |
| --- | --- | --- | --- |
| Model | Renault Captur | Price | $35,990 |
| Engine | 1197cc, IL4, T/DI, 88kW/190Nm | Drivetrain | 6-speed twin-clutch, front-wheel drive |
| Fuel Use | 5.4L/100km | C02 Output | 125g/km |
| 0-100km/h | 11.19sec | Weight | 1290kg |
| | | | |
| --- | --- | --- | --- |
| Model | Suzuki Vitara Turbo 2wd | Price | $33,990 |
| Engine | 1373cc, IL4, DI, 103kW/220Nm | Drivetrain | 6-speed auto, front-wheel drive |
| Fuel Use | 5.9L/100km | C02 Output | 138g/km |
| 0-100km/h | 7.86sec | Weight | 1163kg |