It may look similar to the t100 but the new entry-level Bonneville is fresh from the ground up, including a new 900cc motor brimming with torque. Is this the must-have retro of 2016?
It has been around since the late 50s, the Bonneville, Triumph's parallel twin-cylinder motorcycle named after the company's streamliner which set a world speed record at the Utah salt flats in 1956. After years of success with the Bonneville the company folded and was resurrected by John Bloor with machines packing three-cylinder engines. The Bonneville made a comeback in 2001 as a retro twin. A few minor updates followed, capacity of the parallel twin growing from 790cc to 865cc in 2005, and scoring fuel injection in 2009.
Now Triumph has done a total reboot, the new Street Twin the first (and the baby) of a family of five fresh Bonnevilles. New frame, new engine and new old look. The price is old too. At $15,990 it is precisely $290 more than the ask for the T100 in 2009. But for your money you get a different and a better machine. Back then it had nothing in the way of electronics, just "essence of motorcycling". Now it feels much the same, but gets the safety electronics (TC and ABS) as standard.
For 2016 pretty much everything is new except the styling, which of course is also new but it's merely another take on what the bike looked like originally. The basics appear similar even if it is all new. The engine is still the centrepiece, even if it is now watercooled (not that you'd notice), and the chain is still unfashionably on the right side. Even the name is new, Triumph hoping to cash in on the popularity and prowess of one of the best middleweights ever, the Street Triple, by calling its Bonnie baby the Street Twin. Sounds fast huh, especially with those sweet Vance and Hines pipes. Er, not exactly but then that's not the point, is it? The old one went well at 100 (kays) and so does the new one because that's more or less where it's creating peak torque.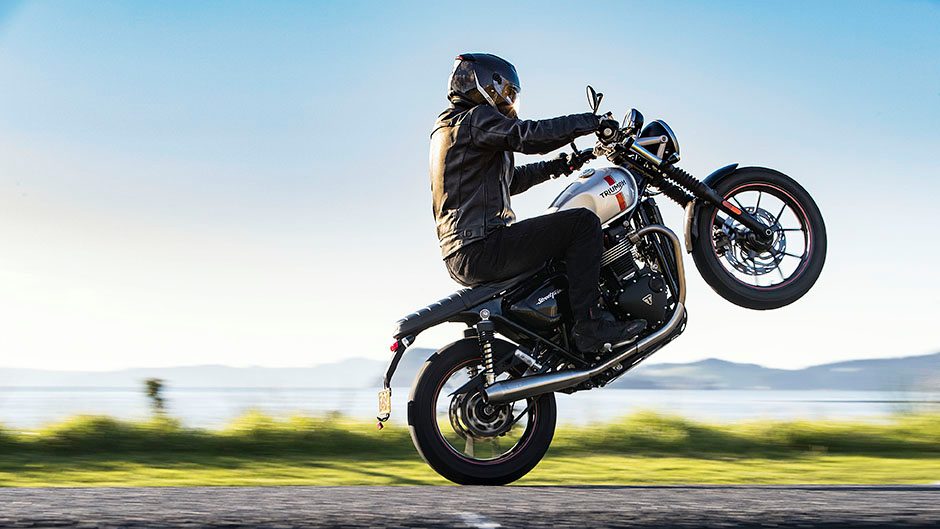 In its evolution to Euro4 emissions status it has lost revs and power, down from 50kW at 7500 to 41kW at 5900rpm. That may be disappointing for rev-heads but torque actually increases by 18 per cent, up from 69 to 80Nm, and the peak arrives at 3230rpm instead of 5800rpm. There's 68Nm available by 2000rpm, so the cruiser that handles just got a whole lot cruisier.
The reason it has more low down grunt is the adoption of the 270-degree crank which promotes torque development and reduces vibrations inherent in a parallel twin design. Further, the new engine is more economical by over one-third – it can do mid 3s at 100km/h – and that means emissions drop by the same amount. We saw 4.5L/100km overall.
Two factors aid economy, the use of water cooling and ride-by-wire throttle. And the latter is significant too for it makes the adoption of traction control possible. The former may not be big news, but implementation is thoughtful. Instead of just whacking a big square-rigged radiator under the steering head, Triumph designers have crafted a long, skinny water cooler and mounted it vertically between the uprights of the chassis tubes, where it is all but invisible. The retro look demands that, and you have to peer hard to spot that it's liquid cooled; there are still plenty of fins on the engine so at first glance it seems like the old air/oil-cooled Bonneville. Yet another advantage of this upgrade is longer service intervals, now out to 16,000km from 10,000km previously, though you'd probably want to do an oil change around the 8000km mark.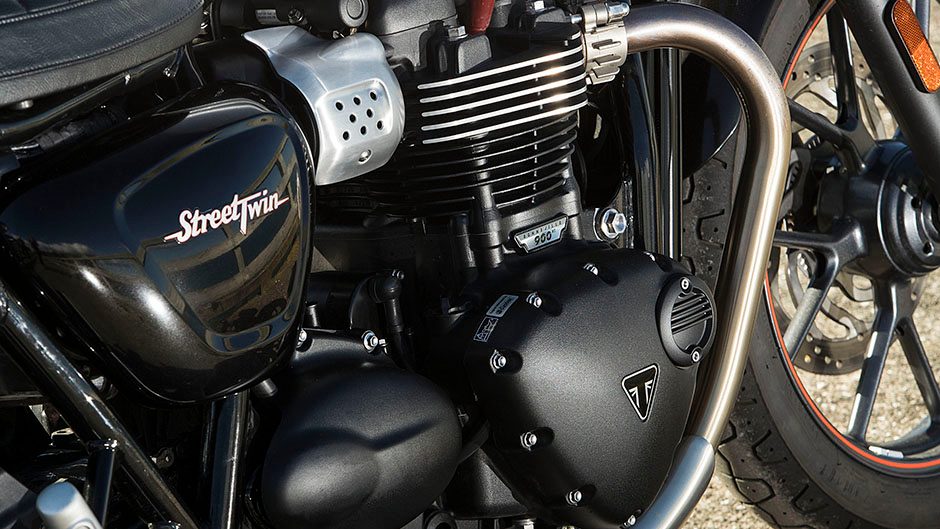 While on the tech front, brakes aren't much different from before and they feel great, a 310mm single disc up front acted upon by a two-piston caliper but now there's unswitchable ABS fitted as standard. The rear unit is strong too. TC can be overriden, and needs to be if you want to attempt any acrobatics. And that's a major difference from the Millennial Bonnie. There's no way that had enough grunt to hoist the front, but if you're doing just the right speed and hold your tongue just so, the new Bonnie will rear up, thanks to its added torque.
Other new bits? A fresh frame with more upright forks mean slightly quicker steering to counter the gryoscopic effect of the 18-inch front wheel. There's also a seat redesign with added foam, still set at a handy 750mm height, a new instrument (tacho no longer provided), and a fresh brushed stainless steel exhaust system.
The riding position now places a bit more weight over the front end, and there's said to be better cornering clearance; you have try some to get the pegs scraping. Overall weight has dropped too. It's quoted at 198kg dry, and comes in at 212kg fuelled, whereas in 2009 the T100 was 230kg. The 18kg saving doesn't make it any quicker to 100 (with less power and revs it's slower by 0.3sec at 5.09sec) while the overtake is off by around half a second (3.6sec vs 3.1sec). Not really enough that you'd notice.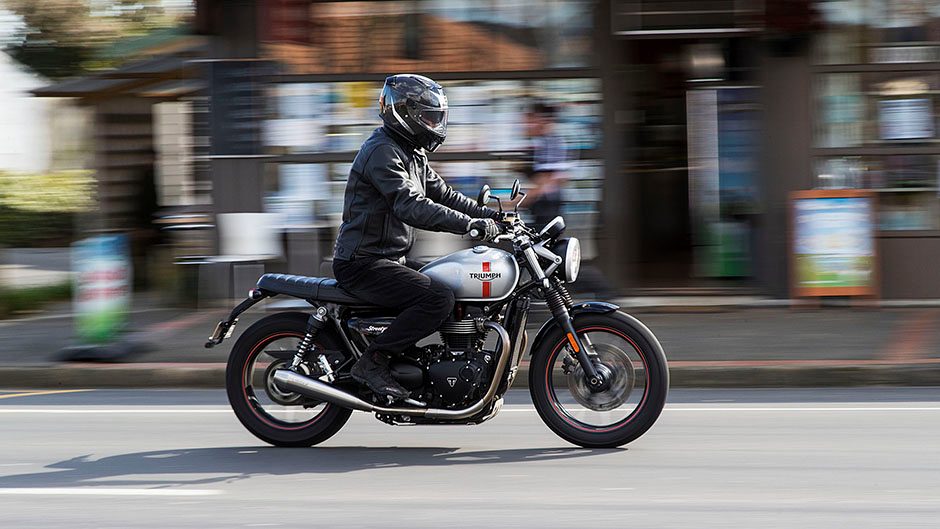 Suspension by Kayaba is a development of the existing with extended travel. And the ignition is no longer in its former hide and seek location; everything is easier on the new machine. Detail finishing is good, and there's even a USB socket under the seat so you can charge your phone in an emergency, providing you remembered the cord. If you're in to personalisation there are over 150 accessories available, some bundled in 'inspiration' packs.
If you're wondering how it compares with the old-new Bonnie, think of the latest version as much the same, only more polished in most regards. The look is unmistakable, especially about the engine, updated with a slimline (but smaller) tank and lots of flat grey metal bits, often contrasting with black items (footpegs, mirrors, around the headlight area).
The riding position is brilliant for everyday use, especially for town running. It's upright, natural and hardly cramped for a six-footer like myself. The tank is impossibly narrow at the rear, so you feel knock-kneed when gripping it with your legs. We'd opt for the rubber knee pads to make the tank feel a bit more substantial. Levers are span adjustable both sides, and the clutch action is lightweight and feelsome, cog swapping oh-so smooth, despite there being only five gears.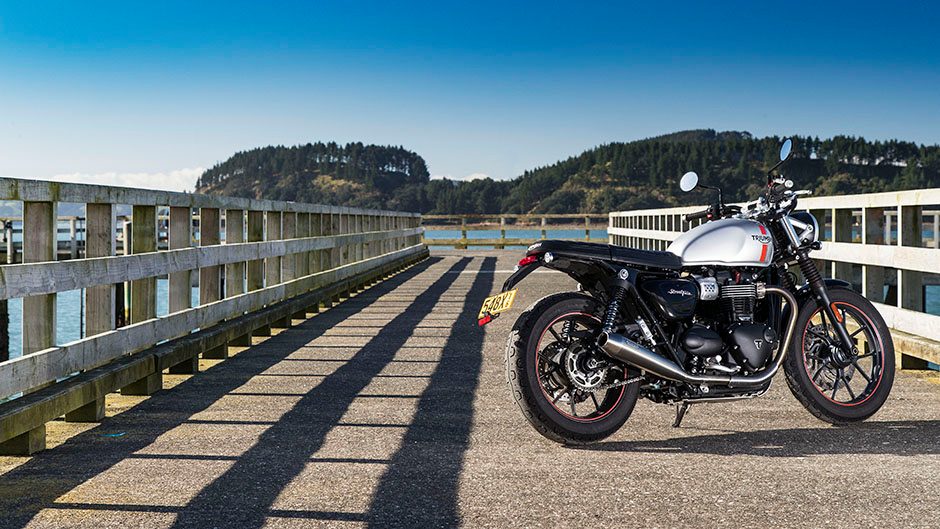 The engine is great, and is stronger than ever. It pulls without complaint from low revs – can't give you a number, no rev counter – and is particularly easy-going in fourth gear at urban speeds. Torque ramps up with verve from 80km/h in top. As before, 100-110km/h is relaxed for rural runs, so if you've a few too many points against you this machine is unlikely to get you into further strife. Not that it can't but that's just where it feels best. Vibes at social speeds are all but absent.
We rode it over some pretty dodgy surfaces and the suspension worked as you'd hope, despite a complete lack of adjustability up front and only preload changeable at the rear. The fork dive has been expunged and the rear shockers are absorbent on their lowest position. There's plenty of seat room for two on the ST, and more than enough torque to get the job done.
We liked the Pirelli Phantom tread pattern, harking back to when this was the tyre to have in the late seventies. They grip well too, sufficient to lean over enough for the peg feelers to touch. Steering isn't especially quick, as expected with the slightly larger front wheel, but it's tasty and the bike is sticky, confident and stable when pushed.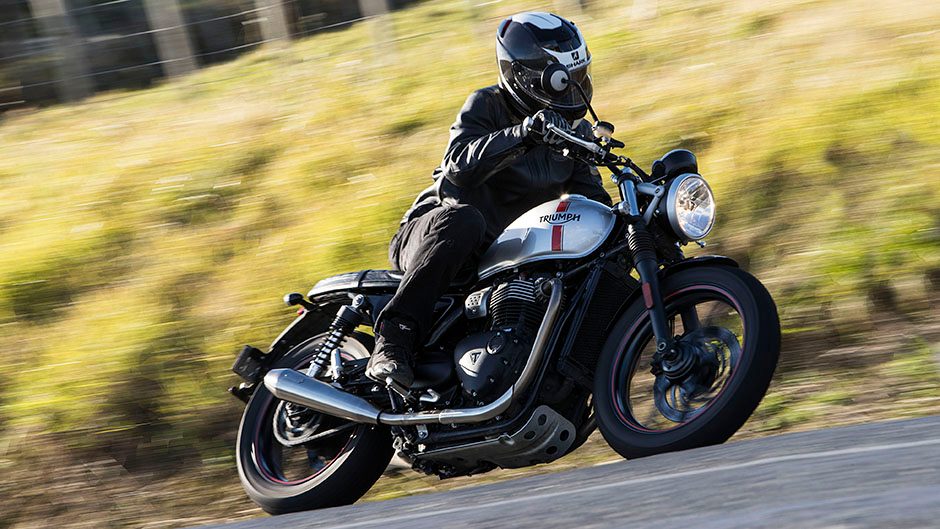 Is this still the most desirable modern classic or have others like Ducati's Scrambler or Moto Guzzi's V7 caught up or surpassed the British institution? We'd say not yet. The V7 doesn't have the punch of the Bonnie motor, while the Scrambler is quicker and more agile but suffers from a brittle ride. It's also more expensive if you choose anything but the base variant.
In changing everything but retaining the look, Triumph has successfully updated a retro roadster to a modern classic. Return to riding types should look long and hard at the new Street Twin. It's a stand-up standard.
| | | | |
| --- | --- | --- | --- |
| Model | Triumph Street Twin | Price | $15,990 |
| Engine | 900cc, liquid-cooled, fuel injected, IL2, 41kW/80Nm | Drivetrain | 5-speed, chain final drive |
| 0-100km/h | 5.09sec | 100-0km/h | 40.34m |
| 80-120km/h | 3.94sec (112m) | Weight | 212kg |