Holden has updated its Colorado once more to tackle the runaway opposition head on. Is the more refined 'Rado really good enough to challenge the all-conquering Ford Ranger?
Holden has a marketing deal with the Star Wars franchise and while cars and aliens have little in common, Holden can use Star Wars characters to help sell vehicles, which appeals to kids of all ages. A new Star Wars installment, Rogue One, is out in December which tells the tale of how the Rebels stole the plans to the Death Star. We all know the outcome, so what's the point of seeing it? Well, for interest's sake really.
Which leads us sort of awkwardly to our subject matter here. Holden has again updated its Colorado, this time crafting a more rounded and refined truck. We thought it best to measure Colorado against the best selling Ranger. Some might say, "what's the point, we're pretty sure we know the outcome of this one too?" But, hey for interest's sake if nothing else.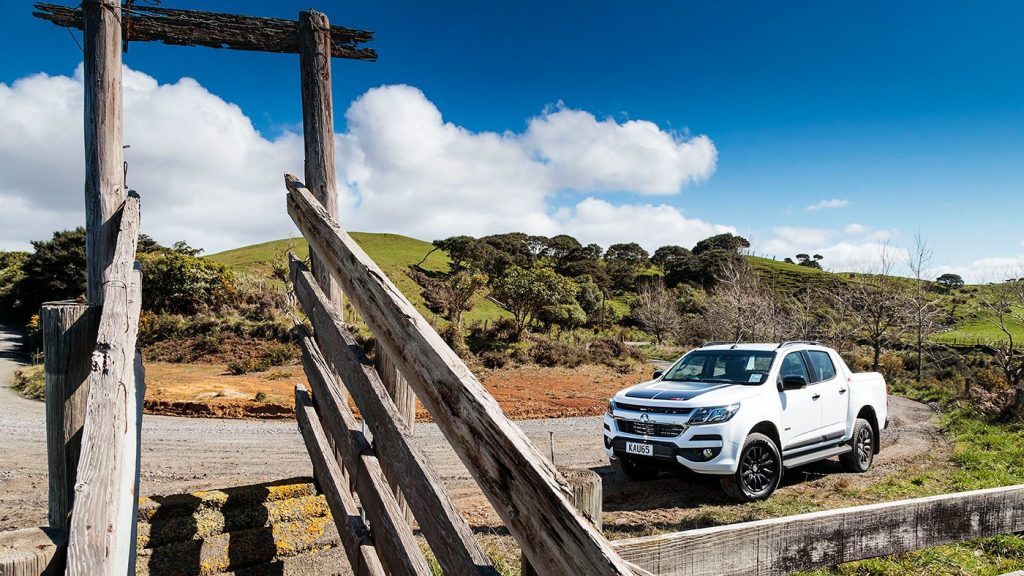 Out with the old
First though, what's new with the new 2017 Colorado? Quite a bit, actually. There's a new front end, the freshened grille, bumper and lights giving the Colorado a sharper (Stormtrooper inspired?) look, while the interior has had a right seeing to. The centre stack is lifted from the Chevrolet Colorado with a new infotainment system, there's much smarter switch gear and even some soft plastics. Both CarPlay and Android Auto are featured while the top-rated Z71 we tested gains integrated sat nav and voice control. It also gets softer black leather replacing that lovely light grey stuff of old. A few other new bits include a forward facing camera for lane departure, tyre pressure monitoring, and forward collision alert (lights and alarms but it lacks for actual autonomous braking). A rear camera has been added to all wellside models and a knee air bag, while top models also get front parking sensors.
Holden was involved from the beginning of the redevelopment programme, working with GM Brazil, validation taking place in both countries. A biggie for the new ute is a move to electric steering with a quicker rack, the assistance now lighter, and there's 3.3 turns lock-to-lock, down from almost four. Retuned suspension features digressive rate shockers. These have firmer damping characteristics at the start of the damper's piston stroke for improved on-road feel, but as the bumps get bigger, the damping rate gets softer when the piston stroke increases to aid ride comfort on rougher trails. There's less roll and better feedback on road, while still maintaining some give over the rough stuff. Roll is reduced further with a beefier front sway bar, and slightly softer spring rates match the characteristics of the shockers.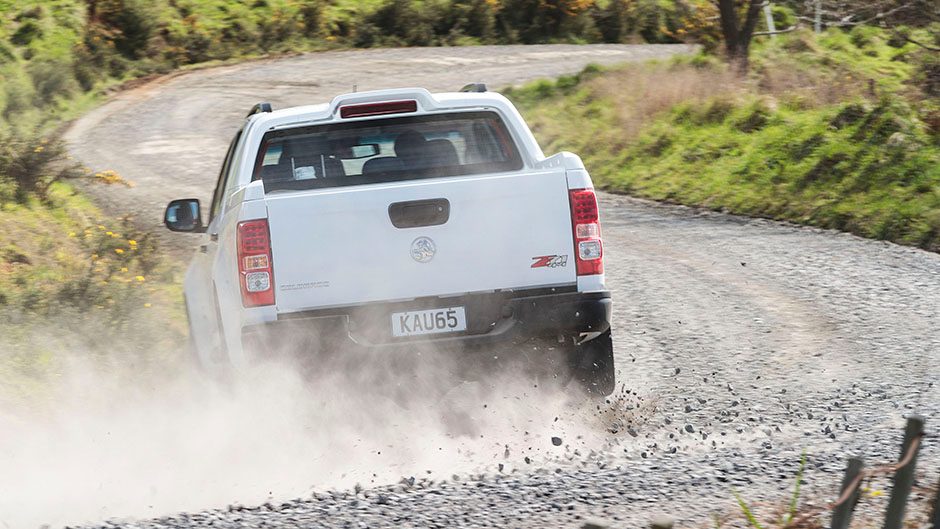 In order to shake the agricultural vibes of the old Colorado, Holden has added new driveline and body mounts, while there's a new torque convertor with a spiffy 'centrifugal pendulum absorber', which helps reduce vibrations inherent in higher output four-cylinder diesels. Holden has recalibrated the transmission and the ESP to suit the new tyres and suspension tune.
The diesel has been to finishing school, the balancer shafts repositioned to soothe the shakes, and noise muting insulators and covers added. Helping to quell cabin din there's better sealing, and thicker glass too. The engine numbers remain at 147kW and 500Nm for the auto (440Nm manual) but it's now EU5 compliant thanks to a particulate filter. On average, consumption falls 0.5L/100km across the range with the Z71 rated at 8.7.
The old Colorado had its issues. We liked its ride, big cabin and grunt from the diesel but not so much the accompanying clamour, dithering auto, slow heavy steering and roll-happy handling. However, most of those issues have been addressed to some degree with this upgrade, and Holden should be proud of the job done, but how does it stack up against the ute that most rate the best?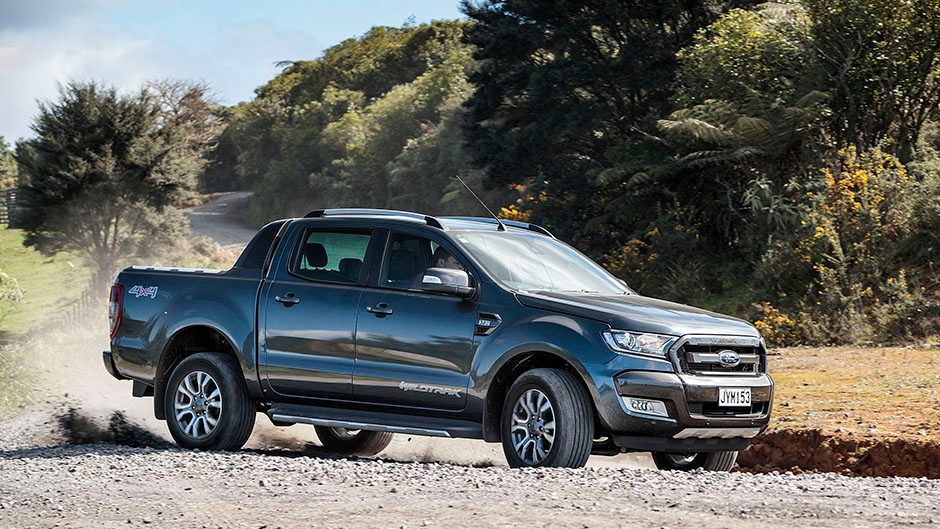 Enter Ranger
Ford's ute is such a success that bakers now say their hot cakes sell like Rangers. It's amassed some 5600 sales already this year, while Colorado has cracked just 2300. It's still the fourth best seller of the year, but clearly Holden knew it could do better. So then how does the rejigged 'rado fare against Ranger? Ah, the plot twist. You thought it was still going to be a walkover, but it's now a much closer run contest. We got the two top dogs together, the Ranger Wildtrak and the Holden copy, the Z71, to slug it out. As usual our test focuses more on tarmac behaviour and day-to-day running than any serious 4x4ing or towing.
Ford updated the Ranger last year, bringing more specification and ride refinement, and it was the first to introduce EPS to the ute world. This benefits 98 per cent of driving situations, being much easier on the arms at slower speeds. And it's the same now for the Colorado, endless wheel twirling no longer required and the weighting is good too, with a bit more meat to it than the super-light Ranger. Hook them into a few bends, and both can seem over-assisted, but you warm to them. The Colorado is vastly improved on turn in, now much more willing, even with a hint of feel where the old one was slow on the turn and generally uninterested in swinging through bends. The Ranger still has a pooftenth more interaction, and superior front end grip too. While the Colorado was once prone to roll, and let go quickly up front, it's now more composed, with more grip too. Still Ranger was able to round up the photography corner about 10km/h faster. Whereas the Colorado's ESP is on the case at the first hint of tyre squeal, the Ranger gives a little more leeway, which we like.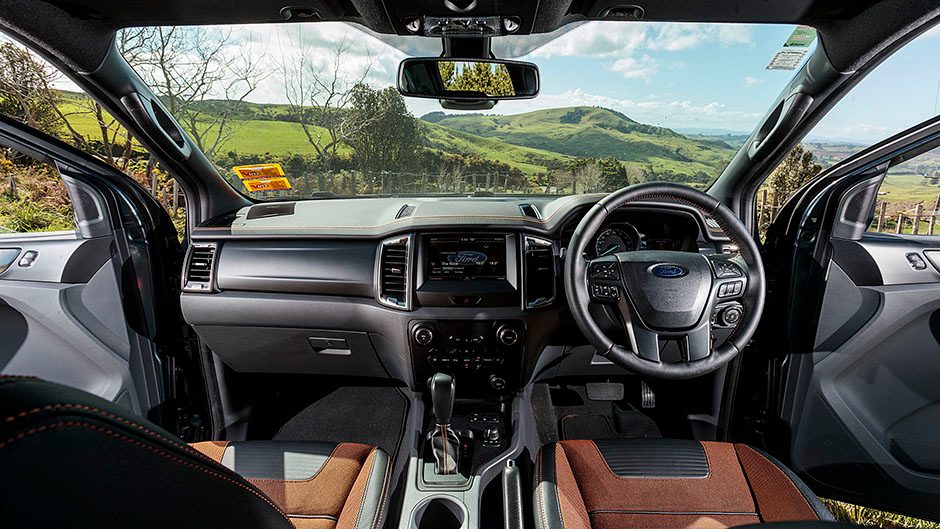 Now that Colorado isn't so scary through corners, it's a quicker truck point-to-point, keeping up with Ranger and happy to be hurried along. Against the clock, Colorado's quicker, but while it has the engine to keep the Ranger at bay in a straight line, the auto is still not as good on the go. You slip the Ranger's box into its Sport mode and it changes more seamlessly, matching the gear to what's required, while the Colorado's still requires manual shifting, and the swaps are more laboured. Both trip computers were reading 11.1L/100km after our big day out adventuring.
Both ride out the bumps, the Colorado still maintaining its sound ride quality despite its newfound roll resistance, and both can keep the inside rear wheel grounded in bends to prevent it from spinning up. The Colorado's retention of its LSD is now a rarity in the ute world, and you notice this more in round town running. Out of intersections, the Ranger can spin a wheel, triggering the TC, while the Colorado has noticeably better traction. Out in rural running it can mean a bit more power-on understeer out of bends but it also helps traction when one rear wheel is on grass or something slippery. Ford has its locking rear diff to help unstick it, but often the Holden simply drives out with less wheel spin and TC intervention.
We didn't test their 4×4 nature, though accidentally dropped the Colorado's left front wheel into a muddy ditch, yet with the right rear in the air, it managed to extract itself without help. Handy to have 4×4 it seems, even if it's the old fashioned switchable type that's no use on tarmac. Both rumble along gravel tracks, the Ford's ESP allowing more slip, and soak up the bumps soundly. In terms of tough specs, they each tow 3500kg braked, and have a payload of just under a tonne. Both have switchable 4×4 with lo range, the Ford with a locking rear diff and small advantage in quoted ground clearance and ramp over angle. It's unlikely these $70k utes will be thrown through the bush too often however.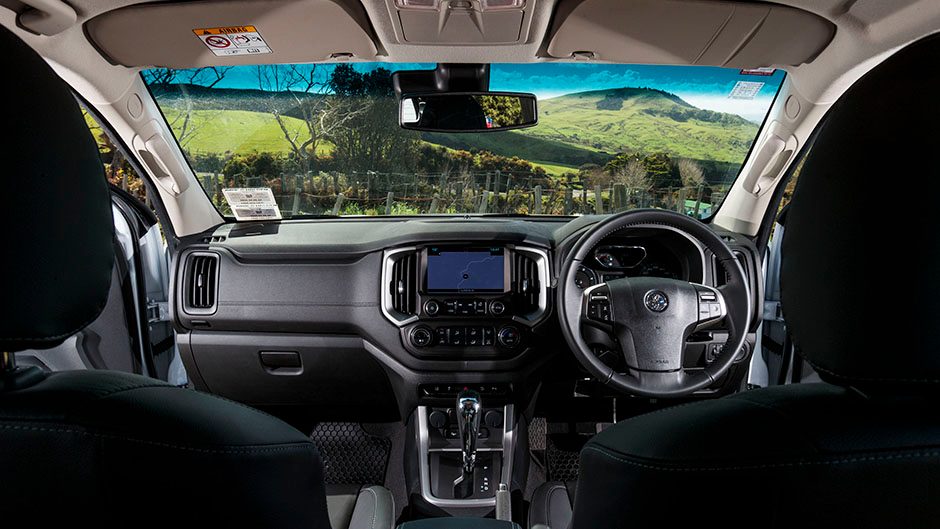 More SUV-like
The Colorado is less rowdy for sure, though the Ranger is marginally quieter at idle both in and outside the cabin by a dB or two according to our device. They are equally rowdy at full noise, both around 77dB when accelerating and 70 when cruising at 100km/h. However, subjectively, we prefer the growl of the five cylinder, and it's effortless delivery to the clatter of the four potter, even if it revs more quickly. We prefer Ranger's driving environment with a better seat and more adjustment. The Holden infotainment system is easy to navigate with a few hard buttons to help, it responds quickly and the screen offers good resolution. Ranger will gain Sync3 soon, and an upgrade to EU5 emissions with a bit of engine tweaking (no loss of output) and a particulate filter. Wildtrak's added active safety features; active cruise and braking, and active lane keeping are appreciated too.
Colorado's spacious cabin remains, the rear offering a tad more room and a comfier seat with more of a recline, while we prefer the sliding, lockable hard tonneau of the Wildtrak (even if it impedes on overall tray length) to Holden's fiddly soft tonneau system fitted to Z71. Both now have Isofix, and a five-star crash rating.
So there's not that much now between these two. We still prefer the slightly more interactive nature of the Ranger, and its powertrain is more endearing, even if it's slower overall. However it's harder now to overlook the $2650 premium of the Wildtrak, even with its slightly superior fit-out. Previously we would have happily paid more for the Ranger, but now, if the deal was right on the Colorado, we could be persuaded, which is perhaps not the outcome we expected either while we'd definitely recommend the Colorado over the Hilux now too.
| | | | |
| --- | --- | --- | --- |
| Model | Holden Colorado Z71 | Price | $66,990 |
| Engine | 2776cc, IL4, TDI, 147kW/500Nm | Drivetrain | 6-speed auto, switchable 4×4 |
| Fuel Use | 8.7L/100km | C02 Output | 230g/km |
| 0-100km/h | 9.93sec | Weight | 2163kg |
| | | | |
| --- | --- | --- | --- |
| Model | Ford Ranger Wildtrak | Price | $69,640 |
| Engine | 3198cc, IL5, TDI, 147kW/470Nm | Drivetrain | 6-speed auto, switchable 4×4 |
| Fuel Use | 9.0L/100km | C02 Output | 236g/km |
| 0-100km/h | 10.79sec | Weight | 2264kg |