It's a hot little number, the Alfa Romeo 4C, but is it a lasting love affair or just a quick fling?
While not a new arrival as such, the 4C dotting down locally early last year, we weren't going to pass on the chance of a local drive. It's an intriguing car the 4C, a fantastic looking machine, and one with driving passion at its soul. It's Alfa at its best, some say, an example of what it can achieve when given the chance. Which makes you wonder what they're doing the rest of the time, but let's not get into that now, let's just enjoy.
To recap then. The 4C has a carbon fibre tub with aluminium front and rear sub frames, the body clothed in composite plastics. Sitting across the middle is Alfa's 1750 turbo, the four-pot also used in the Giulietta QV. It's matched with a six-speed dual-clutch sending the power to the rears. The wheels are suspended by wishbones up front and a strut type arrangement at the rear. Brakes, by Brembo, feature dual cast front rotors and four-pot calipers. The Launch Edition model, on test, has larger alloys at each end with 18s up front and 19s on the rear wearing a sportier P Zero tyre.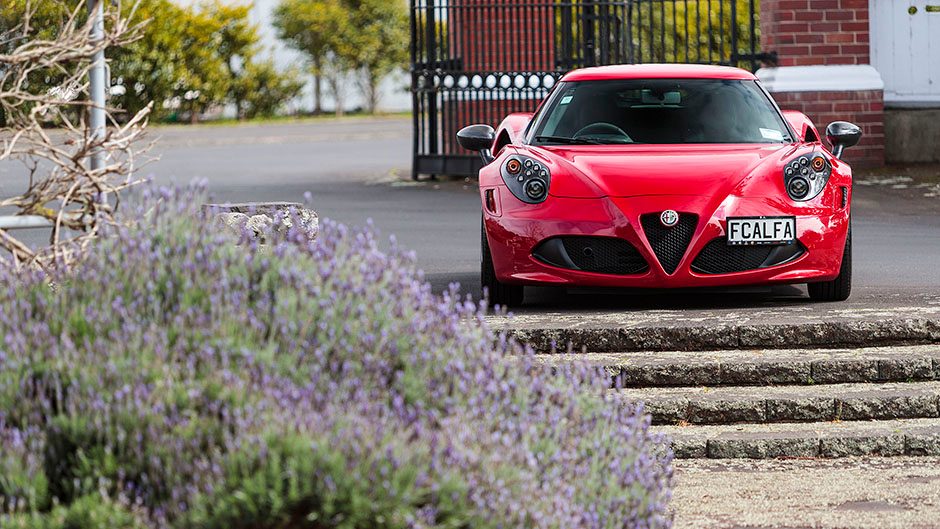 Other Launch Edition items include sports suspension, a freer flowing exhaust and the carbon trim, headlight surrounds, wing mirror covers, rear spoiler and added carbon detailing inside to go with the leather and alcantara seats and wheel. All that carbon goodness and sexy style aren't cheap mind you, the diminutive two-seater going for $139k. Given you can still get a Launch Edition model more than a year after launch suggests the 4C hasn't quite been a smash hit, and only half a dozen or so have been sold here.
It's diminutive but well proportioned; low, lean and lethal looking. Some don't like those fussy arachnid headlights but I didn't mind them, while those never-ending curves and shapely flanks look good from any angle. Surprisingly, it's not that hard to get in and out of; left leg in first, slink into the seat and there's just enough space to hook your right leg over the sill and slot it into the tight little footwell. The seats aren't constrictors while the pedals are straight out for a reasonable type of driving position. The alloy, floor-hinged pedals are special but not so the exposed wiring loom just behind them. There's a mix of exquisite carbon and scratchy black plastic inside while it's best not to wonder why there's surface rust on the door hinge bolts. Don't look too hard at the finishing and just remember how good the car looks, and the care that's been invested in crafting those curves.
As for comfort and convenience features, well, it's not really an everyday sort of conveyance. There is a luggage receptacle in the rear, though there's nothing up front, and precious little storage space in the cabin, but it has air con, and rear parking sensors, helpful as rearward vision is compromised, as you'd imagine. So too is ground clearance, speed bumps taken with extreme care.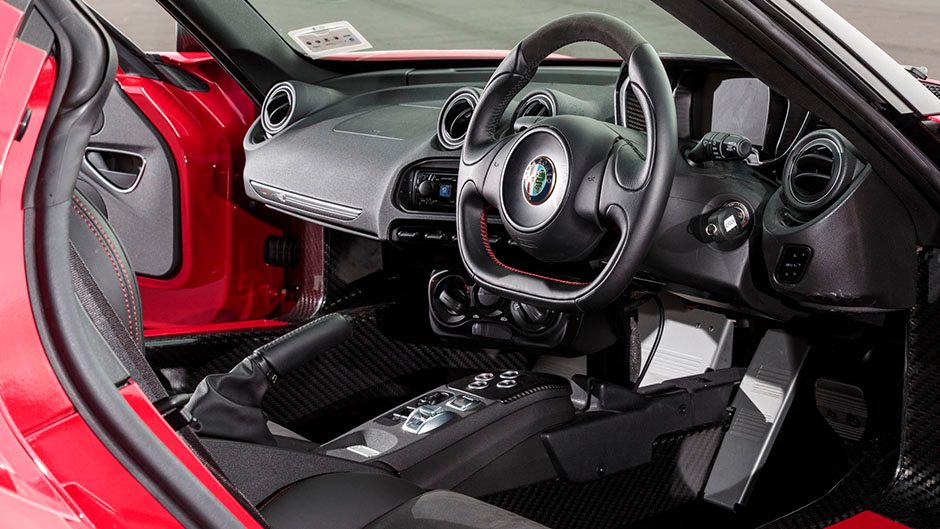 A key in the ignition enlivens the engine which, while the same as that used in the Giulietta, is a bit like Ma'a Nonu when he wore a Blues jersey versus the man wearing Black; it's a different beast altogether. It might only have 177kW and 350Nm but sitting low in the middle of a car weighing just over a tonne, it provides 'enough' motivation while delivering a genuine mechanical melody, a mash up of turbo whooshing, whistling and fluttering with induction and valvetrain buzz too. It makes the odd rattle at idle forgivable.
The 'au natural' steering is heavy at a halt, but manageable once moving. And it ensures a free flow of information as expected, including kickback in bumpy bends. It's quick, most turns devoured with a quarter turn of lock, and the front end, carrying less than the 400kg, dives in right on target. While small, the wheelbase and track dimensions are both generous so it's stable and mid-corner speed is its thing. The front can start to push as you round the turn but a little steering adjustment quickly arrests the slip. There's bags of traction, the rear unlikely to be corrupted by the torque, but still the TC feels it necessary to intervene. Alfa's DNA drive mode system is present, and holding the button in Dynamic for a few seconds unlocks the Race mode to temper the traction control and then progress flows better.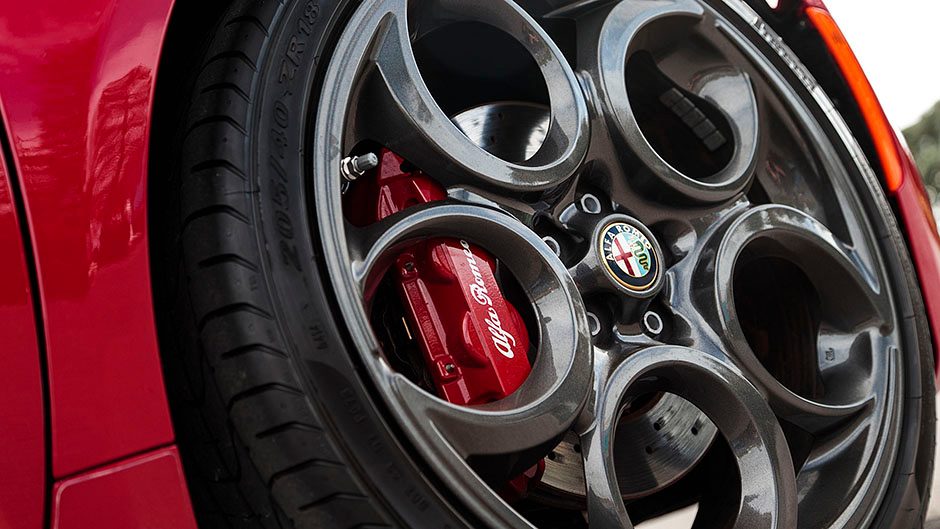 While torquey, the engine isn't a revver, all over by 6500, and really it's done at 5500rpm. With short gearing, second can be too low for some corner exits, but you soon adjust, leaving it in third gear, carrying a bit more speed than normal into bends, relying on that turn in and corner grip to see you right and using the torque to get out again.
The ride is genuinely firm, and the 4C follows the road contours, requiring you to actively steer it straight at times. While we did stay clear of the most gnarly looking road surfaces, the low riding 4C surprised with how well it coped with bumps, not often knocked off line and not once did we scrape its low undertray. The brakes impress, with a firm pedal and strong bite. It's certainly a drive for the senses; your ears buzzing from the noise, eyes wide from the cornering antics and your arms aware of the work they are having to do. And once you extract yourself from the cockpit, a few moments of stretching don't go amiss to get everything back to normal. It's certainly an occasional car, but what an occasion.
| | | | |
| --- | --- | --- | --- |
| Model | Alfa Romeo 4C Coupe Launch Edition | Price | $139,990 |
| Engine | 1742cc, IL4, T/DI, 177kW/350Nm | Drivetrain | 6-speed twin-clutch, rear-wheel drive |
| Fuel Use | 6.8L/100km | C02 Output | 157g/km |
| 0-100km/h | 4.80sec | Weight | 1056kg |