It makes sense does it not? Take the Golf GTI engine and transplant it into new Tiguan, then stand back. Not so much for the fireworks as for the lines of people queuing up for it.
It's official; despite a scandalous 2016 Volkswagen managed to achieve number one global status, new car sales eclipsing those of Toyota and GM. While it has cost VW dearly to get there – the Dieselgate debacle has gobbled up tens of billions already – it has also focused the resolve of the company. Diesel is becoming a dirty word in European government circles, with major cities about to institute bans on compression-ignition vehicles. VW, a diesel-centric firm, could see the writing on the wall and decided it was time to ramp up the electrification of its products. To this end, we are now seeing pure EV concepts from VW at all the major car shows. It plans to be a leading light in the EV sector by 2025.
Closer to home, Volkswagen managed to win Roy Morgan's car customer satisfaction award in 2016. Perhaps that's partly because chief, Tom Ruddenklau, got to speak with many of the company's disaffected diesel customers. Or perhaps it's because the company had the best tent at Fieldays, focusing on family and hospitality rather than flogging vehicles.
It's the little things that count too, helping impart a warm glow to the brand. VW's advertising campaigns focus on funny, and if ever there was a howler of a TV advert it's the one for the new Tiguan, where a bunch of horses have hysterics watching some poor schmuck trying to reverse a float into a parking bay. Check it out on YouTube.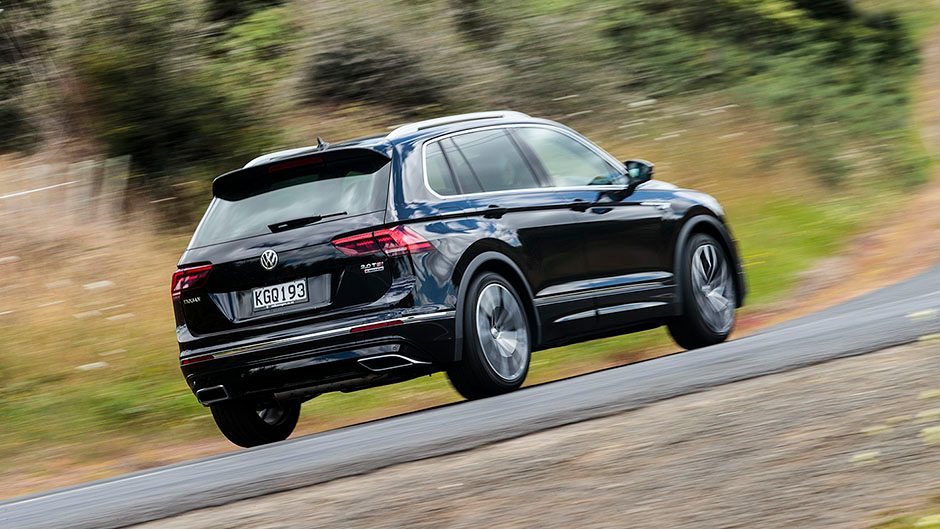 Getting the warm fuzzies about a brand is only part of the job done, and for the first week back on the job after the summer break my task was to check out the top Tiguan, the TSI R-Line 4Motion. It's the one you might know colloquially as the Tiguan GTI – it features the engine of the Golf hot hatch.
At $66,990 it kind of indicates where Tiguan is going in its second generation. The previous top comparable model had a sticker price of $55,490 so the new top-ranked variant costs $11,500 more. However, it really is a vastly improved, much larger, more sophisticated vehicle than its quaint namesake.
For starters, visually, it's a far cry from the blobby original compact SUV, the new version from the front resembling a high-riding Passat, and there's a hint of baby Touareg as well. Where the original was largely forgettable, this is more contemporary and desirable.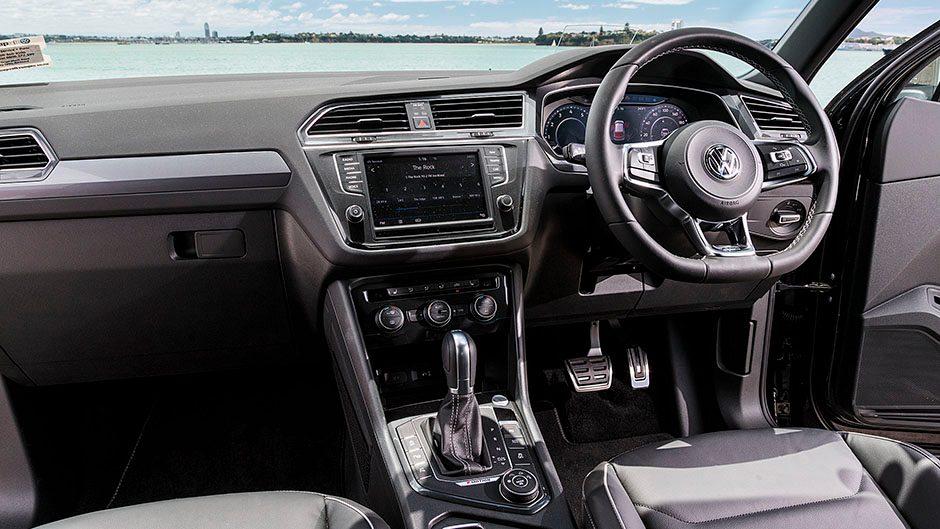 It's also clearly larger, which will likely appeal to those stepping out of the gen-1 version, and also to those who might not have considered Tiguan before. Dimensions have already been covered before – see Nov 2016 issue – but luggage space alone grows by 145L, swallowing 615L of guff with all five seats in use, and expanding out to 1655L. There's no optional third-row seating, at least not yet (see conclusion). In the middle row there's ample room for three, and seats slide fore and aft, increasing versatility depending on human and cargo loads.
And it's that clever thinking that's so abundantly obvious in almost every aspect of the Tiguan. Take its load bay as an example. The powered fifth door opens by leg gesture if both hands are otherwise busy, and the load floor can be sited at one of two levels. If you've a puncture, you can raise the floor cover up and it self locks in place, simplifying access to the space saver spare.
Also clever is the head-up display system. Instead of having to fossick through menu after submenu of some central controller, there's a button to the right of the steering column that you push to engage the display, and rotate to change the display height. Brilliant. Most of the other minor controls are relegated to a central touchscreen, and these are generally much easier to use than mouse-type devices. Even the minor aspects, like drinks holders, display engineering nous.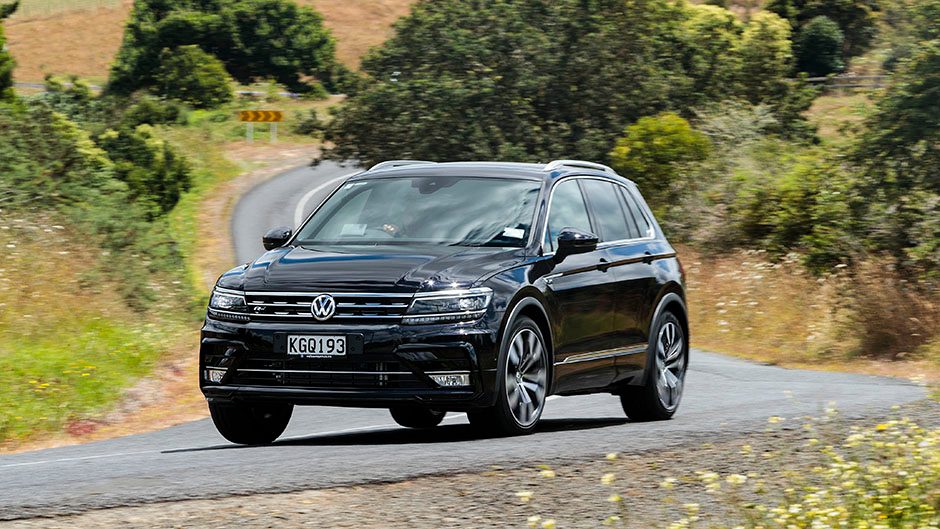 While we're on about it, specification in the top Tiguan is outstanding, which is probably one reason why it weighs slightly more than its claim of 1694kg – our's tallied 1734kg. Anyhow, there's almost all the active safety gear you'd want, autonomous braking, active cruise, lane keeping, blind spot monitoring, and the list includes fatigue detection, auto hold on hills, LED lights, reversing and overhead camera, park distance control each end and self parking. There's also three-zone air con, paddle shifters, four-wheel drive, adaptive damping.
It may be a more expensive bus than before but there's good reason for that. About the only thing we missed was seat memories, but there's heating, leather trim, power operation and even lumbar adjust by electric pump. So there's no kitchen sink but kids get tray tables in the rear. About the only cost options of note are a panoramic sliding glass sunroof at $2500 and Dynaudio surround sound upgrade for $1500.
Despite its weight, it is also the quickest Tiguan by a long shot; VW reckons it accelerates as quickly as a Golf GTI, and they're almost right. We managed 6.4sec from the latest hot Golf, and the Tiguan completed a 0-100 run in 6.65sec. The reason it's quick is that it gets off the line better, being AWD. However, the lighter Golf outpaces the Tiguan once it's up and running, completing an overtake in under 4sec compared with 4.6sec for the SUV.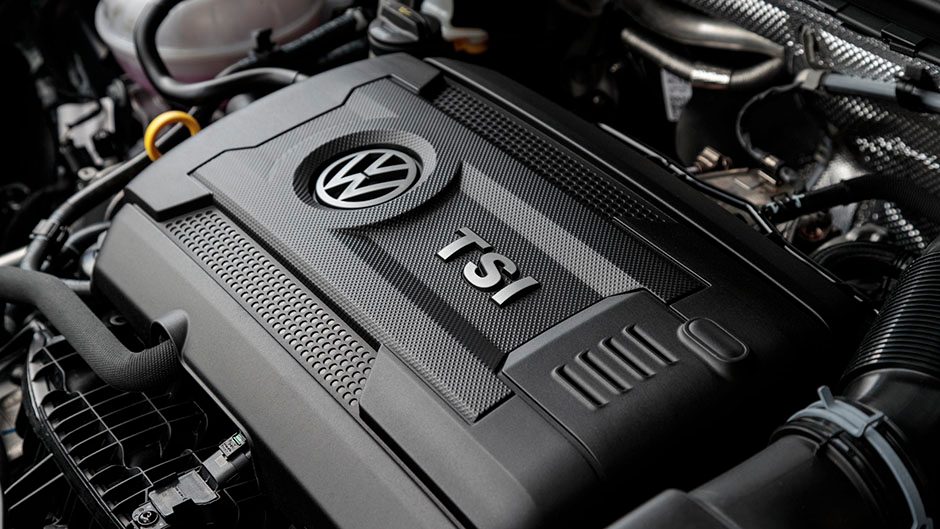 In its class though, this is swift, and like most VWs it has a variety of operating modes. There are even off-road settings if you want to go there, while atop that rotary knob is a button which, when repeatedly pressed, cycles through Dynamic Chassis (adaptive damping) modes. Comfort and the regular Drive transmission setting are optimised for city running where its 350Nm engine slugs away at low revs to conserve fuel, while in Sport and Sport transmission mode, it drives pretty much in car-like fashion down back roads, roll control enhanced and ride optimised for open road speeds. On straight bits, select Comfort or Normal mode for a softer ride. Going hard, AWD, torque vectoring by brake and stiff damping means you'll seldom get into ESP action. The variable ratio steering is direct too, with just 2.1 turns lock-to-lock, but full of feel it isn't.
Because it weighs more than the GTI, it needs more coaxing along out of town, but with 2500-3000rpm showing it heads for the horizon at a decent lick. During performance testing and back and forth running for cornering photos, the computer suggested fuel use of 12.5L/100km but go easier and we managed mid-8s in rural running. The quoted overall figure is 7.8L/100km. It even tows, with a maximum braked figure of 2500kg.
If the primary drawback of the new Tiguan seems to you to be its lack of seven-seat capability, fear not because VW has a solution heading this way in a year's time. At the Detroit show, the company presented an extended wheelbase seven-seat Tiguan. Called Allspace, it will be 4wd only and highly specified. Its wheelbase extends by 110mm while length grows by 215mm to accommodate the extra pair of rear seats. Passengers in the middle row also benefit from an extra 60mm of legroom, while luggage capacity grows by 115L to 730L.
In what is the busiest passenger sector of all nowadays, customers are spoilt for choice but if you want a rapid sophisticated safety-oriented European five-seater SUV that's specified to the nines, the Tiguan GTI does the job swimmingly.
| | | | |
| --- | --- | --- | --- |
| Model | Volkswagen Tiguan TSI R-Line 4Motion | Price | $66,990 |
| Engine | 1984cc, IL4, T/DI, 162kW/350Nm | Drivetrain | 7-speed twin-clutch, on-demand AWD |
| Fuel Use | 7.8L/100km | C02 Output | 199g/km |
| 0-100km/h | 6.65sec | Weight | 1734kg |