Triumph's original Tiger for the road rated highly but other big sport touring bikes have come along in the meantime. So the latest Tiger gets a tech upgrade and lots more besides.
Back almost a decade ago we waxed lyrical about the second-generation Triumph Tiger, a proper upgrade on the original 955 dual purpose machine to a 1050 Sport Tourer. Editor Owen at the time said of the road oriented newcomer "it stacks up as a bloody beaut of a bike", and three years later we called it a brilliant tall rounder, giving it a rare 10-star points haul.
It "looks like an adventure bike, but rides more like a sports bike, only it's comfy". So how does the latest iteration stack up? Tiger is no longer a single model, given there are two proper adventure-style machines in the line-up, being the 800 triple range, and the 1200 Explorer.
This, the updated Tiger Sport 1050, based on the Speed Triple mechanicals, remains a road-only prospect, and goes for $21,990. However, most dealers seem to have it listed at $20,990.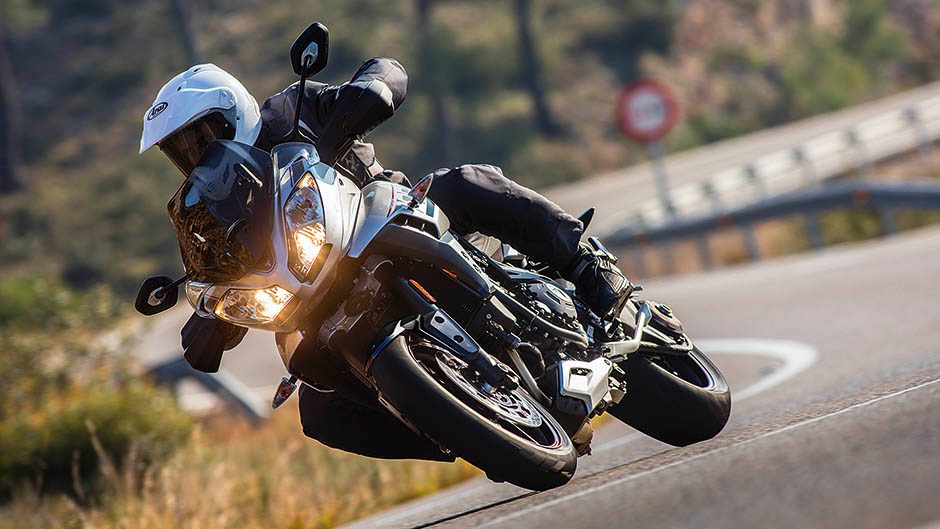 When last we rode the Tiger 1050 in 2010 – is it really that long ago? – the cost was just under $20k. So the fact it now has a ride-by-wire throttle, three engine modes, switchable traction control, a new dash, adjustable screen, handguards, new footgrips and the latest engine and transmission upgrades that were applied to the still current Speed Triple makes it attractively priced.
More power negated by more weight
Evidently there were over 104 changes in the upgrade, but still they didn't get rid of the engine whistle at idle. However, it's more economical than it used to be – into the high fours is easy – thanks in part to a reduction in exhaust back pressure that evidently reduces fuel use by eight per cent (figure on around 5L/100km). The major internals no doubt contribute too, with a redesign for the head, intake ports and pistons.
Output rises slightly, a few units more of both power (now out to 94kW at 9500rpm) and torque (106Nm at 7000rpm). It is said to be five per cent stronger between 5000 and 7000rpm, the engine's happy place. Torque is up roughly four per cent at 5000rpm. One thing TS hasn't done has lost weight and it kind of needed to right from the start. Our bike sported engine protector bars, adding more kaygees.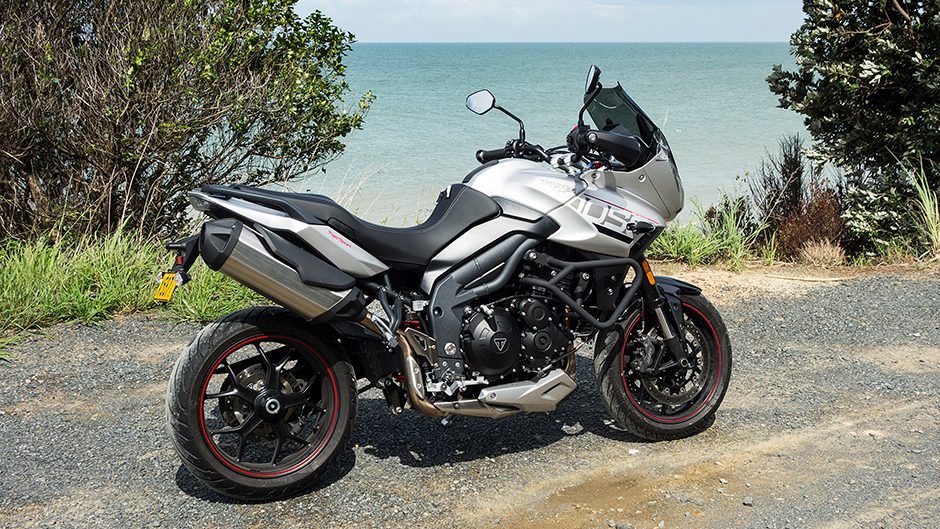 Triumph claims 218kg dry, but we weighed it in at just over 250kg juiced so it's sizeable, especially against the likes of the lighter Japanese four-pot opposition like the GSX-1000S (under 220kg). As a result we weren't that surprised to find it a bit slower than when we tested it a decade ago. Acceleration to 100 is about the same, around 3.5sec, but many of the big sport touring irons are quicker. An overtake has dropped off a touch, from 1.8 to 1.9sec, still quick in car terms, but that's half a second behind some in the class. Still, it's as fast first to second 80-120 as it is in second alone, suggesting decent midrange drive.
And indeed that is what Triumph has done, beefed it up around the middle of the rev range but in doing so it isn't perhaps quite as sharp up top. Makes sense to me. Not that best power doesn't arrive from 7000rpm onwards where it really breathes heartily. Someone commented it felt flat at 5000rpm. We really couldn't detect that, at least in Sport mode which we used most of the time.
Smooth and creamy mids
But why you'd want to ride this at 7000-10,000rpm is a bit beyond me; even in the lower gears, third and fourth, you're at speeds where the constabulary will do more than frown. Keep things out of the vibes band however, up to about 6000rpm, and this is just the most creamy of machines.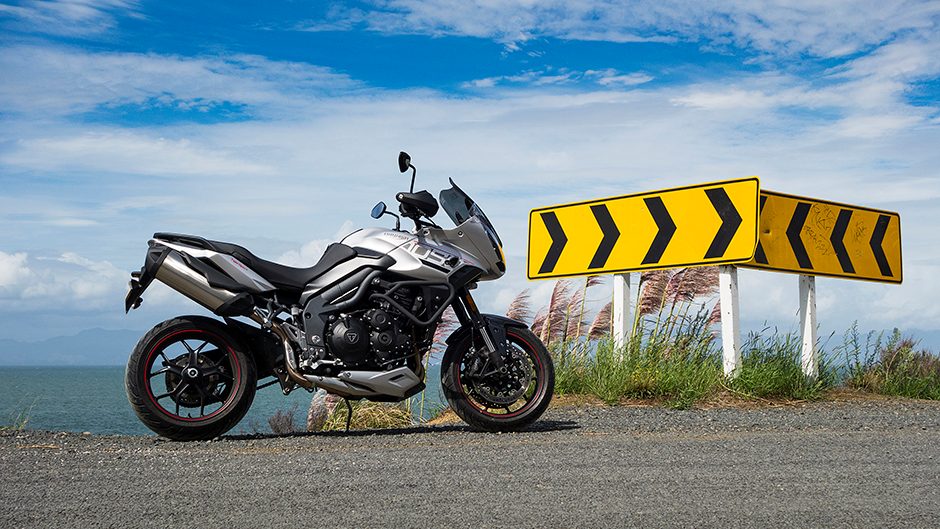 At 3000rpm it's precisely on 80km/h in top, and is already pulling well, 4000 is right on 100, where it takes off solidly in top for ease of overtaking, while 4500 is 110 (actually 105 by GPS) where it feels utterly unstressed and vibe-free. There's not much in the way of exhaust noise either, just the rumble of the big triple.
At the other end of the rev spectrum, it pulls smoothly from 2000rpm which is around the 50km/h mark in top, though fifth seemed best in the burbs to us. Its transmission is bettered by some; there's not quite the positivity you'd expect on upshifts, though our bike had only done 1100km or so. Clutch lever pressure is modest, and that's appreciated in commutes.
Comfort is key
There's lots about the front end that works for us, though the look remains an acquired taste. The screen is a peach; not often you can ride along apace with the lid lifted and not have your eyes tearing but you can with this. It's also adjustable for height, which you can do on the go, though I imagine Triumph might not think this is a very good idea. For you need both hands to raise it, but if you grab the screen on the move and give it a yank it rises up about 10cm, and hopefully everything is still under control once you get your hands back on the bars.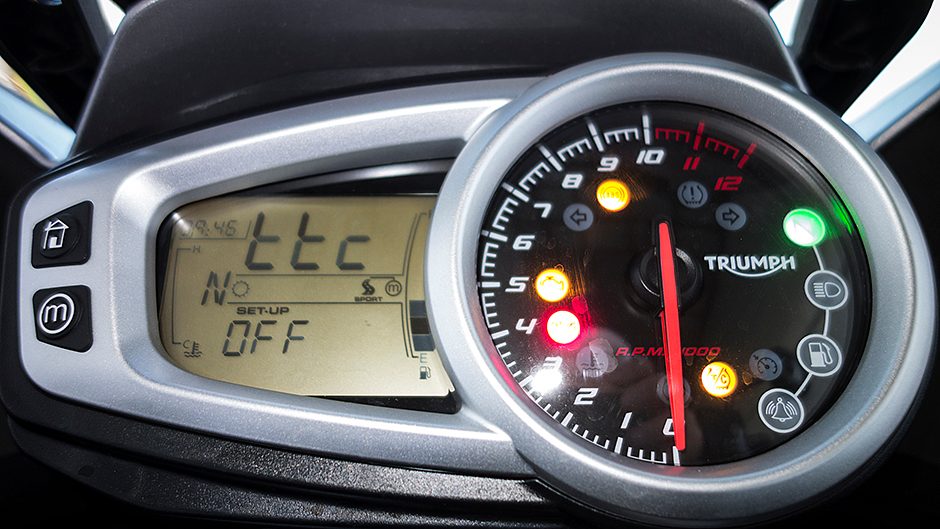 The reverse is even easier; just give it a tap in the middle with one hand and down it goes. There's nothing in the way of buffeting and a couple of little air deflectors either side of the base of the screen keep air off your body. It's built to go the distance this Tiger. Ahead of the levers are handguards which in winter would keep out the chill. Helping with touring (and also screen raising) is cruise control.
Press the button on the right handlebar block to activate cruise and when you hit it again the speed is set to whatever you happen to be doing at the time. All sport tourers seem to have this now. Of note, Honda is toying with the concept of active cruise so expect that to be the next big must-have touring item.
The other front end item worthy of mention? Fully adjustable Showa forks, and with decent travel both ends, suspension blots out bumps most effectively and keeps things on an even keel. Upright forks and big bars make it turn like a demon. Stability in turns is excellent, and keeping up with the pack should prove no hardship. Decent ground clearance helps too, yet the low seat permits easy balancing, important when manoeuvring a weighty machine with what feels to be a high centre of gravity.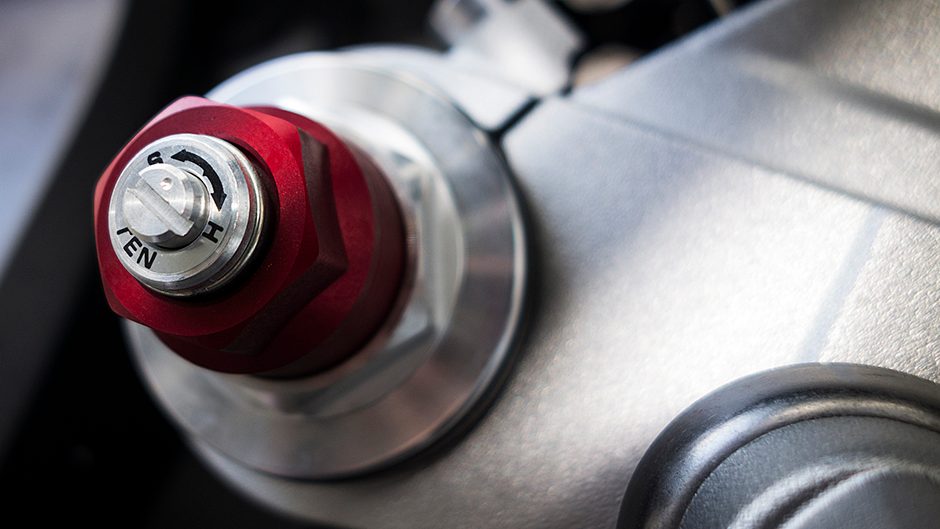 Slows well
There are lots of nice components on the Tiger Sport, justifying its slightly higher price compared with the competition from the East. Amongst these are the radial four-piston Nissin calipers which bite well and produced consistent 42m stopping distances from 100. Tiger Sport remains a good alternative to the default adventure bike for touring if you're planning never leaving sealed roads.
It's where it is at its best, with a decent tank, sublime ride quality, confident handling and reasonable go, stop and air eluding performance. With the engine protectors and handguards, and wide bars it isn't the best lane splitter in the business but copes handily with commuting and town duties if need be.
The bike's competition comes in the form of the more expensive Multistrada and GS on the one hand, and less costly Tracer 900, Kawasaki Versys 1000 and SV1000 on the other. It may not be all new like some of the opposition but this is a decent well priced upgrade, so Tiger Sport treads the middle ground well.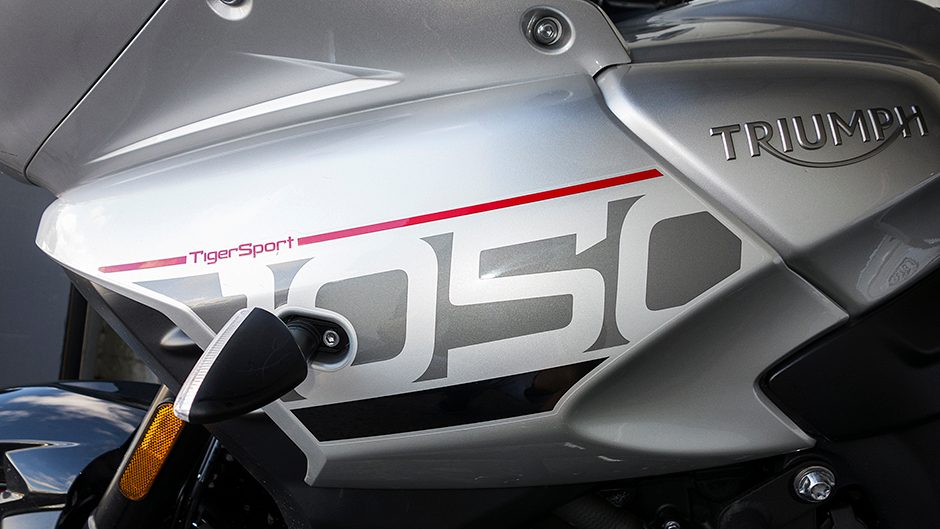 Triumph's big sport tourer has always been a capable and supremely comfortable offering, amongst the most versatile of all big bikes, and with the tech upgrade it remains as valid today as it was when it first came on the scene almost a decade ago.
Want proof? It's evidently the model that Triumph employees buy the most often.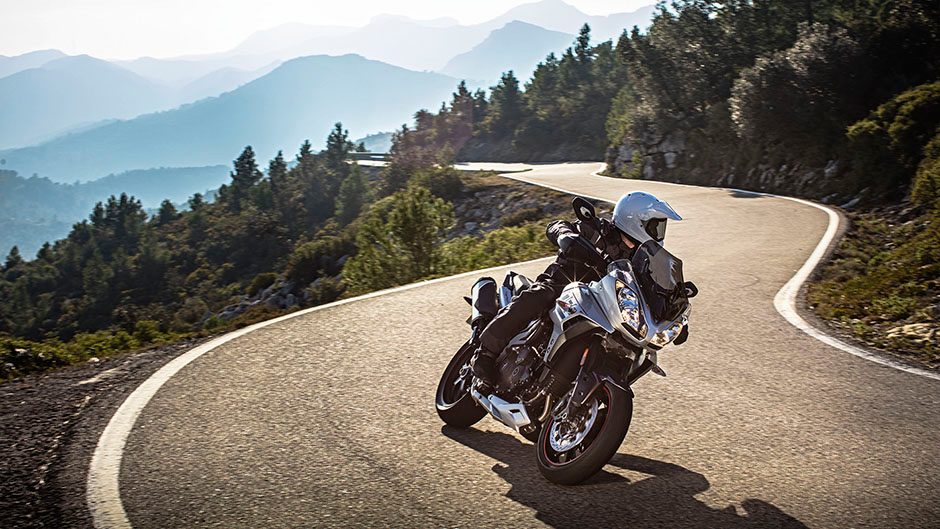 | | | | |
| --- | --- | --- | --- |
| Model | Triumph Tiger Sport | Price | $21,990 |
| Engine | 1050cc, liquid-cooled, fuel injected, IL3, 94kW/106Nm | Drivetrain | 6-speed, chain final drive |
| 0-100km/h | 3.48sec | 100-0km/h | 41.5m |
| 80-120km/h | 1.93sec (54.9m) | Weight | 253kg |