Hampton Downs recently hosted a motorcycle event with a difference. The first ever MotoFest included heroes of a bygone era, and current champs, producing a weekend of motorcycling magic. Long may it continue.
Rather than host simply another round of the New Zealand Superbikes championship, the go-ahead Hampton Downs team instead created something of a moto-extravaganza, hosting the inaugural Mike Pero Motofest last weekend (Mar 3 and 4).
In the lead up the weather gurus had promised unending rain, but once again mother nature had other ideas, serving up perfect weather for two days of motorcycling nirvana. If you wanted to see the experts make their bikes talk there was a veritable cacophony on both days. Taking it all in was a bit of a trick, not helped especially by the programme featuring two Saturdays, one on the third of March, one on the fourth. Clearly it was put together hurriedly but there was lots of interesting background stuff there. And that was about the biggest booboo of what was truly a fun day out; I know I had a ball wandering around the various features, most of which were fairly gobsmacking.
Hard to know where to start really but I guess we'll kick off with activity at the skidpan. We've all seen plenty of aerial acrobatics before but you have to take your hat off to local freestyle motocross heroes Levi Sherwood, Caleb Delacy and Nick Franklin for performing aerial stunts in somewhat windy conditions with concrete below as the only safety net. Sherwood, ever the professional, landed a couple 360s and at the end of the display proceeded to ride around the perimeter of the skid pan so the fans, many of them goggle-eyed kids, could make hand contact. Meantime, an extraordinarily talented hooligan on a Harley – no mention of his name in the who's who section of the programme – was pulling outrageous wheelies, and executing crossed up burnouts while wearing a tee shirt, jeans and canvas shoes only. Clearly confident in his exploits. In the background Sherwood and co. were performing 1 and 2 o'clock wheelies on their motocross bikes, pirouetting them on the back wheel or doing standing burnouts for the crowd. This was but one of myriad forms of entertainment on show during the weekend.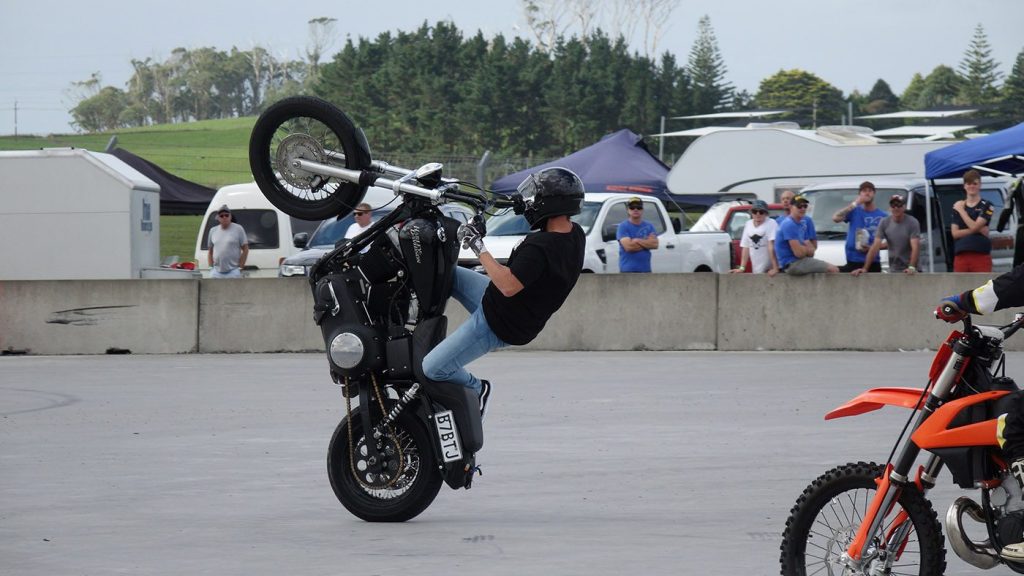 Naturally there was the racing, using the full international track at Hampton Downs, with great battles and no significant incidents, at least on the Saturday I attended. Sloan Frost on a Suzuki GSX-R1000 kept out of trouble and maintained his lead at the head of the points table after the penultimate round of the New Zealand Superbikes championship which was won by rival and fellow Suzuki rider, Scott Moir. Aussie, Robbie Bugden, a former NZ Superbike champion, evidently took out a closely fought Tourist Trophy (TT) race on Sunday, riding a Yamaha R1.
Saturday's qualifying and racing in the Supersport 600 category were equally intriguing. Avalon Biddle, the sole woman competing in the series, began qualifying in 13th position but by the end of the session was in P2, and that's the way the race panned out (at least right up to the last minute), headed by her boyfriend and new championship points leader, Jake Lewis. She now moves up to fourth place overall in the standings, with the final round at Taupo, Mar 17-18. Lewis won all three races of the weekend, taking a 31-point lead into the final round.
And then there were the legends. We're talking people naturally, not bikes, though there were some spectacular examples on show, including the original Pantah-based Britten. Present for proceedings and in no particular order were Kiwis Graeme Crosby, Hugh Anderson, Stuart Avant, Aaron Slight and Andrew Stroud, along with international names such as Randy Mamola, Steve Parrish, Kevin Magee, Jeremy Burgess and Robbie Phillis. Mike Pero, motorcycling enthusiast and main sponsor of the event was naturally present, decked out in leathers and no doubt riding one of his favoured two-stroke mounts which won him so many races back in the late seventies and eighties. Several signing sessions took place in which fans and kids of fans could claim autographs and have a quick chat with their idols. Later, these living heroes took to the track for a few demo laps, reacquainting themselves with their former mounts. Stroud and Slight seemed to revel in it, hoisting the front wheels of their machines heading out of turn 1.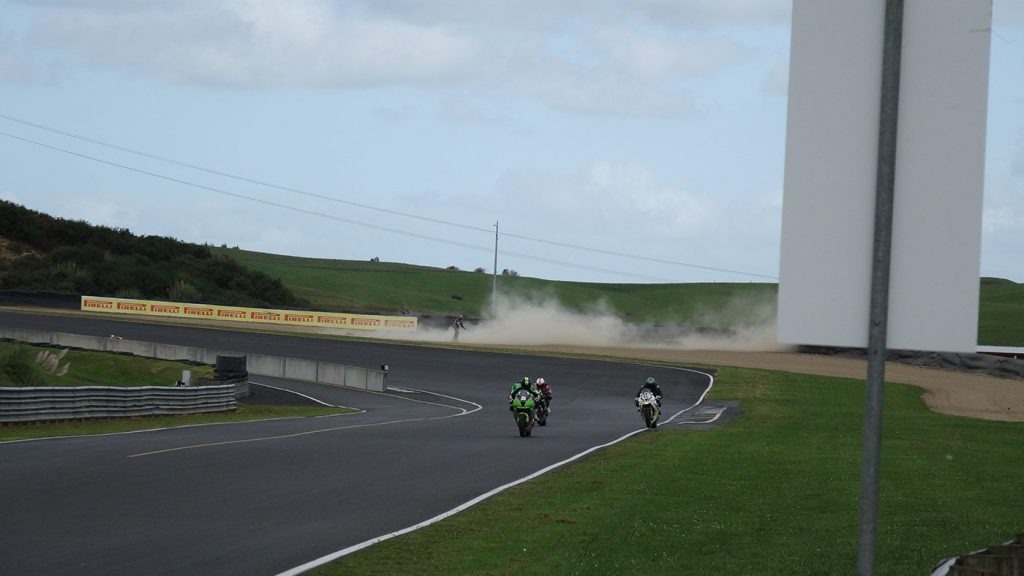 At the almost polar opposite in terms of speed, but requiring every bit as much skill was a trials challenge over the weekend, with key New Zealand players in action. Included were multiple national champions, Jake Whitaker and Warren Laugesen, along with newcomer Dylan Ball and Kiwi international Blake Fox. The course included obstacles like wooden towers, shipping containers, old cars, and concrete pipes and blocks.
I watched the action for a time, and these experts can make their bikes dance, a little like stunting on a BMX bike, only with a motor for those moments when you need vertical liftoff. Everything is done almost in slow motion and there always seems to be a knife-edge between success and failure. It's captivating, but then so were all the displays, even the static stuff. Amidst all the action were areas devoted to bike gear, and present were Shoei helmets, one of the sponsors of the weekend, and AlpineStars, with an array of helmets and leathers, respectively. Also on show, the full range of Kawasaki motorcycles, and there was even an area where you could test ride a Kawasaki dirt bike.
So congratulations to all those involved in the inaugural MotoFest, which seemed well attended and was certainly well run. Hopefully this is a blueprint for future such events because it sure adds a certain something to what would otherwise be merely a weekend of close-fought motorcycle racing.