Triumph's 1200 and 800 Tiger ranges now enter third generation, featuring an engine overhaul, new TFT instruments, and chassis upgrades, among other things. We attend the local launch and ride both.
The Tiger 800 has been the ADV backbone for Triumph motorcycles, despite not being the biggest, and now there's a new one. Actually a pair, with XC and XR lines available. Confusing matters further, there's a couple of variants to each of the lines but essentially you've got your road-biased XR dual-purpose machines (with cast 19-inch front wheels) for those who might want to challenge themselves occasionally and go off the beaten track. And there's the XC line (with 21-inch spoked front wheel) for those who genuinely want to go adventure riding regularly. Both are just as happy on tarmac as they are plying gravel or rougher tracks.
While we're on about Tiger 800, there's also a new (refreshed) 1200, again in XR and XC variants, (five in total) for those who want a big comfortable genuine long distance ADV tourer. And Triumph has dropped the Explorer tag; they're now Tiger 1200s.
Triumph has been making Tiger since 1936, apparently. The first of the modern Tigers was a dual-purpose machine, arriving in 1994, and was followed up in 2007 by the 1050 which was more road oriented. That bike is still available now as the Triumph 1050 Sport, though it must be on borrowed time. With the Tiger 1200 and 800 covering on- and off-road high-riding options, it will likely soon be put to rest. The market has said it wants ADVs, just like the car market only wants SUVs.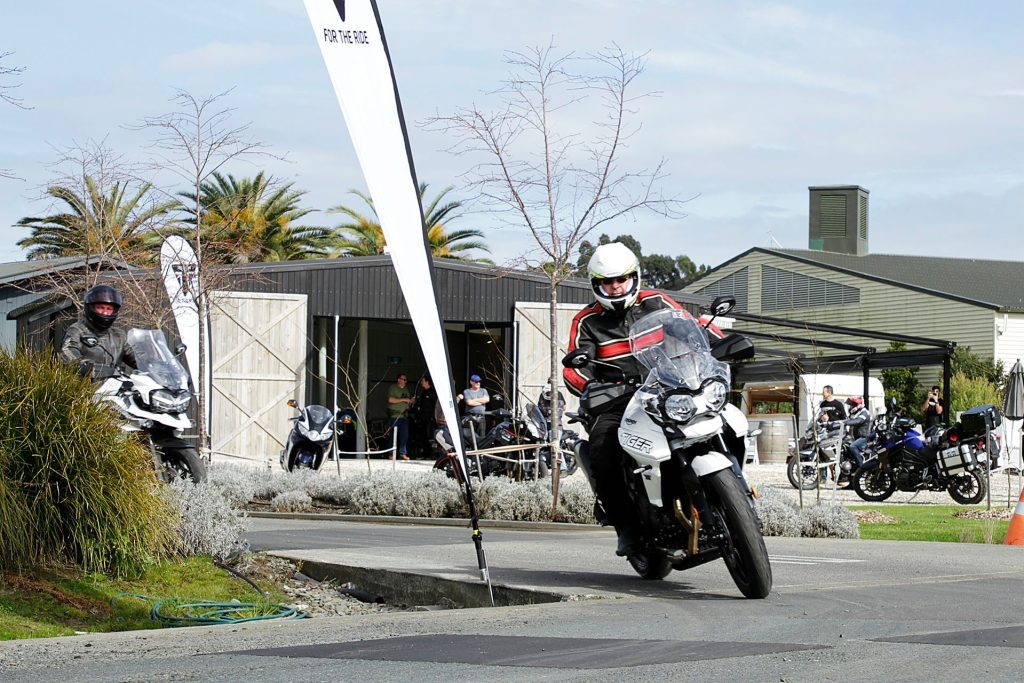 Triumph could obviously see which way the wind was blowing, and got onboard with the growing adventure bike sector, developing the Tiger 800 in 2010 and the 1200 Explorer a year later, both powered by inline three-cylinder engines. The 800s have fared particularly well.
Now both of these lines have been extensively upgraded, the 800s with over 200 changes to the engine and chassis. There's been a small lift in power to 70kW, but with sharper delivery, and there's more torque down low. A shorter first gear ensures better acceleration and improved traction off road. A much lighter, less restrictive exhaust improves the Tiger's sound. Where once the 800 whined like the rest of Triumph's triples, that's no longer the case. Much more refined then, which is how you might describe the Tiger 800 update overall.
It's a very useful engine this, notably improved and surprises with its low down urge. Out on flowing stretches of open road you're better off keeping the revs above 4000rpm which is the engine speed it's turning in sixth gear at 100km/h. It fuels cleanly and will rev heartily right through to just over 10,000rpm, with little in the way of vibration. Okay, so there's a bit of blurring to the mirror images as engine revs rise but little the rider notices.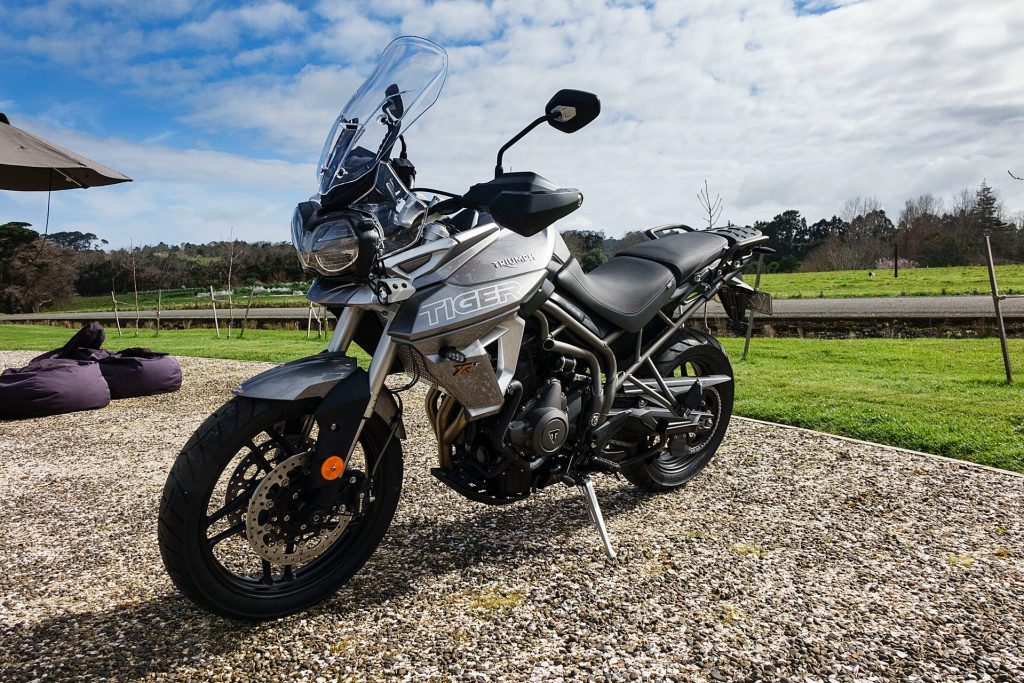 The transmission is sweet too, fortunately for me because I'd buggered my left mitt a few days earlier downing some trees and wasn't relishing the prospect of heavy clutch work. Needn't have worried, as it has a light lever, operation made even easier with four-way adjustability. On the 1200, by the by, you only need use the clutch lever to get underway or stop, and in between it's all done by electronic "shift assist", Triumph's term for clutchless up and downshifting. Sweet, pain assuaged.
So I put my bung hand to work messing with the new switches that control the also new full-colour five-inch adjustable TFT screen. Adjustments are quickly mastered as the menus and submenus are easily accessed by a toggle switch on the left handlebar block. And for ease of use on the go, the main items you might want to change, like ride mode, you can easily scroll to and manipulate on the fly. There are several different presentation styles too, but you'll invariably choose one and stick with it long term.
Minor visual changes include the adoption of LED lights, a change to Brembo front brakes, and there's a new manual five-position screen along with updated one-button cruise control. What's also evident is the subtle change to the riding position, the bars now set back towards the rider by 10mm. From there it's a simple matter of taking one hand off the bars, pushing the screen out and raising or lowering it one handed. At its bottom position, you can see over it, wind in your face, while at the top setting you can ride visor up, which is appreciated for touring. Ride comfort on the XR models we checked out is fabulous, the seat plush and supportive. You could probably ride non-stop between tank top ups easily enough. And given it holds 19L expect 350-400km before a break.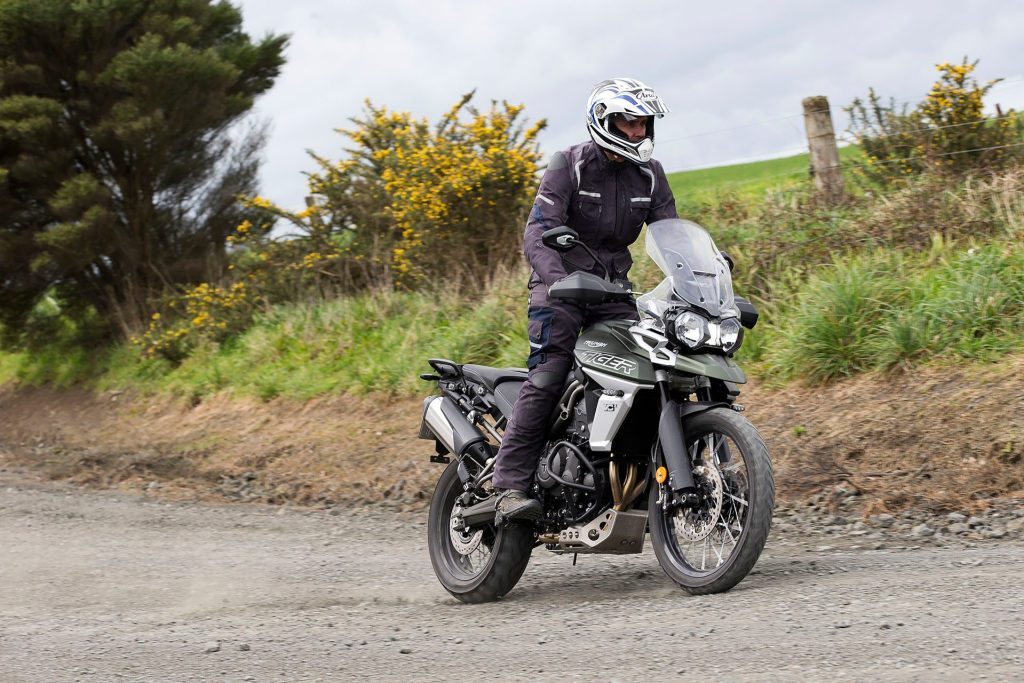 The XRT has lost weight, now down to 215kg wet and feels lithe beneath you. Tourance tyres are road baised, and feel excellent for the mix of gravel and tarmac work this will do. For general Kiwi conditions, the 800s ($23,490-$26,990) are ideal. The XRs we rode felt eager to turn, and not so quick that you can't give the engine a proper nudge every now and again.
Plus it gets nice kit as standard, like two-position seat height, engine and hand guards, cruise control and heated hand grips. The top models add a centre stand, heated seats and more adjustable suspension (Showa for the road bike, WP for the XC version). Prices have risen some but then specification has too.
As to the 1200, this has had a qualitatively similar makeover. It's for a different person, more into distance riding, and gets things like cornering lights, and IMU-based cornering ABS and TC. The 1200 shares many of the 800 updates, like the new TFT instruments and controls, an Off-Road Pro mode, along with keyless start (remote key), simplified cruise control, updated brakes and a more comfy seat. WP suspension is semi-active.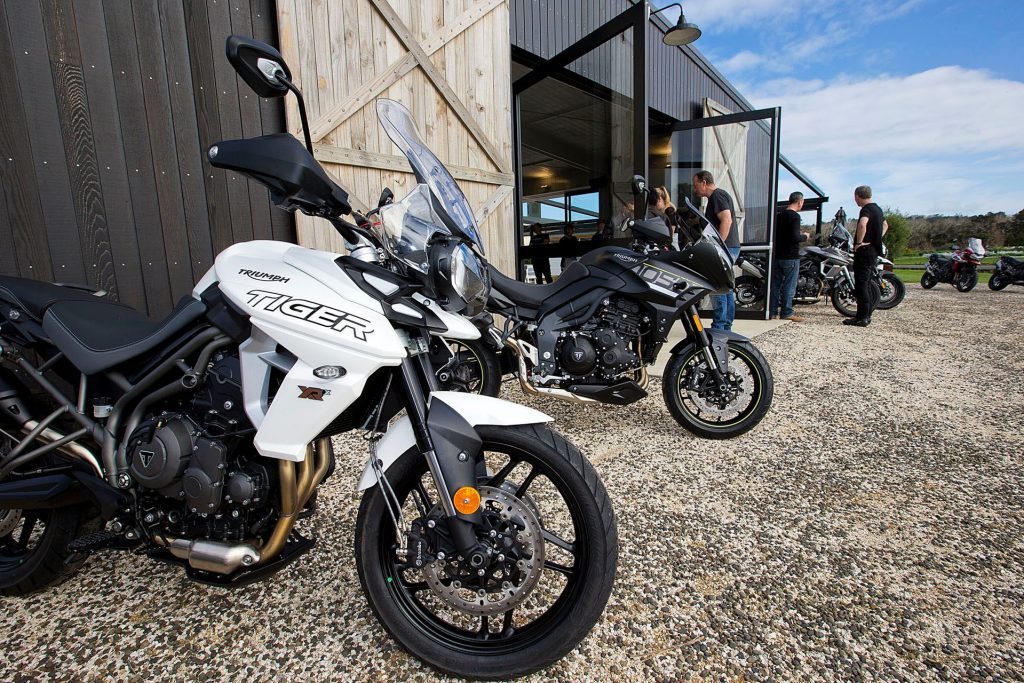 Naturally it feels quicker but in the scheme of things, despite having lost 11kg or so, it isn't screamingly fast like some sports 1200s. That said, Triumph reckons it is the most potent (104kW, 122Nm) of the shaft-driven ADVs available, but it isn't the lightest in the sector either.
Still, its engine feels strong across a broad spread of revs, the bidirectional electronic shifter is amongst the slickest anyone offers, and we saw a mean fuel figure of 6.5L/100 on the day. Suspension is semi-active but even in the comfort mode is little plusher than that of the top Showa-equipped 800 XRT. It's not quite as much fun in the corners either, slower to change direction and without that easy-going lightweight chuckability. However, for distance riding the planted feeling in corners may be an advantage.
The electronic screen is also brill, but not as quickly adjustable as the manual one. Brakes are stronger, as you'd expect being radial Brembo monoblocs, the fronts linked to the rear. The top XCA Tiger 1200 costs $33,590 and the XRT is $31,990. The entry price for the base XR 1200 is $24,990, significantly less expensive than the R1200GS or Multistrada pricing, and similar to upper level Caponords and Africa Twins, or the lower level KTM Adventure 1190.
For an all-round ADV we'd opt for the 800, now amongst the best in the business, regardless of capacity. Can't wait for some more seat time.
| | | | |
| --- | --- | --- | --- |
| Model | Triumph Tiger 800 XRT | Price | $26,590 |
| Engine | 800cc liquid cooled fuel injected V2, 70kW/79Nm | Drivetrain | 6-speed, chain final drive |
| 0-100km/h | 3.60sec | 100-0km/h | 45.6m |
| 80-120km/h | 2.06sec (54.7m) | Weight | 215kg |