With the recent revision to the Softail range, including new engines, frames and suspension, we check out the top-of-the-line Heritage Classic 114.
With the release of the new Softail range you really need to forget about the drawbacks of Harleys from the past, for the modern ones are incredibly civilised. If you're used to Harleys with clunky gearboxes, engines that vibrate your fillings out at idle and only really go in a straight line (and even then not that quickly) then you're going to have to reset your thinking.
The improvements began in earnest with the Milwaukee-Eight engine programme. For ever so long Harley Davidson didn't really have any big V-twin competition. With the advent of Victory and a reborn Indian, H-D seems to have been energised, at least if the new engines and the updated Softail range are any indication.
I find Harley-Davidson's range almost bewildering. In the current all-cruiser line-up, there are thirty different models, two being trikes. The rest are divided up into four distinct groups, named Street, of which there are two; Sportsters, seven; the similar but bigger Softails with monoshocks instead of springs, nine; and there are seven big touring cruisers. There are also three full-kit CVOs, which are like the big tourers, only even more expensive ($50k plus).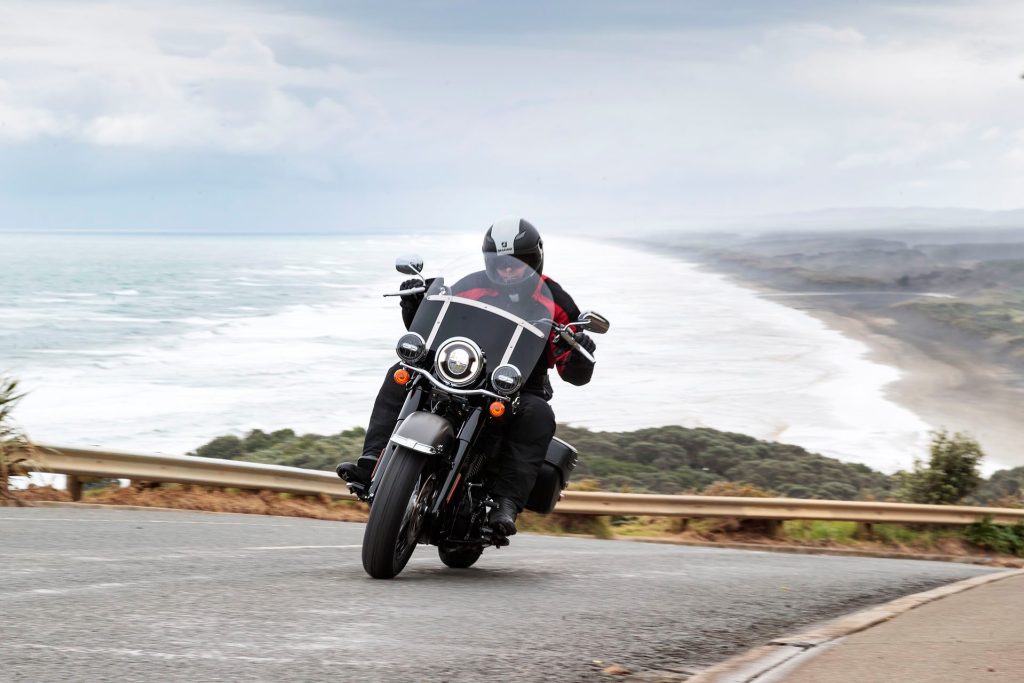 Last year Harley-Davidson revealed what they reckoned was the biggest development programme they'd ever undertaken, the renewal of the Softtail line-up. Just prior to that they'd spent up large on a new engine range, resulting in the Milwaukee-Eight mills (to compete with the Indian Thunder Stroke engine), and the Softails use these, either in 107 or 114 guise, cubic inches of course. That's 1745cc or 1868cc for the rest of us.
The Softails also got new stiffer and lighter frames, using carbon steel, which pared away around 20kg. Fresh suspension, sharper steering geometry and rejigged styling were also part of the upgrade, as were new high tech bits, like LED headlights. Something that wouldn't change dramatically though was styling, and within each of the Harley divisions, there are different designs to appeal to different rider types.
The new line-up of Softails is meant to appeal to a younger crowd. In the case of the Heritage Classic you see here, it still looks like it could have been built in the 1950s but most of the chrome and tassel stuff has been ditched in favour of a simpler, pared back look, much of it finished in black. Others in the line-up include the Street Bob, Fat Bob and Fat Boy (when is Street Boy coming?) and with such similar names how is one meant to differentiate between them?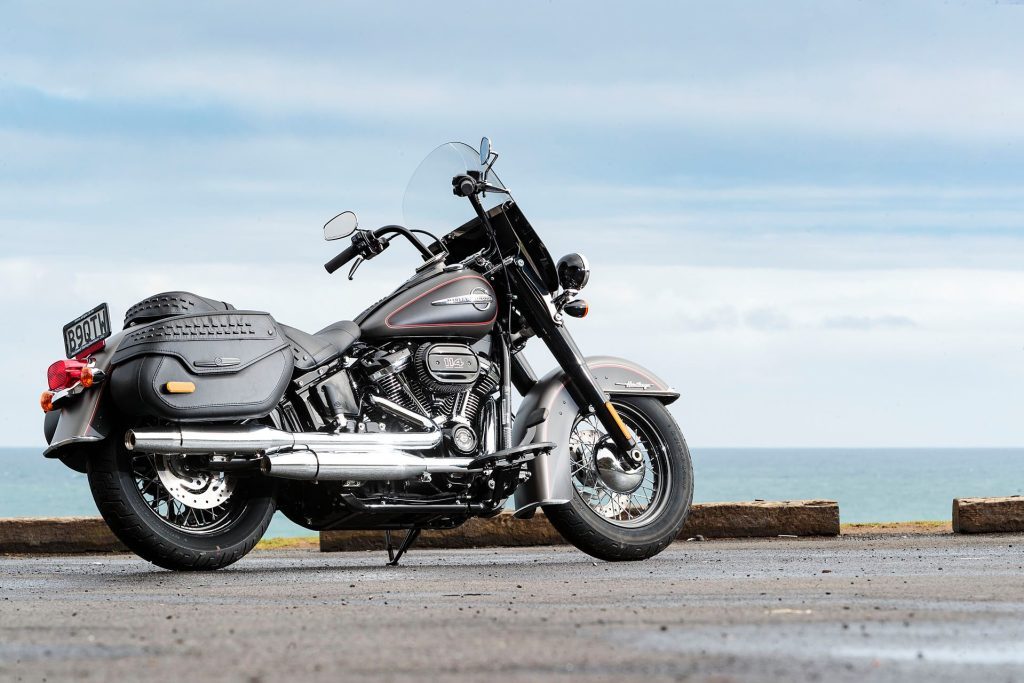 There's also the Breakout, described as Street Muscle, and Lowrider and Sport Glide, both mile munchers. The Softails range in price from $24,500 to $36,750 rideaway so while they might be youth oriented, they are certainly appealing to well-heeled youth, and they will also want to be experienced riders for these are not such lightweights like the Street models. The base Softtail, the Street Bob, weighs the best part of 300kg wet, while the Heritage Classic in 114 fitout is supposedly 330kg wet and that's exactly what our scales corroborated, to the kilo.
So the latest Heritage Classic gets all the new bits already mentioned, along with a removable windshield and hard saddlebags. That means you're essentially getting two cruisers in one, a version for the street where the fairing and bags are surplus to needs and a machine for 'light touring' with those removable bits reattached. It's classified as light touring on account of the bags not holding that much. However, they're water resistant and lockable.
Other new aspects to the latest Heritage Classic include taller suspension with increased passenger and cargo carrying ability (up to 270kg so all sizes can apply), fitting of cruise control and ABS as standard, and a mix of heritage and contemporary styling to give it an authentic but modern flavour.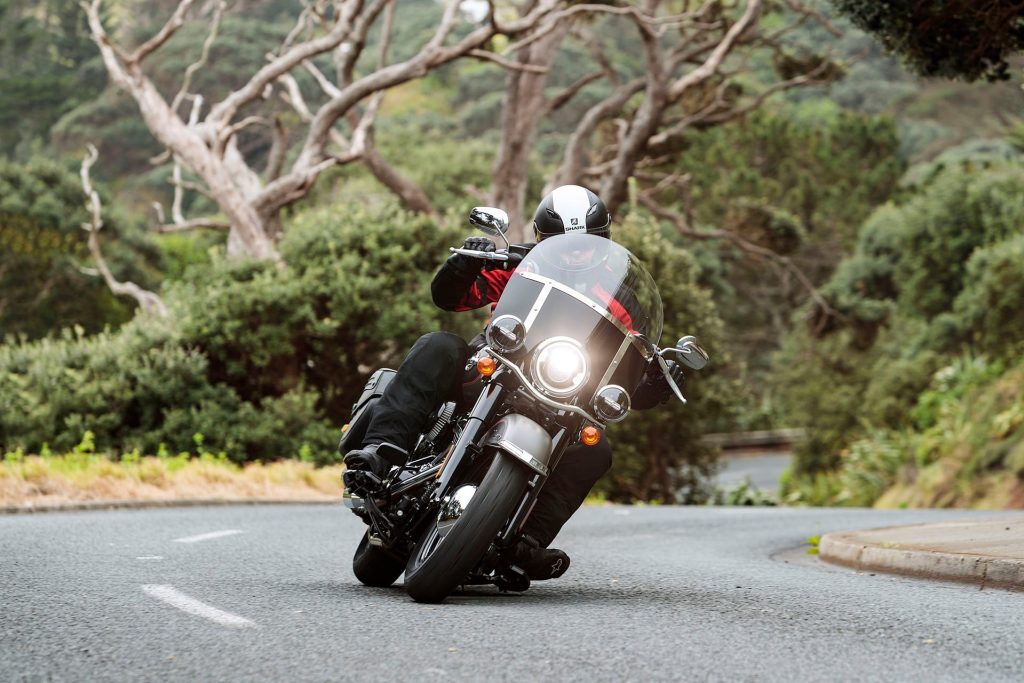 It's a bit of a beast in the flesh, and you for sure notice the long wheelbase, the semi-enclosed wheels, the gorgeous black and silver 1886cc 45-degree V-twin and the under and over pipes, resplendent in chrome. The twin tank caps, one faux, is a Harley signature thing, and up front are old-school headlights, with new school LEDs. A modest sized screen attaches to the forks, and is easily enough removed by gently yanking it out and up, changing the look and ride feel.
The latest iteration of the Milwaukee-Eight uses twin balancer shafts so the engine is hard fixed to the frame, enhancing rigidity further. Fortunately it doesn't shake too much – mirror images are clear at real road speeds – but just the 'right' amount really, and that will surely be a novelty for some Harley owners. It's a bit cold blooded but soon warms to its task, pulling from well below 2000rpm without grumbling. It engages first without clunking too, even from cold, usually a feature of big shaft-driven bikes. Shifts are exemplary for the breed; just wait a moment after easing off the gas and the upshifts are creamy.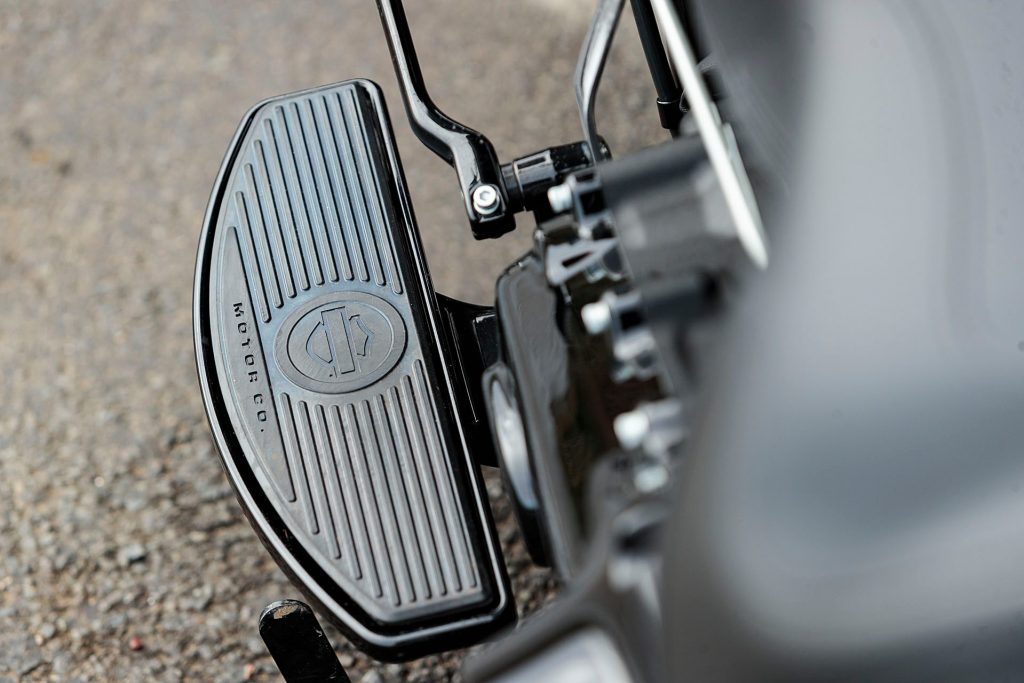 So is power delivery. The M-8 doesn't rev to high heaven – the limiter hits before 5500rpm – but there's so much torque on tap, the 114 mill producing 155Nm at 3000rpm, that mostly you're using revs at the lower end of the spectrum. In town we'd find ourselves upshifting around 2000rpm, and on the open road 100 comes up on the analogue speedo at 2250rpm. Gearing's like for a small car in that regard then.
But it sure is a heap faster. Where most superminis kill themselves hitting 100 in under 10sec, and ultimately failing, this knocks it off in 4.5sec, and that's all done in second gear! The best we managed for the Road King Special, with its 107 engine, was just over 5sec. Harley reckons the 114 is three bike lengths faster to 100km/h but half a second would be more than that. Harley, like most bike makers, doesn't specify performance figures. The sound is not as muted as it generally is from the factory but most will fit other pipes to release the screaming potatoes from within.
As to the ride itself? It's fabulous, the handling so settled and assured, the ride simply sumptuous, like the seat. This handles 'light touring' with absolute ease, the undercarriage not once digging a tarmac trench in our hands, though rubber feelers may explain that. With a tank size of 19L you'd probably get 300km covered easily enough, though there's no info on fuel use amongst the trip data.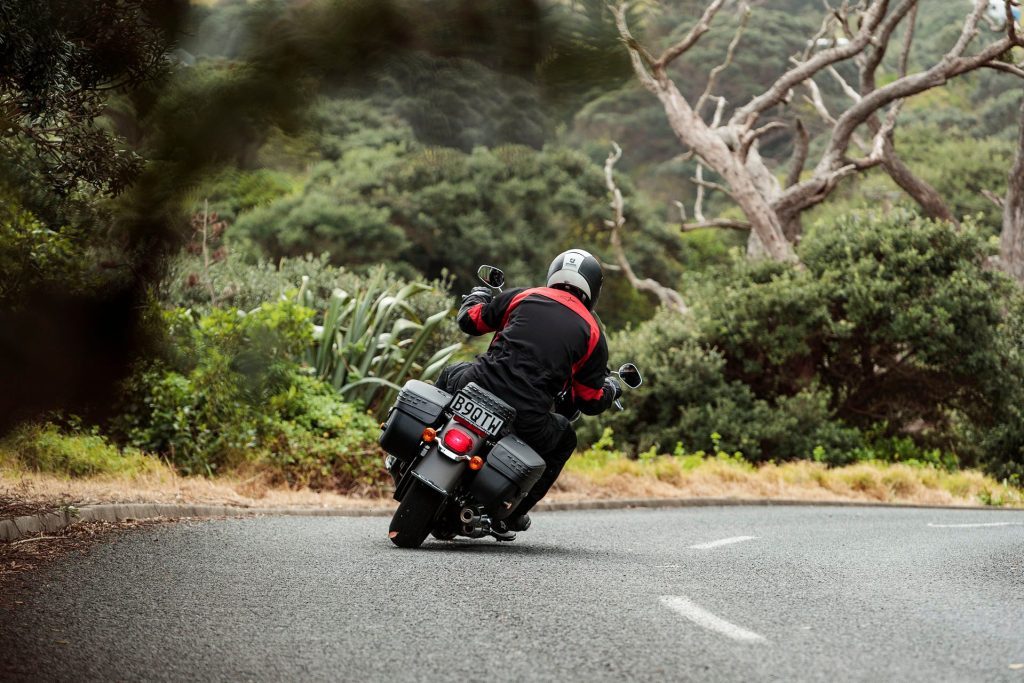 The riding position is tops too, both the arms and legs comfortably flexed and the smallish screen doing a supreme job of keeping most of the weather at bay. It's not quite buffet free but when it's raining this keeps your visor clear, the droplets streaming out of your vision. Clever design. So is the generous steering lock, making turnarounds that much easier. It's not even that weighty to lift off the sidestand to the vertical, and with a lowish seat height of 680mm nor is it impossible to manoeuvre, at least on level ground.
The one thing you might query with a bike weighing this much is the use of just a single disc up front, and there's no lever adjustability. Yet there's nice initial bite, and with a pronounced rear weight bias, the back brake adds a lot when you're slowing in a hurry. We managed a best emergency stop of 41m, which is close to what most dual front disc sports bikes manage. Most of the time a dab on the front alone is sufficient because generally you're only doing around 100km/h. It's a cruiser, after all.
It may have taken some time but after a century of trying we'd say Harley-Davidson cruisers are hitting their straps. What's ironic is that in the near future, the company is branching out into not only new areas, like adventure bikes, but also new propulsion systems, with a range of pure electrics due soon. The talking heads have said they want to be at the forefront of this new frontier. This isn't a case of abandoning existing customers, but searching for new ones to ensure the company's survival. It's a bold move not all will applaud but we certainly do. Meantime, if you're after classic heritage in a modern idiom…
| | | | |
| --- | --- | --- | --- |
| Model | Harley-Davidson Softail Heritage Classic 114 | Price | $36,495 |
| Engine | 1868cc, air/oil-cooled, fuel injected V2, 69kW/155Nm | Drivetrain | 6-speed, belt final drive |
| 0-100km/h | 4.55sec | 100-0km/h | 41.44m |
| 80-120km/h | 2.68sec (77m) | Weight | 330kg |