Peugeot's 508 sedan is no more, for the second-generation version is now a liftback. And a saucy one at that. We get an exclusive drive of the new dual-model line-up in the south of France.
Second-generation vehicles usually iron out the wrinkles of the car that went before them. And that's how the second iteration of the Peugeot 508 feels. It's not as if the original 508 was broken, except that initially it was powered solely by a turbodiesel engine. Now that oilers are less popular, this new-gen 508 gets a 1.6-litre turbopetrol mated to an eight-speed auto from Aisin.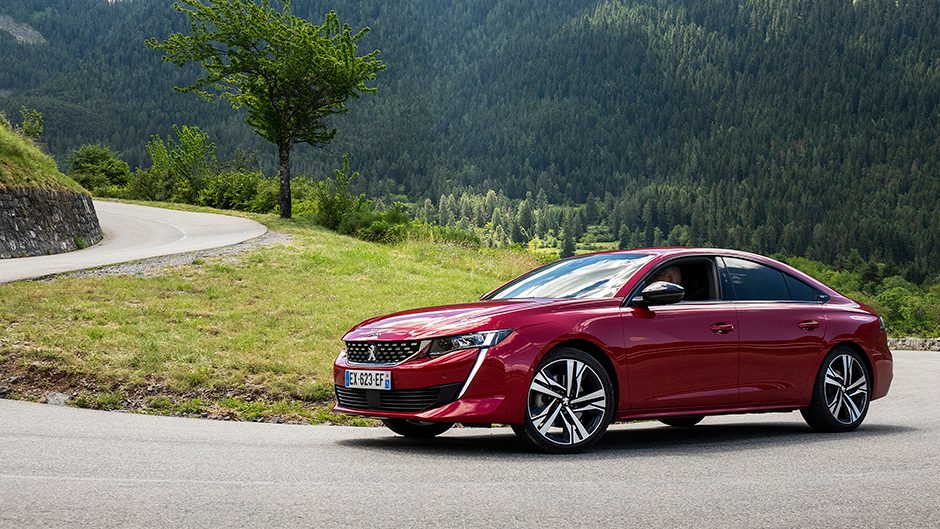 An undercooked recipe? Hardly, for this is a surprisingly lightweight vehicle, given its almost 4.8m length. And there's more power on hand than with the first generation, much more in the case of the top GT model. Modern downsized turbocharged engines are all about the ideal mix of fuel efficiency and feistiness.
So new 508 (two models, different engine tune and specification) feels livelier on account of its improved power-to-weight ratio. Peugeot quotes a wet weight of 1420kg for the pair, and sprint times to 100km/h both in the seven-second area. That compares with mid-nines for the original 508. Later in the life of the original 508, a 1.6 turbopetrol was added but the latest example offers more power still, even in base format. It is also at least 70kg lighter thanks to a new platform, and use of lightweight materials like aluminium for the bonnet, boot and front wings, and thermoplastic for the luggage bay entrance.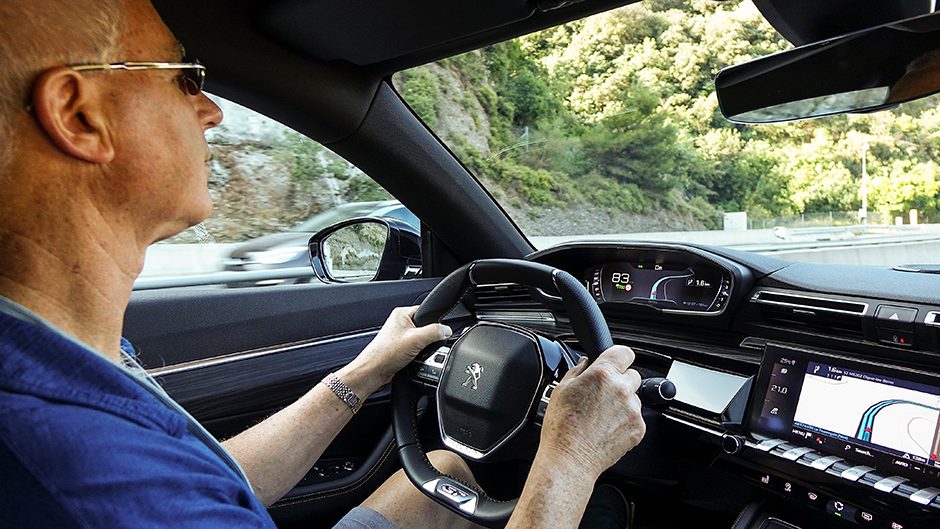 So there's an expected bump in efficiency as well, partly the result of two extra cogs in the transmission and improved aerodynamics. Combined fuel use figures for both models are in the mid-fives, while extra-urban fuel use in the fours is evidently possible. On the rather demanding drive programme the worst we saw barely hit double figures. In part the high top gear will be responsible for that, 110 showing on the digital speedo well before 2000rpm comes up.
Change of tack
Peugeot realised some time ago that the existing sedan format, consisting of four doors and a boot lid, is on a hiding to nothing up against more practical alternatives. The decision was therefore made to reconfigure it into a sleek looking, low-slung coupe-styled liftback, offering 487L of easily accessible luggage space that expands to an almost flat 1537L area after decommissioning the seat backs. And they've also made the fifth door a powered device, both for opening and closing, even on the base model.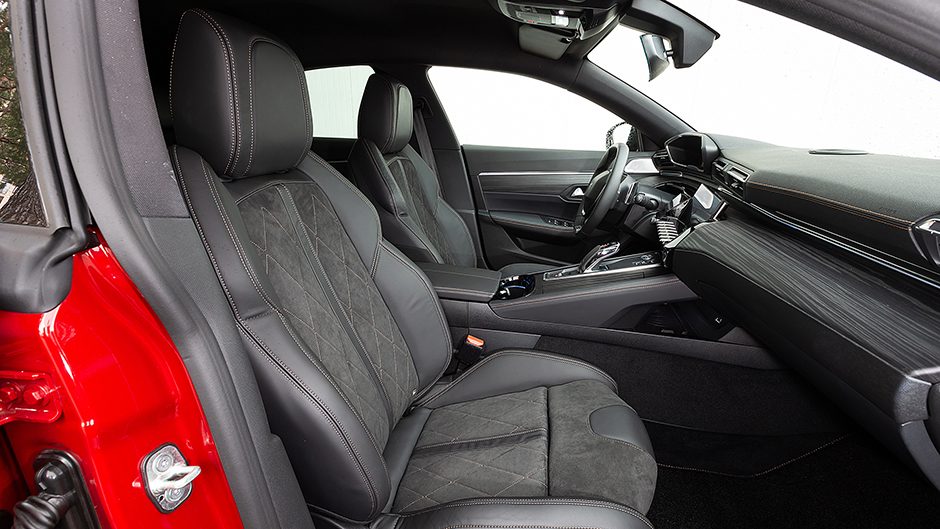 In the process, the dimensions have changed – it's 60mm more grounded at 1403mm, thanks in part to the adoption of frameless windows, 80mm shorter at 4750mm and 30mm wider at 1859mm, all contributing to a more athletic look and improved dynamics. It's the overall styling that ups the emotional appeal dramatically. Gone is the cool conservative look and in its place a more sporting, muscular and almost predatory outline befitting of the lion badge. Peugeot calls it 'elegant aggression'.
Up front there's the menacing smile of a killer stalking its prey. And the fascia now sports LED headlights in the top GT model. Both this and GT Line have what has become the de rigueur grille design, with a jewelled appearance. At the rear it's the same story, with more pronounced cat's claws in the three sets of taillights each side, giving an impression of extra width. The new shape looks not only more grounded but also slippery. It evidently has an aero Cd figure of 0.26, helping with fuel efficiency and wind noise.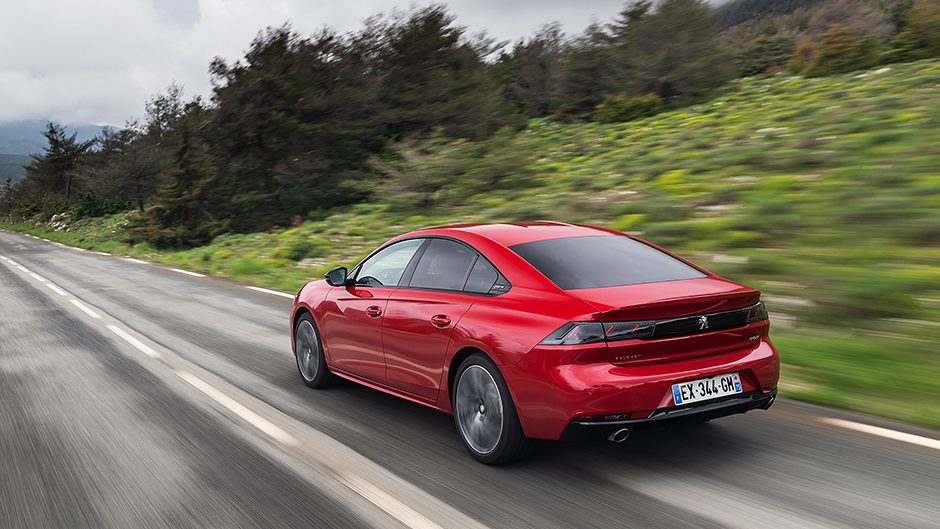 On the road drive, there was little of that, while tyre-generated thrum was also notable by its absence. Both cars we drove were shod with Pilot Sport 4 rubber. Whether this proves as quiet on our cheap chipseal roads is another matter.
GT by nature
The GT/GT Line nomenclature has become a Peugeot family theme. Never has the naming been more appropriate for both of these new units are designed as formidable long distance forms of conveyance. We drove mainly the upper level GT variant (the 225) which produces 169kW and 300Nm at 2500rpm. Figures for the '180' or GT Line version are 133kW and 250Nm.
However, the torque peaks earlier, from 1750rpm, and the entry model feels to have similar basement levels of pick-up to the GT, despite having slightly less twist numerically. It certainly doesn't seem to lack for urge in everyday driving. Out in rural running, the extra grunt of the GT shines through but you'd not feel hard done by driving the GT Line on a day-to-day basis.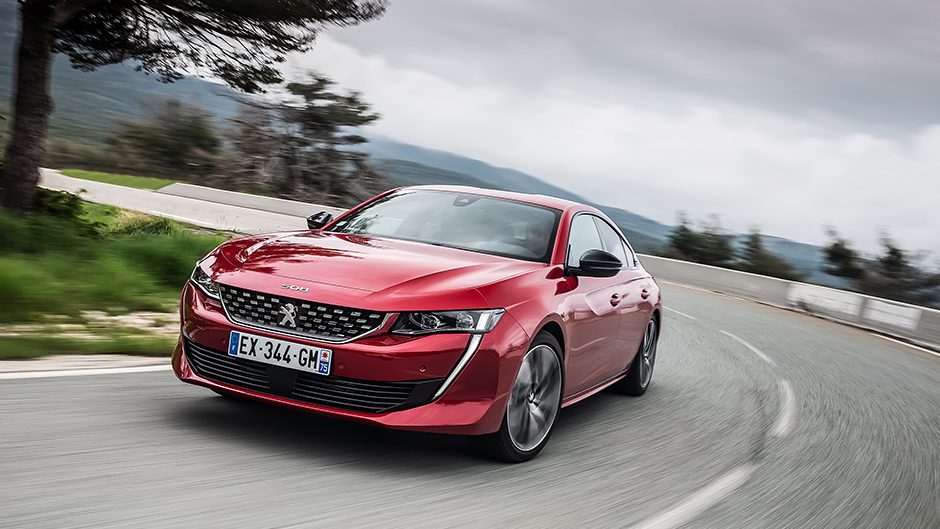 And as if to ram that point home, the lesser of the pair does rather well on the specification front. It features much the same safety bits and pieces, missing out only on active cruise control while it still comes standard with dual zone air con, a powered tailgate, shift paddles and the like.
The other main difference, apart from its upholstery being a mix of cloth and Alcantara instead of leather and artificial suede, is the substitution of adaptive damping for fixed suspension. This you notice mainly in slower running over rutted surfaces, the GT soaking up all in its stride, especially in the Comfort mode, whereas the GT Line isn't quite as settled, though is still entirely acceptable, Peugeot engineers treading their usual fine line between even body control and absorptive ride comfort.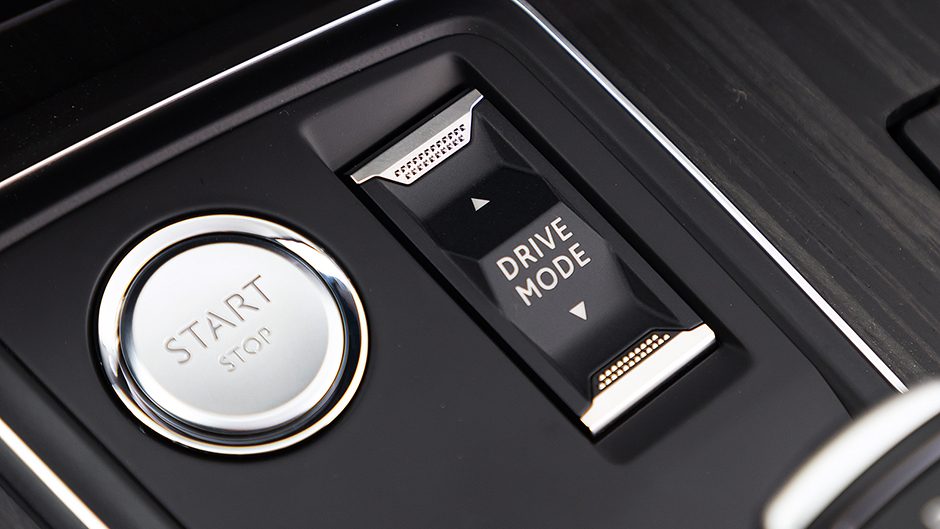 It's just that the adaptive damping set-up in the GT is so accomplished. Even in the top Sports mode you'd never describe progress as anything other than even and soothing.
New platform game on
As to dynamics, these ratchet things up a step on account of the improved body control (especially the GT with active damping) but there's also extra rigidity from adopting the EMP2 chassis and the added width at the wheel tracks.
Because of the terrain we didn't really get a chance to force the issue; tight switchback mountain roads were studded with rock walls and oftentimes opposing cars couldn't pass safely without slowing to a near halt. Not that one woman didn't give it a go, until she realised there wasn't enough room for the both of us. They're good brakes in the 508 then. We tried a couple of emergency stops to confirm that and it certainly stops in a reassuring rush. Low overall weight helps, as does adaptive damping, limiting dive.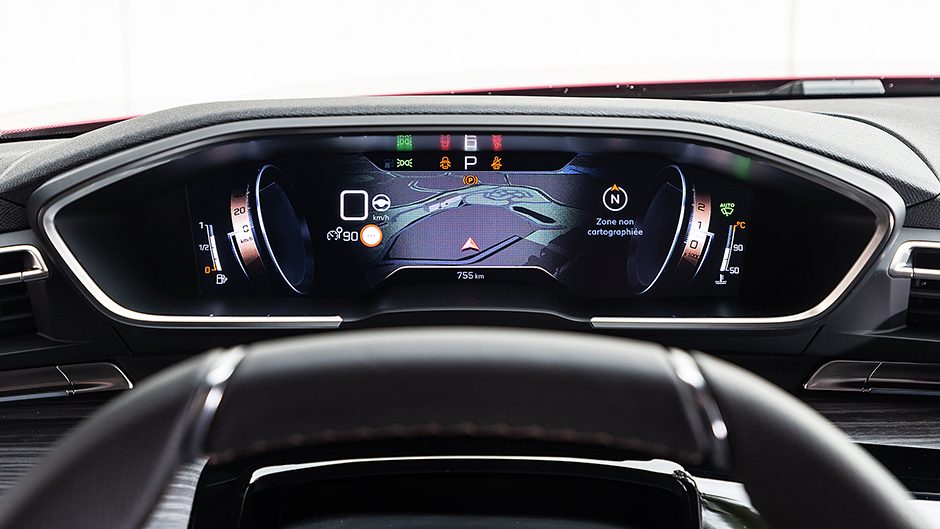 It's an easy car to thread through roads like this, all the same, though the dimensions make you aware it isn't a littl'un. And on that, space in the rear is pretty decent, at least for knee room, even if head clearance isn't flash for taller adults on account of the fastback roofline. Moreover, while there's good room for two adults, the third occupant will need to be more compact for comfort.
Evolving i-Cockpit
The driver's zone is a nice place to be, the i-Cockpit 3 offering six configurable instrument layouts. Digital speed readout is accompanied by road sign data, picked up by camera and GPS systems, so there's no real excuse for being caught at well over the odds. Helping is active cruise which continues to be a bit of a fumble, the controls attached to the left side of the steering column and hidden by the wheel. They really should be visible for ease of use. However, it's a one-touch set-up and there's a memory button that helps when speed limits are constantly changing. Also not quite ergonomically ideal are the paddle shifters. They're large enough but mounted on the column, they are set some distance away from the wheel, and sometimes you end up grabbing the nearby indicator wand when going for a downshift.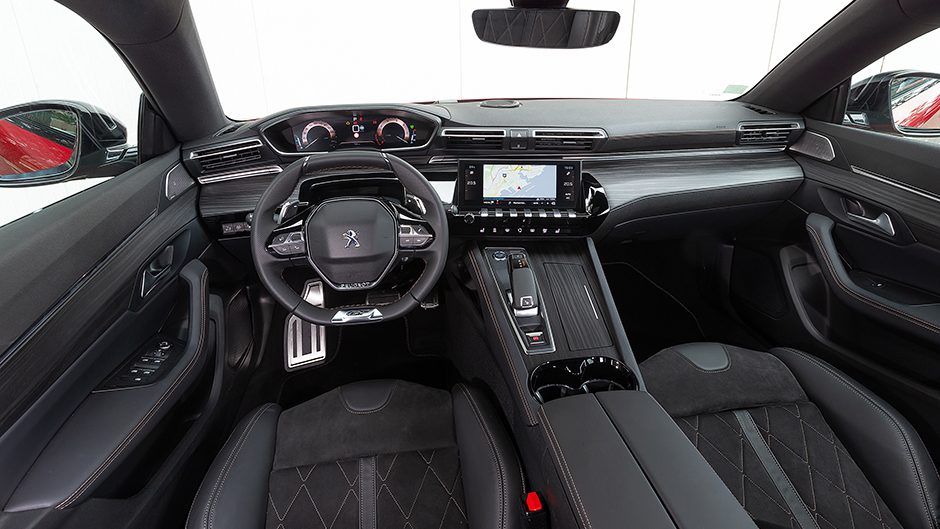 The small oblong shaped steering wheel works just fine, once you've cancelled out interference from lane keeping and lane departure, weight firming as you progress up through the modes. Mention of which, above Sport is Manual, which is for driver control of transmission changes. It will then hold revs right to the redline, if you want. This proved handy in the mountains, which is essentially where most of the international launch of the 508 took place. A bit of motorway running showed the transmission was just as happy holding revs in Sport (but not too manically) as it was short-shifting to save fuel in Comfort mode.
The driving position is notable, seat comfort excellent and the knees naturally brace against both the centre console and the door. So you're nicely locked in place, and in the GT there's a soothing massage seat function. In both variants, the seats are powered, including lumbar support, and each car has a dual seat memory function.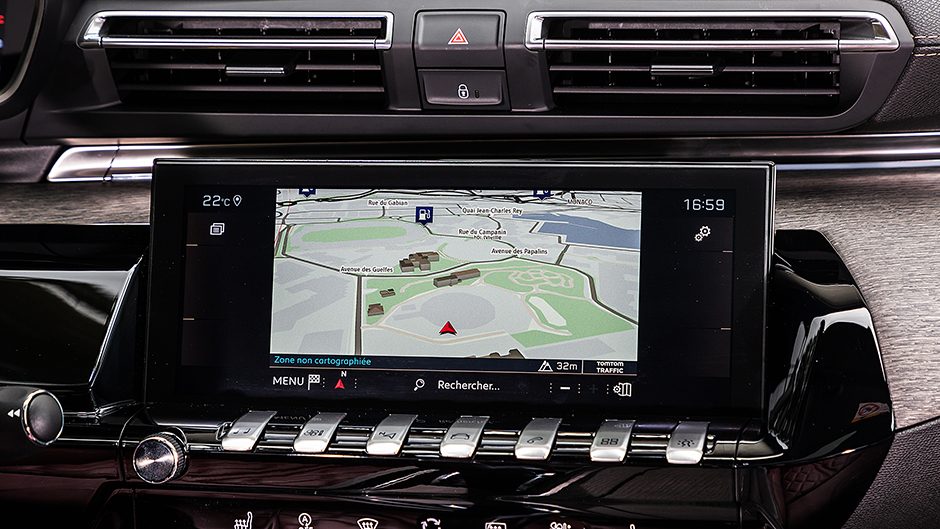 Other notable items include surround view cameras, night vision (detects animals up to 250m ahead), stop and go functionality for active cruise, self parking, both parallel and perpendicular, and optional items like a panoramic sunroof.