Playing catch-up is what Honda has done with its latest Fireblade, adding ride-by-wire throttle and a full electronic safety suite. Oh, and it also gets more power and less weight. Thanks Honda.
Honda continues to do spankingly in MotoGP, Marquez handily ahead of all the others through either winning more races (heaps this year) or being runner up (plenty of those too). And while Dovi and Lorenzo might have snared Ducati the odd win, it has been Marquez and the Honda that have looked unassailable. Just like last year then. Honda is kicking butt in MotoGP.
By contrast it is nowhere in World Superbikes. The Hondas are conspicuous by their presence at the back of the pack. There's not one in the top ten if you peruse the rider's points standing ladder. Leon Camier is about the only Honda rider to even rate a mention (and there are two others, PJ Jacobsen and Jake Gagne). So what's going on there?
HRC is pouring money into MotoGP. Buying Lorenzo (aka 'the Repsol') to replace Dani cannot have been cheap. So maybe there's not much left for WSBK. Perhaps the other reason for its poor showing is that the Honda production machine on which the superbike is based doesn't have the same power as the competition. Not that 189hp is anything to be sniffed at, but the others start with 200hp or more. Rumours suggest a model update will be unveiled at the EICMA show in November with around 210hp. It's important for superbike credibility and racing. Meantime, is the slight power deficit relevant on road?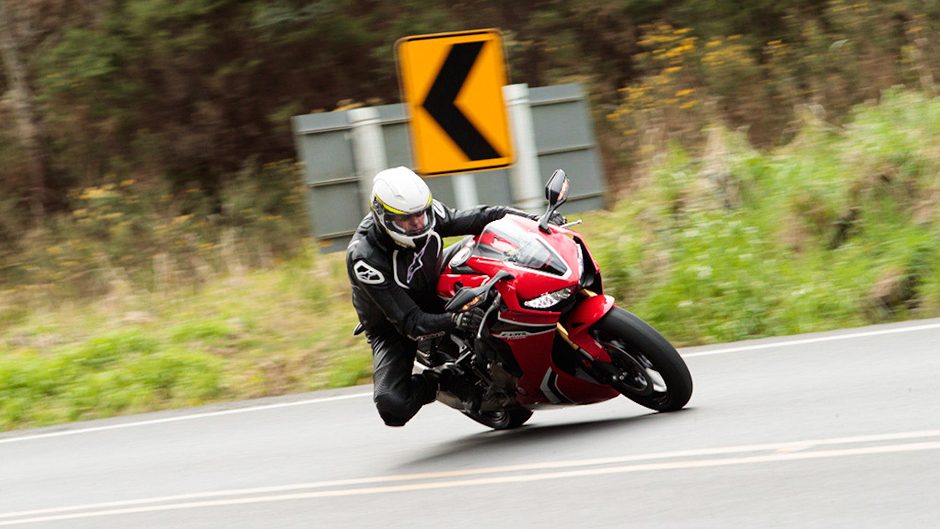 Power to weight booster shot
The latest Fireblade, the thirteenth since the original of 1992, launched almost a year ago, and it's the biggest update since 2008. Engine changes comprise a new ram-air system and redesigned airbox, reworked fuel injection and various interventions to minimise engine friction. A new exhaust means the bike meets Euro4 emissions regulations. The upshot is more power (up 11 horses to 189hp at 13,000rpm and 116Nm at 11,000) but less than its rivals.
So what Honda did to compensate was strip away unwanted weight and ditched more than 10kg, considerable even by weight watcher standards. Power to weight rose by 14 per cent as a result. From being roughly midpack, the latest Fireblade is now at the superbike leading edge for wet weight, our scales confirming the claimed 195kg fully fuelled. Moving it around the garage it feels more like a supersport 600 bike than a litre warrior. When you're riding it there's a sense it's smaller and more compact too.
And on that, most of the superbikes really aren't that comfortable to ride long distance or even for an hour and that's but one aspect that has seen their sales slump over the past decade. The latest Fireblade may be compact but unless you're young and supple the body positioning still takes a toll. Pegs are set high, so the hips are flexed and there's a bit of a stretch to the clip-on bars so wrists hurt at slower speeds. Given as I'm neither young nor supple, I can't really last for more than half an hour or so before needing a stretch. Cue tiny violins.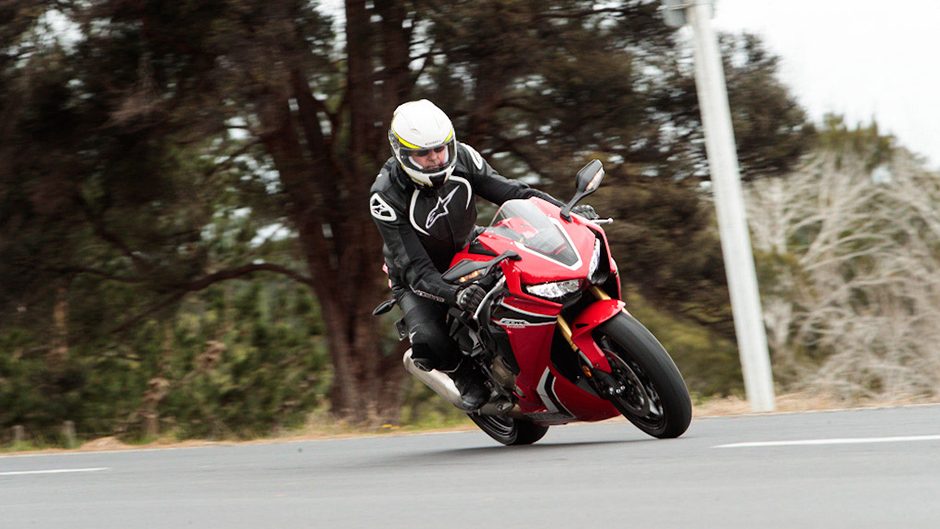 Safety package now fully competitive
However, there are a few things you can do to remedy that. Buy the CB1000R, the more upright naked version instead or choose the more expensive SP1. The latter has electronic suspension which you can fiddle with via the new high-res TFT-LCD screen. The base bike we rode has Showa boingers and monoshock, each end fully adjustable so the general firmness of the bike upon pick-up was likely due to the fact it had been set up for track work. Certainly the balled up rubber on the rear tyre suggested as much.
Unlike its predecessors which had only ABS, the latest Blade has about as many electronic safety and convenience options as the competition now, including three engine modes, adjustable traction control, and engine braking, all under the control of an inertial measurement unit (IMU).
Oddly, TC seems to help with performance. Using Power Mode 1 (full power, TC backed off a bit) we managed a zero to 100 time of 3.06sec, the best of any superbike we've tested to date. We believe Honda's Selectable Torque Control tech is responsible. Gassing it off the line on other superbikes, you can sense the TC system cutting in and out, hampering the sprint time. So you nix that and fight to keep the front down instead. With the Honda though there's just smooth acceleration, until the wheel eventually begins its salute to the sky gods. By contrast, its 80-120 time of 1.28sec, is pretty much what the other litre bikes do. So on road, we'd suggest the power disadvantage is negated by the lesser weight and smart electronics.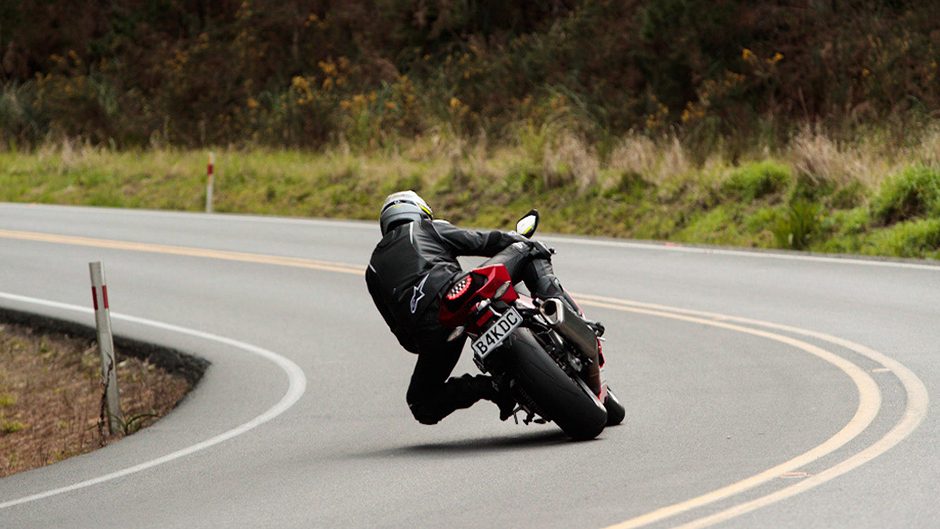 Careful with those brakes Eugene
Things were a bit lairier with the 100 to zero emergency brake test though. Grab too much lever and the rear wheel rises up and tries to overtake the front. So a best stoppie of 47m is no indication of just how good these radial brakes really are. The SP1 has rear wheel lift mitigation.
After a break for a coffee and a panadol we're back aboard, each of the suspension adjustors backed off half a turn. There's much better compliance now. Once you're up to the open road legal speed the wind pressure relieves the wrist ache. At this point it's easing along at an even 4000rpm, which is when the exhaust valve must open because there's a distinct change in exhaust noise – things turn decidedly feral – and the engine is suddenly brimming with urgency, not that it won't smoothly haul sixth gear at 50km/h in the burbs. At 5000rpm it really starts to let rip, and soars to 13,500rpm.
The gearbox is a perfect accompaniment, with not even a hint of a missed shift. If you're contemplating track time, you'd probably think about spending the extra ($1000) on the quickshifter, which works both up and down the gearbox. But for road work, we'd not bother, especially as it pulls so hard in top gear from 100km/h (indicated, 91.5 in reality; small wonder so many cars were blowing past us on the motorway).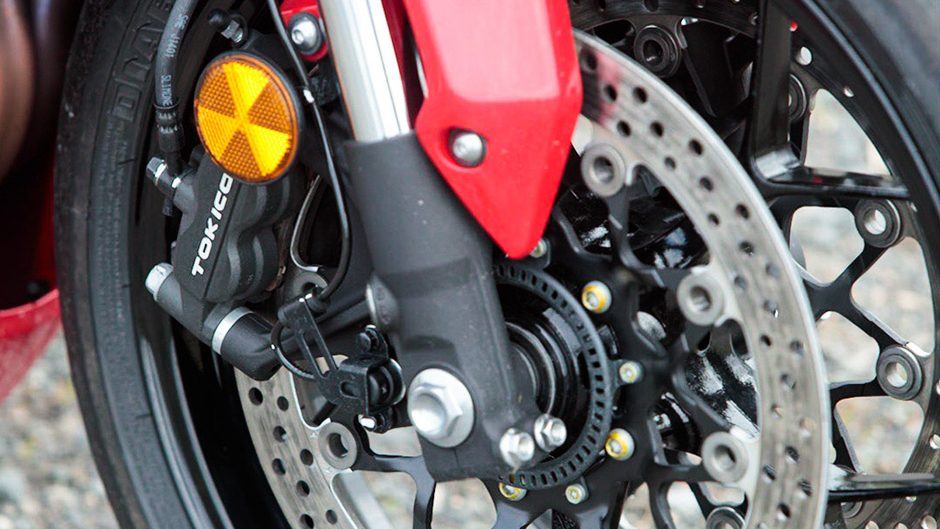 SP1 loaded but at a price
The SP1 gets the quickshifter as standard, and that's the one you'd buy if you want to extract the last nth of your talent, for it also has Öhlins semi-active suspension (variable damping), Brembo monoblocs instead of Tokico brakes, lightweight Marchesini wheels, and a lithium-ion battery and titanium muffler for extra weight savings. That $5k of extras takes the price to $32,995, but the base bike is also track ready straight out of the box. SP1 is no quicker than the regular 'Blade, with the same engine specification.
At $27,995 the new Double R compares favourably with the S 1000 RR and RSV4. One other you'd probably be silly not to consider is Suzuki's GSX-R1000 which kicks off a little cheaper, and features a variable valve timed engine. The new ZX-10 is out soon too.
Things are so close now, in terms of performance, handling and electronics in the superbike area it comes down more to personal preference, which one you like the look and sound of and which feels right for you. Do you want something like this for track or street, or a mix of both?
Personally, I prefer the supernakeds and I'd be much more up for the new CB1000R based on the Fireblade. It's something that's retuned for even more midrange, and is a generalist, with a less crunched up riding position. Honda calls this 'neo-sports' machine 'a triple shot espresso for your motorcycling soul'. Coffee anyone?
| | | | |
| --- | --- | --- | --- |
| Model | Honda CBR1000RR | Price | $27,995 |
| Engine | 998cc liquid cooled fuel injected IL4, 141kW/116Nm | Drivetrain | 6-speed, chain final drive |
| 0-100km/h | 3.06sec | 100-0km/h | 47.0m |
| 80-120km/h | 1.28sec (36.30m) | Weight | 195kg |