As part of the new five-strong Bonneville family, the Scrambler has been renewed and comes with the requisite safety bits, yet still retains the heritage looks. Is it our pick of the Bonnies?
The original Scrambler by Triumph is now into its second generation and with that it gets a name upgrade as well. Based on the Bonneville Street Twin, it is now known as the Street Scrambler. Actually, this isn't really the second iteration, rather the third, given the original in another century was something called the TR6C, evidently riding on the bones of the 650cc Bonneville T-120TT of the early '60s. It has been some time since we rode the original Scrambler and memories of that aren't exactly vivid.
That's probably because it was homely, slow, and not that stop worthy. Can't remember much else about it either, as I spent little time on its saddle. At the time, we remarked that this was a piece of Triumph nostalgia, complete with basic suspension and soft engine performance. The latter we described as 'most suited to owners with heart conditions'. Anyhow, it didn't change a lot over the years, other than to pick up fuel injection during its 10-year tenure as the off-roadable-if-you-must Bonnie. However, in its move to the Street Scrambler, it has changed significantly, at least for the bits that matter.
The new one looks similar but better, less clunky, with shiny stacked mufflers exiting horizontally on the right side (instead of the former's that looked like plumbing) and packing heat shields to prevent you from putting black holes in your favourite riding trou or leaving black textile burn marks on those nice shiny pipes. I really don't remember how the original sounded, but the latest Scrambler by Triumph is a riot.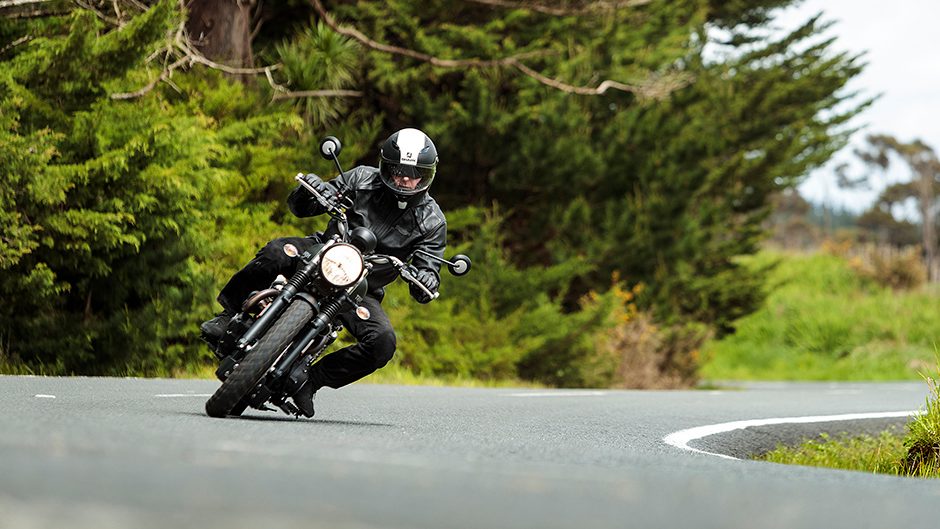 Not that many parallel twins less than a litre sound intoxicating but this does, right from when you first fire it up and set off. Its sonic signature sure is a reminder of how bikes used to sound back when, just like its modern retro appearance. Where the former Scrambler almost looked like it might have come from the 60s, the Street Scrambler merely hints at the heritage but there's no doubting the influences.
It's reminiscent of the Street Twin, naturally, given it's based on this, but the engine is different, beefed up down low, and it's mounted differently too. Said engine, the high-torque 900, is not so different overall though, numerically at any rate. There's more displacement at 900cc and now with water cooling it also meets EU4 emissions regs so it's more frugal than ever, thanks in part to its bulked out torque zone.
Pulling power is up from 69 to 80Nm and instead of peaking at 5000rpm, torque maxes out at a more real world 3200rpm. There's a wedge more grunt between 2750 and 4750rpm, right where you ride the bike ordinarily. However, there's virtually no more power, 41kW compared with 40 previously. And being the same weight as the old Scrambler, at just over 220kg, we couldn't coax any more performance from the (new) ol' girl. With TC off, it took 5.5sec to crack the 100km/h mark. The old one was the same. And you're looking at an overtake of 4sec or so.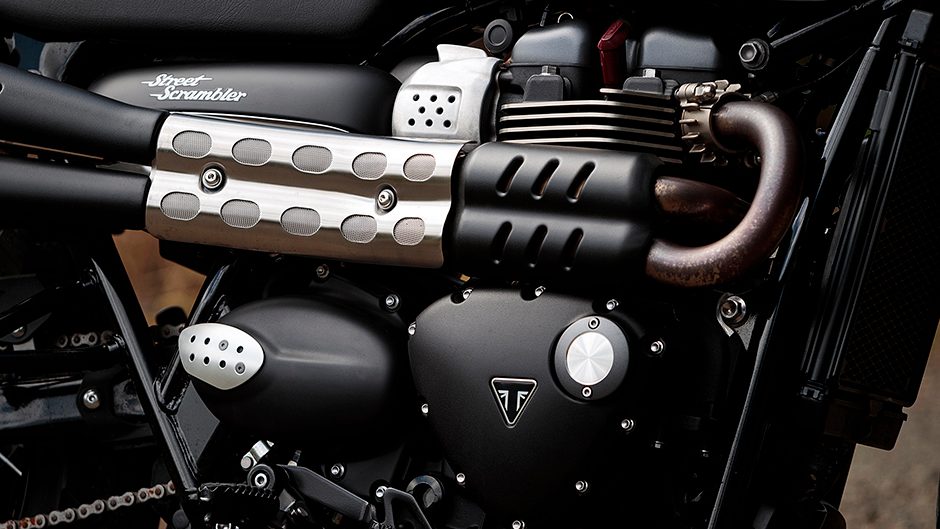 Neither is quick in bike terms, but nor does this ever feel slovenly, despite everything being done at low revs. Most of the engine's peak torque is on hand by 2000rpm so it pulls from there with no hesitation, though the most productive revs are from about 3000rpm onwards, coincidentally around about where peak torque is produced. Talk about rider friendly. As a day-to-day bike this is almost the essence of easy. There are only five gears and given it pulls so well from low revs you're not forever shifting.
Which is almost a pity because the gearbox operation is unbelievably slick. On the upshift, if you delay a fraction of a second as the engine revs fall back, the cog swap is almost imperceptible, gears meshing like they're composed of liquid metal alloy. One day I guess they will be. The clutch is one of the slip-assist jobbies too, meaning less pressure needed for activation. Levers on both sides are span adjustable.
Unlike with the Street Twin, the lone LCD instrument includes a rev counter; you just hit the info button on the left block until revs come up instead of average fuel use which was forever in the fours, and at times on a constant throttle in the threes. Despite a complete lack of wind protection – which keeps speeds real – fuel use is hardly profligate (an overall of 3.8l/100km is claimed, would you believe?). The other main difference between this and the Street Twin essentially comes down to modestly more suspension travel, a slightly bigger front wheel (spoked of course) and a shorter seat, the pillion pew replaced by a luggage carrier, yet the pegs remain, oddly.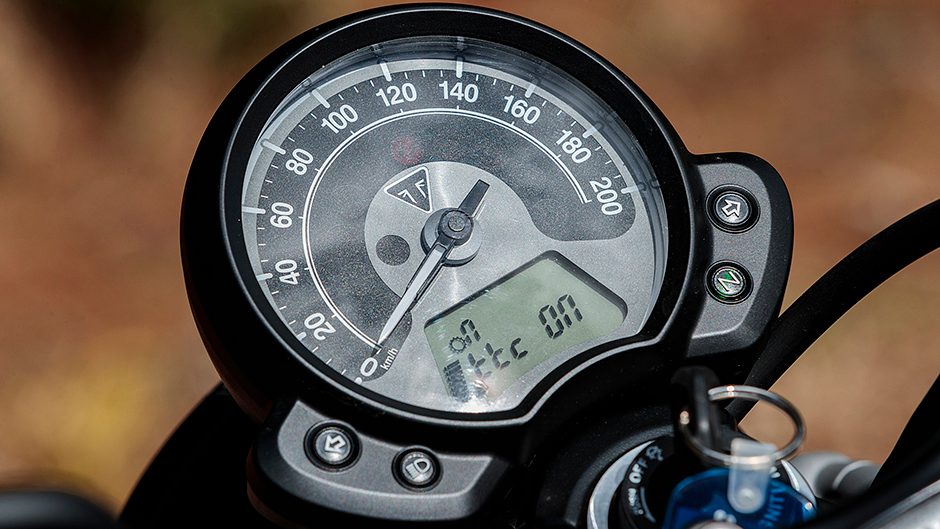 Well, not that odd really because the carrier and pillion seat are interchangeable and the rear pegs and hangers removable, should the need to carry someone else arise. Which it won't because this is a bike for distinguished gentlepersons, who live by their own rules. If they want to do a spot of scrambling on the weekends they don't have to ask for permission to do so. Scrambling nowadays is essentially having a crack at any road or formed track, but you'll not be forging your own thoroughfare on the Street Scrambler. That's kind of why it has the Street modifier in front of the Scrambler tag. Yes, it has slightly more clearance than a Street Twin, and a plastic bash plate but it's not configured for motocrossing or sand dune blasting. More forest tracks or beach work.
But likely as not plenty of owners will just want the Street Scrambler for plying city streets, looking good on their way to some cafe, fixture or whatnot. And at that it proves more than adept. So it isn't a road burner, but it will puddle along happily in town in top gear, and starts pulling heartily from 80km/h in fifth gear. The open road legal limit sees 3300rpm showing, so it's very relaxing on the motorway, with no vibes to speak of. The riding position is the essence of neutrality too, with pegs set quite low and directly beneath your legs, a middling seat height and no real stretch to the wide bars.
Plenty of leverage available here, and you need that as steering isn't that quick. On road, this is designed to "deliver a neutral and predictable ride" and that's exactly what you get. Triumph classically get their chassis sorted, not that they're always the lightest things around, but they do deliver on dynamics. Despite running Metzler Tourance rubber that is designed to do a bit of everything, we found surprising on-road grip, enough to touch down the (admittedly low set) pegs either side.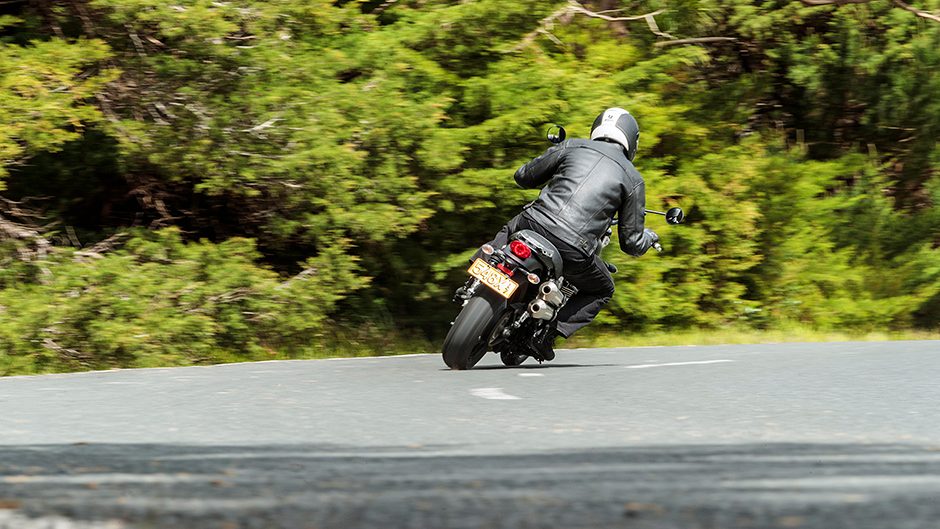 It's genuinely a fun ride on road, and you don't need to rev it mercilessly for speedy progress, 4500rpm is plenty, picking up the next gear at 3500rpm. On gravel it's fun too, the big skinny front wheel inspiring confidence. Whereas the old Scrambler was a safety-free zone, this now has ride-by-wire throttle so figure on traction control (on, or off for skids but not monos, unless you're doing 'em into a stiff headwind) and ditto for ABS, so you can lock up the rear wheel when backing it in.
Yeah, right. Back on the black stuff, this is a pampering ride. The seat is well padded, and the forks don't dive under heavy braking. Not that heavy braking is exactly on the agenda, given there's only the lone disc up front. On its own the two-piston unit isn't that strong, but the Scrambler has more weight rearward, so jumping on the rear brake at the same time as the front makes a big difference, just like on any cruiser. You end up always going for both any time you need to slow the Scrambler. Given how much rubber this doesn't run (100/90-19 up front) a best stoppie from 100 of 41.87m isn't that shabby.
So yes, we liked it, only with the extra safety kit it's no longer wears the $14,990 price tag it once did, costing $3k more. And that's also $2k more than Ducati's Scrambler Icon, a bike that's quicker and more agile, if not as roomy or comfy as the Trumpy. Don't need a modicum of off-road ability? Then save yourself $2000 and opt like most others for the just-as-natty Street Twin instead.
| | | | |
| --- | --- | --- | --- |
| Model | Triumph Street Scrambler | Price | $17,990 |
| Engine | 900cc, liquid-cooled, fuel injected, IL2, 41kW/80Nm | Drivetrain | 5-speed, chain final drive |
| 0-100km/h | 5.52sec | 100-0km/h | 41.87m |
| 80-120km/h | 4.17sec (118.9m) | Weight | 224kg |