The final Bonneville variant has launched, based on the Bobber Black, and it's the Speedmaster but is the name justified?
Speedmaster has always been Triumph's entry-level cruiser, right back to 2004 when it first launched. Well, the modern version at least. The name may not be entirely appropriate nowadays, as a master of speed this isn't, though what cruiser is? Back in the day though, in 1965, it was considered the bee's knees, the quickest of its time, and apparently the name was last applied to a Bonneville T120R by the US importers.
It was never a name used by Triumph until the new millennium. But actually the name isn't inappropriate in another way; if you want to master your speed, and keep it appropriate for licence retention, this is a fine way to go about it. Cruisers are designed, after all, to do things best at cruisy speeds. And this just happens to develop its full quotient of torque, a beefy 105Nm, at 3100rpm, which is not much over the legal limit in sixth gear.
The torque curve is evidently flat too, so most of it will be on tap from 2650rpm which is where it's cruising along easily at 100km/h, in vibe-free manner, with perfectly clear mirrors, just in case you're the paranoid type who fears there's always a cop on your tail when sometimes there isn't.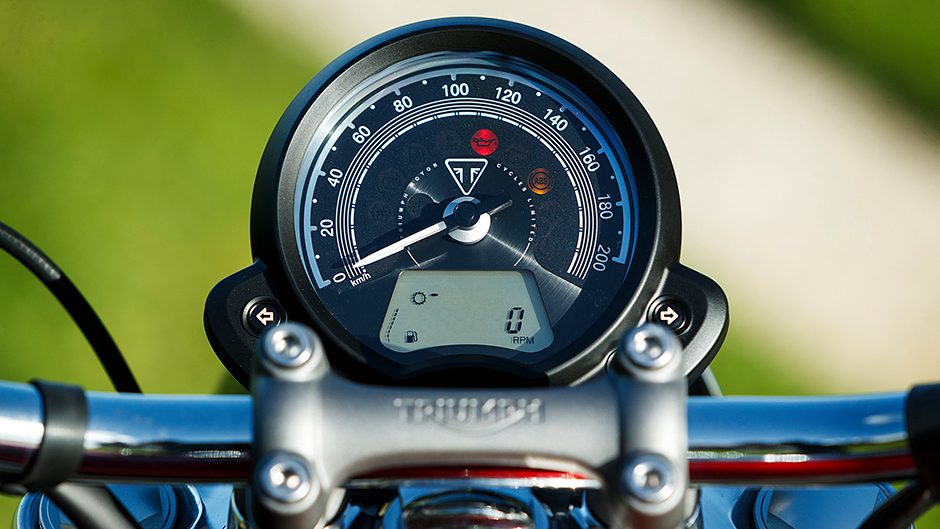 Big mill sounds exciting
The motor is not 750cc as some old codger on lollipop duties had a crack at when we were waiting at road works. Try 1200cc, I replied, and you could tell he just didn't believe me. Had he listened a bit harder though, he might have been convinced. For even with the standard pipes this emits a bass blast that's inspirational, especially for something that isn't a V-twin. The sound is phat, and while Vance and Hines pipes can be had if you want even more noise, we'd be tempted to spend the extra on other accessories, of which there are evidently 130 in total. There's also a couple of packages of goodies, the Highway kit with pannier set and touring screen, or the Maverick kit with flatter bars, aftermarket exhausts and single seat set-up. The former is the more sensible, the latter likely the better look.
Bits shared with Bobber Black
That's the other major difference from the Bobber on which it's based, the fact that there's seating for two instead of just the rider. There's also a pair of discs up front, like the Bobber Black gets, the rake and trail are a bit different and so too the rear suspension settings, though the basic design is the same as the Bobber's, being a cage-style swingarm mimicking a hardtail appearance. It doesn't have quite the retro-cool look of the Bobber, but then what does?
A couple of other aspects differentiate Bobber and Speedmaster further. The tank on the latter is 3L bigger, which means a range of around 250km if ridden easily, as you do. And the riding position is subtly different as well. It's more of a typical cruiser set-up in that the pegs are sited a reasonable way forward, and the swept back bars mean you don't have to do a lot in the way of leaning forward.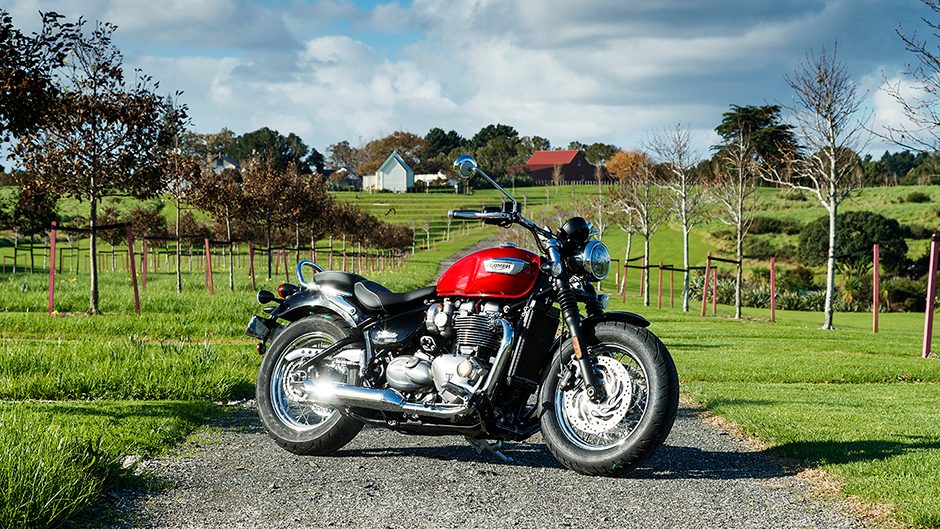 Does it work well? Depends a bit on the day. Given there's no weather protection, any head wind makes the rider the dominant aerodynamic factor. We reckon the pegs are sited just a bit too far forward, and the seat had me squirming some after an hour on the go. Perhaps that's because there's not a great deal of rear wheel travel with the hardtail-look suspension set-up. Over most bumps it works well enough, but hits over shorter, sharper road irregularities can impact on the lower back.
Overall, it rides just a tich better than Bobber though, possibly because of its bigger bouncier front tyre, a 130/90-16 number compared with the Bobber's 100/90-19. It's not that easy to lift your weight off the seat with the pegs set so far forward. But then if they were sited any further back, they'd hang up even more. As it is, they're about right for ground clearance, only touching down when you enter a corner with a bit much speed on. Best to trailbrake in then, and exit under a progressively opening throttle, which is what's recommended for best stability anyway.
The standard traction control will take care of any unexpected slippage. The Speedmaster makes for a pleasant outing all the same, and that's what cruisers are meant to do, make you feel good. Others may like to ride bikes that rev out to 17,000rpm but those into cruisers certainly don't and this one makes the grade by delivering peak thrust at real world revs. You can ride it briskly without ever exceeding 3500rpm.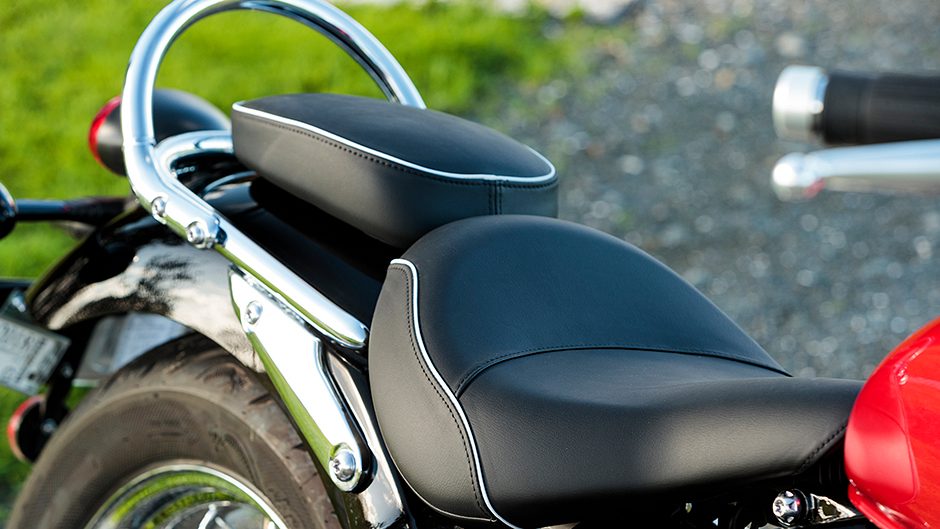 However, it also delivers a quite respectable dose of added enthusiasm above midrevs until the redline of 6500rpm. Certainly that's where the best performance resides. There's a couple of engine modes, Road and Rain, though we never tried the latter as fueling was so smooth in the former. And on smooth, gearboxes don't get much oilier than this, aided by a lightweight slip-assist clutch mechanism.
As quick as Bobber
Despite being similar to Bobber mechanically the Speedmaster isn't precisely the same being a touch heavier (more discs up front) at 270kg vs 240 for the Bobber. And while power and torque peaks are similar, the revs they're produced at are different.
And yet, by coincidence, there was no difference whatsoever in overtaking time, both bikes managing 2.66sec on the 80-120km/h discipline. And the sprint time of 4.19sec is only 0.1sec down on the Bobber's. For cruisers these are quick times. But then these aren't that heavy in the cruiser scheme of things. And even manhandling the bike around isn't that much of a chore. Having a low centre of gravity helps, the seat height of 705mm making turnarounds a bit simpler. Brakes on the Speedmaster are the same twin-disc set-up as on the Bobber Black.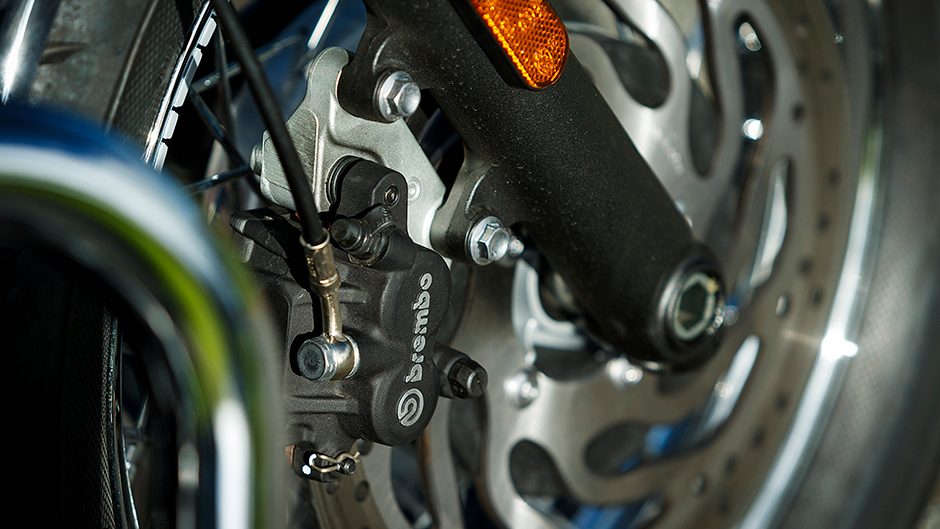 They're a bit soft on initial application – we'd probably try different pads if it were our's – but squeeze some more and they bite well. We found the stopping distance from 100km/h not quite as impressive as the Bobber's on account of the added weight but anything around the 40m mark is pretty decent for a single tracker.
Easy ride
It's almost taken as read that it handles at least respectably; Triumph knows how to make a good chassis, and while the weather has been more testing than we'd like for bike testing, it's a confidence-inspiring set-up, aided by good Avon rubber.
The standard-fit TC helps, though for the most part it is unobtrusive. Nice to have it there in the background though. And another nice thing is the finish, right down to nut and bolt selection. Though it would be remiss not to mention our first outing on the Speedmaster was a fail. Literally as soon as I fired it up, an engine warning light lit up which turned out to be a faulty sensor. Triumph assured me this was a one-off, and true it never happened on this red bike.
Competitors?
Indian Scout is the main one, and there's little in it really, the decision probably coming down to what suits better aesthetically. There's the Harley XL1200s too, though we haven't ridden that.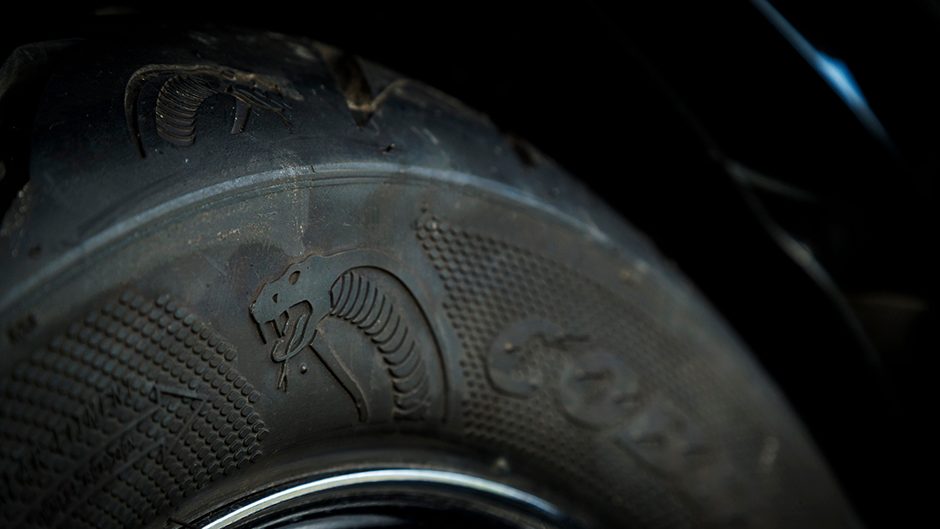 | | | | |
| --- | --- | --- | --- |
| Model | Triumph Speedmaster | Price | $22,490 |
| Engine | 1198cc, liquid-cooled, fuel injected, IL2, 57kW/105Nm | Drivetrain | 6-speed, chain final drive |
| 0-100km/h | 4.19sec | 100-0km/h | 40.13m |
| 80-120km/h | 2.66sec | Weight | 266kg |