Premium compact SUVs are hot to trot and Volvo's new XC40, the 2018 European COTY winner, is set to spark an uptick in Volvo sales locally. We sample the launch edition T5 AWD R-Design.
In the same week we recently drove a pair of compact SUVs that not only both won the European Car of the Year award but also are nearly identical in physical measurements. Moreover both came in fetching white with two-toned black and silver alloys, and a black roof with chrome embellishments.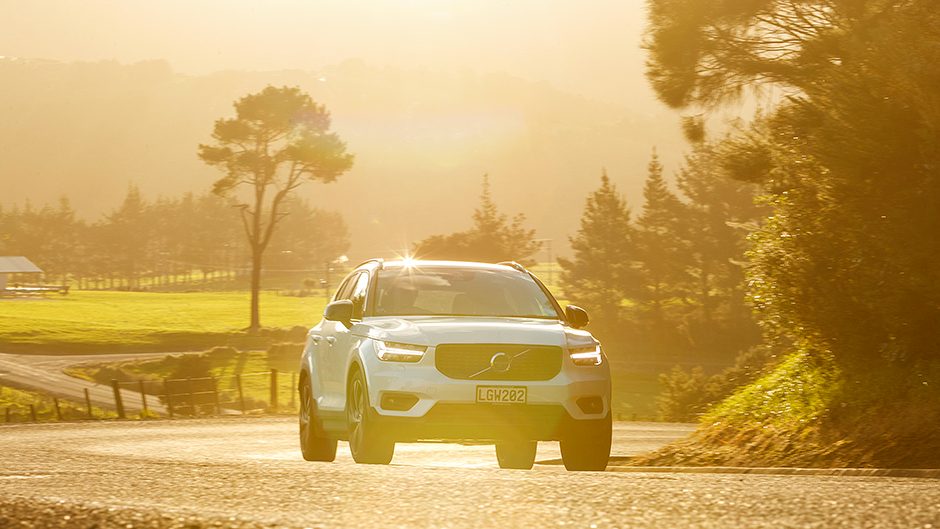 So one evening, come home time, I went to unlock the Volvo XC40 and couldn't get the comfort-entry mechanism to operate….because I was trying to break into the Peugeot 3008. Didn't take long for the penny to drop, and kind of embarrassing, but I don't think anyone noticed.
Anyhow, it arrives with high expectations does the XC40, given how well its bigger sibs have fared both for awards and sales. And with its arrival the morphing of the Swede from a car maker to one of primarily SUVs is complete. Like the German competition, the Swedish are now chasing sales of upright practical vehicles. That reminds of three decades ago when the 240 Turbo, affectionately known as The Flying Brick, was so popular.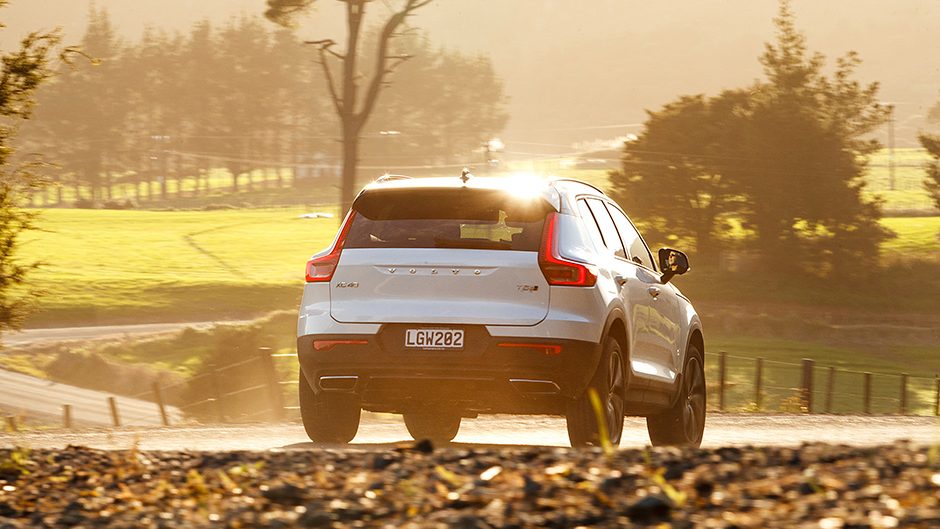 Where XC60 and XC90 are premium and luxury SUV offerings, respectively, with soft curvy outlines and sharing a common platform, the XC40 is something rather different. It's a bit more edgy and upright, with some out-there styling cues, like the upsweep of the D pillar, and the concave cutouts at the lower edge of all four doors, just above the plastic-clad sills. The blackened roof gives it a floating effect.
Like the 3008 GT Line, this is a bit of a looker in the SUV set, and will appeal to buyers wanting something that's clearly a Volvo – it shares the Thor's hammer headlights – and yet dares to be different. If the XC60 and XC90 are a bit much for you in terms of size, which makes them slightly less urban friendly then the XC40 will be more up your street, being less than 4.5m in length, yet still accommodating four adults in comfort. It has a reasonably tight turning circle too, ostensibly 11.4m. With a transverse engine layout it is said to rival the European competition for interior space – Volvo calls XC40 its "big little SUV" – and offers a load bay capable of toting 460L of gear, or 1336L when split-folded (it goes completely flat).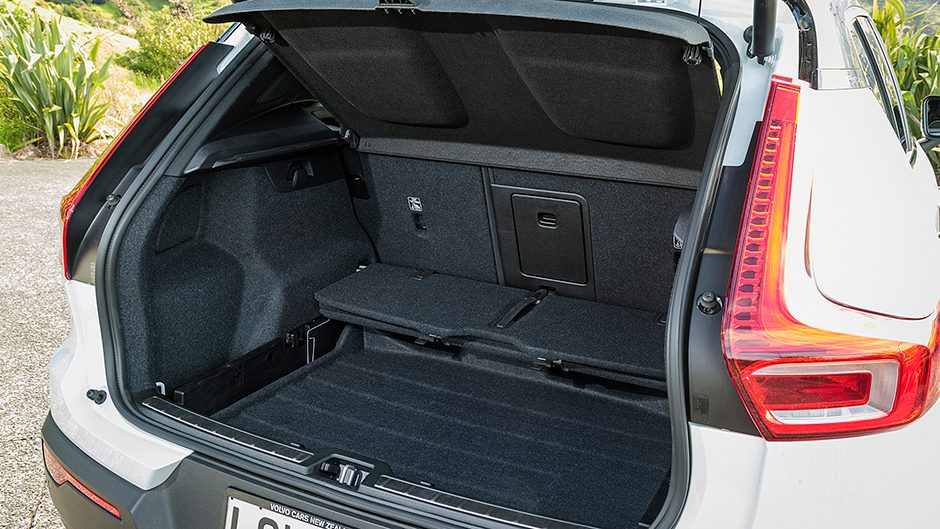 On the gear theme, the interior is optimised for oddments stowage, the map pockets front and rear bigger than the norm, freed of housing woofers, and the central bin big enough for a box of tissues. There's also a waste paper basket in which to get your fingers stuck – what's-this-for Tom (aka Homer) soon discovered that – along with hidden underseat storage. What's also striking about the interior is the option for the lined door pockets to be finished in orange, among other hues, and that extends to the carpet and mats. Appealing then to the younger buyers out there.
And on that, the initial units for sale were limited to this, the Launch Edition variant, of which all 30 are already spoken for. Once the other models arrive (T4s in Q3) the range will span from front-wheel drive T4 Momentum at $59,900 to the T5 R-Design AWD at $72,900 (available now), with an in-betweener, the T4 AWD Inscription at $67,900. There will be no oilers; Volvo asserts that diesels in future will make way for electrified vehicles. Besides, in this class the vast majority of sales comprise petrols.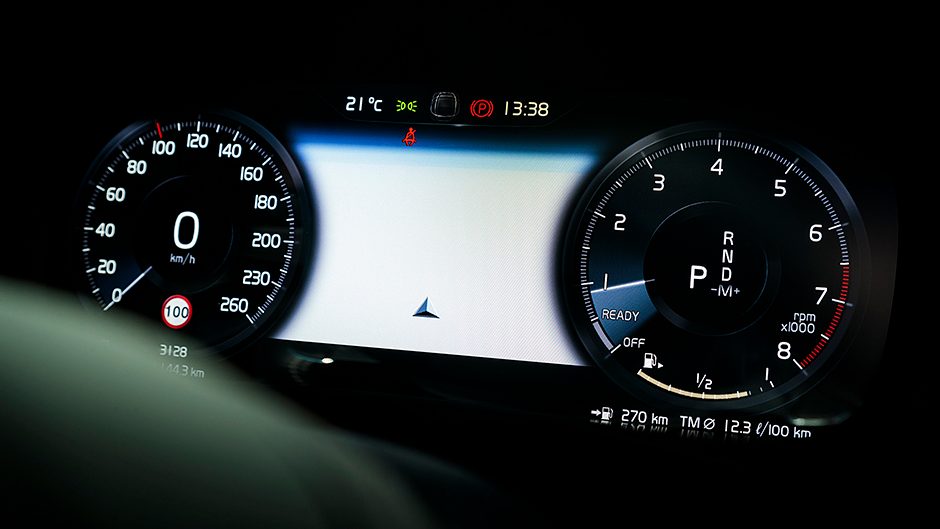 But if you don't want one of the turbopetrols offered, you can wait for the hybrid, likely to be a three-potter with an electric motor, or the fully electric XC40, both due out in a year or so. As it stands, the T4s use a 2.0L mill good for 140kW and 300Nm, while the T5 R-Design gets a boost to 182kW and 350Nm. It has a claimed sprint time of 6.5sec but as of now we cannot confirm that because it's raining persistently outside and we're awaiting a let-up in the weather so we can go chase some numbers.
However, we did manage a decent drive in the XC40 24 hours earlier, when there was precious little rain, and even less on the east coast where we undertook a mini-loop north of Auckland, up highway 16 to Wellsford, across to Pakiri, over the hill to Leigh and Matakana, and then back through to the Kaipara via the ute-laden Woodcocks Rd. Despite plenty of hold ups from heavy trucks which seem to be everywhere nowadays, and own-the-road utes (also everywhere), we had a great drive.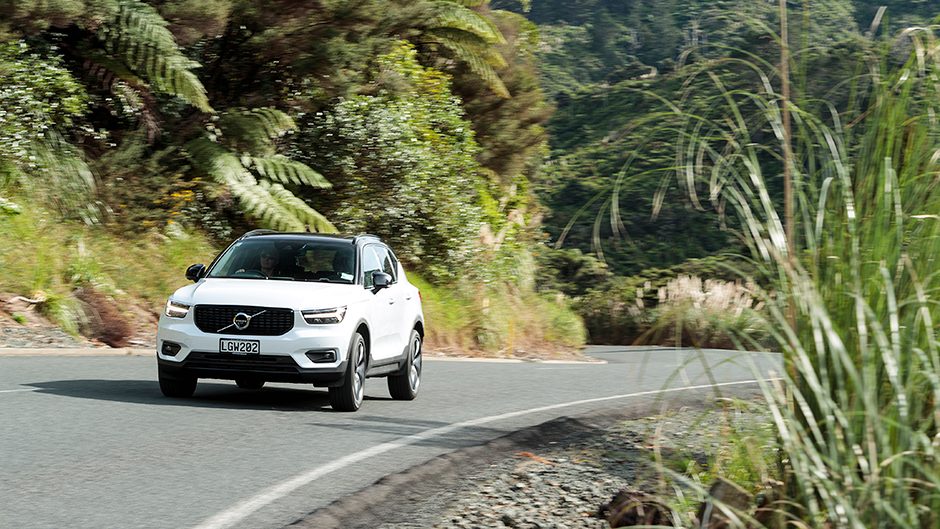 There are some wonderful testing roads around this area, which the top XC40 dispensed with easily. Then it would, would it not, being AWD and with a relatively short wheelbase. It uses a new steel monocoque chassis, the so-called Compact Modular Architecture co-developed with Geely subsidiary Link and Co. Volvo has always tried to tread a fine line between dynamics and a smooth, stable ride, often favouring the latter over the former. But the newcomer is different, a bit bolder dynamically.
We saw the XC60 moving in this direction and this is more of the same. You quickly sense that, with steering that's more direct than expected, and a ride that's a bit more controlling and considered than in bigger Volvos. Perhaps the big 20-inch rims shod with sporty 245/45 P Zero rubber contribute to that. Moreover, the suspension is fixed, though the R-Design features a 'sports chassis' (with stiffer springs and stouter roll bars, as opposed to 'Four-C' Active chassis, with adaptive damping).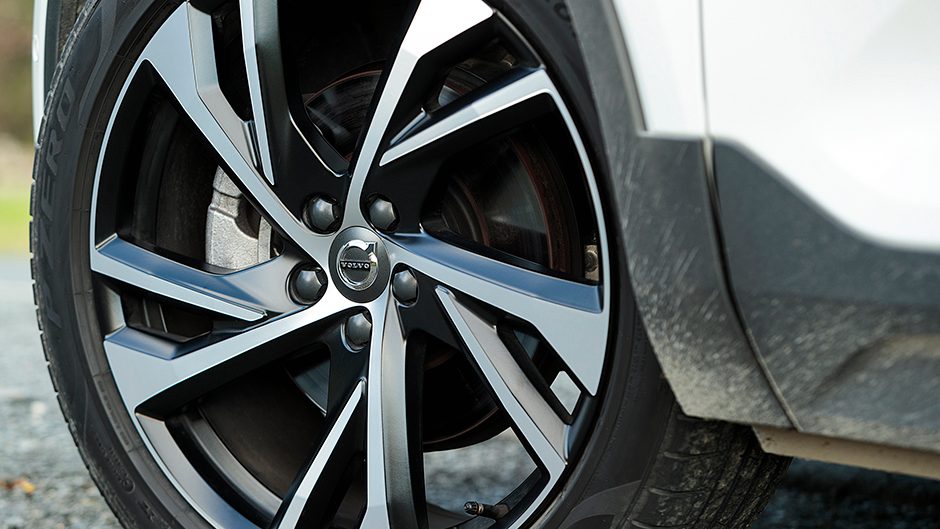 Whatever, it certainly is not afraid of a few twists and turns in the road and, aside from a bit of body lean, holds a line really well, aided by torque vectoring, and exits in a hurry as soon as you're part way out of the turn. There's no hint of torque or bump steer, but nor is the wheel exactly brimming with life. Still, it's responsive, as mentioned, and so secure. Despite all the rubber, it's not noisy inside the cabin, partly the result of noise cancelling digital technology.
The motor is a well known, proven thing, part of the Drive-E line-up. In this instance the 2.0-litre four is hooked up to a quick- and smooth-shifting eight-speed automatic, which has it turning around 1700rpm at 100km/h. One unusual aspect is the shifter, which needs a double pull or push to hit D or R, respectively. Pull it back from D and it goes into the M for manual mode, activated by paddles.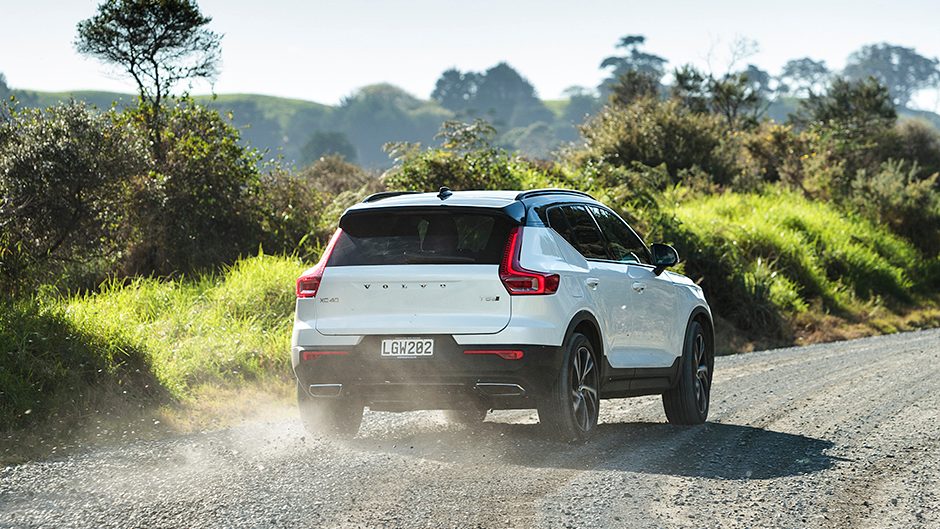 There's also a mode button, permitting access to a Dynamic setting, hyping engine and transmission responses, best reserved for the types of roads we sought out around Pakiri. Volvo reckons on fuel use averaging 7.1L/100km but our trip computer (which permanently shows average consumption and DTE) seemed to be stuck on 11.2 overall, rising to a top of 14 when we gave the throttle a bit of a tickle.
But then it's a performer, goes hard when asked, and is effortless around town. An overtake requires 4.6sec, so it is one of the quicker in this sector. In the racier Dynamic setting, it's all too easy to hit supralegal speeds, especially as progress is so quiet. Our sampler fortunately had active cruise, part of a $2000 Driver Support Pack. Other items in that include semi-autonomous drive mode, self-parking, and a 360-degree camera. Also fitted to our Launch Edition tester, a high spec T5 AWD R-Design, was the $5k Lifestyle Pack, comprising premium sounds by HK, a panoramic sunroof, power folding backrests, and tinted windows. Rounding out the extras were alarm and private locking ($935) and heated front seats ($450). All up, you'd be looking at $78,900.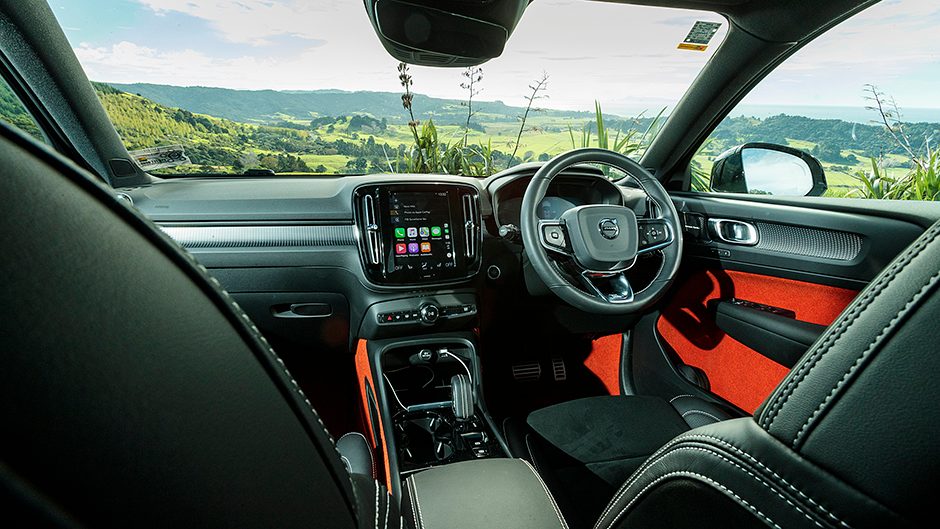 It's not like the standard $73k R-Design is barren, though we wonder why they wouldn't fit seat heaters to something with Nappa leather upholstery, and add the extra $450 to the price. Apart from not having active cruise, it has pretty much every other safety aid. There's no official crash test result yet, but you'd not bet against a five-star rating which its bigger sibs already have.
Standard kit on the T5 R-Design not already mentioned includes full LED lighting with auto dipping and active bending lights, DRLs, dual zone air, powered front seats, navigation, comfort entry, powered tailgate with gesture opening, sports pedals, aluminium decor inlays and wireless phone charging. There's also parking sonar front and rear, a reversing camera, Apple CarPlay and Android Auto, a folding boot floor for compartmentalising items, and parcel hooks there and in the glove compartment.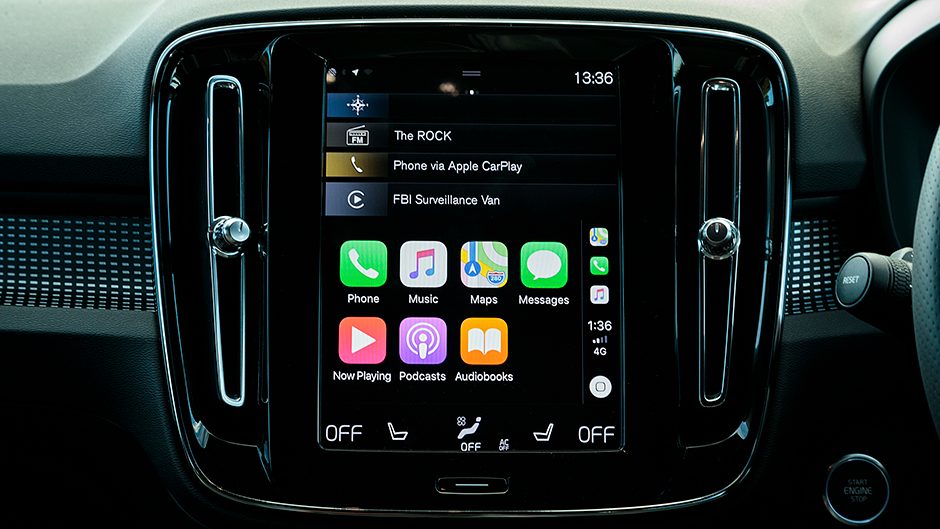 An HK sound system is a $2500 option for R-Design, featuring what Volvo says is an 'air-ventilated woofer mounted in behind the dashboard'. This obviates the need for woofers in the doors, hence the extra map pocket space. Air-vented woofers are nothing new, known as bass reflex enclosures, enabling extension of bass reproduction for a given enclosure size but you do hear port noise at times.
Volvo is entering the lion's den with XC40. It runs up against similarly priced though slower Q3 with a 1.4L engine, the comparable X1 costs $10k more, and the GLA, NX and E-Pace cost $10k extra and are not as quick. Its closest other competitor is Tiguan R-Line, slightly less expensive but not quite as classy inside as the XC40.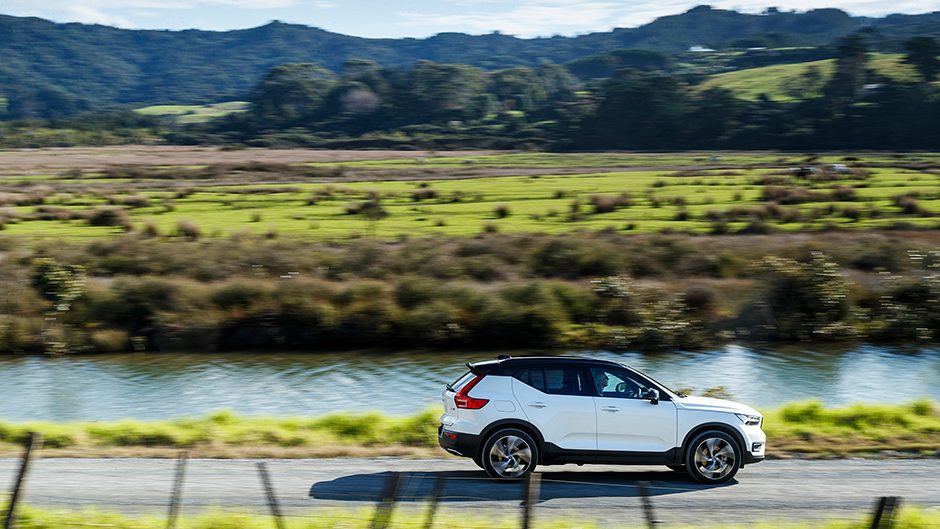 Volvo NZ is expecting big things of its new compact premium SUV and it's unlikely to be disappointed. With 80,000 global orders already, production is being ramped up in Ghent and China to meet high demand.