A roadster version of the Thruxton makes lots of sense; not everyone wants to make like a jockey when commuting. We ride Triumph's reborn Speed Twin.
Most young'uns won't know about the original Triumph Speed Twin, although they might have heard of it. Launched pre-war it was lightweight and became the first 500cc twin-cylinder British bike to sell in significant numbers. Despite the factory being destroyed in the war, it continued to fare well after a new production facility was built at Meriden. The Speed Twin was the blueprint for success that other British bike makers adopted.
Now the famed name has been reprised in a new model 50 years on since production ended of the original.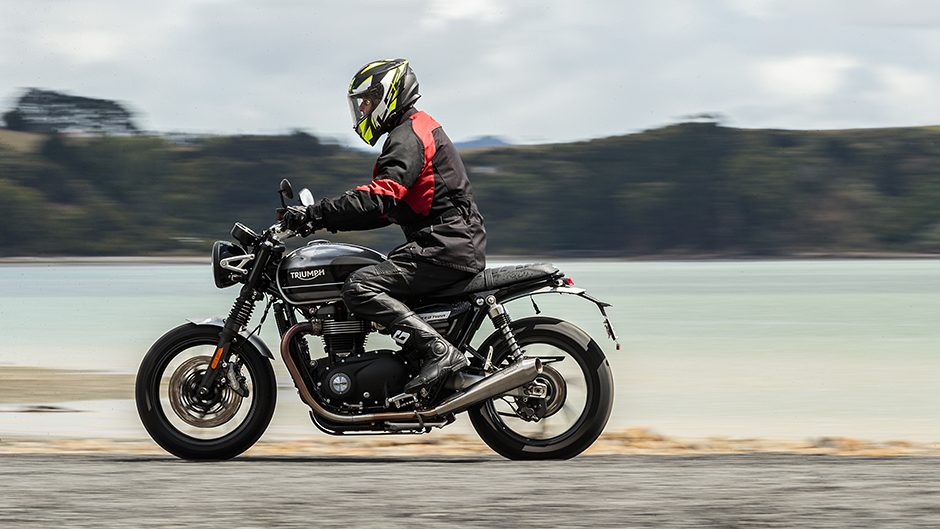 As mentioned in the recent round-up of 2019's new machines, the Triumph Speed Twin was one of the best I rode but it never qualified for BOTY inclusion because we didn't manage to snaffle one for a full test. Shame that, as it might have carried the day.
But by happenstance we were offered a ride on a privately owned example with just 630km on the clock. Thanks for that Wal; it's much appreciated.
What exactly is the Speed Twin? You might think it's essentially the Street Twin on steroids. But not really; it is more like an upright, naked version of the Thruxton. It shares the same high power 1200cc parallel twin engine (71kW/112Nm) as the cafe racer and much the same chassis, though with more aluminium parts, like the central spine. The engine has come in for some revisions as well, mainly to carve off unwanted kaygees, while the cast wheels are lightweighted for extra agility; less rotating mass and inertia equates to more agile cornering. Brakes feature twin Brembo four-pot calipers up front, like Thruxton, but aren't radial mounted. No matter as they bite beautifully anyhow. But just don't expect quite the sheer stopping power of the fancier picks. We had trouble bettering 39m whereas the Thruxton R needed 3m less road during 100-0 emergency stops.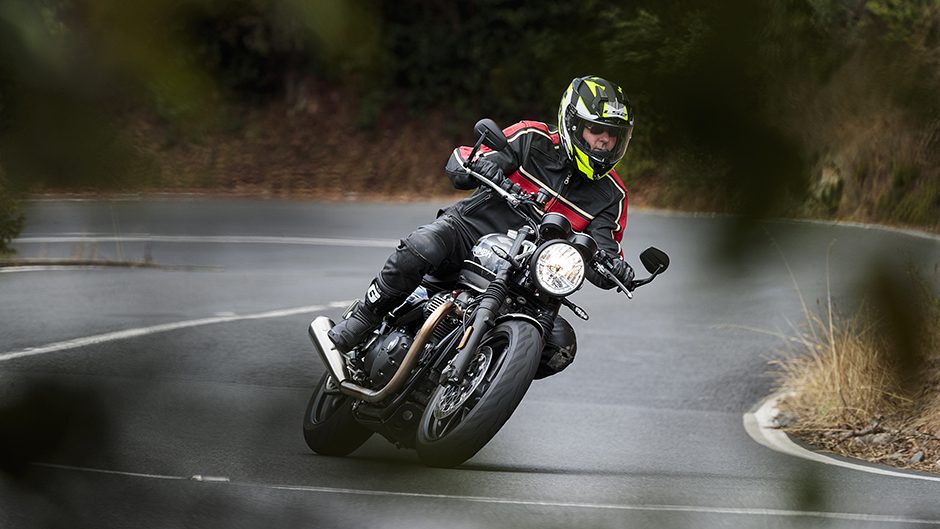 While we're on about comparisons, it's worthwhile mentioning that the 10 or so kilograms saved overall in the genesis of the Speed Twin has made it the livelier bike compared with Thruxton R. The two acceleration measurements we undertake favoured the Speed Twin by around 0.3sec. Our first zero to a hundred run was 3.60sec and our best was 3.35sec, not far adrift of what the superbikes manage in first gear. What makes the Speed Twin feat more noteworthy is that it required two upshifts on the way to 100km/h! The litre bikes don't need any, and it's a similar deal for overtaking. Because the 1000cc fours can rev to 14,000rpm, they get to well over 120km/h in first gear. The Speed Twin only spins to around 7500rpm before encountering the limiter, so needs an upshift from second to third for the 80-120 exercise. Still, 1.9sec is hardly hanging around.
Becauseit's a naked bike and the rider acts as the primary aspect of aerodynamics, it settles into a natural lope around 110km/h indicated, which uses up just 3500rpm. So fuel use is meagre, often in the low fours, sometimes the high threes. Another reason for that is the bulk torque produced at moderate revs. In town you're using revs in the 2000 band, out of town between 3000 and 4500rpm much of the time. Our particular tester had the $1345 Vance and Hines aftermarket mufflers which made the 270-degree parallel twin sound sensational, rich and tuneful but not too over the top loud.
Its six-speed transmission is outstanding, lightweight, fluid, and with nary a false neutral in sight. It is so quickfire too, hence its impressive acceleration figures. Vibration from the engine is negligible so you don't even think about it, and the short-stem bar-end mirrors are only ever clear, giving a great view of the scenery behind.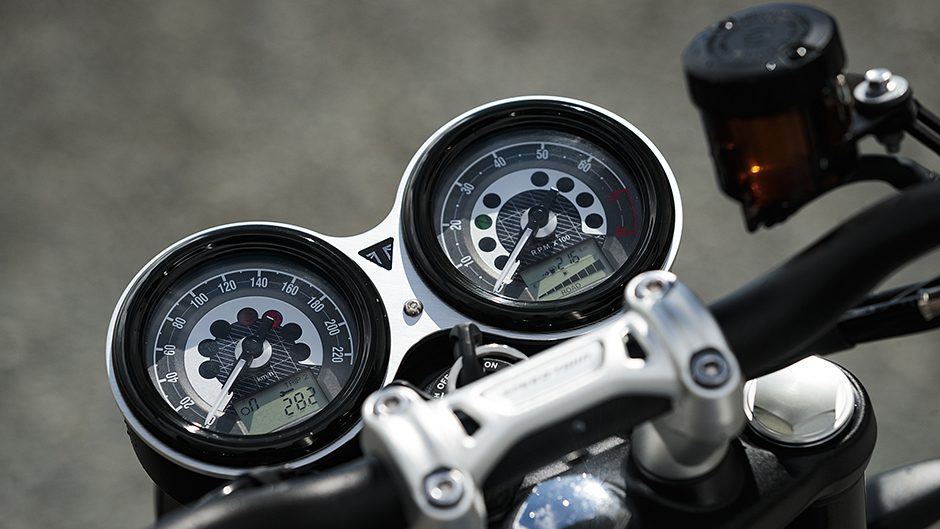 Triumph's new Speed Twin is meant to be a lighter, comfier roadster version of the Thruxton upon which it is based. If you're not into leaning forward to clip ons or adopting a tight tuck to high, rear-set pegs, this alternative might well be a bit of you. For it also has 10mm more foam thickness in the seat. It's a pretty easy-going riding triangle, though after a week in the saddle of a pushbike doing the Alps to Ocean cycle path, my hips were aching after about an hour aboard the Speed Twin.
What a few hours though. This thing really gels. Evidently the chassis engineers reckoned that after all the weight saving it was a bit flighty so they had to tweak rake and trail figures to restore the appropriate amount of stability. Handling is outstanding for a naked bike. Weight the inside peg and the bike almost falls into the turn without you consciously countersteering. You can lean it over with confidence too, as it rides on grippy Pirelli Diablo Rosso IIIs. Suspension is minimally adjustable but works well anyway.
Being part of the Bonneville family this is a retro-looking machine, so the info on the twin dials isn't that easy to absorb at a glance. But there's most of what you'd want and expect there, like fuel use, trip meter, gear indicator. There's no digital speed readout. And no cruise control either but figure on three different riding modes, Rain, Road and Sport. Truth be told the latter pair feel much the same. There's also traction control, which you can turn off for best acceleration runs.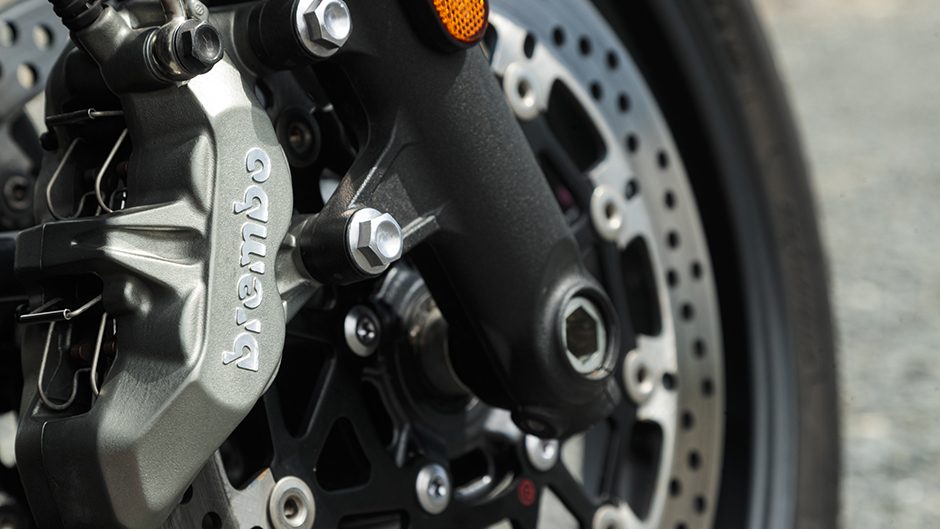 On the go, this has solid engine braking so it's fun to ride in the no-brake style, downshifting for the corner to set speed. For most situations, going down one gear is sufficient, including for overtaking as there's enough torque in top simply to roll on above 80km/h.
Things we'd like to see include self-cancelling indicators, like on the Harley we rode earlier, but we'd keep the left sided switch rather than independent on/off buttons for each side. And perhaps we'd check the aftermarket catalogue for a bikini fairing of some sort. Those that fit the Thruxton, like the Dart screens, also attach to the Speed Twin at the same mount points. We'd also add a couple of those rubber pads either side of the tank because it's a bit narrow at the rear for easy knee grip.
And that'd do it nicely for customisation. If you're a fan of the modern Bonnevilles this, to my mind, is the best they do at present. It costs $21,900 in black and $22,350 in two-tone red/black or green/grey.
The only thing better will be the higher specification R version with updated suspension and brakes. Which you'd absolutely not bet against Triumph doing, seeing as they've already done R and RS versions of Thruxton.
| | | | |
| --- | --- | --- | --- |
| Model | Triumph Speed Twin | Price | $22,350 |
| Engine | 1200cc, liquid-cooled, fuel injected, IL2, 72kW/112Nm | Drivetrain | |
| 0-100km/h | 3.35sec | 100-0km/h | 39.59m |
| 80-120km/h | 1.90sec (55.38m) | Weight | 217kg |