The FXDR 114 is Harley's take on a power cruiser and comes up against the similarly priced Diavel and new Rocket III. How does it fare?
We imagine plenty of people must have been close to breaking down when in 2017 Harley-Davidson announced the V-Rod was being discontinued because it could no longer meet emissions regs. It looked and sounded so mean with a few aftermarket tickle ups. So the news last year that H-D was releasing a new sporty addition to the Softail range in the form of the FXDR 114 probably overjoyed V-Rod owners. Gone was the water-cooled 1247cc mill and in its place a much burlier 1868cc Milwaukee-Eight engine instead.
It's different in other ways too, but a couple of aspects to this brutish cruiser immediately come to mind. First up, Harley introduced its new Softail model on track. A Bar and Shields cruiser that can really get down! Despite its low 720mm seat height, this does have genuine cornering clearance, and H-D reckons you can lean it over to 33 degrees either side. The upshot is that it's really not that easy to scrape the pegs. One of the reasons is that they're forward set, so the road tends to bump your heel off the peg before it touches down. Unless of course you deliberately move your foot forwards before cornering, and then you can give it a proper shot at making metal to Macadam contact. We only managed on a handful of occasions. Had the designers gone with mid-sited foot controls, which would probably have made the ride triangle more comfortable, for sure cornering clearance would have suffered. So that's why it looks like it does, with the aggressive forward-mount controls.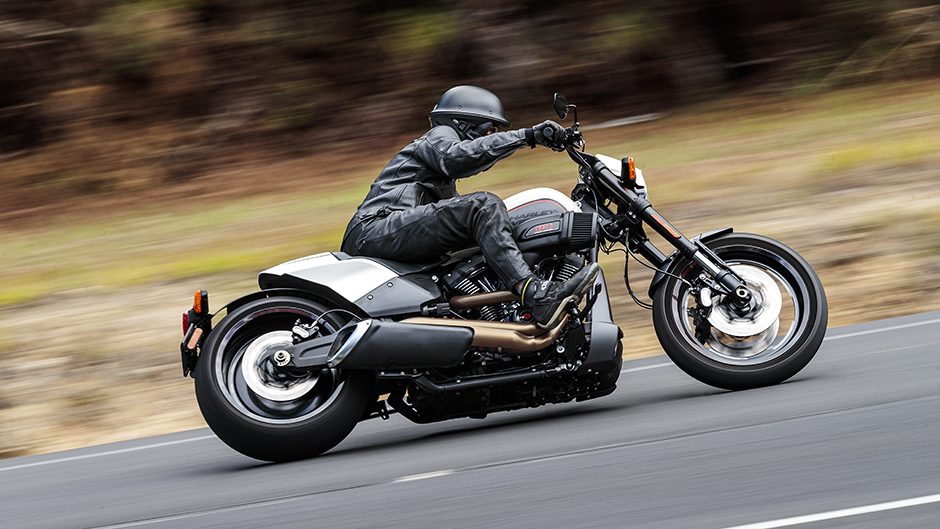 Like any modern power cruiser, it's all about the looks and this is out-there bitchin'. Inspired, awesomely, by jet fighters and drag racing. This is a serious head turner, even in Bonneville Salt Denim white. There are so many aspects that catch the eye, it's hard to know where to begin. But the most obvious is the beautiful MW-8 engine, the right side dominated by an air cleaner that makes it impossible to grip the tank with your right knee. We don't think that's an issue because you tend to ride cruisers with legs akimbo anyway. From side on your eye is also drawn to those raked out forks and Diavel-esque header pipes, while from the rear the enormous 240/40R18 tyre and solid wheel are hard to overlook. Up front, there's a small square-shaped LED headlight, and a wee cowl above that, along with a set of clip-on handlebars. Low rise mirrors finish the bike off nicely, as does the single seat. This impresses from just about any angle.
Course with a power cruiser you want to know a few other things, like horsepower for instance, and in this instance you might be initially disappointed, with just 90 horses developed at 4500rpm. Not a whole heap, given this big V-twin displaces 1868cc. And that's down a ways on the 165 you get with the Rocket III and the 154 of the Diavel. So what about torque then? There's a solid 160Nm of that to get your teeth into which compares with 129Nm for the Ducati, but an almighty 220Nm for the new Rocket III.
With the FXDR, it seems that around 90 per cent of peak torque is available right across the 2000-3000rpm area, so this is one relaxing sport cruiser, at least in its demeanour. We're not so sure it's exactly relaxing for either riding position or ride quality, however. As mentioned, the pegs are sited forward primarily for cornering clearance. But that means if you're short of inseam this might not suit you so well. If you've lower back issues you'll probably not be tempted by the DR either. Riding on smooth surfaces this mops up minor imperfections well, but anything more substantial you will notice. That's all part and parcel of the hardtail look and limited suspension travel. The FXDR has adjustable preload at the rear, and that can be done on the move via a knurled knob under your right leg. Even so, wound right down, you still feel the shock of the big hits.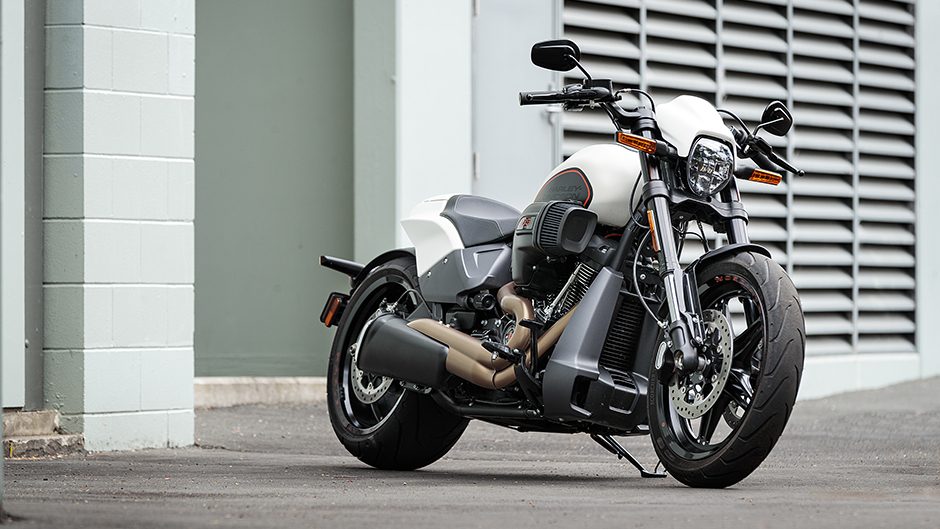 But the nifty handling compensates and you'd fully not expect this necessarily because of the 34 degrees of fork rake and the massive rear tyre. Such a huge amount of rubber on the road often makes initiating the turn difficult, but there's no such effect here. Sure, it won't turn as quickly as something with a shorter wheelbase, but it willingly leans right over and hangs tough. Your mates on sports bikes might not believe the lack of grinding that's normally associated with the cruiser genre.
Nor will they believe how quickly this thing can haul to a stop. We imagined it might well slow nicely with its twin 300mm discs, four-piston calipers up front, 292mm disc with two-piston caliper to the rear and extra rubber, but this raised and reset the bar for motorcycles of any genre. Cruisers always seem to stop in commanding fashion, and that's because of their rearward weight bias. The extended wheelbase makes for stable emergency ABS stops from open road speeds too, and this undercut our previous best figure by 2m. At 33.95m, it bests what most cars are capable of.
For straight line speed, however, this is humbled by the bona fide power cruisers, like VMax, Diavel and new Rocket III. Essentially it takes four seconds flat to hit 100, where the others get there in under 3sec. And the overtake takes twice as long, even if 2.76sec seems pretty hasty in car terms. These figures largely overlay those of the Low Rider S which is the same weight and runs the same engine.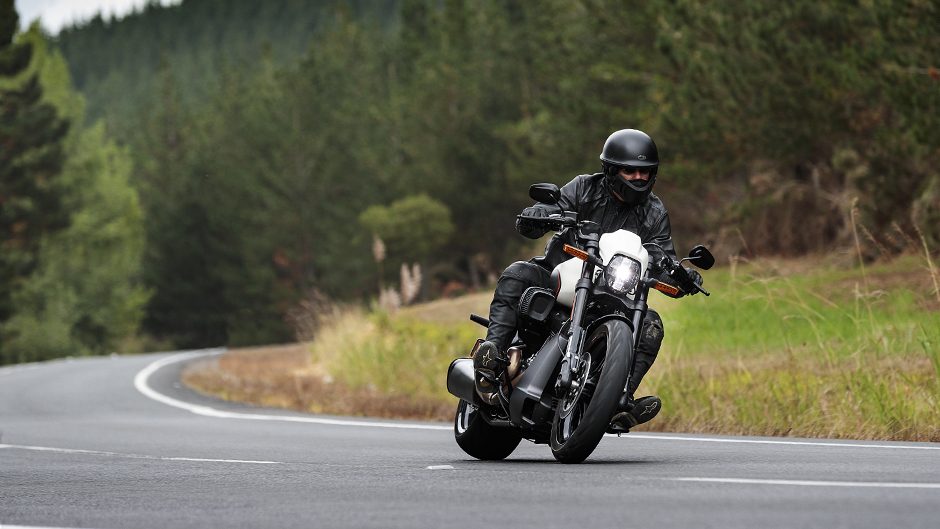 But performance isn't really what this bike is all about; it's how it lays it down in such lazy fashion. There's abundant torque down low so in town you're upshifting by 2000rpm, and even on the open road you seldom need to venture beyond 3000rpm if you're just out for some fresh air. Changing up early also makes shifts of the six-speed gearbox smoother.
Talk about laid back though. The engine pulls resolutely from 1800rpm or 80km/h in top, turning just 2200rpm at 100km/h, 2500 at 110. There's not much in the way of vibration at the bars or pegs either, though the stubby little mirrors suggest otherwise at open road speeds.
Torque is king here, besides which the show is all over by 5500rpm. That's how come its rivals make more power; they can rev higher and in the case of the Triumph there's one-third more capacity.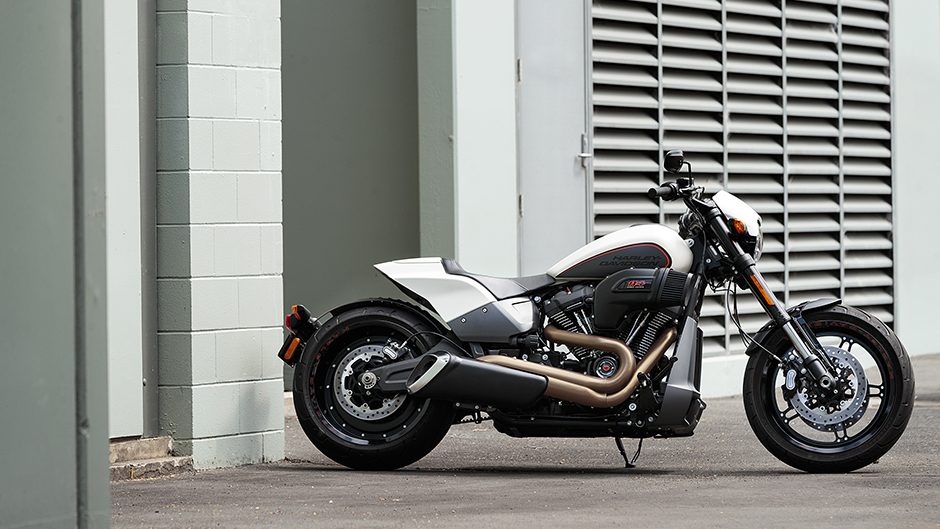 So essentially you're looking at something that resembles a power cruiser but is really a cruiser that corners. And because of its raked out wheelbase you need to take a bit of care in tighter confines. The steering lock isn't bad but this is still a longshanks and you need every bit of real estate available to perform a U-turn on two-lane thoroughfares. Switchback corners are similarly dealt with carefully but on the whole it's otherwise capable.
In terms of specification, this doesn't have a whole heap of extras. There's ABS but no TC, not that it's needed with all that rubber beneath. Cruise control is conspicuous by its absence and so too engine modes and instant or average fuel use. You get odo, speedo, trip distance times two, digital readout of revs, distance to empty, a gear indicator and a clock. Plus Harley's keyless ignition and alarm. Just pocket the key and kick 'er in the guts. The two-into-one standard exhaust sounds fine but most will want to add something more free flowing like a Screamin' Eagle bolt-on to liberate the potatoes, we'd imagine. Or maybe extra foot pegs and a seat pad for your new friend.
In essence you'd think of this more as a sports cruiser than a muscle bike, given it doesn't quite have the straightline performance of its similarly priced rivaIs. But it looks unbelievably cool, and its torque-laden characterful engine makes it laid back. Plus, it can outbrake pretty much any other two-wheeler out there.
| | | | |
| --- | --- | --- | --- |
| Model | Harley-Davidson FXDR 114 | Price | $37,500 |
| Engine | 1868cc, liquid-cooled, fuel injected, V2, 67kW/160Nm | Drivetrain | 6-speed, belt final drive |
| 0-100km/h | 4.06sec | 100-0km/h | 33.95m |
| 80-120km/h | 2.76sec (79.24) | Weight | 302kg |