Land Cruiser fans are loyal so there's often a line of return customers ready to trade up to the new model. However, demand is massively outstripping supply and after sampling the new GR variant, we can see why.
The Land Cruiser is currently one of the hottest tickets around. In spite of a lofty price tag, demand is running hot and the wait is long. Combined with production delays, Santa Claus will be visiting again before prospective buyers get their new rides. According to Steve Prangnell, General Manager of New Vehicles at Toyota NZ; "Based on the huge demand and tight current global supply, delivery is approximately 12 months as of today but we are negotiating for further stock volume each month." Still, that's better than in other markets where they are looking at delivery times out to four years! But for the Cruiser faithful, the wait will be worth it.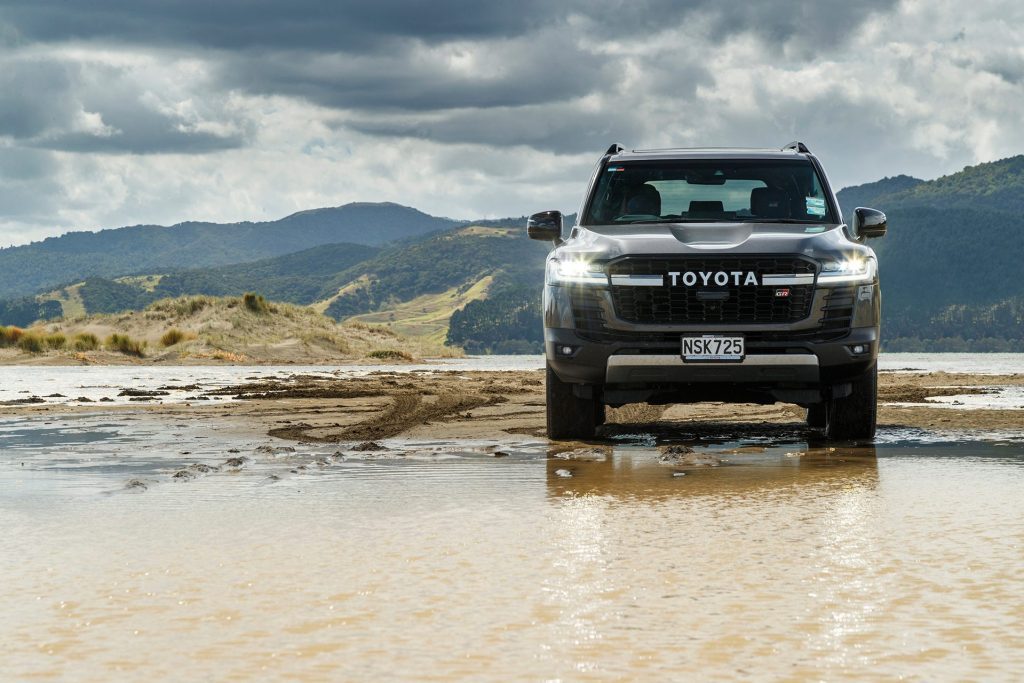 We featured the Limited model a few months ago, and now we are in the GR, the 'sporty' version of the bruiser. It has a unique look with desert-racer inspired styling, Toyota emblazoned across its grille in a retro font. It's a little reminiscent of the Raptor grille treatment, so they are clearly targeting the off-road scene. Where the Limited is dipped in chrome and rolling on 20s, the GR has a darker vibe and trail-oriented 18s. Mechanically it uses the same 227kW/700Nm 3.3 twin-turbo V6 diesel and 10-speed auto but is fitted with adaptive dampers and active sway bars. It costs more too at $144,990.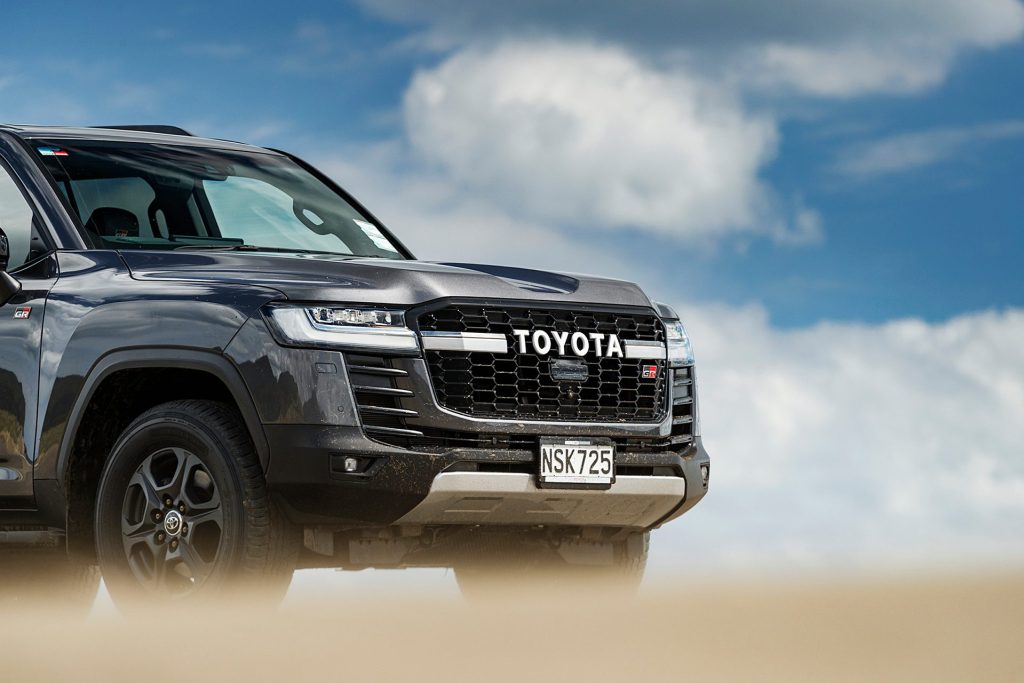 While the GR channels ruggedness, the cabin is far from utilitarian; it's rather swish, in a mass-market luxury type of way. It has the usual screwed-together-tightly Toyota feel and the requisite command and conquer driving position. There's a mix of old and new on display; analogue dials frame a multifunction display in the binnacle, a large touchscreen sits atop a centre stack awash with VCR player-style buttons and there's a CD slot above the USB ports and a charge pad. Also present is a chiller box in the centre bin, good if you like a coldie on the go, though useful cabin storage is lacking.
The GR is a five-seater only, no dickie seats in the boot, and passenger space is adequate though not overly generous for the overall size of the thing. There's quite a large boot however but being an off roader the load height is lofty. Thankfully the tailgate opens conventionally, no silly side-hinged swingers or spare tyres mounted on the door. Primarily this is an off-road tow wagon, the Cruiser good to haul 3500kg. And it should do that with ease given the way the V6 spews forth the torque.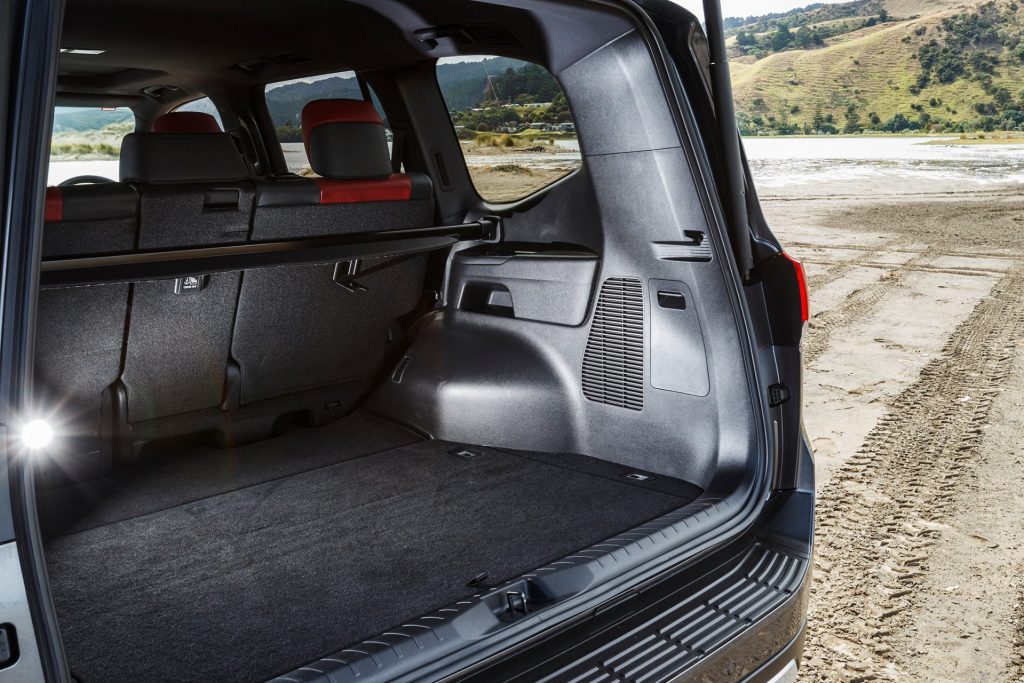 While the new Cruiser's donk is missing a couple of slugs compared with the old V8, the torque has not been sacrificed, as this smaller, more efficient engine still fronts with an ample amount of easy surge. There's no real turbo lag to suffer, no annoying idle stop function either and the midrange pull is suitably mammoth. So there is no need to search for the Sport mode in urban running to kick things along, and it still sounds suitably growly. The ten-speed auto sorts itself, holding onto gears appropriately and reacting to big throttle inputs swiftly. And it's smooth as.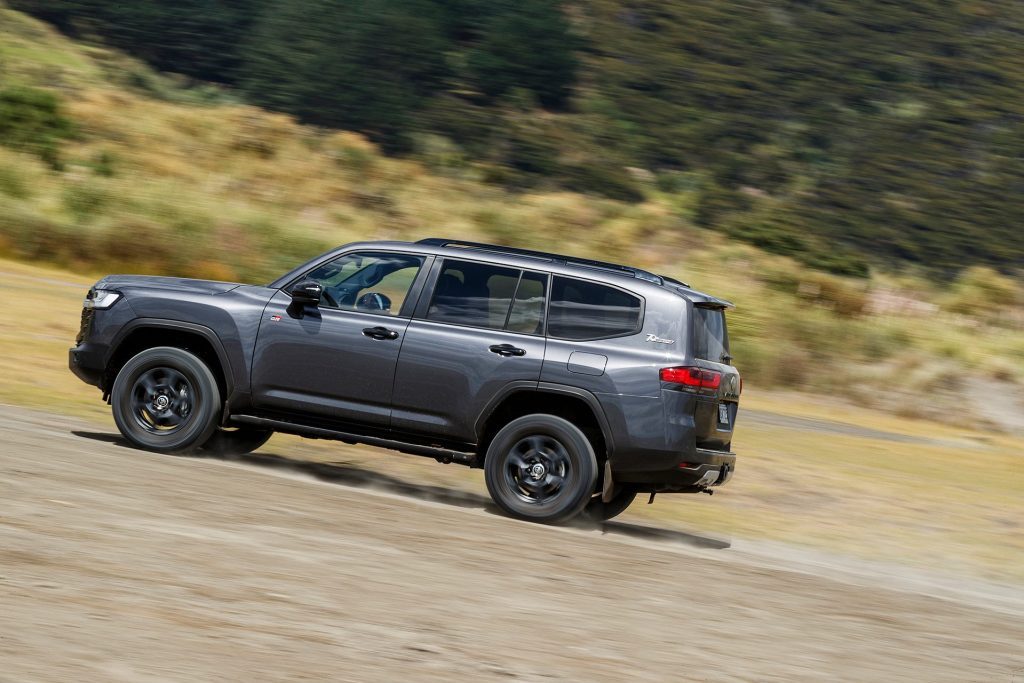 As to fuel use, it's rated at 8.9L/100km on average, and was tracking in the 10.5L/100 range until we dabbled in some off-road malarkey with plenty of vigorous throttle use. However, it settled at 11.2L/100km after a week's worth of driving. The 110L fuel reservoir will let it roam far and wide.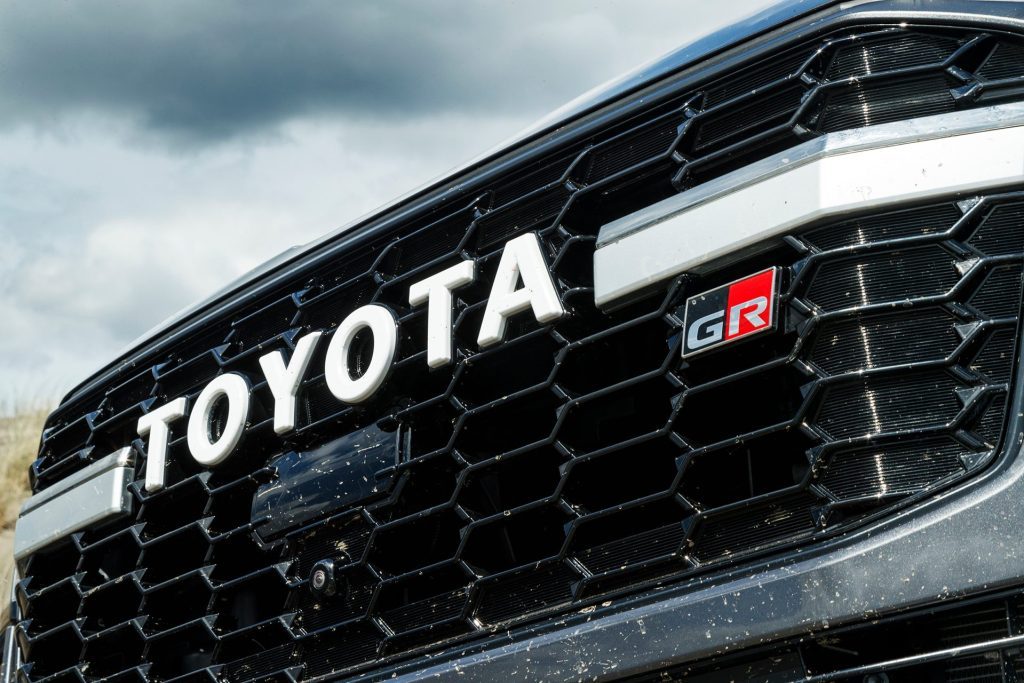 On the highway, this cruises quietly, with enough power in reserve for the overtake. There are myriad drive modes, including Sport S and S+ which see the dampers firm (and the bumps become more evident) while the roll is somewhat tamed as the active sway bars help keep it flatter on the turn. It's not suddenly transformed into a tarmac terror as the GR still understeers and the tyres are easily stressed. That's because it's a lot like an elephant with all of its mass up high and it gallops along on relatively little feet.
For scientific purposes, we rounded up the same tight corner a number of times in Comfort and then Sport modes. Keeping the entry speed consistent, we found there is certainly more control in Sport mode, the front end not as susceptible to pushing, and as the high riding mass is better controlled, it all feels more confident at the wheel. And speaking of, the steering isn't too light or vague, just a bit lacking in feel, but accurate enough.
You want a Cruiser more for its off-road prowess of course (even though you just cruise about town). And so we dialled in the Sand mode for the Multi-terrain Select system (monitors torque flows, suspension settings and works the brakes to mitigate traction issues) and took to the dunes, where it managed to plough through the soft, sinky sand that has trapped a few 4×4 utes when we have ventured there in the past. It even allows for some larrikin circle work, if that's your thing. The low range is simply selected, engaging without the usual clunk, and the ten-speed maintains its refinement as it deals with the masses of torque churning through the box. There's the usual centre locking diff, while the GR adds the ability to lock the rear and front if you're really getting serious. Another handy off road function is the 'see-through bonnet' mode for the camera so you know exactly where the wheels are tracking in order to position yourself over obstacles. And there's a turn function if you're on a gnarly track. This locks the inside rear wheel to tighten the turn, making it one cut rather than a three-point affair, though it only works when you have the Crawl function switched on as well.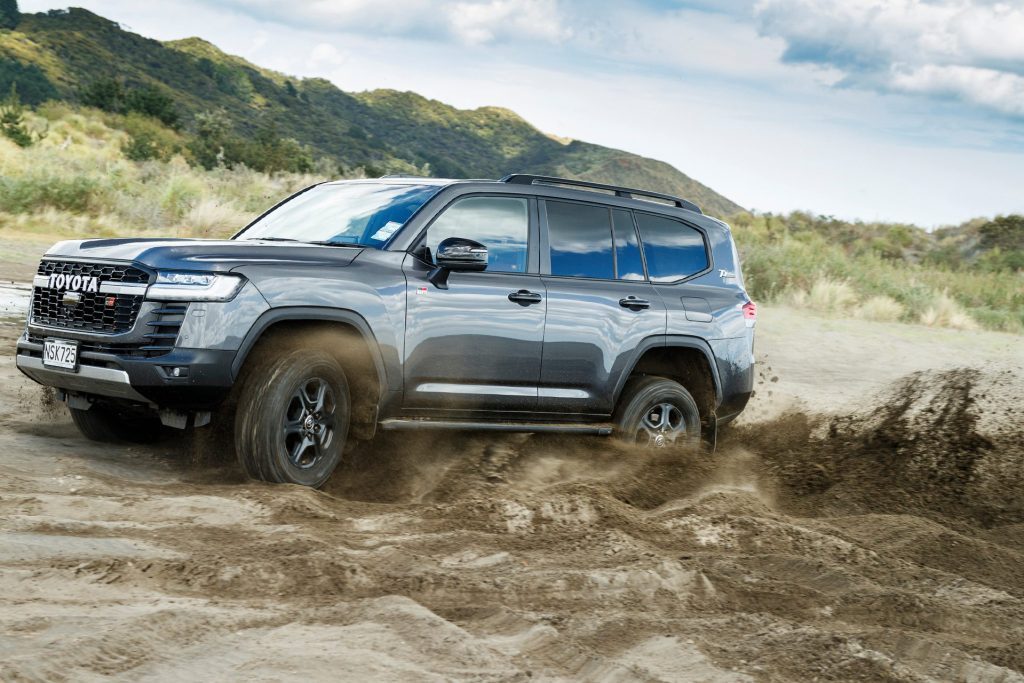 Back on sealed paths, it rides okay for a big, full chassis animal. You wouldn't call it bumpy, but there's always a hint of those rugged underpinnings; it's difficult to disguise a sizable, solid axle on the rear. This isn't tight and controlled like a comparatively priced German luxury crossover. But it's 4×4 aloofness is probably something owners quite like, Cruiser DNA they might call it. The rough road ride is ultra compliant, the permanent AWD helping.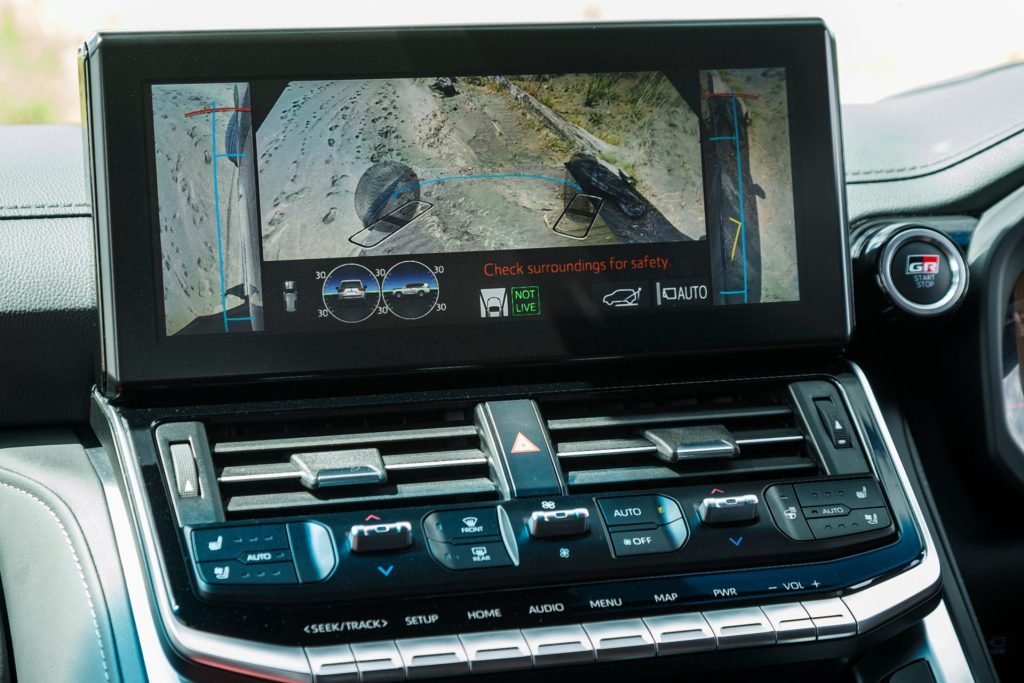 For town folk, this flattens speed bumps, and while the Cruiser is imposing, its turning circle makes it manageable; it's a lot more manoeuvrable than a double-cab ute while it's not too long or wide to be a nuisance. The steering is well weighted for general cruising, and there's a good reversing camera with an around view as well, though the resolution needs to be better for a $144k vehicle. A full active safety larder includes the usuals like all-speed adaptive cruise and (over)active lane keeping.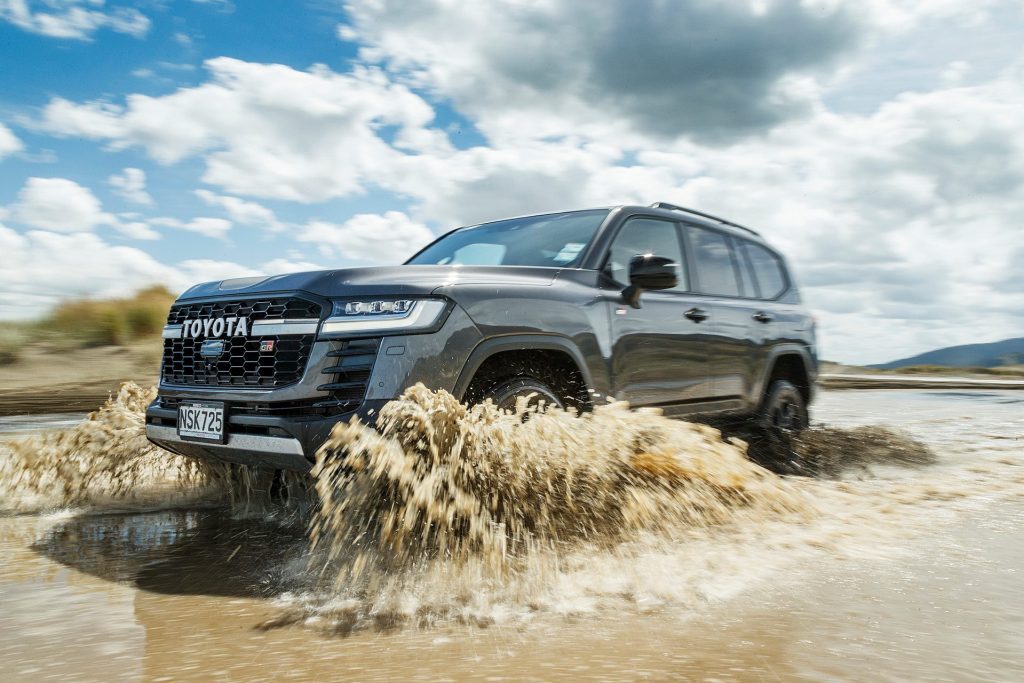 While the Land Cruiser isn't the sort of vehicle most people really need, it's something many want, judging by both the demand for this new one and how many of the older versions are still rumbling around. And it gets under your skin, being an easy thing to live with. The excess of power, the massive capability and high and mighty ride height must have an unflappable appeal to certain types. The Cruiser seems almost immune to depreciation too, certainly when compared with what a like-priced Euro is worth after three years. Given the scarcity of this new model, it seems like this is a sure bet. Some people put their money in gold during uncertain times but you could also invest in a new Cruiser, something that is sure to rise in value too.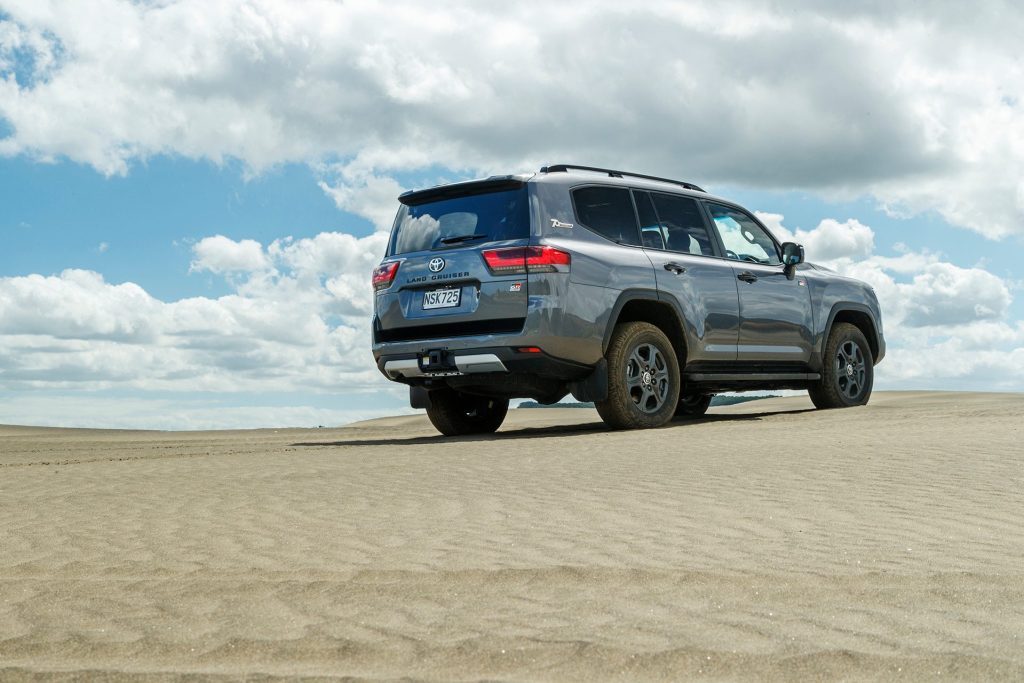 Model
Toyota Land Cruiser
300 GR Sport
Price
$144,990
Clean Car Discount
Fee +$4,715
Engine
3300cc,V6, TDI
Power
227kW/700Nm
Drivetrain
10-speed auto, AWD
Fuel Use
8.9L/100km
C02 Output
268g/km
0-100km/h
7.96sec
Weight
2603kg (claimed)