The authorities overseas, in Europe in particular, are fast heading towards a world in which only pure EVs will be allowed to roam on formed roads.
However, in other parts of the world where BEVs are relatively rare, hybrids remain the intermediate step until battery technology comes of age. And Toyota is expanding its hybrid horizons here, C-HR the latest to jump aboard.
Toyota continues to tweak its NiMH hybrid technology. Where in the past there was essentially no pure EV driving range with the NiMH hybrids, unless you were heading downhill or off a cliff, nowadays the engine shuts off more often and at higher speeds. If the load is low on the motorway, and the battery is charged up (by the engine and regen) then EV driving at 100km/h is possible, briefly.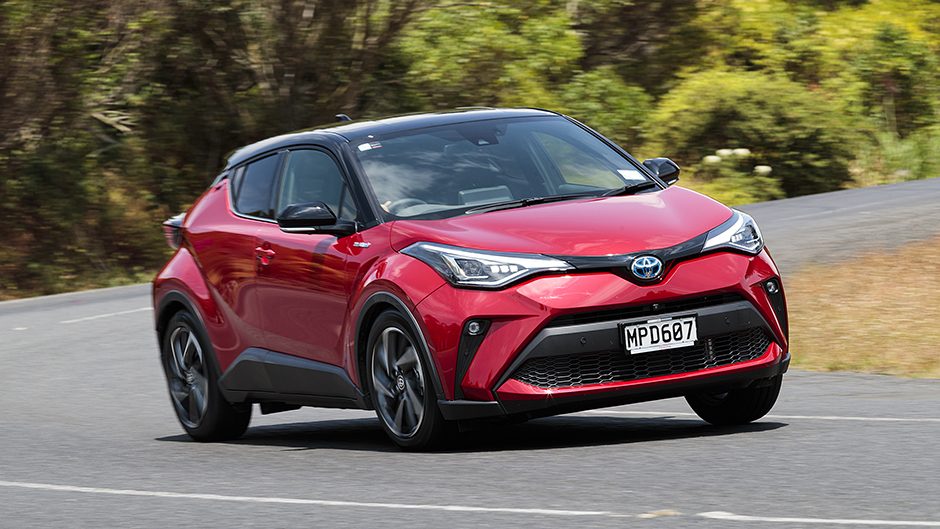 Currently there are two hybrid C-HR models on offer, the same except for specification differences. The Limited gets leather accented upholstery and power lumbar support for the driver's seat, and while both have LED headlamps, the Limited has Bi-Beam units, switching automatically between two different modules for dip and high beam. The Limited also features automatic headlight levelling, and a panoramic view monitor, and costs $38,490 (drive-away pricing). The C-HR hybrid base model goes for $3000 less.
Who are these new front-drive-only models aimed at? Those with an environmental bent and retirees who don't need much space but appreciate the economy. Both of the hybrids use a 72kW/142Nm 1.8 litre petrol engine, and with a motor chiming in peak output is 90kW. Overall fuel consumption of 4.3L/100km (97g of CO2/km) compares with 6.4 (144g/km) for the C-HR running the 1.2L turbo, quite a reduction.
The differences are even more dramatic in the urban setting where the hybrid can utilise its EV mode more often. A fuel use figure of 3.8L/100km around town compares with 7.9 for the 1.2L turbo mill. So the hybrid uses under half as much gas and, being naturally aspirated, it's happy imbibing 91 as well.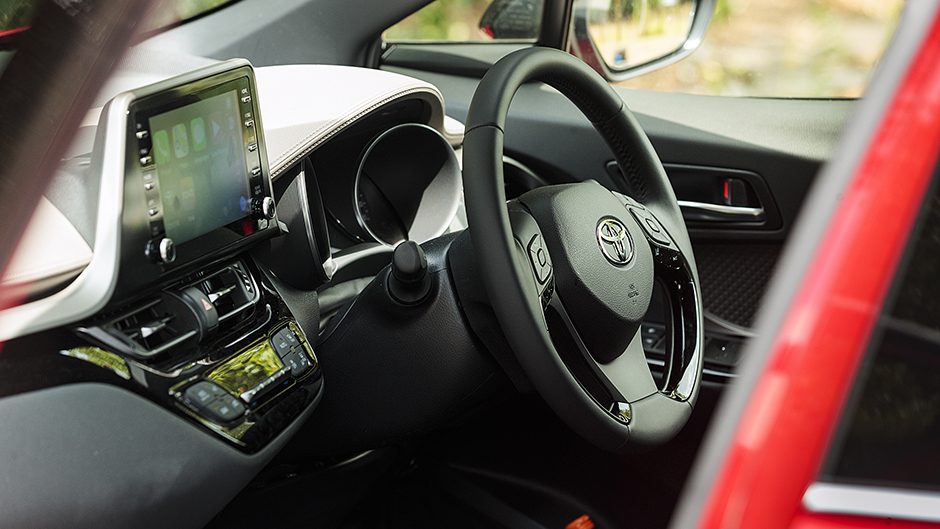 As Toyota New Zealand Chief Operating Officer, Neeraj Lala, said "We're expanding the C-HR with Toyota's hybrid-electric technology because it's becoming increasingly popular among consumers due to its low emissions, great fuel economy and proven reliability." This is evidently the eighth Toyota model in New Zealand to offer a hybrid-electric powertrain.
Almost the entire time we drove both models, mean fuel use registered in the 4s, mostly sitting on 4.5L/100km with a mix of town and motorway driving. Round town, expect even better. And this is a compact crossover that can carry four people in reasonable comfort and tote 377L of luggage capacity. It isn't tow rated though.
It works pretty well if you're heading out of town too. There are three drive modes, which you aren't really meant to access as they are hidden in submenus. Normal is default and works just fine. An EV button is often "not available" because of the charge state of the NiMH battery but EV status happens automatically in Normal mode when you lift off the gas.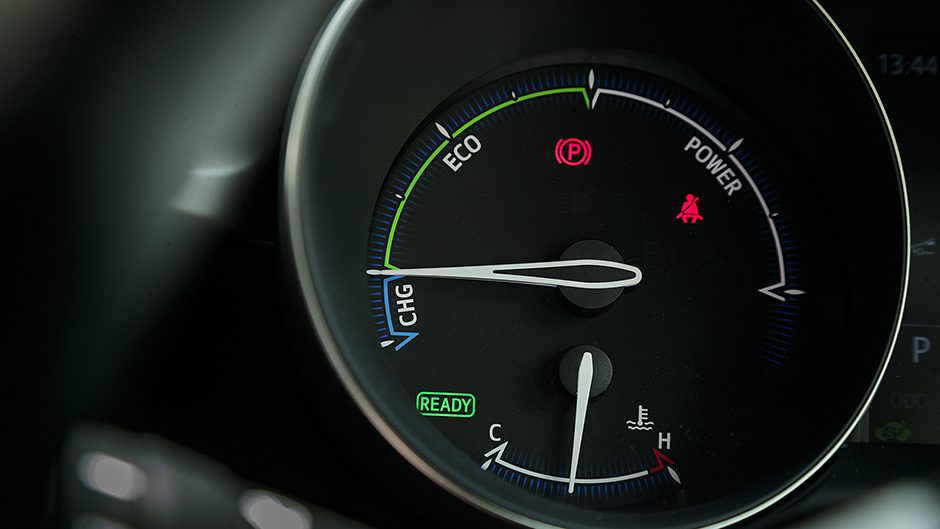 The engine is relatively muted unless you're intent on overtaking some dawdler with cobwebbed external mirrors. And the ride is pleasant, road noise limited to around the 74dB area when traversing rowdier bits of highway.
A fireball it isn't but then when you're going for economy something's gotta give. It gets to 100 in about 11.5sec, the motor assisting the engine, and you breeze past slower vehicles in 8.5sec so you need roughly 250m of clear space to ensure safe passage. A 35m emergency stop is pretty respectable and the brake pedal doesn't have much of the regenerative overlay that's typical of such devices.
Oddly enough, or perhaps by design, the regular petrol 1.2 C-HR produces almost identical performance figures. So what you're really paying more for – in both cases $2000 – are environmental creds. And given the hybrids use roughly half as much fuel as the turbopetrols, we'd imagine you will account for the extra cost within a couple of years.
We like that both models get comfort entry and pushbutton start, along with radar cruise, seven airbags, Toyota Safety Sense active bits like AEB, blind spot monitoring and lane departure alert, an eight-inch touchscreen that links to both types of smartphone, and dual zone climate air. Split folding also produces a completely flat load space. The hidden rear door handles sited high are much easier to grab than some others we've encountered.
As is the case with RAV4, the hybrid is the pick of the C-HR range as well. Until prices of BEVs come down, and range and charging times improve, we like what hybrids (and plug-ins) can offer; essentially the best of both worlds.
| | | | |
| --- | --- | --- | --- |
| Model | Toyota CH-R FWD Hybrid | Price | $35,490 |
| Engine | 1798cc, IL4, EFI, 72kW/142Nm | Drivetrain | CVT, FWD |
| Fuel Use | 4.3L/100km | C02 Output | 97g/km |
| 0-100km/h | 11.59 sec | Weight | 1468kg |