Hyundai's chunky little new entrant, venue, arrived late last year and we discovered it to be a handy wee townie's crossover that's not afraid to venture forth.
With the subcompact/small SUV area now responsible for almost one in five new vehicle sales, everyone is getting in on the act. That includes Hyundai, late last year launching its Venue, amongst the least expensive offerings the company has.
Especially if you take advantage of the launch promotion; there are two models in the Venue line-up, Entry and Elite. Our test example is the better equipped Elite variant, dropping at $31,990 and with an eventual RRP of $33,990, while the Entry has a special launch price of $27,990 but will in time sell at $29,990 which puts it head to head with Kia's Seltos. More on that later. Meantime, Hyundai still sells i20 and an entry-level Accent, both of which undercut the Venue Entry point.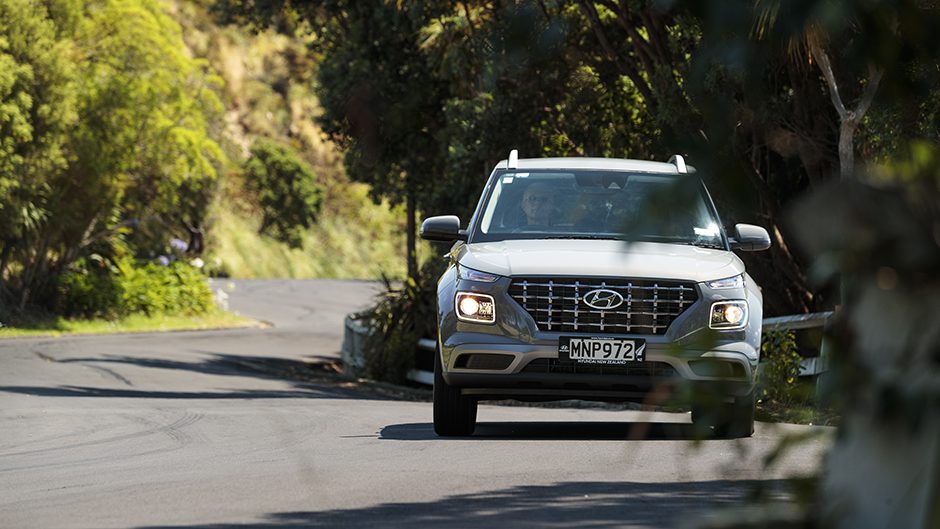 Why Venue? Well, Hyundai likes American place names for its models, eg, Tucson, Santa Fe. The company feels this vehicle is en route to some destination which is "the place to be", or the venue. It's not the most inspirational model name but then it's more exciting than an alphanumeric, like CX-3.
Whatever, Venue is another to add to the increasingly lengthy list of small SUVs. Where Seltos is one of the biggest and roomiest in its class, not so the Venue which is rather petite by comparison. It is just over 4m long but looks bigger, perhaps because it's quite tall at almost 1.6m, and reasonably broad at 1770mm. With body cladding and roof rails, it comes across as chunky.
Up front the cascading grille is polarising, with its fence-like chrome finish but there's a resemblance to big bro Kona, with slim LED DRLs above larger lamps. One option some will like is a two-tone paint finish, the roof and mirror caps highlighted in contrasting colour. The cost is $790, and it's only available on the Elite variant. Even without, this is quite the natty looker, with its big glasshouse, 17-inch alloys and cross-hatched grille. Get the shape and price right and you're on your way; just ask Kia dealers about Seltos.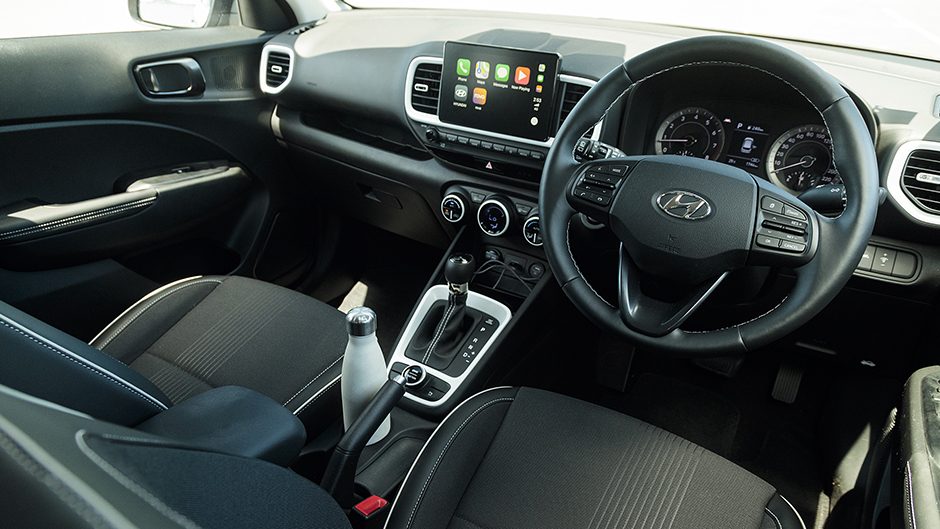 Anyhow, this is quite different. Rather than the 2.0-litre Atkinson engine the Kia runs, this has an underwhelmingly conventional 1.6-litre, with port injection, dual VVT and variable intake tract. The latter features are designed to bolster low rev torque, something that's needed given there's no turbo and the peak twist figure of 151Nm arrives at almost 5000rpm. Peak power isn't huge either, at 90kW but then the Venue Elite weighs in at just 1188kg so this aims first for economy and round-town drivability rather than performance. And you actually get all three in part.
Overall fuel use is a claimed 7.2L/100km, which isn't hard to achieve, with urban consumption of 9.5 and rural use with the figures transposed. Sixes and sevens were what we got. Helping with economy are aero interventions, like a smooth underbelly and winglets to divert air movement around the wheels.
Performance is a mixed bag, but in a vehicle like this it's not the point. This is a townie's rig, with its 10.2m turning circle, great all-round visibility and ease of ingress. Initially we thought it didn't have a whole lot of grunt, but that's often the case when you climb out of a turbo anything into an atmo rarity. Eventually you acclimatise. You start noticing how brisk the Venue is off the mark, even if it takes roughly 11sec to get to 100 and eight-odd for an overtake. Yet out of town it never feels slovenly.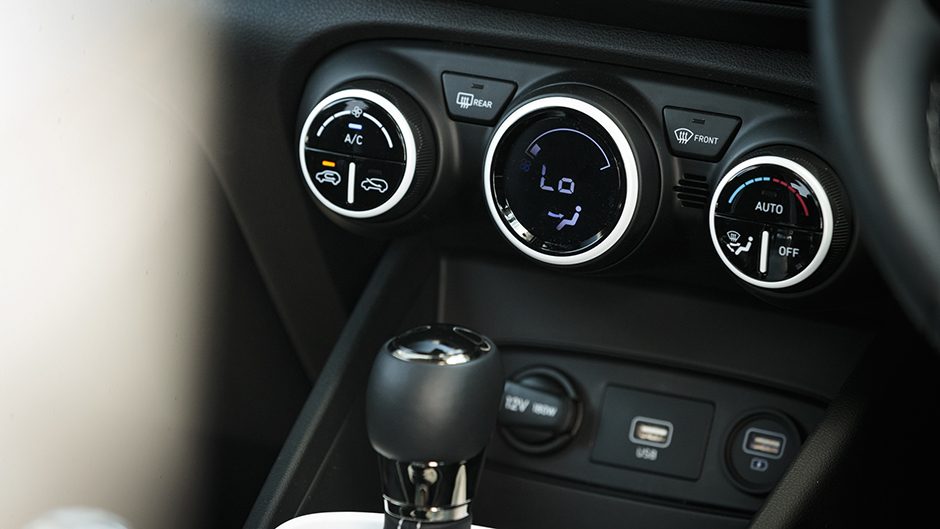 Sure, you need to exercise your right foot to make proper haste. But you don't want to do that too much either because the 1.6 is a bit of a screamer around 5500rpm. Best to curtail your enthusiasm around 5000rpm. In Sport mode, it's a tad more vibrant than the default Normal position too, though most won't bother, we'd imagine. The six-speed auto responds appropriately according to how far you've got your right foot buried so paddles aren't missed, and we didn't use the manual gate for the usual back to front reasoning.
Cruising along there's some road noise generated by the upsized and lower profile 205/55R17 rubber but it's no big deal, given how well this gets along on rural roads. Hyundai Australia likes to fettle suspension of its newcomers for Down Under conditions, and evidently around 40 different damper settings were tested on both axles before sign off. Overall, we'd say that what they did for Australia works well here too, with a good mix of body roll control and pliancy. Only uneven or rough broken surfaces taken at slower speeds upset its composure. If you're chasing ride quality as a priority the Entry version with its taller sidewalls might be a better bet.
But then you don't get quite the fit out in that vehicle, like a smart key, single-zone climate air, leather and cloth upholstery, blind spot monitoring, LED taillights and DRLs and a heated wheel even. However, both models come with AEB, cruise control, six airbags, an eight-inch touchscreen that's compatible with all smartphones, lane departure warning and lane keeping, tyre pressure monitoring and auto-dipping and auto-on headlamps. There's also hill start assistance, rear parking sonar, powered mirrors and an unlined cubby up front for any size of mobile device. Drink holders abound and there are some nice styling features too, like painted air vent surrounds, seat piping and the like.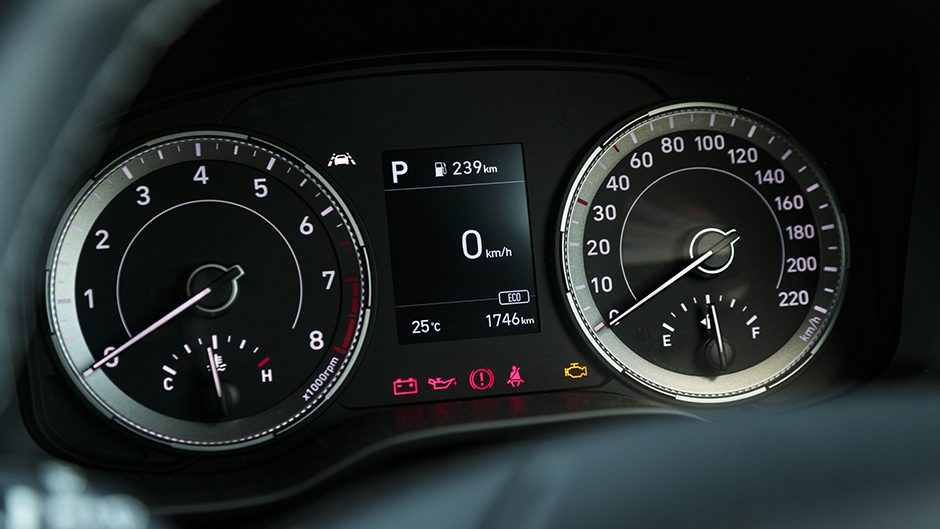 For those who want something compact but that can actually take real life-sized passengers, Venue has you covered. There's not a whole lot of legroom, as you'd expect of something just 4m in length but lots of head clearance and enough width for two adults easily. Or a bag of golf clubs if you prefer. Raise the rear door and you're looking at some 355L of load space, thanks to a compact torsion beam rear end. That's only a few litres short of Kona's capacity, though whether that's with the floor in its lower or regular slot isn't entirely clear. Whatever, split folding results in an almost flat load space and 530L on offer. Towing ability isn't enormous (500kg, 800kg braked) but that's enough for a light trailer and a load of firewood.
It may not be a fireball in a straight line, but the midrange comes on song from about 3000rpm and if you keep it there progress is dandy. Moreover, its road holding ability with the bigger 17s is pretty impressive, and lightweight steering makes it easy to thread through back roads. It even has a nice balanced feel about it. We were genuinely impressed by how well this gets down the road. Perhaps that is in part due to its rigid monocoque chassis, over 60 per cent of which is composed of high strength steels.
There's even some tricky traction control settings, fancifully labelled as mud, sand and snow, but given this is front-wheel drive…The point is, this little beast is not just a plaything for city dwellers. It's relaxed enough at 100km/h, even if that's only 94 in reality. So if you're cruising at 105 indicated, you're still going to be immune from points.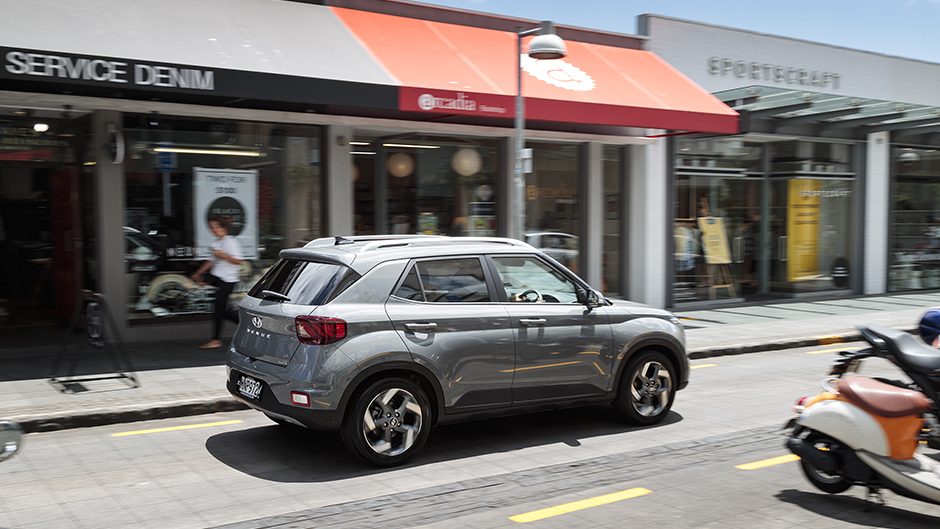 Where Venue hits a bit of a brick wall is when you compare it with Seltos LX. For the same money (eventually) its relative is quicker, more economical and much bigger all round and inside. Not that everyone wants bigger necessarily; there's something to be said for subcompact size in town, especially for parking. Other noteworthy contenders around the $30k mark include Seat Arona, Honda HR-V with its magic seat system, and the boxy but cute Jimny if you actually want to go off-road and not get stuck, and CX-3.
| | | | |
| --- | --- | --- | --- |
| Model | Hyundai Venue Elite | Price | $00,000 |
| Engine | 1591cc, IL4, EFI, 90kW/151Nm | Drivetrain | 6-speed auto, FWD |
| Fuel Use | 7.2L/100km | C02 Output | 165g/km |
| 0-100km/h | 10.94 sec | Weight | 0000kg |