Think your shed has lots of cool stuff in it? Wait until you see what's inside steve and sue keys' gallery.
There are plenty of quirky B&B establishments dotted around the world but none that we know have a gallery chocked full of automobile memorabilia like the luxury apartments hosted by Steve and Sue Keys.
The gallery is the entryway to the apartments and greets visitors with a colourful two-story display of motoring history. It's stacked to the rafters with the fruits of over 30 years of collecting by the couple. "I'll admit that it's [collecting] a bit a disease," says Steve, "and it's one that's got away on me now."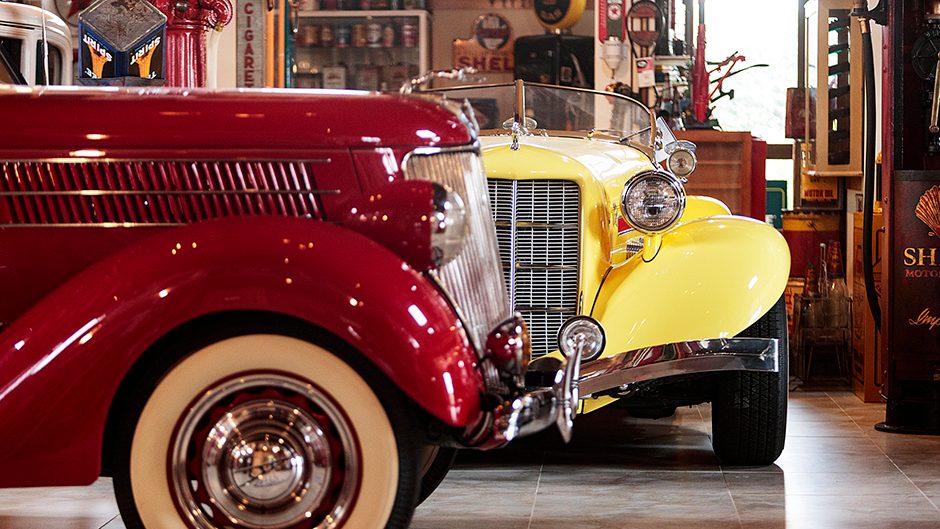 "This isn't a museum; it's just for me (and Sue). Having all this inside your own place is as good as it gets. I don't watch a lot of TV." It was the need to find a place large and accommodating enough to put precious artifacts on display that first led the Keys to buy Moorfields, a house with luxury apartments and large gardens attached to it, back in 2011. The gallery had originally been designed to display large pieces of art.
"When we first viewed the place and saw the gallery, we instantly thought: what a great place to show off our stuff." Most of the guests coming to Moorfields aren't 'car people' and often get a surprise when they first see the gallery.
There's plenty to catch the eye: enamel signs, restored petrol pumps, racks of oil bottles in their original forecourt displays, model cars, and half a dozen interesting classic cars, each with a story to tell.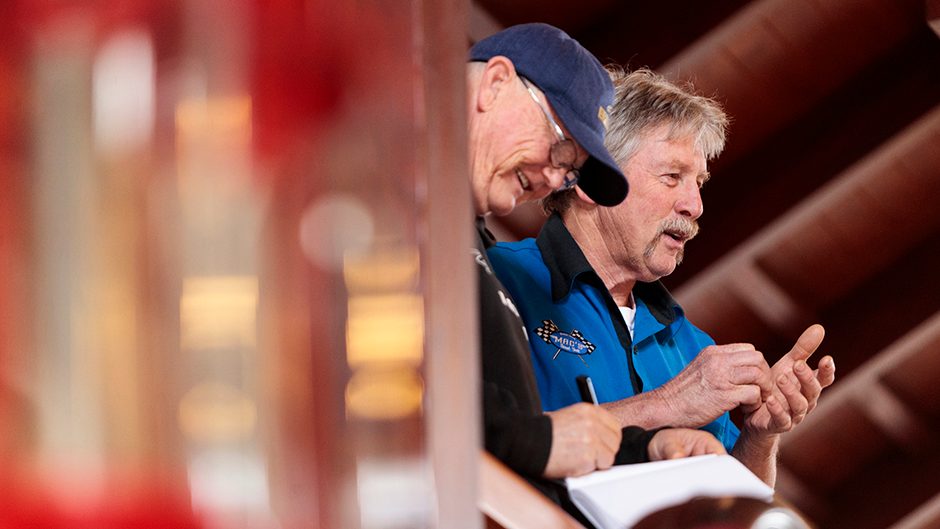 It's easy to imagine that some visitors book an apartment for a few days for a wedding or family event but might leave Moorfields at the end of their stay having developed a passion for automotive art.
Some even leave with memories of a ride in one of the classic cars. "It's such a Kiwi experience, and I doubt that they can find anything like this anywhere else." The gallery displays are constantly changing and being reorganised.
When we visited, Steve was in the process of moving some of the smaller petrol pumps up onto the mezzanine floor of the gallery, and contemplating organising some of the historic oil company memorabilia into display areas for the various now-extinct brands. "I once said that I'd never move anything upstairs, but never say never."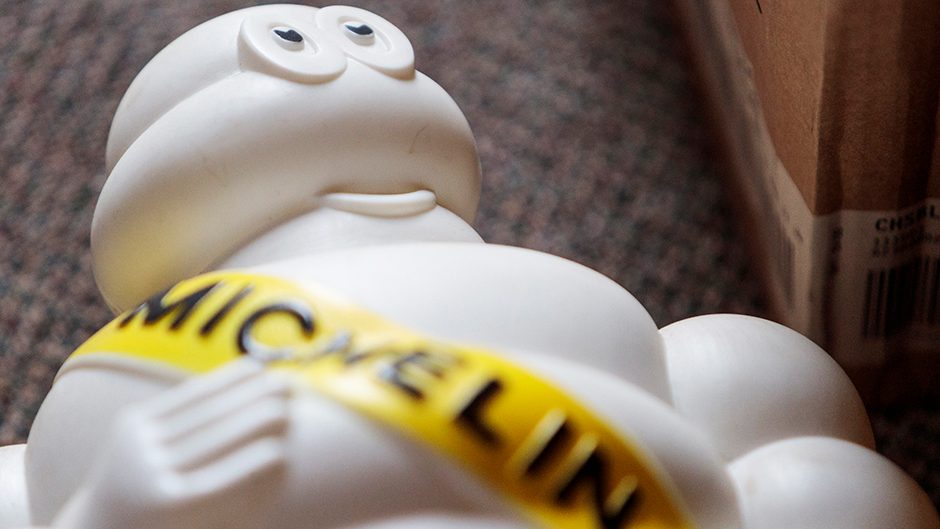 Although the displays have yet to reach a finished state, Sue says that the finishing touch will be the 1938 Dodge Airflow Diamond T petrol tanker that the couple is currently restoring. "Can you imagine that 'Texaco tanker' in the middle of all this?" The Keys bought the Diamond T from Peter Phillips in Atiamuri in such a dilapidated state that just transporting the tanker north was problematic.
"It had no wheels on it, so we found some to get it on the transporter, but when it came to get it off again, we found they'd locked up. "So we tied the tanker to a tree and drove the transporter forward to drag it off. Then the tree broke…"
That was just the start of a long laborious journey that is now attracting global attention via Sue's progress blogs at texacotankerproject.com/blog. Steve says that although there are rumoured to be around ten Dodge Airflow tankers in the world, with one on display at Bill Richardson Transport World in Invercargill, their example appears to be the only other surviving streamlined tanker built upon a Diamond T truck.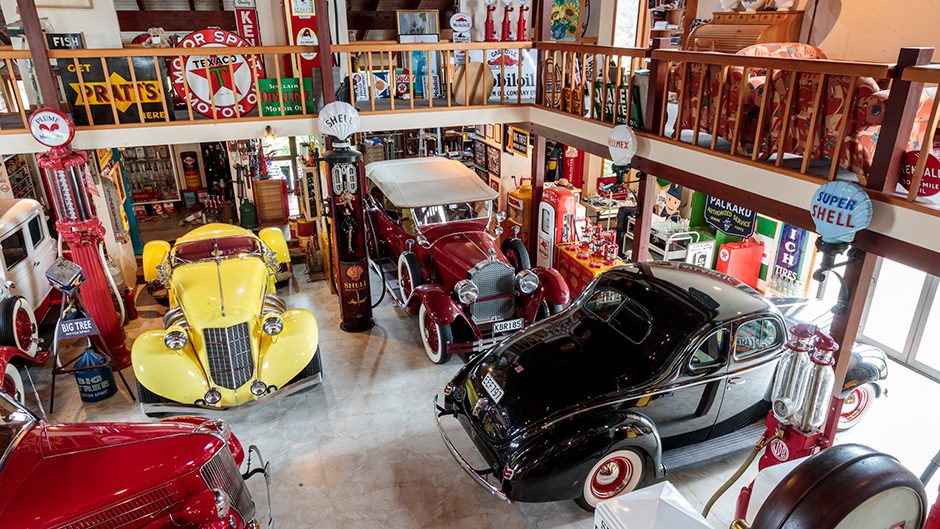 The tanker resulted from a collaboration between three companies – the Texas Company, the Diamond T motor company, and the Heil Company (maker of the streamlined tank).
The A.W. Wheaton brass work fitted to pump fuel is also symbolic of the early years of the petrol industry. When it's finished, the Texaco tanker won't be the only rare vehicle on display at the gallery. The 1928 Auburn Victoria that Steve originally bought to cut into a boat-tail Speedster is another on the endangered automotive species list.
As far as Steve knows, the only other Victoria in existence is housed in the Smithsonian Museum in the US. "I was in LA, visiting a guy who does a lot of restoration work for Jay Leno, and showed him a picture of this car. "When I told him that I nearly converted it into a Speedster, he said 'I'm sure am glad that you didn't.'"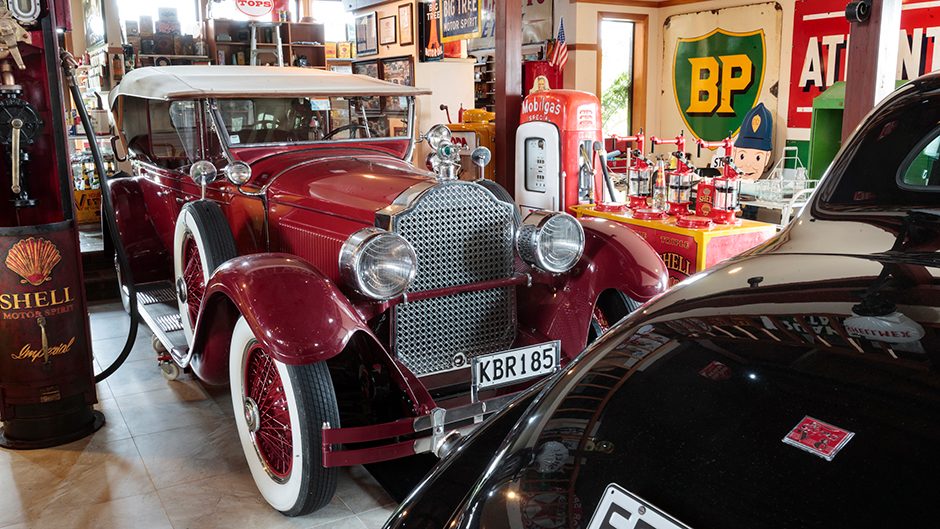 Steve's desire for a Speedster is sated by the 1998 reproduction of the iconic 1936 Auburn sportscar that's parked near the Victoria. "An original is worth $850K or more these days." Steve's past includes lots of hot-rodding and drag-racing, the latter reaching its peak with a Mercedes-bodied Door Slammer that ripped up the standing quarter mile in seven seconds and went 198mph through the traps.
"It'd be nice to be able to say that it did a six and went 200." The 1940 Ford Deluxe Coupe is perhaps the car most reminiscent of those days, equipped as it is with a Chev small-block V8 and a 350 turbo trans. As it's the car parked nearest the gallery's access doors, it's easy to assume that it's the one that gets the most use.
Steve admits that he tends more towards vintage these days, picking up his father's love of restoring old cars. The elegant 1928 Packard six-cylinder Tourer in the corner of the gallery certainly represents a slower pace. "It cruises along nicely at 45-50km/h, which is just as well because if it went any faster I wouldn't be able to stop it."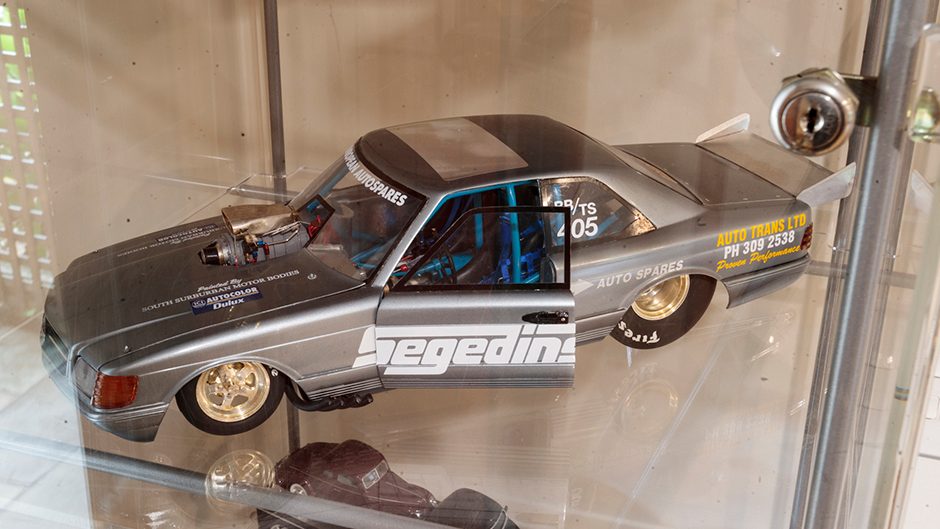 However, it's what surrounds the cars – the collection of oil company packages, advertisements, pumps, etc., that obviously is the real source of pride for the Keys. Some come from defunct New Zealand brands like Span, Europa and Big Tree, and are therefore Kiwiana of the highest value and historical significance.
"Span comes from Bill Miller, who used to import his own oil for his garage in Kyber Pass (Auckland). "He chose the name and logo because it represented his business interests, which were located all around the world." Steve says that interest in Big Tree memorabilia has really taken off in recent years, with items bearing the brand that was absorbed by Shell Oil in the 1940s now in high demand. Which part of the collection would he rescue first in a fire? "I'd grab the rack of Big Tree oil bottles."
It's a hard thing for him to discuss as it's obvious that all the items are personally valuable to him. "I don't like talking about the value of these things, because people just aren't getting it if it's about the money."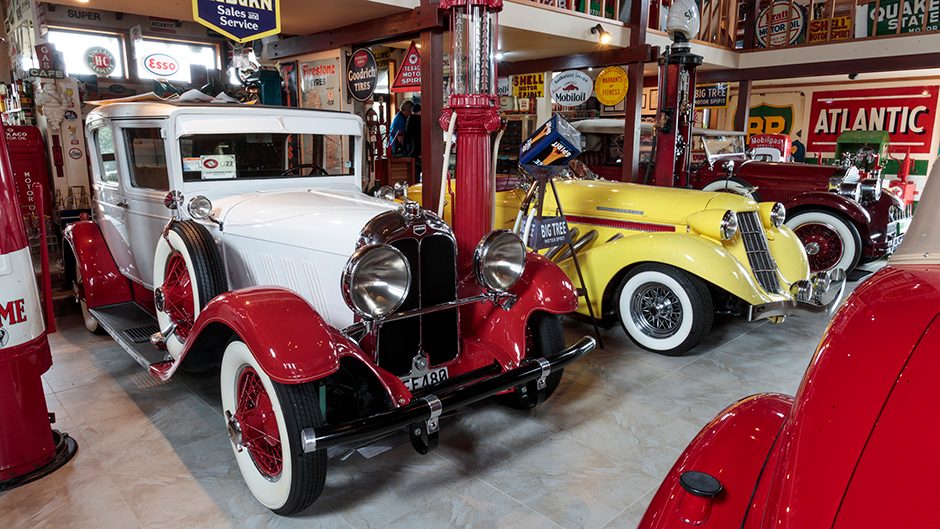 Sue, meanwhile, is just as passionate about collecting oil company memorabilia and recently returned from a trip to Wellington with 30 more bottles to add to the collection. It's another step in a journey that began three or more decades ago when Steve came home with a box of old oil bottles.
The Keys say that it was easy to increase the size of the collection back in those pre-Ebay and pre-Trade Me days. Where once an oil bottle bearing a historic brand would cost a few bucks at the most, they're worth around $750 each today.
These days, most additions to the collection are sourced from other collectors who have decided to bring down the curtain on that phase of their lives.
As museums tend to concentrate on just vehicles in their efforts to chronicle the history of the motor vehicle in this country, it's reassuring to know that there are private collectors like the Keys who are just as passionate about preserving the things that once maintained and fuelled the vehicles.