We were underwhelmed by the starry looking but undercooked original Veloster Turbo. However, the second-generation Veloster makes amends.
Last time we drove the Veloster Turbo, back in 2013, it was a case of all mouth and no trousers. It talked the talk but didn't walk the walk. Now the second-generation has dropped, is it more of the same?
Veloster is still the only four-door hatch on the market, with two doors down the passenger side flank, one on the driver side (the tailgate makes four). It was once a tight squeeze, especially exiting, but now being almost 60mm wider, it has enough girth to handle mine.
And that's the story of the second-generation variant; it's largely new and well considered. There's an overboost aspect to the engine that gives added peak power, and happily the six-speed auto makes way for a sharper shifting seven-speed twin-clutch. Hyundai claims it will hit the legal limit in 7.1 seconds, a half second improvement over the original. That gets it closer to some of the circa $50k competition it runs up against. Hopefully, it stops a whole lot better than it did last time, is less rowdy, and doesn't clout the noggins of taller drivers as much. Handling was also frustrating, with an ESP system only too keen to intervene and save your butt when you were never in trouble to begin with.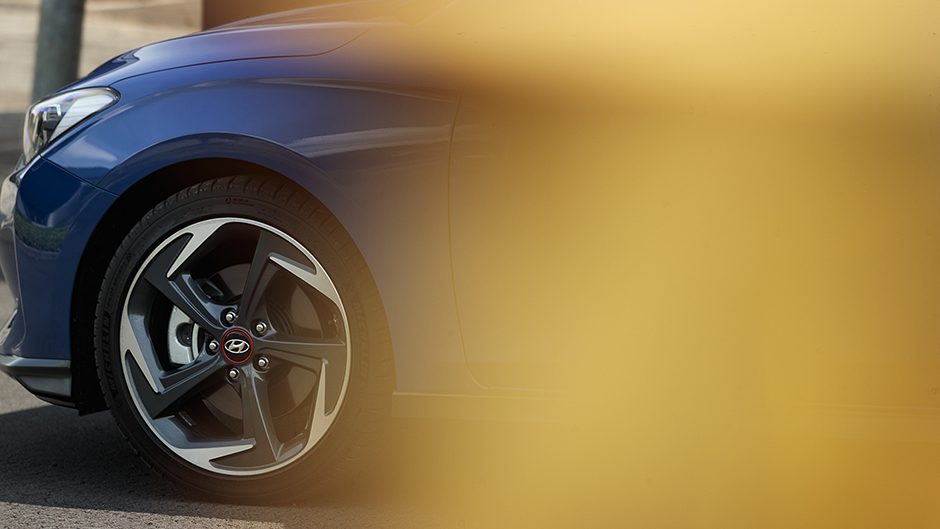 We're happy to report that Hyundai has righted virtually all the wrongs. And by the transformed way it drives, you have to wonder whether there's been some input from the N division's Albert Biermann. Mmmm, beer.
What underpins this transformation? It's a combination of things, the main ones being shoring up of chassis rigidity by 27 per cent, the change from a torsion beam rear end to a multilink set-up and the adoption of torque vectoring by brake. That would normally be sufficient but there's also been a comprehensive consideration of dampers by Hyundai Australia, resulting in a suspension system that doesn't just aim for front-wheel drive cornering mastery.
On top of that there has been a subtle but rather comprehensive styling rethink for both the exterior and interior of the car. About the only real gripe with the new Veloster is one we had with the original car; it's still too loud on out-of-town chipseal, but nothing like as bad as before. Besides, the tyres work now with the vehicle rather than against it, so almost all is forgiven. It now genuinely follows through on the visual aggression, delivering a drive that you'd expect of an N car, only without that badge. Which makes you wonder just how good the N version of Veloster is. Sadly, we'll never know as it's not coming here.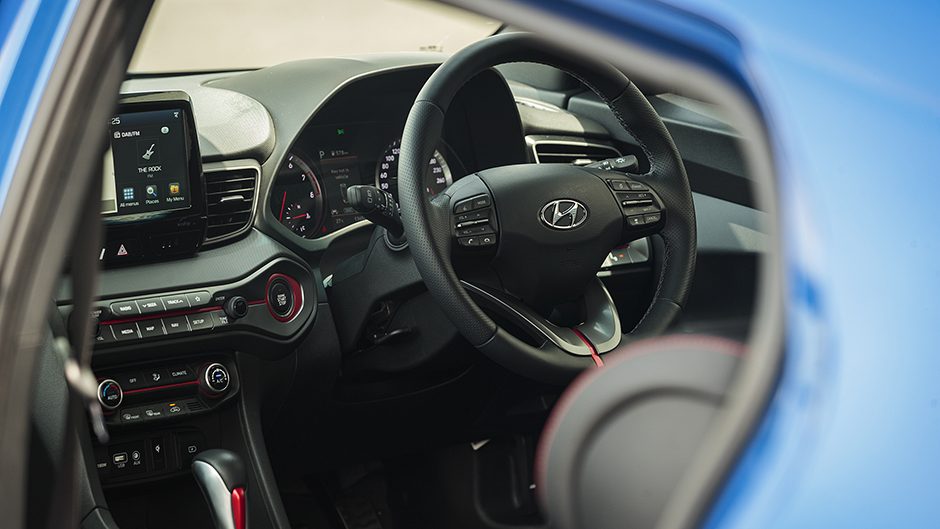 Right from the outset this felt far removed from the 2013 example. And yet there's much that's familiar but this is subtly sharper to behold, inside and out. There's less of the blobby look to the exterior, and it's lower, meaner, sportier. Minor changes make for much improved practicality. The two perches aft aren't designed for bigger Westerners, but kids and teens should be happy enough providing they're not too tall. There's definitely more head clearance than before. Boot space for this class of car is not bad, at 303L, aided by simple split folding. We like the latch on the hatch that's conveniently hidden away beneath the base of the wiper.
Cabinside, it's more interesting than before, with a sports wheel, and a larger more modern central touch screen that can readily link with any type of smartphone. There's also leather upholstery, a sizeable and legible head-up display, and things like lane keeping that are easily cancelled. It's low slung this and, being essentially a two (plus one) door, not that easy for the driver to enter or exit if the car is parked in confined spaces. However, there's a smart key, which you'd rightly expect in something costing $52,990. Once seated, the driving position is great, even if rearward visibility isn't all that flash. Forward visibility is much improved though, and the dials are well legible. Active cruise takes the stress out of in-town motorway work and the trip computer is easy to suss out.
As mentioned, this immediately felt feistier than before and you can put that down mainly to the new trannie. Hyundai reckons on a sprint time of 7.1sec, down about half a second on before. But it doesn't get off the mark that well, resulting in a best of 7.2sec. However, better launches are possible with some tester trickery and both subsequent runs clicked off the 100km/h point on 6.6sec. The real-world test of how much performance has moved on, the 80-120 overtake, was done in 4.18sec versus 5.05sec previously, so again, there has been an improvement of around one second. Not bad given engine output has changed little. And being a 1.6T, it isn't too bad on gas either, few were the times consumption reached into double figures. Four drive modes are on offer, Smart being a mix of Eco, Sport and Normal. We left it in that mode primarily.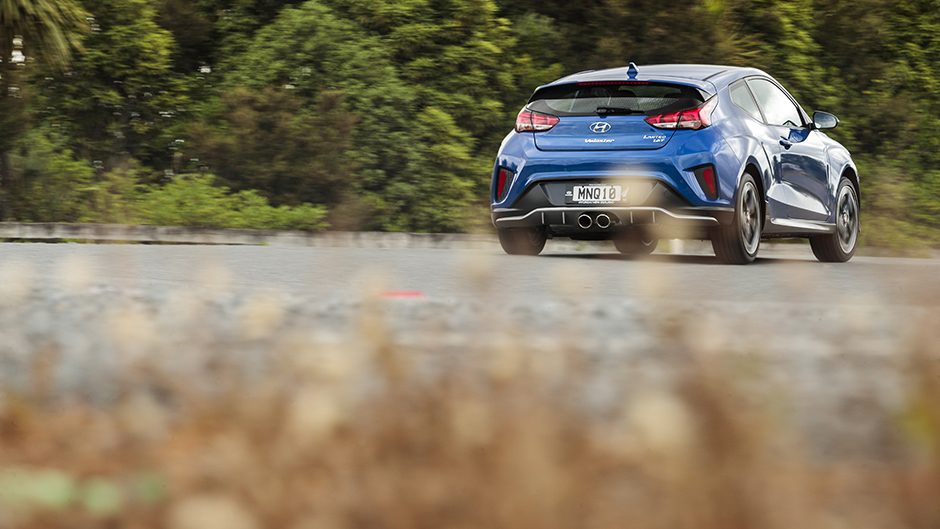 Perhaps though the biggest performance upgrade is in the braking area; previously we could only elicit a 100-0 crash stop of 38.8m, embarrassing for a supposedly sporty vehicle. This time around, it managed 34.95m, much more like it. The brakes felt pretty good too, certainly a vast improvement on the first gen's.
But better yet was in store, for handling and ride are on another plane of good, transformed really. Where the original was hamstrung by understeer and interventionist ESP, this is inestimably better, "planted and agile" as described. The new Michelin Pilot Sport rubber helps immensely but it's the sterner chassis, torque vectoring by brake and uprated rear suspension that have done the trick. Not only does it corner with more verve but it rides well too, all on fixed suspension. Town progress is just as refined. Steering used to snap back on centre but that's no longer the case. It's just a fun drive, especially as the new transmission suits it so well.
It gets the requisite safety gear too, like AEB, active cruise, auto-dipping headlamps, lane keeping and so on. Other specification includes heated and vented seats, a sunroof, eight-speaker Infinity sounds, and rear parking sonar and camera. The Limited model adds 18-inch alloys, a body kit, LED lighting, a bigger touchscreen, HUD, sat nav, leather trim, powered driver's seat, a heated wheel and more.
The 1.6T is now a genuinely good thing. If the price is a bit steep, we'd imagine the 2.0 Elite with six-speed auto at $45,990 might well be a handy drive as well.
| | | | |
| --- | --- | --- | --- |
| Model | Hyundai Veloster Turbo Limited 1.6 | Price | $52,990 |
| Engine | 1591cc, IL4, T/DI, 150kW/265Nm | Drivetrain | 7-speed twin-clutch, FWD |
| Fuel Use | 6.9L/100km | C02 Output | 159g/km |
| 0-100km/h | 6.61 sec | Weight | 1347kg |